Team GB closed out the Rio 2016 Swimming meet in style on the last evening of finals, as GB won silver in the Men's 4x100m relay, behind the masterful USA, as Michael Phelps called time on his Olympic career.
The British four kept the USA at arms-length but the might of their quartet told winning by over a second to take gold.
In the Women's 50m freestyle final, Fran Halsall once again came agonizingly close to an Olympic medal, finishing in fourth, just six one-hundrenths of a second outside of the gold medal-winning time.
GB's tally in the pool reaches six medals, making the Rio Games their most successful in Olympic history.
GB push US quartet to the wall
Chris Walker-Hebborn's task was to keep champion over the 100 and 200m within reach. Murphy scorched away, but as Britain handed over with their own Olympic champion Adam Peaty, GB led by a nose.
James Guy with Michael Phelps for company, held the master at bay and at the final change-over, Duncan Scott and Nathan Adrian were set to battle for gold.
Alas for GB, Adrian blasted away from the Scot and never looked back. GB however held off the threat of Australia to win the team's fifth silver in Rio.
Halsall second-fastest into final
Qualifying with the second-fastest time into the final, Halsall was set to break her Olympic medal duck. As reigning Commonwealth and former European champion over the distance, the Southport swimmer also won silver at the World's in Istanbul in 2012. An Olympic medal was the only decoration that Halsall was bereft of during her career, after disappointments in Beijing and London.
Halsall lined up in Lane 6 either side of Cate Campbell - who failed to medal in the 100m free - and the Australian's conqueror Simone Manuel. Defending champion Ranomi Kromowidjojo was in Lane 3, with the fastest qualifier in both the heats and semis, Pernille Blume in Lane 4.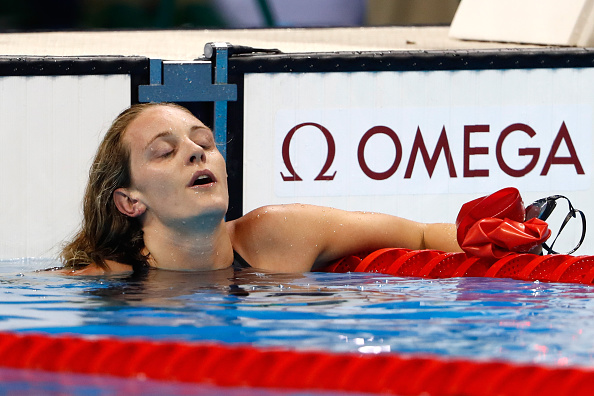 The battle to be crowned fastest woman in the pool was once more set for a blanket finish, with the final touch vital. After making a strong start, the 26 year-old Briton led at the 25m and powered for the line.
With five or six in an almost straight line, Halsall reached for the wall and looked certain for a medal. The Briton once more had a medal snatched from her grasp, as Pernille Blume finished first, with Manuel in second and Aliaksandra Herasimenia in the bronze medal position.