With no Allyson Felix in the 200m this year, a title she won at London back in 2012, the favourite for the title will be Dafne Schippers, who has been improving year on year in this sprint distance and is the name on everyone's lips going into the 200m.
Usain Bolt is the undisputed sprint king in athletics, but when it comes to the Queen of sprinting, Schippers is up there as a contender. However her pursuit for 200m gold, her favourite event, won't come without challengers with 100m champion Elaine Thompson and US silver medalist Tori Bowie also going in the final.
Schippers the favourite?
The Dutch woman has been the best female athlete over 200m recently, and her win at last year's World Championships in Beijing does enough to completely justify that. Therefore she goes into Rio as the favourite over this distance despite coming only fifth in the 100m earlier in the week.
The former heptathlete came through quite a tough semi-final yesterday night, but as expected won her race in a time of 21.96. She was the only woman to go under 22 seconds in the semi's, a time that laid down the gauntlet and sent a message out to her fellow competitors ahead of tonight's final.
She unsurprisingly holds the European record, a time of 21.63 which she achieved at the World Championships in 2015, and if she runs like everyone knows she can, then that time could be under threat in what will be a highly anticipated women's 200m final inside the Olympic stadium.
Schippers has been hyped up a lot, and she's coped with the pressure before but only time will tell whether she can go on and win her first Olympic medal after bursting onto the scene in the years after London 2012.
Thompson hoping for another gold
One of the biggest dangers to Schippers in tonight's 200m final will be Jamaica's Elaine Thompson, the new 100m champion from a couple of days ago, who will be looking to become a double Olympic gold medalist.
She will however be seeking some revenge over Schippers, who she finished behind at last year's World Championships in the same event, and the former already has one victory over the Jamaican here in Rio too. Both runners faced each other in what was the toughest of semi-final's in the 200m in the early hours of Wednesday morning, a race Thompson completed in a time of 22.13, a season's best.
If that is any indication of what's to come tonight, then Schippers should easily win gold. However, we all know it will be a lot tougher than that, especially when the Jamaican's are involved.
Her personal best of 21.66, a time she ran last year in Beijing, is very close to Schippers' PB, so if both are at their best it could be an incredibly tight race.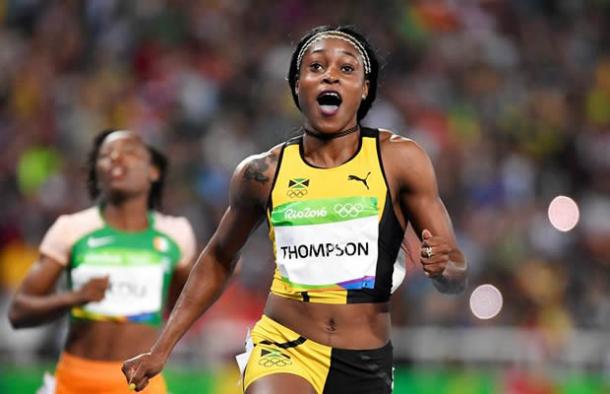 Bowie another threat
America's Tori Bowie is also a threat to Schipper's bid to become the 200m Olympic Champion. Bowie looked very good in last night's semi, finishing with the same time as fellow contender Thompson, and ahead of her fellow competitors in her semi-final quite easily.
The 25 year old ran brilliantly well in the 100m to come away with a silver medal for her country, finishing just ahead of Shelly-Ann Fraser-Pryce so she knows he can upset the odds. Like the other two mentioned above, she has also ran below 22 seconds, and she could be on for a personal best in a race where she is likely to pick up a bronze medal if Schippers and Thompson dominate as expected.
Bowie has only just ducked below that 22 seconds mark though with a PB of 21.99 set in Eugene this year, but it's a sign that she's always improving, and could offer a very strong threat to those around her. Her silver medal at these games already proves she can do it on the biggest of stages so watch this space.
British interest
Great British interest will fall into the hands of Dina Asher-Smith whose place in the final hung by a thread until the very last semi-final. Fortunately the Brit qualified for the final as a fastest loser after a race she was the first to admit wasn't her best run.
She ran a very quick bend, but in a semi that included both Schippers and Thompson, she was run out of proceedings as she finished fourth behind American Deajah Stevens who also qualified as a fastest loser in what was without doubt the quickest semi-final.
Stevens however is not expected to be upon the medal rostra come the end of the 200m tonight, but there are multiple athletes with similar personal bests that could make the rest of the places very close to determine.
Team GB's Asher-Smith holds the British national record over both the 100m and 200m though, and at such a young age she has great potential to go further in the sport. An Olympic final for her so soon will be a brilliant experience and it could be the platform for her to go close to that 22 second mark. It could be a stretch too far for her but the Brit has nothing to lose going into tonight's final.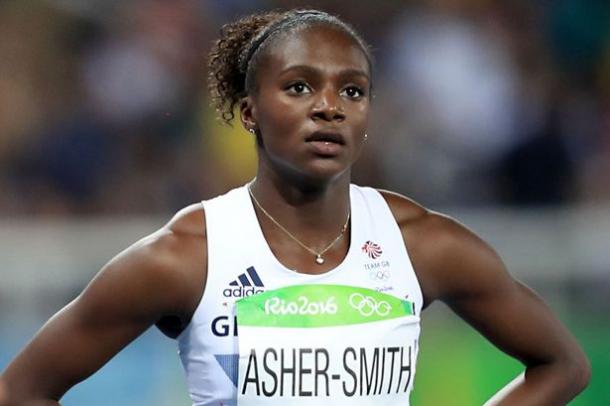 The other contenders
Ivory Coast's Marie-Josee Ta Lou will also be going in the 200m after winning her semi-final in a time of 22.28. Fellow Ivorian Murielle Ahoure didn't qualify for the final after finishing fourth in her semi, but Ta Lou will be aiming to break Ahoure's national record after coming so close in her last outing.
The time for Ta Lou to beat is 22.24, a time Ahoure ran back in 2013 in Monaco. A medal is likely to be out of reach of the Ivorian but she has already finished fourth ahead of Schippers in the 100m at these games.
Continuing on the theme of national records, Trindad & Tobago's Michelle-Lee Ahye will also be competing in the final after running a personal best and a new national record in the semi-final to come through behind Bowie in a time of 22.25. With a time like that, it is likely that Ahye will be one of the back markers behind the favourites in the 200m but she could beat her personal best once again.
The final athlete competing in the 200m is Bulgaria's Ivet Lalova-Collio who will be another of the back markers in this event. She came through automatically behind Ta Lou but in quite a slow time of 22.42. The 32 year-old is a previous European gold medalist over 200m and is the current European silver medal holder, after finishing behind Asher-Smith in Amsterdam earlier this year.