The USA took yet another medal in the athletics as Kerron Clement won gold in the men's 400m hurdles inside the Olympic stadium.
The American came into the event as favourite, and in what was quite an open field behind him in the battle to be on the medal rostra, it was Clement who showed his class to win in a time of 47.73.
Classy Clement
Clement came into this event as the open favourite, and he displayed why, running an almost perfect race as he glided over the barriers to win a deserved gold ahead of his fellow competitors.
It's clear that Clement hasn't been at his best for numerous years now, winning silver in Beijing in 2008 and holding the world titles in the 400m hurdles in 2007 and 2009 before falling away a bit.
However he more than bounced back in Rio, taking the Olympic crown and another gold medal for USA at these summer games. Without Michael Tinsley, the silver medallist from London 2012, and a previous runner-up at the World Championships, the American mantel was handed over to Clement, and he more than coped with the expectation on the track.
Culson disqualified
Clement's bid to win gold was significantly helped by the disqualification of Puerta Rican Javier Culson.
The Bronze medallist from the previous Olympics made a massive false start and was consequently told to leave the track, meaning the medals behind the favourite Clement, were wide open for the rest of the field to battle over.
The rest of the medals
Clement was strides ahead of the rest of the field as they came into the final set of hurdles down the 100m, but as he began to fatigue, Kenyan Boniface Mucheru almost caught him as he took the silver medal. Clement managed to cling on though despite the pressure from Mucheru who finished just behind him with a time of 47.78 seconds.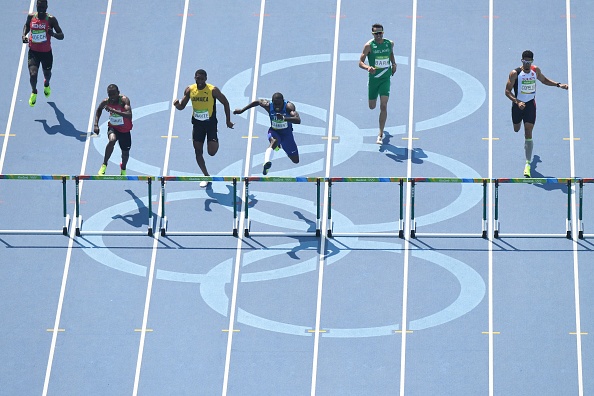 The bronze medal meanwhile went to current European champion Yasmani Copello of Turkey who managed to hold off Irishman Thomas Barr who had massive support in the crowd, as he finished fourth despite a very good strong finish to the race. Copello finished in a time of 47.92 in what was perhaps a surprising medal for the Turk.
Jamaica were relatively disappointing with their national champion Annsert Whyte finishing in fifth, ahead of Rasmus Mogi of Estonia in sixth, and the other Kenyan Haron Koech who finished last.