 In a year jam-packed with quality new television such as Stranger Things, Westworld and O.J.: Made in America, Donald Glover's 'Atlanta' has earned the right to be in the same conversation as those mentioned.
The show has been nominated for Best Comedy Series at the 2016 Critics' Choice Awards, while Glover is nominated for Best Actor in a Comedy Series.
The critical acclaim is no surprise to viewers, with its perfect blend of subtle humour and laugh-out-loud moments, in addition to unique characters.
The show's premiere season has 10 episodes, which have all finished airing in the US, but Glover's passion project is currently airing on FOX Sky Channel 124 in the UK.
Atlanta's brilliance
Many have described Atlanta as the heir to 'Seinfeld' – a show about nothing – which is a huge compliment. 'It's Always Sunny in Philadelphia' seems to have that title locked up though, but that's not to say there aren't elements to Seinfeld in Atlanta.
Atlanta follows the story of Earnest 'Earn' Marks (Donald Glover), a struggling father who realises his cousin, Paper Boi (Brian Tyree Henry), is on the verge of blowing up as a rapper, and reconnects to become his manager.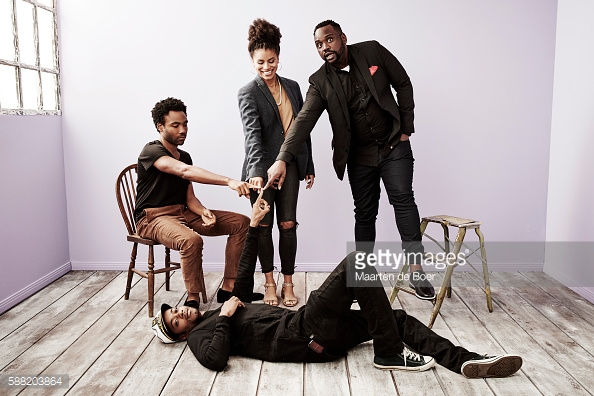 The premise isn't a very complicated one, which provides room for the writers to be experimental, and has created some of Atlanta's funniest lines.
The dialogue in the show is very fascinating, because it feels so natural and unscripted. It's easy-going and chilled, which means some of the comedic elements can be lost in its subtlety.
The show is similar to FX's 'Louie' in that regard, and FX president John Landgraf has already previously likened Glover to Louis C.K. for his "ability to bring about everything he wants to create" and who calls Glover's series "a whole picture of what it is to be young, gifted and black in Atlanta — in America — today."
Donald Glover is inhuman
Glover is an A-list celebrity, and known to most for his acting in the sitcom 'Community' alongside performances in 'The Martian' and 'Magic Mike XXL'.
He is also a very successful rapper, under the alias Childish Gambino, and his previous album 'Because the Internet' posted 992,000 equivalent album units, according to Nielson Music. On-demand video and audios totalled 1.1 billion.
He's a hugely successful actor and rapper, so the next logical step is to create your own TV show, according to Glover anyway.
Somehow, Glover was able to create, direct, produce, write and star in Atlanta at the same time he wrote and recorded his album 'Awaken, My Love!' scheduled to release on December 2.
Oh, and he also starred in 'Spider-Man: Homecoming', currently in post-production and set to release July 7, 2017. He's also been cast in an untitled upcoming Han Solo Star Wars standalone film.
What makes Atlanta so great?
The characters and plot seem so unique in this show, and go against the grain of conventional sitcom tropes.
It has an overlying plot, but will dedicate entire episodes to something that has absolutely nothing to do with the storyline. Like the episode (Episode four: "The Streisand Effect) where Paper Boi battles an internet troll. It's a fantastic episode, but one that the storyline could do without.
The character of Darius (Keith Stanfield) is flat-out hilarious. There's a plot line in Episode eight: "The Club" where he can't get back into the VIP zone, and instead of confronting the bouncer any more than he has, which most sitcoms would make their characters do, he goes home to eat cereal and play Zoo Tycoon.
It's subtle, but it's not what you would expect from a sitcom, and it's that uniqueness that shines through the show. It's a testament to Glover and his writing staff, who currently work on one of the best new shows in television.
The show deals with serious issues, especially racism. Glover previously said that he wanted to make people "feel black." His all-black writing staff was created purposefully, and he "wanted to show white people, you don't know everything about black culture."
Atlanta is a sitcom, but it's easy to confuse it with a dramedy because of its beautiful soundtrack and cinematography.
TV shows about music often get the music wrong, but that isn't a problem for Atlanta. Glover grew up there, and knows exactly what track should play and when, and it's woven in seamlessly.
The cinematography is unlike any other sitcom. Louie comes close, but Atlanta is a step beyond. It's highlighted in the title sequence, that looks like it was influenced by Sam Esmail's 'Mr. Robot' and it's visually spectacular.
Due to Glover's busy schedule, season two of Atlanta won't be released until 2018, but at least it gives us plenty of time to re-watch the show.