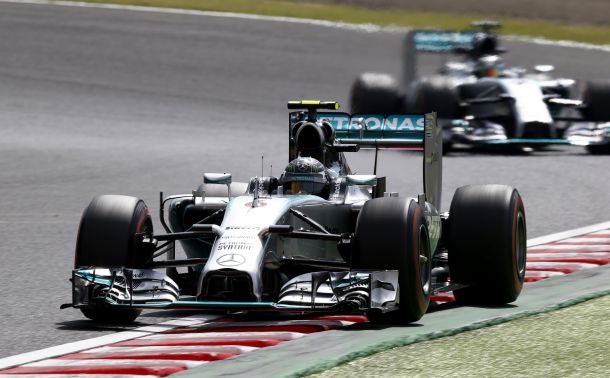 Mercedes' Nico Rosberg has taken Pole Position on a day where proceedings off the track have overshadowed the racing on it, with Sebastian Vettel announcing his decision to quit Red Bull for Ferrari. The German will move for 2015 to the Scuderia and supposedly send both Fernando Alonso to McLaren, and Daniil Kvyat promoted to the spare Red Bull seat.
Rosberg took pole from title rival and team mate Lewis Hamilton, who recovered well from a crash in Practice 3 earlier in the day. This is the German's eigth pole of the season, and he'll be looking to avenge the retirement he suffered in Singapore two weeks ago. He retired due to an electrical short circuit, meaning his car wasn't functioning as it should be.
Hamilton praised his team mate: "Nico was very fast today, I did the best I could." The Brit holds the Championship lead coming into Suzuka; a slender 3 point lead over his team mate after victory last time out. This time around Hamilton had to settle for second on the grid after qualifying two tenths slower than his team mate.
Williams' Valterri Bottas pulled off a marvellous lap to qualify third. Bottas' lap was half a second down on Rosberg's pole lap, but shockingly, he was half a second faster than team mate Felipe Massa, who qualified fourth for Williams.
Ferrari's outgoing driver Fernando Alonso managed to post the fifth fastest time, with Red Bull's Daniel Ricciardo managing sixth for tomorrow's race in Japan. It was battle of the McLarens for the fourth row of the grid. Kevin Magnussen narrowly beat his more experienced team mate Jenson Button to seventh, with Button settling for eighth.
Sebastian Vettel, who replaces Alonso at Ferrari next season, could only qualify ninth, with prospective team mate Kimi Raikkonen rounding up the top ten.
The race is still threatened by Typhoon Phanfone, with it due to hit Suzuka by 3pm local time. This could have a huge effect on the outcome of the race, or in fact, whether a race actually takes place. It was sunny for qualifying, but we could see a different session altogether.
Grid for tomorrow's Japanese Grand Prix:
1) Rosberg (Mercedes), 2) Hamilton (Mercedes), 3) Bottas (Williams), 4) Massa (Williams), 5) Alonso (Ferrari), 6) Ricciardo (Red Bull), 7) Magnussen (McLaren), 8) Button (McLaren), 9) Vettel (Red Bull), 10) Raikkonen (Ferrari), 11) Vergne (Toro Rosso), 12) Perez (Force India), 13) Kvyat (Toro Rosso), 14) Hulkenberg (Force India), 15) Sutil (Sauber), 16) Gutierrez (Sauber), 17) Maldonado* (Lotus), 18) Grosjean (Lotus), 19) Ericsson (Caterham), 20) Bianchi (Marussia), 21) Kobayashi (Caterham), 22) Chilton (Marussia)
*Maldonado has a 10 place grid penalty, so will start 22nd.
Will Rosberg convert pole to win? Tune in to VAVEL's live coverage of the Japanese Grand Prix tomorrow morning, beginning at 6:30am.