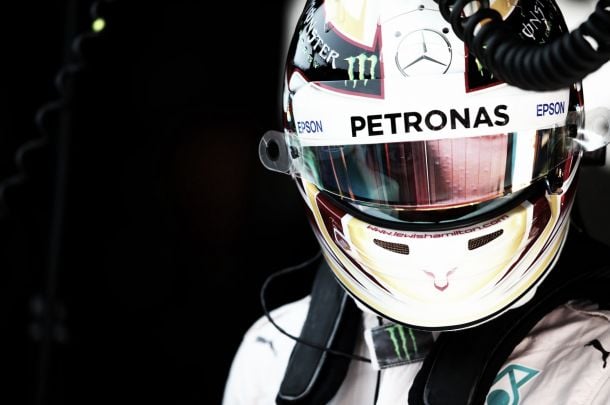 Lewis Hamilton bemoaned the difficulty of overtaking on Barcelona's Circuit de Catalunya, as he finished second to Mercedes team-mate Nico Rosberg in the Spanish Grand Prix following a troubled start.
The German enjoyed a comfortable victory over Hamilton - who had struggled with the balance of his W06 throughout the weekend - for his first win of the 2015 F1 season.
Having surrendered pole for the first time this season in qualifying, Hamilton's troubles started from the off as he fell behind Ferrari rival Sebastian Vettel.
Slow pit-stops further hindered his race, before a changing tactics to switch to a three-stop strategy saw the Briton help complete a Mercedes one-two finish.
Hamilton said: "Obviously I had quite a poor start with too much wheel spin. It's been a long time since I've had such a poor start.
"I tried my best to recover - I nearly dropped back to fourth, so I was very fortunate to keep third - and then it was just about trying to fight.
"I fought hard but unfortunately this track is the worst for overtaking and it's impossible to follow here. It doesn't matter what you do, you can't get close enough.
"Even with DRS, it wasn't enough and I did everything I could behind Sebastian.
"Fortunately towards the end it was enough to get it done on a three-stopper, I was able to get by, but if I had been behind him in traffic I wouldn't have got past."
The world champion sat around 18 seconds behind Rosberg after making his final stop on lap 51 of 66 when he was asked to ease up over the team radio.
When asked about the message, Hamilton responded: "It's not nice for a driver ever to hear that. I'm here to race; I'm not here to finish second, so naturally I ignored that.
"I was pushing and really putting the car on the edge and when I realised there were seven laps to go and I had 13 seconds and I was only seven-tenths of a second up, I had to take the smart approach and just bring the car home.
"But, still, it's not something you want to hear. So I'll definitely be making sure that that's not said again."
Nevertheless, Hamilton admitted he could sympathise with the team's reasoning, adding that he was just glad to gain points for the Silver Arrows.
"I guess naturally, by me pushing, he has to push and it puts both cars at risk I guess, which is understandable," he said.
"I'm grateful I could gain those points for the team, and it's kind of damage limitation for me, so it's not bad."
Monaco is the next circuit that awaits the F1 circus, and having had to settle for second behind Rosberg next season, Hamilton admits he is focused on winning there for the first time since 2008.
He said: "Monaco, I'm very much going to be putting a lot of focus on. I've not won there for a long, long time so I'm very much looking forward to it, more than any other year.