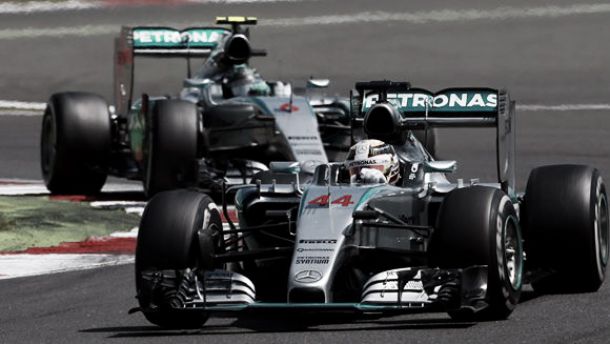 Hamilton continues to break records as his dominant Mercedes doesn't show any sign of stopping. Thanks for joining me today and be sure to check out VAVEL UK tomorrow morning as we will be LIVE with the race and all it's build up and fall out! I've been Aaron Irwin and a report is to follow.
PROVISIONAL GRID: Hamilton, Raikkonen, Vettel, Rosberg, Massa, Bottas, Perez, Grosjean, Hulkenberg, Ericsson, Maldonado, Nasr, Sainz, Kvyat, Ricciardo, Button, Alonso, Stevens, Merhi, Vrstappen.
So for his 50th Mercedes start Hamilton is on pole for the Italian Grand Prix. But Ferrari won't make it easy for him from second and third.
Kimi Raikkonen goes second! Sebastian Vettel third and Nico Rosberg fourth! Meanwhile Lewis Hamilton is on pole, yet again!
Chequered flag! Hamilton on provisional pole.
Q3: Grosjean takes his Lotus E23 for a drift as the back steps out round the corner, exhilerating stuff in slow motion.
Q3: The times flood in as Hamilton goes fastest, the Ferrari's split the two Mercees' agani, Massa forth, Rosberg fifth, not long left can we see anything exciting?
Q3: Rosberg on a lap, can he post a good lap to put pressure on Hamilton?
Q3 is undrway! Can anyone stop Hamilton and Mercedes? let's find out!
Ricciardo telling the press about the great team spirit in the Red Bull garage. After an engine change in a stunning 1hr 40mins, the mechanics cheered as Ricciardo drove out the garage, great to see when things haven't gone their way so far this season.
Marcus Ericsson makes the top ten, a great effort from the young Swede.
OUT: Pastor Maldonado, Felipe Nasr, Carlos Sainz, Daniil Kvyat and Daniel Ricciardo.
Grosjean goes seventh to make it into the top ten. Malonado and Nasr out, Ricciardo too as Kvyat goes 14th. Sainz 13th.
Approaching the chequered flag here at Monza, no change in the drop zone as drivers try and consolidate the top ten place.
Q2: The Ferrari pair split the Mercedes' at the moment, Felipe Nasr and Romain Grosjean in the drop zone with Carlos Sainz and the two Red Bull's yet to set a time.
Q2: Hamilton sets a 1:23:3 as the evolution of the track is now clear to see as we hit the halfway point in qualifying.
Q2: Button: "It's not easy right now, we need to be positive, it's the only way for the team to move forward and be successful, it could be worse and that's the way you've got to look at it."
Q2: Rosberg is out on a lap, will he be at a disadvantage using an older spec engine? Probably still able to finish a solid second...
Q2: We're back underway following a short break. Who will make it into the top ten? any surprise early exits?
A lot of penalties to dish out here so the bottom five is almost certain to change. Manor's in the top ten? If only.
OUT: Jenson Button, Fernando Alonso, Will Stevens, Roberto Merhi and Max Verstappen, who was unable to set a time.
Q1: Verstappen's engine cover flies off as he builds up speed out the chicane, stewards will need to have a word about that due to the unsafe nature of it.
Q1: The Australian goes 14th! Debris on the track on the run down to turn three. Verstappen is who it belongs to with him likely to be out.
Q1: Jenson Button, the Manor pair, Max Verstappen and Daniel Ricciardo occupy the drop zone, Ricciardo on a lap here...
Q1: Vettel has the opportunity to really endear himself to the Tifosi here, like another German did all those years ago. He's P4 currently with four minutes left.
Q1: Verstappen and Ricciardo looking set to start from the pitlane tomorrow as the Red Bull stablemates look to sort out engine issues.
Q1: Plenty of cars out on track now with the times flooding in, Hamilton remains top as it stands, but the top isn't relevant in Q1, it's all about the bottom five, for once...
Q1: Hamilton sets the presumable benchmark of 1:24:6, however with the track ever-evolving, expect to see that time drop to around 1:23:5 ish.
Q1: And we are go for the first phase of qualifying for the Italian Grand Prix! The Manor Marussia's are out first, can they benefit from penalties to start a little higher up the grid than usual?
Plenty of drivers on grid penalties today. The grid for tomorrow may look a little mixed up.
I doubt Ron Dennis ever saw his McLaren team becoming perennial backmarkers when they were fighting for titles and dominating in the 80's. Such a shame for one of the most famous teams in motorsport history.
Nico Rosberg has had an engine issue and has had to revert back to his Spa-race power unit for Qualifying, uh oh...
Monza, like Spa has a certain atmosphere around it, the charisma of the circuit and the history here is just lacking at newer Tilke designed circuits such as Shanghai and Bahrain.
So what can we expect from the action in today's qualifying hour? Another Q1 departure for both McLaren's? Another amazing performance from Romain Grosjean? And can anybody stop the Mercedes duo from completing yet another lock out? All will be revealed shortly, stick with us as we bring you live and up to date commentary!
The lovely thing about this was it was a couple of weeks following Il Commendatore's death, Enzo Ferrari in other words!
Some iconic F1 moments happened here at Monza, such as the 1988 Italian GP. The only race of that season that McLaren failed to win, who won it? You guessed it, Ferrari secured a 1-2 finish.
PREVIEW: If you like information regarding the Monza circuit or just somewhere to read up on key points to look out for this weekend, head over to Liam Headd's preview of the race here.
This circuit is key for speed and low downforce, so cars with Mercedes power are expected to do well here.
Monza has been on the calendar since 1950, only missing one race in 1980, when Imola deputised. The famous banking was used and was one of the most exhilarating races on the calendar.
Ferrari will want a good result here, their home Grand Prix is one of the most exciting, and it's due in part to the fans. Aka the 'Tifosi', Ferrari's die-hard fans are among the best in any sport, their drivers are worshipped and should they deliver a win at Monza, they can become heroes.
Mercedes, Ferrari, Williams and Sauber have all confirmed their duos will remain and no changes will be made. This could spark to life the crazy rumours which we all have become accustomed to at this time of the season.
The driver market is slowly starting to live up also, with many teams confirming their drivers for next season.
Also in the news are Lotus, who are supposedly the subject of a takeover from engine suppliers Renault. However this deal is unconfirmed and may not yet happen, but should it, it'd be the first time the French engine providers have been on the grid in full since 2010.
Nico Rosberg and Sebastian Vettel both suffered high speed blowouts last time out, with the latter's stopping him from achieving a podium in Belgium.
However not all the focus will be on Hamilton, despite his recently dyed hair, as tyre suppliers Pirelli are in hot water after Spa.
Of course the big question this afternoon is, can anyone stop Lewis Hamilton? The Mercedes man is on hot form right now and topped both Practice sessions yesterday as the Silver Arrows continued their dominance over the rest of the field.
We're at Monza, a real staple of Formula One, with it being one of the very few tracks left from the first season of the sport in 1950. A real historic circuit with many of F1's notable corners, such as the Curva Parabolica and the Ascari chichane.
Good afternoon all! Welcome to the live commentary and feed for the 2015 Italian Grand Prix Qualifying! I'm Aaron Irwin and I'll be taking you through today's big events, as they happen here on VAVEL UK.