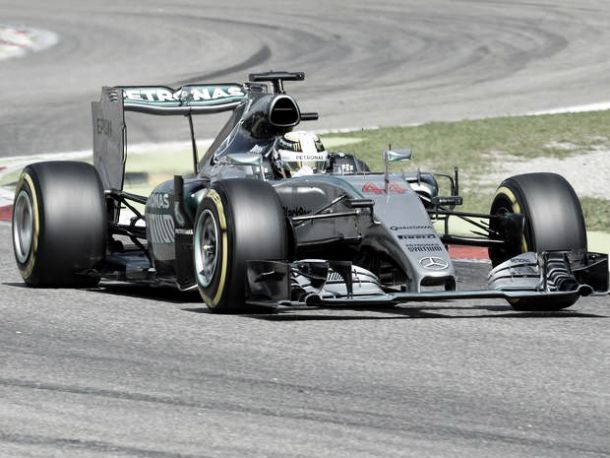 Lewis Hamilton wins the Italian Grand Prix but is under investigation due to lower than required PSI in the Mercedes' left rear tyres. Rosberg's engine blows out with three laps remaining. Kimi Raikkonen stalled on the grid and recovers for fifth place. OUT: Rosberg, Alonso, Maldonado and Grosjean.
No official word just yet, but that's all from us. We'll bring you up to date with all the vital news when we get it. In an ordinary race, it's what's happning post race which will grab the headlines. I've been Aaron Irwin and we'll bring you more updates. See you next time in Singapore.
This race is far from over, as Mercedes are being called to the stewards with their tyres being under the required pressure. Oh boy this is getting interesting again!
Massa claims he's getting too old for fighting hard, referring to his and Bottas' battle throughout the race.
Vettel: "This says it all." The fans clearly overwhelming the German world champion.
Hamilton: "Today was incredible, I couldn't have done it without my team."
In your own time George...the cheers are crazy!
George Lucas conducting the podium interviews...err...okay then?
National anthems underway, a sea of red below them as Vettel will get the loudest chees by a long shot. The boos of last season and the season before that a thing of yesteryear.
The Tifosi flood the track below what is easily the coolest podium in F1. Massa must be telling Vettel to prepare for his welcoming as a hero to the fans.
Toto Wolff extremely secretive regarding Hamilton's supposed problems, what's going on at Mercedes?
Hamilton, Vettel, Massa, Bottas, Raikkonen, Perez, Hulkenberg, Ricciardo, Ericsson and Kvyat is your top ten.
Former Ferrari man Massa takes third with Bottas in close procimity, Raikkonen takes P5 for what was a fantastic recovery from the Finn.
Lewis Hamilton wins the Italian Grand Prix! Sebastian Vettel takes second to deafening screams from the Tifosi!
53/53. Hamilton on final lap, Bottas and Massa fighting for what is now P3. False dawn for Hamilton as his problems are fine again.
52/53. Been a while since we've seen a broken down Mercedes, the Tifosi cheer with joy as Vettel looks set for second as Hamilton enters the final lap.
51/53. Rosberg is on FIRE! He pulls up at the second chicane run off as his car smokes and bursts into flames.
50/53. Alonso OUT as his MP4-30 smoking profusely in the pits. Hamilton worrying with Kimi passing Perez for P6, what ammove from Raikkonen!
49/53. He locked up into turnone and the pitwall appear worried about possibly a slow puncture or huge wear on his tyres? What's going on?
48/53. Hamilton told to 'pull a gap' between him and Vettel. He's 22 seconds ahead, so why?
47/53. Alonso closing in on Button with Fernando on the softer, quicker tyres as Button is on the mediums. Two great drivers fighting for scraps.
45/53. It would be just reward for a magnificent drive if Kimi can pass Perez for sixth.
44/53. Into the final ten laps here with Hamilton cruising to victory, Vettel second but could come under pressure from Rosberg in the final few laps.
43/53. Rosberg sitting in third, 3.5 seconds down on Vettel in second, will he close in before the end of the race?
42/53. Nico Hulkenberg complains of a "lack of traction at the back." Marcus Ericsson in the Sauber closing in on the Force India. George Lucas is watching the action, no TIE Fighters in sight here...
41/53. Into the closing stages now, No real shocks as a distinct lack of action is occurring on the circuit so far. Hamilton comfortably in front and set for a win on his 50th Mercedes start.
39/53. Raikkonen closing in on Perez in sixth, great recovery from Kimi following his stall on the grid at the start.
37/53. Top ten is as follows: Hamilton, Vettel, Rosberg, Massa, Bottas, Perez, Raikkonen, Hulkenberg, Ericsson and Ricciardo. Maldonado and Grosjean are our only retirements.
36/53. Lewis Hamilton sets a fastest lap of 1:27:1, certainly not cruising here. Both Force India's in the points, going on about their way in what has been a quiet race in contrast to Belgium.
35/53. Grosjean: "Car from behind hit me and broke the rear suspension. "Today was a good chance for us to score some good points."
34/53. Alonso closing on Button, albeit for 15th place. Something I never thought I'd be typing a few years ago. A fall from grace indeed for the Woking team.
33/53. Hamilton way out in front here, not sure he remembers what fighting for the lead is like! Vettel around 20 seconds down on the number 44.
31/53. Red Bull readying for a pit stop, as the two Lotus' are the only retirements from the race so far! Definitely not a classic but some memorable moments here.
29/53. Kimi cautious of speeding in the pit lane as he slows right down, kudos to Merhi as he brakes at the right time to not hit the SF-15 of Raikkonen.
28/53. Rosberg passes Raikkonen into turn one and had to defend as the Ferrari took a look at Nico under braking. Kimi pits with drama as the Manor of Roberto Merhi almost runs into the back of the Ferrari!
27/53. Such is Hamilton's lead, Vettel hadn't even exited the Ascari chicane when he pitted. Raikkonen told to push, as he hasn't stopped yet it's hard to gage who he will be fighting here.
26/53. Hamilton pits at around half distance, lead doesn't look like it'll be lost as the Mercedes pits.
25/53. Vettel told to pit, off Hamilton's pace by just over a second. Onto the mediums he goes. Raikkonen right behind Vettel but hasn't stopped yet
24/53. Raikkonen third but yet to stop, hat a recovery from the enigmatic Finn!
23/53. Bottas coming in for his stop, Rosberg's double undercut has worked! Nico is now P3 following his pit stop. Perez comes out in P8.
22/53. Pit stops aplenty now, many cars looking like one stopping. Vettel in second hasn't pitted yet, neither has Hamilton. The latter mentions degredation on his front left, pit stop imminent from the Brit.
20/53. Massa pits indeed, has Mercedes' undercut worked? Raikkonen passes Ericsson as Rosberg is now ahead of Massa, the undercut has worked as Mercedes' pit strategy remains to be spot on.
19/53. Is Rosberg's stop an undercut attempt? Hell want to dispose of the Williams' here. Raikkonen sits seventh as his impressive resurrection continues.
18/53. Pit stop window open for drivers on a one stop strategy. The medium tyres will need managing well if the drivers are to one stop. Nasr passes Alonso as McLaren look like sitting ducks here. Rosberg pits and puts on the mediums.
16/53. Max Verstappen and Button are having a great fight here! The young Dutchman passes the 2009 world champion, a glimpse of a star in the making here!
15/53. Hamilton way out in front, not looking like he'l be threatened today. Vettel is in second with Massa third.
14/53. Rosberg attacks but can't find his way past into the first chicane. Bottas doing well to defend.
13/53. Hulkenberg reports a 'strange noise' coming from his Force India. Rosberg closing in on Bottas within DRS range.
12/53. Rosberg on the back of Bottas in fourth. Brakes are improving according to his engineer. Verstappen passes Alonso for 13th.
11/53. Stewards have handed out a five second time penalty to Sainz for going off track and gaining an advantage. Not sure if isolated incident of for his overtake on Button.
9/53. Vettel falling further behind Hamilton, as the Brit steams away. Raikkonen is ninth following his stall on the grid. Rosberg has high front brake wear, which could hamper the German.
8/53. Hamilton sets the fastest lap of the race so far with a 1:27:7. Button down to 13th as Kvyat makes his way past the McLaren under DRS.
7/53. Sainz passes Button and the Brit is passed by Ricciardo too! Poor JB.
6/53. Raikkonen tries to pass Sainz but can't make the move and goes down the slip road to the side of the second chicane. Jenson Button the Finn's next target.
4/53. Hamilton building a gap to Vettel already as the familiar story looks like repeating itself. Rosberg is down to fifth as both Williams' passed him. Losing it after trying to avoid Raikkonen's stalled Ferrari.
3/53. Romain Grosjean is OUT already, his Lotus E23 parked up smoking and it's double misery from Lotus as Pastor Maldonado pulls into the Lotus garage, dismal weekend from the Enstone team. Raikkonen up to 12th already, passes Ricciardo into the Parabolica.
2/53. Hamilton leads from Vettel and Massa as Raikkonen fights his way back up the grid from his disasterous start! Nasr and Verstappen pit with Max serving his drive through penalty for his engine cover malfunction yesterday.
Lap 1/53. And it's lights out and away we go! Raikkonen stalls on the grid! he's last now as Hamilton leads out the first chicane from Vettel.
Formation lap is underway. Everyone away smoothly.
Tyre covers off, we're ready to go here! Prediction time, who will win? tweet us at @VAVELF1 to let us know your predictions!
No chance of rain today supposedly, just how it should be for one of the best Grands Prix of the year. Monaco, Silverstone, Spa and Monza, the 'Fab Four of Formula One.'
Parabolica, Ascari, these beautiful and majestic corners will be taken at full speed this afternoon, this is the Italian Grand Prix! Lights out in five minutes!
Drivers just going over their strategies now, pit strategies could play a huge part into who could be on the top step of the podium this afternoon.
Also on the grid is some notable former drivers; Niki Lauda of course, Jean Alesi and double world champion Mika Hakkinen! Wonder what he thinks of McLaren's current issues.
Cars on the grid, lights out is certainly close now! Can Ferrari spring a surprise down into turn one.
Some magnificent moments to happen at Monza down the years; 1971: Peter Gethin won one of the closest Grands Prix in F1 in a BRM. 1976: Niki Lauda finished fourth just weeks after his near fatal crash at the Nurburgring. 1988: Ferrari 1-2 following Enzo Ferrari's death a few weeks before. The only race that season that McLaren didn't win.
Hamilton, Raikkonen, Vettel, Rosberg, Massa, Bottas, Perez, Grosjean, Hulkenberg, Maldonado, Nasr, Ericsson, Stevens, Merhi, Button, Alonso, Sainz, Kvyat, Riciardo, Verstappen.
Now that all the grid penalties have been ordered out, we can bring you the full grid as follows...
Not too long until lights out today, what can we expect to see? Another Hamilton win? Maybe Ferrari can spring a surprise and win in front of the Tifosi. We'll find out shortly so stay tuned with us here at VAVEL UK as we await for the Italian Grand Prix to unfold!
Also could this be Lotus' final season in F1? Rumours are flying that Renault are to buy out the cash-strapped team and take over the team they sold in 2010. However these rumours are unconfirmed, and should be taken with a pinch of salt.
Pirelli will continue to be heavily scrutinised this weekend due to the high speed blowouts of Nico Rosberg and Sebastian Vettel at Spa a fortnight ago. A high speed circuit such as Monza will require strong tyres.
Kimi Raikkonen was among those surprised by Ferrari's pace, saying that "If we look now, we have probably surprised ourselves a little bit." The Finn added that they "expected a strong weekend" and that "it's our best qualifying this season as a team."
Ferrari performed admirably yesterday, and now have Lewis Hamilton wary of the Scuderia. He said to the press on Saturday: "These guys did a great job and they are very close." The reigning champion added that he hopes to see their strong race pace continue.
Romain Grosjean yet again was impressive, making the top ten and qualifying seventh. He finished on the podium last time out, but can he do it again here? It looks unlikely with Mercedes and Ferrari being on form.
McLaren continue to be dogged by issues and have yet more penalties due to changes being made on their cars. Jenson Button and Fernando Alonso qualified 16th and 17th respectively but move down the grid due to their aforementioned penalties.
Engine issues appeared to be the order of the day on Saturday as Max Verstappen failed to set a time due to a problem on his STR10, then to make matters worse for the Dutchman, his engine cover spectacularly blew off as he was set to take a flying lap.
He finished all three practice sessions top and all three qualifying sessions belonged to the Brit, making his 50th start in a Mercedes car here.
Mercedes are rumoured to have spent their remaining seven engine tokens upgrading the W06 for this weekend, and the gulf in pace was evident as Hamilton hasn't been bettered in any session so far this weekend.
Rosberg had an issue with his engine and had to revert back to his engine from the last race in Belgium, meaning he wasn't as competitive as Hamilton, seeing him drop below the Ferrari pair, who will no doubt be eager to impress in front of their own crowd.
Yesterday saw Mercedes dominate as has been the theme this season. Lewis Hamilton sits on pole position but due to an issue with Nico Rosberg's W06, the Ferrari duo of Kimi Raikkonen and Sebastian Vettel sit second and third respectively.
We're at Monza this weekend, another circuit steeped in history and amazing events which have happened at this circuit. One of the few circuits which remain on the calendar that were in the very first season of Formula One in 1950.
Good morning everyone and welcome to VAVEL UK's live feed for the Italian Grand Prix! I'm Aaron Irwin and I'll be guiding you through the events and happenings as we prepare for lights out!