Efren Vazquez crashed out of qualifying previous to the third round of the Moto2 at the Circuit of the Americas in Texas.
The race began with news that the only Suter rider in the field would not be racing aboard his JP Moto Malaysia Suter due to fracturing his right ankle.
Jump starts again
It was not a clean start for the Moto2 field again for the second time this season as two riders where again penalised for making a jump-start before the race lights went out. Axel Pons (AGR Team) and Lorenzo Baldassarri (Forward Team) had to complete a ride-through penalty down the long pit lane at the track as a result.
Aegerter makes a great start from second row
CarXpert Interwetten team rider Dominique Aegerter had a great start from fourth on the grid as he led into the first corner of the race, he was ahead of the 2015 Moto Champion Johann Zarco (Ajo Motorsport) and Alex Rins (Paginas Amarillas HP 40) who was followed by Jonas Folger (Dynavolt Intact GP) and Sam Lowes (Federal Oil Gresini Moto2) who had lost time at the first apex.
Rins takes the lead
Rins claimed the lead on the first lap ahead of Zarco, Aegerter and Lowes who managed to overtake Folger. Aegerter was next to attempt a move on Zarco but he had to bail; he managed to brake in time without contacting the back of Zarco.
The Spanish rider who had pole here at COTA managed to break away gaining a slight lead as Zarco appeared to hold up the group of riders that followed. Lowes attempted to overtake Aegerter at the end of the first lap but failed and went wide, he had to slot back in behind him. The two continued to fight over the duration of the next lap, by lap eighteen Lowes claimed third. He overtook Aegerter and ran wide slightly however he had the inside line on the next corner and was able to make it stick.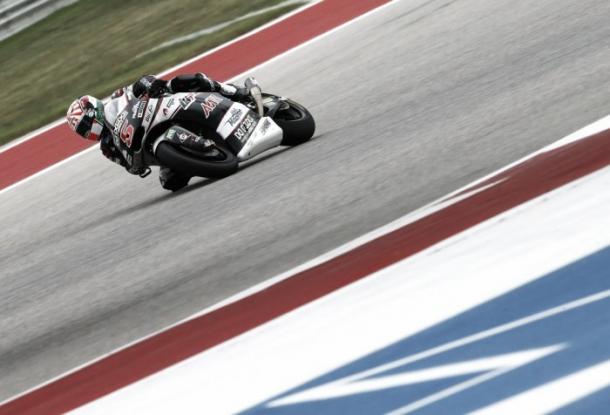 Lowes was on the move
Now Lowes had Zarco in his sights, it was not long before the Brit tried to attack for second position. When they raced down the back straight Lowes used the slip-of Zarco to overtake on the inside where he managed to get ahead of him in time for the next corner; he was able to make it stick and was now in pursuit of Rins.
Group of riders battled for third
Folger appeared to be held up by Aegerter and soon made his move. At the start of the second lap Thomas Luthi (Garage Plus Interwetten) overtook Takaaki Nakagami (IDEMITSU Honda Team Asia) at turn one to claim sixth position. Zarco went wide and Folger tried to go up the inside but Zarco managed to hold him off, eventually Folger did get past but he went wide and off track allowing Zarco to come back through bringing Aegerter with him.
Luthi then got past Folger at turn one of the third lap. Aegerter briefly got past Zarco but was out-braked and remained in fourth as Lowes continued to chip away at Rins' lead. Luthi tried to repeat his successful move on Aegerter at the start of the fourth lap going into turn one again but was this time unsuccessful.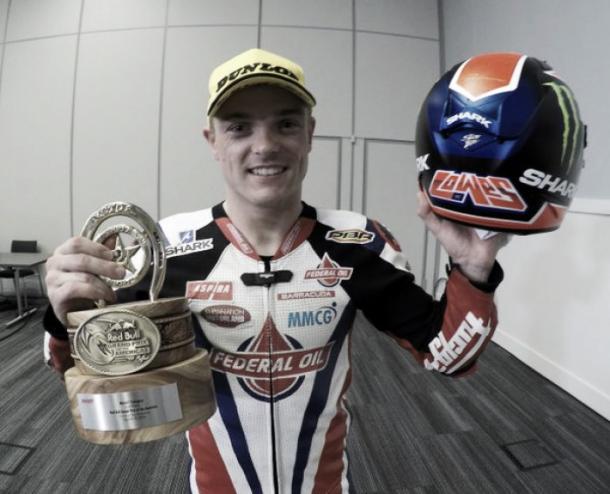 First crash of the race
At turn 11, Luca Marini (Forward Team) lost control as he tried to meet the apex, he crashed out taking Robin Mulhauser (CarXpert Interwetten) with him with 16 laps to go. Both riders appeared to be unhurt however Mulhauser was clearly not happy.
The battle continued behind the leaders
Aegerter claimed third with 14 laps to go after going up the inside of Zarco on turn one; at the same time Simone Corsi (Speed Up Racing) overtook Folger who was followed now by Nakagami.
British rider forced to retire
British rider Danny Kent (Leopard Racing) was forced to retire from the race with 14 laps remaining. When he returned to his pit garage, they immediately inspected the rear tyre and its pressures, however it turned out to be a problem with the clutch when down-shifting which ended the 2015 Moto3 rider's race early.
Who was going to take third?
Back on the track Folger was soon caught by Nakagami. Luthi also attempted to overtake Zarco but Zarco reclaimed his fourth place on the next corner. The battled continued as they switched places a few more times however Zarco remained fourth and also managed to bridge a slight gap. Luthi now became the target of Corsi, but Nakagami overtook Corsi which meant Luthi was given a bit of a breather. Folger then overtook Nakagami forcing him out wide with thirteen laps to go.
Things settled down in the Moto2 class for a few laps, until Luthi attempted to gain Zarco's place again with seven laps remaining; he again attempted this at the end of the start-finish straight entering turn one but went wide missing out on fourth again.
Aegerter then lost two places as Zarco and Luthi made it past as they battled for third; Nakagami also got past Corsi to now take sixth position. The battle continued among the group, however Nakagami ran wide allowing Corsi back through; Nakagami fought back though and overtook Corsi and Aegerter to claim fifth with ten laps to go.
More bad luck for the Leopard Racing Team
News then came through that Kent's teammate Miguel Oliveira crashed out at turn six with nine laps remaining. He was able to return to the track but it was not looking like a good weekend for the newly expanded Leopard Racing Team as he had to eventually retire to the pits.
At the end of the lap 13, Nakagami reclaimed sixth position from Corsi, and went on to overtake Aegerter; however when he next attempted to overtake Zarco and Luthi he went wide undoing all of this work.
Two more riders collided
Five laps remained and Corsi and Aegerter continued to battle as well as Zarco and Luthi. Zarco and Aegerter remained victorious from this, but Corsi soon regained his place from Aegerter. When four laps remaining Nakagami and Corsi overtook Aegerter but both collided when they overtook Luthi at turn one; Corsi was on the inside of the corner and hit Nakagami as they unfortunately met the apex at the same time despite taking different lines, Nakagami slid out of the race but was able to remount.
This gave Zarco a break and he was able to break away in third position ahead of Luthi. Aegerter then acted again with two laps to go and overtook Corsi and Luthi, Folger then went on to take fifth position from Luthi, followed by Corsi which meant the German was left in seventh.
Rins takes his first win of the season
It finished as Rins the winner as he crossed the line two seconds ahead of Lowes. Zarco came out of the battle on top finishing in third ahead of Aegerter, Folger, Corsi and Luthi who finished seventh. QMMF Racing Team riders Xavier Simeon and Julian Simon followed ahead of Folger's teammate Marcel Schrotter.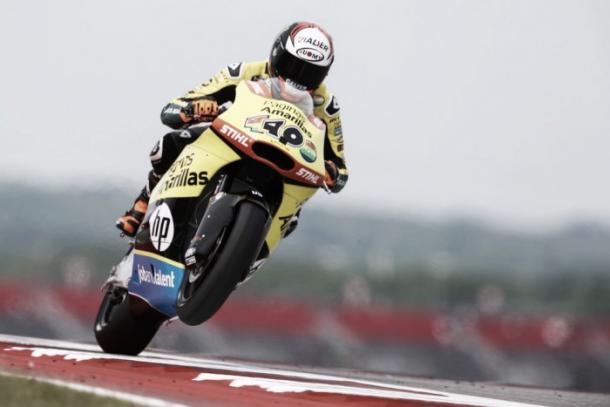 Alex Marquez (Estrella Galicia 0,0 Marc VDS) crossed the line in eleventh ahead of Luis Salom (SAG Team), Marquez's teammate Franco Morbidelli and Nakagami who managed to claim the final point available. Pons and Baldassarri who received the penalties finished in twenty-second and twenty-third. The top Tech 3 rider was Isaac Vinales (Tech 3 Racing) who finished in eighteenth.
How the Championship stands
Lowes leads the Moto2 Championship with forty-seven points with a one point lead over race winner Rins (46); Zarco is in third (45 points) ahead of Luthi in fourth (43 points).