It has been confirmed by both Yamaha and Ducati that 2015 MotoGP Champion Jorge Lorenzo will definitely be riding for the Ducati team in the MotoGP during the 2017/18 season.
Speculation has surrounded the Spaniard for weeks as word about the paddock was that, instead of renewing his contract with Movistar Yamaha that he would be in fact moving to Ducati. Up until now Lorenzo refused to confirm or deny anything surrounding this matter when asked during press conferences.
"Partnership with Lorenzo to be discontinued"
Yamaha released a statement on Monday 18 April to announce that its 'partnership with Jorge Lorenzo will be discontinued,' this will occur at the end of the 2016 season where he will 'move on to new racing challenges.'
The Spaniard joined Yamaha in 2008 following on from his success in the 250cc Championship that he won in 2006 and 2007. Since then Lorenzo worked alongside teammate Valentino Rossi and over their nine seasons together he went on to claim the championship title in 2010, 2012 and 2015.
Lorenzo has made a promising start to his 2016 campaign and currently sits second in the championship despite his DNF in Argentina.
Yamaha thank Lorenzo for their time together
During their announcement, Yamaha spoke about how they are "extremely grateful for Jorge's contributions to its racing successes" yet still they are hoping to creating and "sharing more memorable moments during the remaining fifteen MotoGP rounds of 2016.
"Yamaha Motor Co., Ltd. Wishes Lorenzo the very best in his future racing endeavours and reconfirms the Movistar Yamaha MotoGP team's full support on his campaign to achieve his fourth MotoGP title."
Ducati confirm Lorenzo will join them
Ducati confirmed that the Spaniard will join them in 2017 for two seasons, saying they have, "reached an agreement with Jorge Lorenzo whereby the Spaniard will compete in the MotoGP World Championship in 2017 and 2018 on the Ducati Desmosedici GP Ducati Team."
Is this a way to 'get back' at Rossi?
Lorenzo is doing something that his teammate Rossi already previously attempted. Although the Italian riders have done well aboard the Ducati, they have not been able to win the Championship since Australian rider Casey Stoner left. Is this Lorenzo's attempt to prove that he is the better out of the two (himself and Rossi)?
People tend to view Lorenzo as the number two rider behind number one rider Rossi. If Lorenzo proves as successful as Stoner did and Rossi did not, is this a way of becoming triumphant over the nine times world champion, Rossi?
The two have never gotten on as well as other teammates with accusations, competition, playing a part in ensuring officials penalised their teammate harshly (Lorenzo demanded harsher penalties for Rossi after he forced Marquez out wide in Sepang almost guaranteeing his Championship win off track) and imaginary walls playing a part in their time together as teammates.
Who will lose their place at Ducati?
Of course, announcements like this will lead to even more speculation. Ducati are going to have to make room for Lorenzo's arrival; however who will be the one to lose their seat? Both Ducati riders addressed this following the last race at the Circuit of the Americas in Austin.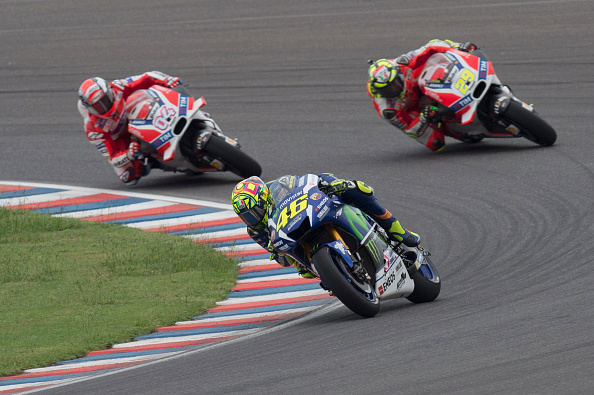 Andrea Dovizioso has had an 'unlucky' start to the season as he has been taken out of contention in two rounds by other riders; one being his own teammate Andrea Iannone and the other Dani Pedrosa.
Dovizioso previously speculated about any transfers himself saying, "I don't think Ducati have to decide the future of the riders just about the points" as he was unable to collect any at COTA and only claimed three out of what looked to be an almost guaranteed 20 in Argentina. The Italian felt that Ducati should, "analyse every rider and try to understand what they need for the future"; it seemed as if this approach would benefit him instead of just considering "speed and results."
Iannone (aka 'The Maniac') appears to be more of a 'loose cannon' on the Ducati and has also not also caused an incident with his own teammate where the team missed out on two podium places, he has been involved in other incidents on the race track where he has collided with other riders in different circumstances.
Iannone was more than apologetic towards his team and teammate following the incident in Argentina and described his last performance as "consistent" and spoke of how he "always ran with a good pace." Iannone claimed a podium place in COTA leaving him seventh so far with twenty-three points.
Who will work alongside Rossi at Yamaha?
Not only will Ducati have to make room, Yamaha now have a spot to fill aboard their Movistar Yamaha M1. Among the rumours of Lorenzo leaving to join Ducati, it was suggested that Team Suzuki Ecstar rider Maverick Vinales would join Rossi on Lorenzo's seat.
The Spaniard has been incredibly strong during the start of the 2016 season as he and Suzuki continue to 'evolve' the bike.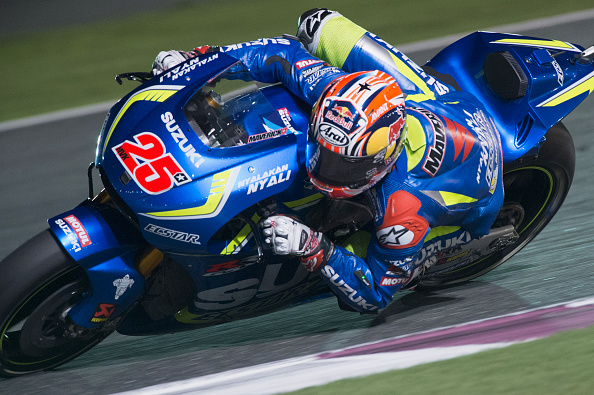 Vinales may stay with Suzuki though, and one of the Ducati riders may well take Lorenzo's place. Monster Tech 3 Yamaha will also need to replace British rider Bradley Smith who has taken on the challenge of joining KTM when they enter the MotoGP field in 2017.
Rossi and Iannone already get on well and have been great friends for years. Will it be a great way for Rossi to end his career, in a happy pit garage? Dovizioso and Lorenzo seem very similar in character and maybe their partnership will become a reckoning force in red.
It will be strange to see Lorenzo in red, it will certainly enhance the cross on his helemt depicting 'Lorenzo's land'.