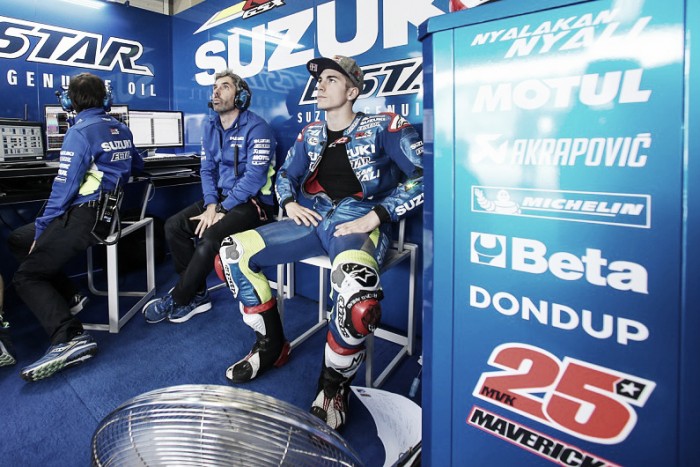 Since Jorge Lorenzo (Movistar Yamaha) announced his decision to sign for Ducati for two years, the rumour mill in the MotoGP paddock has churned and churned and speculation has continued to grow as people try to determine who will go where.
Lorenzo's decision has caused rumour mill to churn
Lorenzo's move leaves a position available at Movistar Yamaha, initially the rumours where surrounding Maverick Vinales (Team Suzuki Ecstar) as he was pinpointed as the one to replace him. Since then Dani Pedrosa (Repsol Honda) appears to have been thrown into the mix as the replacement despite Honda team bosses declaring before Lorenzo's announcement that that had no plans to make any changes with their team.
No idea as yet as to who will leave Ducati
In order for Lorenzo to join Ducati, a space has to be made and an Italian must be 'let go', so why not make a straight forward switch? According to Valentino Rossi at the pre-race press conference ahead of the fifth round of the 2016 season at Le Mans, France, the Italian nine times world champion announced that "Movistar want a Spanish rider". This effectively rules out a Ducati rider joining the Movistar Yamaha team in the future.
Rossi confirms rumours but attempts to deflect speculation away
Rossi spoke of how "in the last days" that there was "a lot of rumours about Pedrosa". The Italian said that the he thinks that Pedrosa and Vinales are "the most possible" for the position of "the second rider". He said, "I don't know the percentage", not wanting to confirm any rumours and then directed further questions away saying, "you have to speak with Yamaha" finishing by saying, "For me it's the same!"
What if Pedrosa goes to Yamaha?
Pedrosa moving means a place would then be available in the Repsol Honda camp. There is the possibility that British rider Cal Crutchlow (LCR Honda) may step up, or will they then look elsewhere.
Monster Tech 3 Yamaha place filled
Bradley Smith recently announced his move to a factory seat with KTM who are currently testing before joining the MotoGP class in the 2017 season. Monster Tech 3 Yamaha announced before their home race at Le Mans that Moto2 rider Jonas Folger (Dynavolt Intact GP) will be replacing him after signing a one year contract. Will Pol Espargaro remain with all the other changes in the class?
Moto2 rider Sam Lowes (Federal Oil Gresini) is already set to join Aprilia in the MotoGP class next season, and 2015 Moto2 champion Johan Zarco (Ajo Motorsport) is amongst the list of riders in the Moto2 class who are hoping to also be promoted which Zarco's hopes set on Suzuki.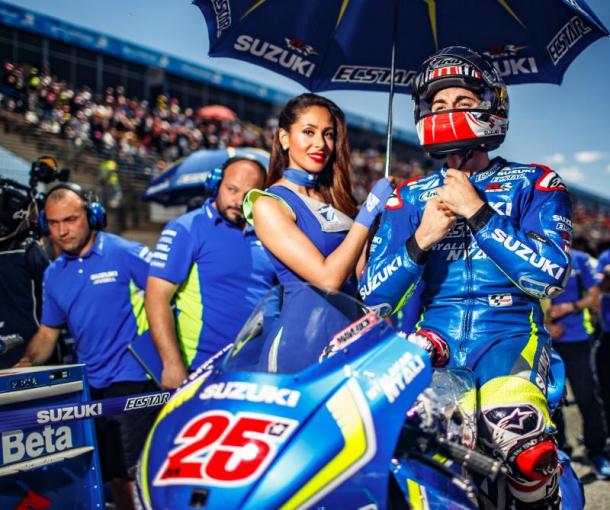 It all appears to be down to Vinales
In order for a place to be available at Team Suzuki Ecstar, Vinales would have to make the decision to leave. His teammate Aleix Espargaro appears to be focused on the season and does not appear to be distracted or focused in anyway on possible career changes despite the amount of progress he has made recently since the start of the season.
Vinales has spoken ahead of the fifth round at Le Mans saying, "I came to Moto GP to win". He speaks highly about Suzuki saying, "in a year they have made an incredible step" and feels that a "perfect weekend" would allow them to "fight for a podium". He spoke of his trust in Davide Brivio and his success in the Jerez test straight after the race and said, "It makes me think!"
Vinales, if he has been offered anything, has such a big decision ahead of him despite him only being in his second year of the MotoGP season after joining as a rookie with Suzuki in 2015. He is talented and has stood out especially in testing but it would be daunting for anyone to have to decide something when he has been so focused on the task in hand with Suzuki. He has his own ambitions with Suzuki however Yamaha have produced a championship winning bike for the last two years with both riders looking competitive to win the championship last year.
A lot of pressure for the youngster
Vinales is extremely flattered having admitted that teams have shown interest in him, including Yamaha. However he remains unsure saying things like, "At the moment I'm between the two, it changes day by day" and "Everyday I'm more convinced to go with one team but it's not enough."
The young Spaniard seems to be finding peace when he is on his bike, what he describes as "another world" where he is "out of everything". He is clearly feeling the pressure and he does not need that to affect his performance this season after such a promising start. He said, "For my team it's important to know because right now they're a little nervous!" Vinales is aiming to remain focused on his racing and said, "I think about this at home, not here!"
How much more can we take?
And so the rumour mill continues to churn! And with no one wanted to rush any decisions (who can blame them) it is surely to produce many more rumours and much more speculation, and all of this when we are just approaching the fifth round of the season out of eighteen. Who else is excited for the 2017 season already?