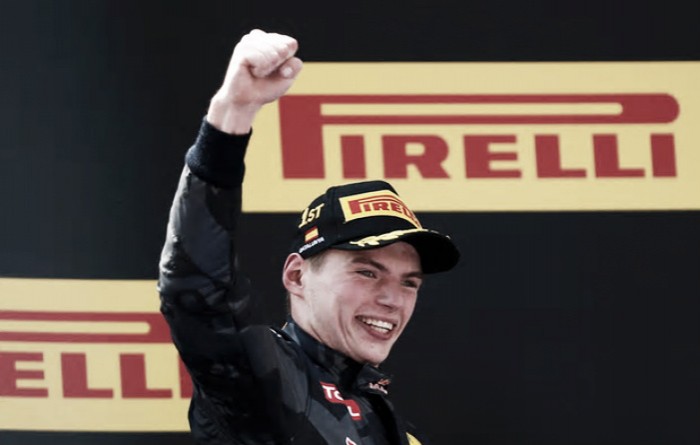 In a massive vindication for Dr Helmut Marko's decision to replace Danill Kvyat at Red Bull Racing with Max Verstappen, the young Dutchman became the Youngest ever winner of a Formula One Grand Prix at the Spanish Grand Prix, with the two Mercedes of Lewis Hamilton and Nico Rosberg colliding at Turn Three and retiring on the spot.
Verstappen was involved in a four-way strategy battle for the lead with Kimi Raikkonen, Sebastian Vettel and Daniel Ricciardo. The two latter drivers were on a three-stop. Despite their best efforts, Raikkonen and Ricciardo couldn't get past the driver ahead, and finished second, third and fourth respectively, even after a late puncture for the Australian.
Valtteri Bottas was a strong fifth for Williams, Carlos Sainz a respectable sixth, with Sergio Perez, Felipe Massa, Jenson Button and Dany Kvyat rounding out the points positions. But it was the start that provided the drama.
Going around the outside of Hamilton at T1, Rosberg drifted across the track at T2, Hamilton then dived for the inside at T3 but had no space and went onto the grass, spun and then hit the rear of the sister Mercedes and both promptly retired. Red Bull headed the field as the Safety Car was called for.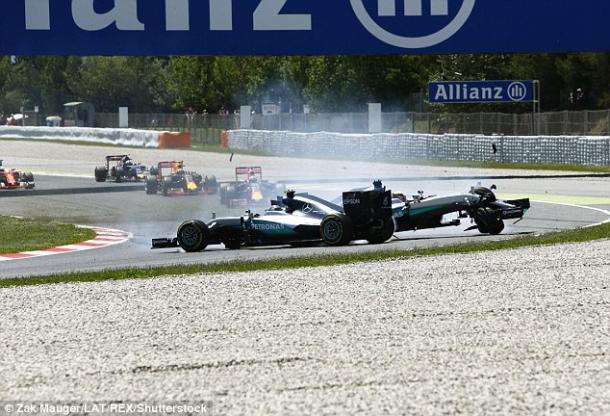 Sainz was able to briefly hold the Ferrari of Vettel up and let the Red Bull's escape up the road, before the first round of pit-stops commenced around Lap 12. The order after the first stops was Ricciardo, Verstappen, Vettel, Raikkonen, with Vettel around two seconds behind the car in front and catching him.
Depsite him having superior pace, Verstappen was unable to reel in Ricciardo, and no overtaking was allowed in S3, due to the fiery end for Nico Hulkenberg.
On Lap 35 and 36, Verstappen and Raikkonen pitted for the second and last time, hoping their medium tyres would go around 30 laps. There were doubts that this would happen, and Vettel and Ricciardo on three-stoppers would soon ease up and pass their teammates. The Australian needed a gap of 25 seconds to pit and get out ahead of Vettel, but after being held up by Jolyon Palmer in his Renault, he failed to do this and couldn't get past, despite some intense efforts into the first turn.
Attention then turned to the leading duo on the two stop strategy, could Raikkonen find a way past and use his experience to win his first race since Australia 2013? He couldn't and to the shock of many, at the age of 18 years days he became the youngest winner in the history of the sport.
Mid-field action:
In the mid-field it was a relatively quiet race, with Esteban Guiterrez providing some good overtakes, with Kvyat in tandem. Fernando Alonso was running just outside the points before his Honda power unit gave up, teammate Button was still able to haul two more points for McLaren-Honda, just behind the very impressive drive of Felipe Massa from P18-P8.
Romain Grosjean capped off a bad weekend with a trip through the gravel and eventual retirement and Force India's bad luck continued with yet another fruitless afternoon for Hulkenberg.
Conclusions:
In Belgium 2014, many said that Verstappen was too young to be in F1. In May 2016, many said that he was too young to go to Red Bull senior team. Emphatically, he just dismissed those doubts and his drive to victory must be one of the best drives in the history of the sport. He is the first driver to a win race after switching teams mid-season since John Surtees in 1966. Juan Manuel Fangio is the other driver to have done that.
But spare a thought for Danill Kvyat. Uncermoninsly dumped by Helmut Marko, he was struggled to settle in, and although he scored points, it was his car that won, and having done nothing wrong to warrant demotion, he believes it should be him
The Mercedes collision is currently under Steward's investigation and, with many pundits split as to whether it was Hamilton or Rosberg at fault or whether it was a racing incident. If Hamilton is found to be a blame he will be given a 10-place penalty for the Monaco Grand Prix for receiving his third reprimand of the season.