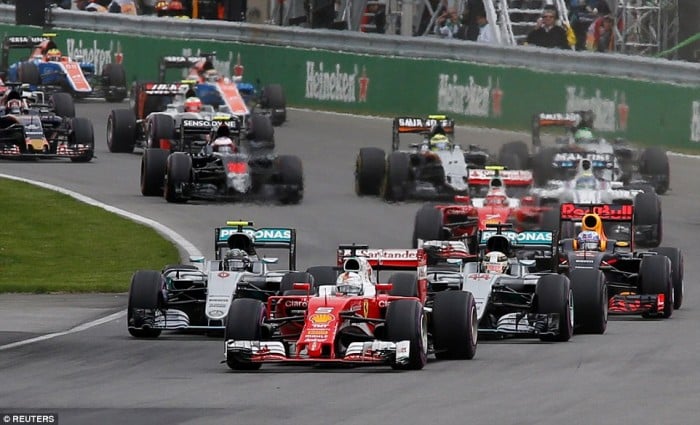 For the fifth time in his career, Lewis Hamilton ​won the Canadian Grand Prix around the ​Circuit Gilles Villeneuve.​ The Briton's one stop strategy proved decisive in holding off the challenge from ​Sebastian Vettel and Ferrari ​- who was on a two stop.
​Holding off Nico Rosberg - ​until he pitted again due to a puncture, Valtteri Bottas ​came home third for ​Williams, ahead of the impressive ​Max Verstappen ​in fourth. The German's difficult afternoon was compounded by a late spin trying to pass Verstappen, which fortunately didn't cost him a place, but the fifth place and 10 points means his championship lead is now just 9 points.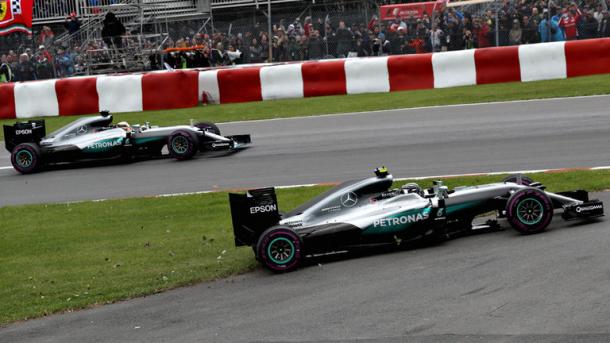 ​Kimi Raikkonen ​was sixth, with a dissapointed ​Daniel Ricciardo ​seventh. ​Nico Hulkenberg ​followed up sixth in Monaco with an eighth placed finish, ahead of Carlos Sainz and Sergio Perez​. But it was Hamilton's day, whose 45th victory in ​Formula One ​moves him just six behind Alain Prost ​in the all time standings.
​Ferrari throw it away - again
​The threat of rain at the start failed to materialise, leading to a dry, if cold and overcast race. ​At the start, from P3, Vettel rocketed away and led the pack. Behind him Hamilton and Rosberg made contact and the German was forced wide, dropping him back to P10. Pulling away from the Mercedes, it looked as though Vettel could take the win, but on Lap 7, ​Jenson Button's McLaren-Honda gave up in a dissapointing afternoon for the Woking based outfit. The VSC was called for to neutralise the race whilst the MP4-31 was moved. It was here Ferrari made the crucial call.​
​Pirelli's ​data suggested a one-stop for the leaders would be the best strategy - from the UltraSoft tyre used in qualifying to the mandatory Soft tyre. However, during the unexpected stop for Vettel, just as the VSC ended, he was switched to the SuperSoft, forcing him to a two-stop, whilst the Mercedes of Hamilton stayed out. Vettel was quickly able to pass the Red Bull's of Ricciardo and Verstappen, helped in part by the unusually strong DRS. At this point the gap was 10 seconds between the two, with the fresh rubber helping Vettel reel Hamilton in by around 1s per lap. When Hamilton finally made his stop, he was 13s behind, with a pit-stop taking 17s in total.
Finally, just over half distance - on lap 37, Vettel was switched to the Soft tyre, and had 33 laps to make up a 7.4 gap. He quickly pegged Hamilton back to just 5s, but a series of uncharacteristic mistakes at the final chicane made Vettel's charge pointless. For the third time in 2016, Ferrari should've won, but didn't. In Australia and Spain, the team were poised to take victory but poor strategy cost as it did Vettel today, who was 5.8 short at the flag.
​​Podium scrap won by Bottas
​​The Red Bull challenge was muted by the cold conditions in Montreal. Their RB12 is best suited to hotter conditions and like most, they couldn't get temparature into their tyres and so were out of contention for the win. However, Verstappen was for a long time in P3 and looked as though he could haul his second podium, after his win in Spain last month. The one-stop he was on, didn't work out and the team switched him to a two-stop and he magnificently held off Rosberg whose car condition warnings "were real" at the end. Daniel Ricciardo's fustrations were less evident than in Spain and Monaco, but he felt he deserved more for his efforts then seventh.
In a text book drive, Valtteri Bottas, epxertly saved his tyres and hauled his nineth career podium, and first of the season for Williams. The late Verstappen/Rosberg duel enabled the Finn to coast home and was left unchallenged.
​Sainz bags points
​From P20, after his qualifying crash and resultant gearbox penalty, ​Toro Rosso's Carlos Sainz ​drive to points was a showcase to his growing reputation. With Raikkonen under pressure at Ferrari, there is a possibility that the young Spainard could move to the Scuderia. In a quiet mid-field race, Nico Hulkenberg's needed solid weekend was a prize of out qualifying and then out-racing teammate Perez.
A poor pit-stop moved Fernando Alonso ​out of the points positions and in a downbeat race, finished P12, even asking near the end if he could box the car and retire, even though there was nothing wrong with his car. ​Azerbaijan ​could also prove a difficult event for the Woking team. Haas ​had a difficult weekend, with an ill ​Esteban Gutierrez ​finishing ahead of ​Romain ​Grosjean.
​​It was another weekend spent struggling for ​Sauber​ who finished well down the order, although Marcus Ericsson's ​performance was encouraging, ​Felipe Nasr ​continues to struggle to get to grips with his equipment. ​​Observing Ramadan, ​Pascal Wehrlein's ​weekend was promising for ​Manor. ​Nearly making it through to Q2 on merit, finishing ahead of Sauber, was a good result. ​Kevin Magnussen brought his ​Renault ​home well-down the field in P16.
Along with Button, ​Jolyon Palmer (​water leak) and Felipe Massa (​Engine problems) were the three retirements.
Conclusions
​​By his own admission, ​Lewis Hamilton ​was "floating" around the circuit in the closing stages and in a tribute to the late ​Muhammed Ali ​used his catchphrase "Float like a butterfly, sting like a bee" to sum up his race. The momentum is now with the British driver heading into ​Azerbaijan. ​A 43 point deficit to Rosberg, has now been cut to 9 in just two races and the fight is now on.
But what about Ferrari? If they are to take the challenge to Mercedes, as they have shown they can do on more occassions and sustain the challenge, they need to cut out the mistakes and win races when presented with the opportunity. Vettel would be around 20 points closer to the Mercedes if he had won the races presented to him, he is currently on 78 points, to the 116 of Rosberg.
Next up for Formula One is the new European Grand Prix from Baku in Azerbaijan, next weekend.