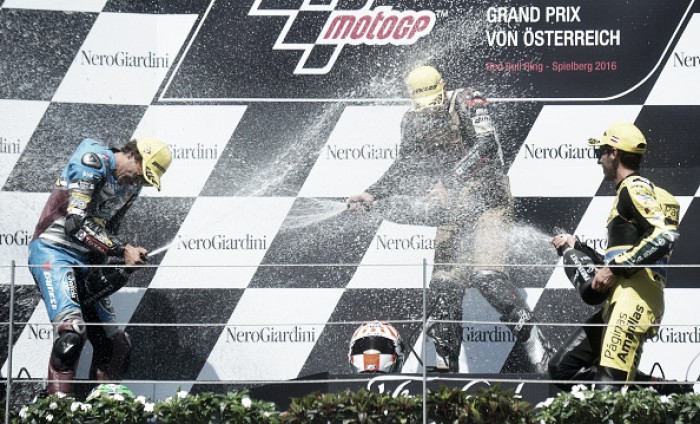 Estrella Galicia 0,0 Marc VDS must have had a special breakfast this morning as Franco Morbidelli took full advantage of his front row start and led into the first corner. He immediately pulled away as the NeroGiardini Motaoorad Grand Prix von Osterreich Moto2 race got away for the first time at the Red Bull Ring.
His teammate Alex Marquez led the pack behind him and pole position man Johann Zarco (Ajo Motorsport) was pushed down to fifth at the start of the race. Marcel Schrotter (AGR Team) and Alex Rins (Paginas Amarillas HP 40) filled the places between him and leader Morbidelli.
Riders hungry for a podium
Entering turn one of the second lap, Schrotter made an attempt to overtake Marquez at the end of the start-finish straight. While he was distracted, Luthi made a move on Schrotter a few corners later to take third, but Schrotter retaliated after using the inside line to his advantage.
Zarco had overtaken Rins who now found himself under pressure from Takaaki Nakagami (Idemistsu Honda Team Asia). Schrotter's attack continued when he made a beautiful overtake on Marquez to take second a few corners later; Zarco copied and made his move on Luthi.
Morbidelli led at the Red Bull Ring
Half a second of a gap had now appeared between race leader Morbidelli and Schrotter in second as they crossed the line to start the third lap. But Zarco was on the attack setting the fastest lap time so far on lap two.
First crash of the race from Folger
Jonas Folger (Dynavolt Intact GP) crashed out of turn four after he approached the turn to wide and had no choice but to enter the gravel trap. He fell in the deep gravel but was able to pick it up and re-join the race.
A battle began between Zarco and Marquez, and as the two were distracted, Luthi caught up and was able to take advantage taking third from the duo.
Marquez came out the worst as he ended up in fifth and was now receiving pressure from Rins, while Zarco had to redo all his work in fourth. Zarco and Marquez had actually come into contact spoiling the Spaniard's momentum.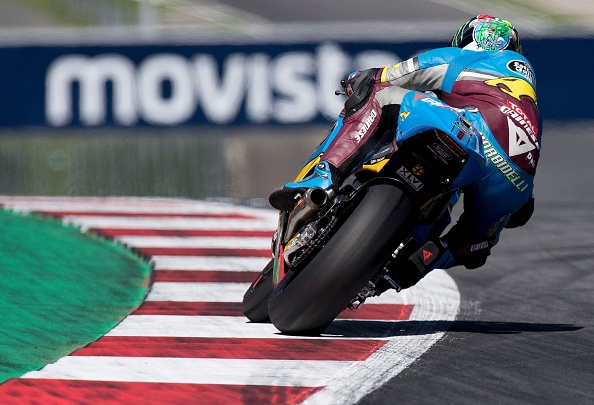 Lowes crashes out
Federal Oil Gresini Moto2 rider Sam Lowes has struggled to make things work comfortably so far this weekend at the Red Bull Ring and he crashed out at turn nine. There is a long asphalt run-off area here and he slid with the bike and was able to pick it up and re-join the race after losing many places.
Schrotter on the move
Morbidelli's charge continued at the front as his lap times dropped and he worked to try and pull away from Schrotter in second. Luthi had found his form in third though and in his pursuit of Schrotter, soon set the fastest lap.
Rins soon made his move on Marquez to claim fifth but Marquez did not wait long to retaliate. Then, at the end of a straight in the last sector of the lap Rins made a perfect overtake on the inside to take it back.
The battle continued but it would have worked to their advantage to work together to close the gap on Zarco, who while left alone, now set the fastest lap so far.
Luthi makes a mistake
With fifteen laps remaining Luthi looked to make a move on Schrotter who had closed the gap between him and Morbidelli. But braking to avoid coming into contact with the rear of the German spoiled his momentum.
Schrotter then made his move on Morbidelli to take the lead briefly, however he ran off the track and to afford a penalty he gave the lead back to Morbidelli. At the same time Luthi lost fourth to Zarco.
Schrotter did not wait long to repeat his move and he again took the lead, this time Morbidelli fought back and was able to make it stick as in he remained in the lead.
Second crash for Lowes
Unfortunately for Lowes he crashed again at turn nine after he locked the front and was thrown off the side of the bike. They slid along the race line and eventually came to a stop. This time it was race over! Luckily Lowes looked to be OK after both incidents.
Turn nine then claimed another victim on the next lap as Simone Corsi (Speed Up Racing) then crashed with 13 laps to go. He was in the process of overtaking Hafitzh Syharin (Petronas Raceline Malaysia) on the inside when he hit him on the apex. The two ran into the run off area tangled up. It was race over for Corsi but Syharin was able to recover.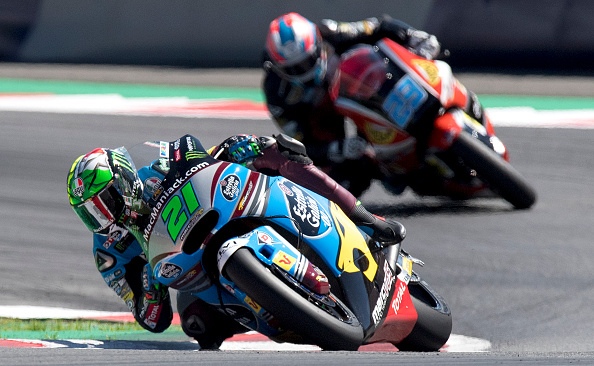 Zarco now the man on the move
With 12 laps remaining while Zarco was focused on overtaking Schrotter, Luthi snuck up behind the French man, but he later went wide. Zarco continued his attack on Schrotter and a few corners later he had passed him and his attention turned to hunting down leader Morbidelli who responded to his last attack and tried to extend his lead.
Luthi wasn't settling for fourth though and continued his attack this time on Schrotter. He did it; he was on the podium and just had to make it stick. Schrotter did also deserve that podium though and worked hard to not let Luthi get away while Rins stalked in fifth.
Zarco takes the lead
Nine laps remained and the pace, that we had witnessed from Zarco all weekend, finally came through and Zarco took the lead from Morbidelli heading into turn one. The Italian tried to fight back immediately but he did not have the pace.
On the next lap Morbidelli became victim to Luthi who overtook him to take second. Behind them a battle for fourth was taking place. Rins had overtaken Schrotter, but then made a mistake on the entry to a corner which meant he lost momentum and Schrotter got back through.
Both were not willing to give up but Rins was able to make it stick and Schrotter looked like he was being forced to settle for fifth.
Things calmed down... for now
Things settled down for a while until the last lap when the battle for second started to heat up. Morbidelli had caught Luthi and was able to get past Luthi when he made a mistake and ruined his momentum allowing Morbidelli to get through. Luthi bit back when he regained the drive and overtook Morbidelli.
As these two battled Rins was able to take advantage and catch up. If either of these two messed up he was in the perfect position to take advantage, there would have been the possibility he was going to steal the podium place.
It was elbow to elbow down the straights, but Morbidelli had the inside line and it made things harder for Luthi. He was forced out wide and lost the drive on the corner which meant that Rins was able to slot straight through. Luthi lost the podium place in one lap after such a great performance.

Zarco wins the Austrian round of the Moto2
Zarco won with a lead of over three seconds. The Frenchman was delighted and pulled up at the side of the track where he was passed some Lederhosen to put on before he completed his usual backwards flip off the tyre wall.
Lucky for Morbidelli he managed to remain in second as they crossed the line; it was Rins who claimed the final spot on the podium in third. Luthi had to settle for fourth while Schrotter crossed the line in fifth.
Marquez gets best Moto2 result of his career
Marquez had dropped off the pack but still gained his best Moto2 place so far in sixth ahead of Nakagami in seventh. Lorenzo Baldassarri (Forward Team), Axel Pons (AGR Team) and Dominique Aegerter (CarXpert Interwetten) completed the top ten.
Sandro Cortese (Dynavolt Intact GP) finished in eleventh ahead of British rider Danny Kent (Leopard Racing) who worked hard to move up to finish twelfth and claim four championship points. Mattia Pasini (Italtrans Racing Team) took three points on his birthday weekend after finishing thirteenth.
The remaining results
Despite looking strong all weekend Miguel Oliveira (Leopard Racing) finished the eleventh round in fourteenth and Julian Simon (QMMF Racing) finished in fifteenth taking the last available championship point and finishing as the highest placed Speed Up rider.
The highest placed Tech 3 rider was Xavi Vierge in sixteenth, the Tech 3 Racing rider just missed out on the points. Luca Marini (Forward Team) finished behind him followed but Isaac Vinales (Tech 3 Racing), Remy Gardner (Tasca Racing Scuderia Moto2) and Edgar pons (Paginas Amarillas HP 40 ) completed the top 20.
After his crash Syharin was able to recover and take twenty-first ahead of Ratthapark Wilairot (Idemitsu Honda Team Asia), Xavier Simeron (QMMF Racing Team), Jesko Raffin (Sports-Millions-EMWE-SAG), Robin Mulhauser (CarXpert Interwetten) and Folger completed that pack in last place (26th).