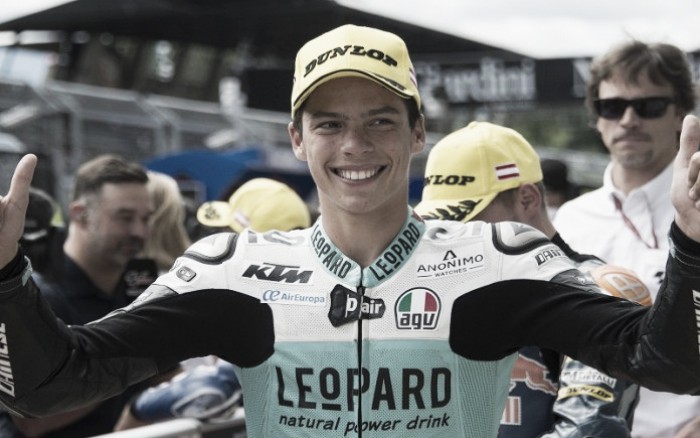 Leopard Racing Team rider Joan Mir started the first Moto3 race at the Red Bull Ring in Austria after 19 years from pole position; his first ever pole position in his career.
He was joined on the front row by Brad Binder (Red Bull KTM Ajo) at his team's home GP and Enea Bastianini (Gresnini Moto3) as the lights went out and the Nero Giardini Motorrad Grand Prix von Osterreich got underway.
Fenati excluded from the race by his own team
Now news had come through the night before that Sky Racing Team VR46 rider Romano Fenati would not be allowed to start as a punishment from his own team following repeated unacceptable behaviour towards his team. This meant that from tenth on the grid, all riders were able to move up one position.
Clean start got the first race in 19 years underway
After a clean start Brad (Binder) forced his way through along with Bastianini to lead into the first corner ahead of pole position rookie Mir as they headed into the first corner of the 23 lap race.
Mir was not going to let all his hard work so far this weekend goes a miss. The Red Bull Ring is made up of several long straight roads or sweeping bends meaning the Moto3 class who are known for slipstreaming used this to their advantage from the start.
Brad Binder lost his lead on the approach to the first sharp right hander as Mir and Bastianini had the inside line, Bastianini took the lead and Mir claimed second leaving Brad in third. The front three appeared to be breaking away before one lap was over, and rookie Aron Canet (Estrella Galicia 0,0) let the pack behind them.
Mir takes the lead on lap 2
After crossing the line and starting the second lap, Mir used the start-finish straight to benefit from Bastianini's slipand overtook him going in to turn one.
Like he did on the first lap Bastianini tried to use the slipto overtake on the right-hander but Mir held his ground. Instead Bastianini lost a place to Brad briefly. This allowed Mir to break away slightly. Brad wasn't standing for that and soon got past Bastianini and went in hot pursuit of the rookie.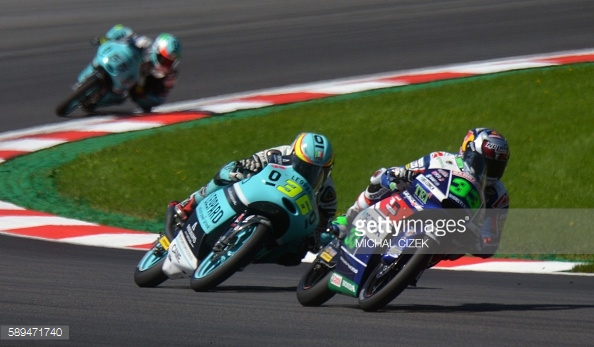 He caught him in no time bringing Bastianini with him and overtook Mir, this distracted Mir and caused him to make a mistake (went wide) and so Bastianini was able to get past and force him down to third.
When they crossed the finish line to start the fourth lap, Bastianini reclaimed the lead and brought Mir through with him, but Brad got back past him. Mir tried his best to get past Brad, trying every line possible which meant that Mir's Leopard Racing Team teammate Fabio Quartararo was able to catch them after making his way to the front of the following group.
Quartararo's hot pace continued
Quartararo has been hot on the pace this weekend but unfortunately for the French rider he had a lot of lap times cancelled by Race Control for exceeding the track limits. During the race a rider is not penalised unless it has worked to his advantage and he has gained from it; usually they hae to give up a position on the track.
Quartararo was on the back of the leaders now as Brad took the lead. Schedl GP Racing team rider Philipp Oettl had followed in Quartararo's tyre tracks and had also caught the front bunch. As had the pack that followed who were closing them down as they continuously switched positions.
With 18 laps remaining Quartararo made a move on his teammate to take fourth and in an attempt to get back past him Mir almost connected with the back of the Frenchman's rear tyre.
Wildcard Bezzechi crashes out
The first crash of the race came with 17 laps remaining. Wildcard Marco Bezzecchi, making an appearance aboard a Mahindra crashed at turn four.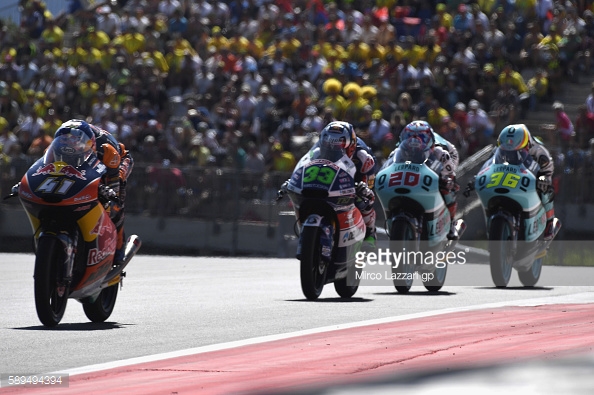 In an order not to lose his lead as they crossed the line to start lap seven, the Moto3 riders 'fanned out' to avoid losing positions to rivals slipstreaming behind them. Fabio Di Giannantonio (Gresini Racing Moto3) and Jorge Martin (Pull & Bear Aspar Mahindra team) had tagged on to the leaders meaning it was seven battling for the podium.
Di Giannantonio made a mistake allowing Francesco Bagnaia (Pull & Bear Aspar Mahindra Team) and Andrea Locatelli (Leopard Racing) to tag onto the back of them now.
Turn nine claimed its first victim of the day
Tatsuzki Suzuki became the first victim to turn nine of the day as he fell from his CIP-Unicorn Starker Mahindra. There is a long asphalt run-off at that turn which meant they both slid but where he came to a halt, his bike continued and hit the tyre wall. He was unhurt.
Sixteen laps to go and Binder led ahead of the Leopard Team boys Mir and Quartararo. Oettl and Martin had both gained a place from Bastianini but then he soon regained a spot from Martin. As they came to the sharp right hander, Quartararo pushed his way through to the front to take the lead for the first time but not for long as Brad got back through.
Rodrigo sets the fastest lap in fourteenth
As the battle continued at the front it was Gabriel Rodrigo (RBA Racing Team) who managed to set the fastest lap so far on lap nine from down in fourteenth position.
Quartararo regained the lead as Martin ran off track losing fourth place to Mir who then went on to take third from Oettl. Locatelli soon also got past Martin. Also moving up the pack was Sky Racing Team VR46 rookie Nicolo Bulega who was currently in eighth.
As they crossed the line with fourteen laps to go Quartararo managed to retain his lead meanwhile behind the lead group the battle was on for eleventh as second in the championship Jorge Navarro (Estrella Galicia 0,0) and Livio Loi (RW Racing GP BV) had made to their way to the front. Maria Herrera (MH6), the only female in the class was amongst the battle as they barged each other out of the way.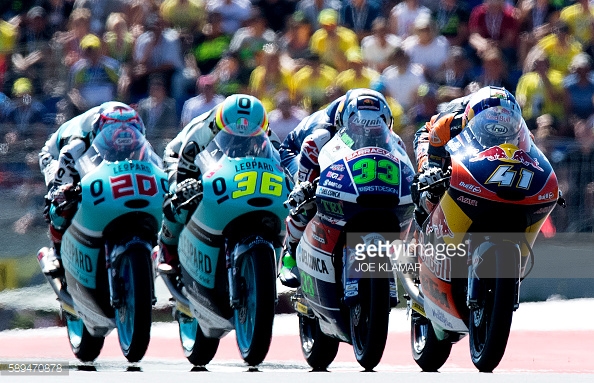 The battle continued at the front
Back at the front Brad overtook Quartararo on the inside forcing him wide and into the run off areas. He lost two places because of the move and tucked back in behind Oettl and ahead of Mir in third. Heading into turn one of the next lap, as Bastianini had just set the fastest lap, Quartararo slipped past Oettl.
It did not last long though as Mir got past, but then Bastianini who was flying got past both of them forcing Quartararo down to fifth. There was still no telling who was going to win as the Leopard boys came together briefly after forcing Bastianini backwards which played into his hands and they had to stay tight behind him in the slipto avoid him breaking away.
Bulega struggled to keep up with the pace
Unfortunately for Bulega he started to travel backwards. The lead group had broken up a little and the Italian rookie and Di Giannantnoio dropped back behind Navarro who signalled to them to stick behind them as he planned to lead the way in catching Locatelli and Martin in sixth and seventh.
His plan worked and he soon caught Martin and then Locatelli and was now in sixth as his 'possy' of Moto3 bikes followed.
Brad Binder retained his lead
Brad had managed to stay out in front for several laps now as they crossed the line with nine to go; behind him the four that followed continued to constantly switch places. Rodrigo crashed out of turn three, he had clearly found the exceeded the limit when pushing after earlier setting the fastest lap time.
Oettl was then the latest to set the quickest lap and managed to move up to second as they crossed the line with eight laps to go, but then his strategy to use a completely different line to the other lead four riders paid off; the inside line allowed him to overtake Brad and lead the race for the first time.
Quartararo came through with him though, led into the right handed corner and forced Oettl outside which allowed Brad to come through along with Bastianini. They steamed down the start-finish straight like a train and it was almost five-a-breast for the turn one as they still continued to switch places.
Mir moves back to the front
Now it had been a while since Mir had led at the front of the field but as they all lined up to enter the right hander, the rookie got back to the front. Was this part of his strategy? Had he maturely decided to sit behind the riders and allow them to use up their tyres and fuel leaving him stronger for the end of the race?
Brad appeared to have a problem as he dropped to the back of the lead group. He was becoming at risk to Navarro in sixth until the Spaniard skidded out at turn three, all his hard work was undone as he struggled to restart his bike. He had to admit defeat and it was race over. Brad's lead in the championship was safe much to the disappointment of second place Navarro.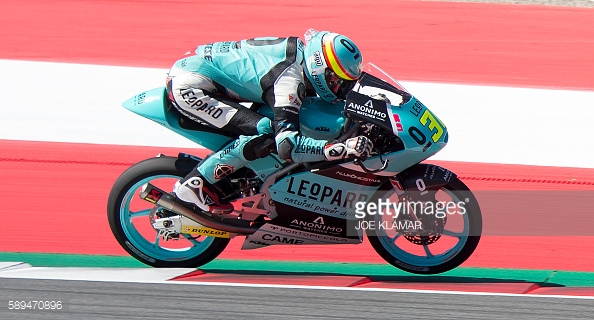 Mir continued to lead at the front, dangling his leg as he made the right turns seemed to be enough to hold the others off. This woke Brad up who lunged back into third as Mir briefly lost the lead to Oettl.
Mir temporarily lost the lead as Binder's issued seemed to continue as he was missing the race lines as the others refused to let him through at turn four.
Antonelli penalised for overuse of the track
Race Direction then decided to penalise Antonelli for overused of the track with three laps remaining. The Italian had to give up one position but lost two and ended up in twenty-first.
Bastianini claimed the lead again at turn three on the penultimate lap but several corners later he retaliated as Brad moved up to third. Mir remained in front as the rookie led going into the first corner. Bastianini overtook him at the highest point of the track bringing Brad with him, the South African shot up the inside of the two but then went wide forcing Bastianini out slightly.
Mir regained the lead
They repeated this on the next corner and this time the rookie Mir was able to take advantage and overtook the two on the inside. He was on his way to first ever Moto3 win in his debut season, Was it going to stick?
Quartararo was behind him but then Brad overtook in the final corners to move up to second, the Frenchman lost momentum and so had to undergo a drag race to the line against Bastianini.
Rookie Mir makes history winning his first ever Moto3 race
He had done it! What an amazing achievement! Joan Mir, the nineteen year old Spanish rookie had not only claimed his first ever career pole at the Red Bull Ring aboard his KTM, he went on to win his first ever Moto3 race and he did it in Austria. It was such an amazing ride from the rookie at an already historical event! What a way to make his way into the history books.
Brad Binder crossed the line in second place and Bastianini made it to the line in third just 0.08 seconds ahead of Quartararo who had to settle for fourth, while Oettl finished the race in fifth. Bastianini was the highest placed Honda.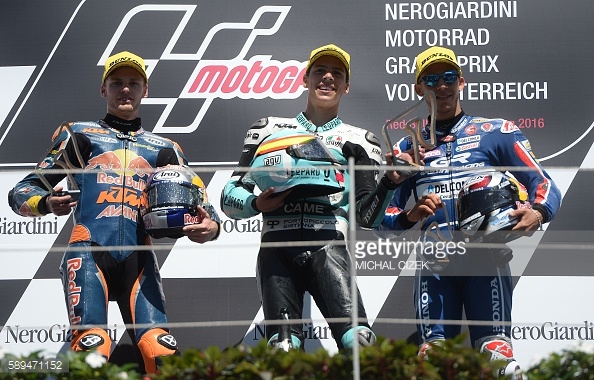 Martin was the highest placed Mahindra who claimed sixth ahead of Bo Bendsneyder (Red Bull KTM Ajo), Di Giannantonio, rookie Bulega in ninth and Loi completed the top ten.
Juanfran Guevara (RBA Racing Team), finished twelfth Locatelli thirteenth and Herrera claimed two championship points in fourteenth. Hiroki Ono (Honda Team Asia) claimed the last point available from fifteenth position.
Danilo just misses out
Jules Danilo (Ongetta-Rivacold) finished just outside the points in sixteenth ahead of Darryn Binder (Platinum Bay Real Estate), brother to Brad Binder, in seventeenth. Antonelli despite his penalty made his way back up to eighteenth, Jakub Kornfeil (Drive M7 SIC Racing Team) was nineteenth and wildcard Stefano Manzi (Mahindra Racing) completed the top 20.
Canet finished down in twenty-first ahead of Albert Arenas (Peugeot MC Saxoprint) who was the highest placed Peugeot, Adam Noroddin (Drive M7 SIC Racing Team), and British rider John McPhee (Peugeot MC Saxoprint).
Sky Racing Team VR46 rider Andrea Migno finished twenty-fifth ahead of Marcos Ramirez who is replacing injured Danny Webb aboard the Platinum Bay Real Estate Mahindra. Khairul Idham Pawi (Honda Team Asia), Stefano Valtulini (3570 Team Italia), Fabio Spiranelli (CIP-Unicorn Starker) and Lorenzo Petrarca (3570 Team Italia) completed the list of finishers.