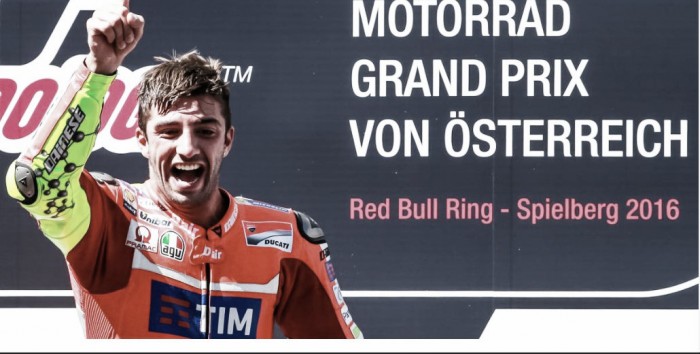 The softer option tyre paid off for Andrea Iannone (Ducati Team) as he beats team mate Andrea Dovizioso (Ducati Team) to take the first Ducati win since Casey Stoner at Phillip Island in 2010 in the Moto GP class.
As Dovizioso used the medium and harder tyre option, he could not match his fellow team mate's speed and had to settle for second, completing a Ducati 1-2. Jorge Lorenzo (Movistar Yamaha MotoGP) and Valentino Rossi (Movistar Yamaha MotoGP) attempted to keep up, but rode a lonely third and fourth place, and Lorenzo took his first podium since Mugello earlier this year.
Hotter temperatures and a race pace set in warm up
It was a beautiful morning at the Red Bull Ring in Austria with a track temperature of 26 degrees, and an air temperature of 22 degrees. With conditions even warmer than yesterday, it was crucial to think about tyre wear in this warm up. It was the front row men who showed force by putting in fast, and continuous, 1:24's which is looking to be the race pace.
The session started off with the riders reaching into the 1:25's getting used to the different conditions. But it didn't take long for Ducati man, Dovizioso, to take us into the 1:24's with 1:24.771 into first place. The pole man fought straight back and took over at the top with 1:24.629.
Yamaha show they can keep up with Ducati, whilst Honda struggle
Rossi joined the Ducati party leading in first place for some of session with a time of 1:24.510. But then just as Dovizioso took over again, Lorenzo made an appearance going second with 1:24.443. With the track reaching a much warmer temperature, the Yamaha's have shown that this is most suited to them.
It finished with Iannone throwing in one last dominant lap putting in a time of 1:23.953 making him the fastest man of the warm up. His team mate, although putting in a fast 1:23 lap earlier on, seemed focused on gathering data and race pace, so stayed in second with 1:23.999. Rossi finished in fifth with 1:24.486, and Lorenzo finished in third with 1:24.386, almost lingering in the background, but waiting to pounce as they worked on consistency.
It was yet another difficult morning for the Honda boys, although it looked like Marc Marquez (Repsol Honda Team) was also working on a pace. The Spaniard put in continuous 1:24's, and had another wobble at turn three showing this is the bend where he will struggle most. Dani Pedrosa (Repsol Honda Team) finished in 15th place, not even reaching into the 1:24's only getting a time of 1:25.343, showing this is a track he dislikes.
Jack Miller (Estrella Galicia 0,0 Marc VDS) had a heavy crash at turn eight causing him to gain hairline fractures to his T6 vertebra and right wrist, meaning he could no longer take part this weekend. He will undergo further assessments on Wednesday to decide whether he will take part in next weekend's GP.
The Ducati's made the hole shot in the race
It was a strong start from Ducati, as expected, with Iannone leading into the first bend. Dovisioso followed closely behind slotting himself into second place to follow his team mate.
The two Yamaha men, Rossi and Lorenzo, also tried to follow slotting themselves into third and fourth. This was after Lorenzo and Marquez bumped into each other, sending them wide and leaving the track, but they managed to regain composure and re-join the race.
A group formed out front including Iannone, Dovizioso, Rossi, Lorenzo and Marquez as they swapped positions fighting for that podium spot. Closely behind, in sixth and seventh place, sat Maverick Vinales (Suzuki Ecstar) and Hector Barbera (Avinta Racing) who have both have impressive weekends so far.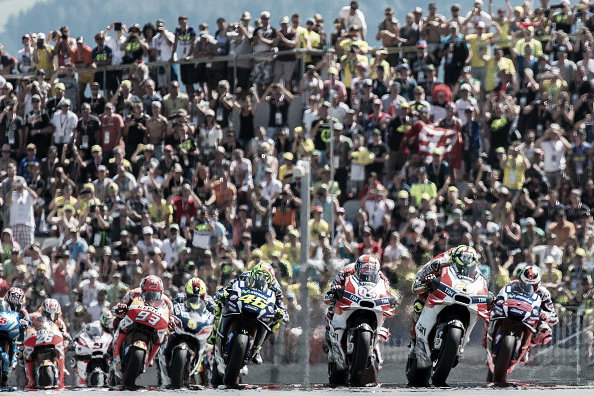 Several riders face ride through after jump starting
After footage was reviewed by race direction, it was then announced that several riders had jump started meaning they would have to face a ride-through penalty. These riders included Barbera, Stefan Bradl (Aprilia Racing Team Gresini), Alvaro Bautista (Aprilia Racing Team Gresini) and Yonny Hernandez (Pull & Bear Aspar).
Whilst some of them started to head down pit lane, it was then announced that Cal Crutchlow (LCR Honda) would also receive a penalty ride-through. As they all accepted their fate and headed off down pit lane there was one rider left on the track yet to follow, Barbera. After ignoring repeated signs and warnings instructing him to take the ride-through, he was eventually black flagged and was taken out of the race altogether.
The top five stayed close together during majority of race
The crowd were on their feet as the two Ducatis, two Yamaha's and one Honda started to play around changing positions. After Marquez overtook Rossi and Lorenzo a couple of times, he soon realised he sadly did not have it in him to fight with the top four.
Whilst Marquez sat back in fifth watching on, it was wildly speculated the Spaniard was using tactics to perhaps pounce later on. As he continued to keep up, it seemed the Yamaha's started to realise that they were also no match to the Ducati's. Lorenzo managed to position himself into the last podium place, third, whilst Rossi stayed back in fourth. Another thought going through everyone's minds was whether Rossi was also planning something for later on.
At this point Vinales on the Suzuki managed to tag himself onto the back of Marquez, and it looked like he may have the strength to join the party. There was now a group of six all showing potential to attack at any moment.
Iannone was unstoppable from start to finish
With 19 laps to go the Ducati's continued to hold onto the first and second place, with Iannone leading. Towards the end of this lap Dovizioso took the plunge and pushed himself forward taking over the lead. Dovizioso then put in a couple of the fastest laps ahead of his team mate, and with Iannone following closely behind they managed to form a gap from the Yamahas.
As it seemed like this was looking how the race was to finish, with faultless performances coming from all the front runners, Iannone put in a fastest lap with 13 laps to go. With the Italian speeding up, this altered Lorenzo's speed as the gap between him and the second place man kept opening and closing.
The riders split into groups of twos as they approached the finish
Marquez and Vinales rode a lonely fifth and sixth place as their speed was no match to the front of the field. They were merely a figure in the background as we saw the two Ducati's approach the bend and with just seven laps to go, Iannone put in a superb move to re-gain the lead ahead of team mate Dovizioso.
The two Yamaha's paired up to ride in the third and fourth position, with Lorenzo currently in the podium spot, but with the medium front and hard rear tyre, they lost a lot of time and could not fight for first or second. This was now a battle between the two Andrea's on the Ducati's, and with them in such close distance of each other, it was difficult to predict who would cross the line first at the finish.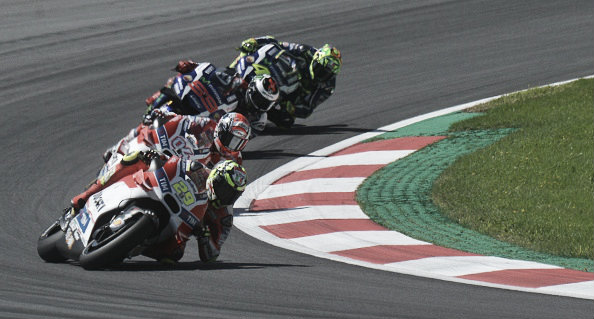 Leaders suddenly open up three second gap to finish the race
Lorenzo and fourth place man Rossi continued to push on the limit to try as hard as they could to reach the Ducati's. The gap did continue to keep opening and closing, and at one point it even looked like it may be possible. But all of a sudden Iannone put in yet another fast lap, and pushed away in first place.
Dovizioso struggled to hold on, and it looked like it was going to be taken right to the last bend. But Iannone continued to push and not only did he open up a three second gap on the Yamaha's, but also pulled away from his team mate.
The rest of the field could only watch on as the Italian crossed the line in first position taking the first Ducati win since Casey Stoner at Phillip Island, in 2010. Dovizioso took second, whilst Lorenzo was able to hold off Rossi to take third, and the last podium spot.
The British riders had a positive race, whilst Pedrosa improved significantly
With Ducati having such a positive weekend, it was interesting to see how the non-factory Ducati's would perform. Scott Redding (OCTO Pramac Yakhnich) was able to work his way up the field and overtook fellow Brits Bradley Smith (Monster Yamaha Tech 3) and Eugene Laverty (Pull & Bear Aspar Team) which saw him sit in eighth. Smith overtook Laverty into ninth place, and Laverty sat in 10th.
Just as it looked like Laverty was going to be able to fight it out until the end, he unfortunately crashed out on the last lap, but was still able to finish in 18th place. Due to Crutchlow having to undergo his ride-through penalty, he was only able to finish in 15th place and collect just one championship point.
It has been a tough weekend from start to finish for Pedrosa, but he seemed to be able to pick things up again when it came to the race. After starting from 12th on the grid, it looked difficult to be able to finish in the top 10. But the Spaniard was in fighting form and worked his way up, to finally finish in seventh place.
Marquez only loses five points to Lorenzo in the championship lead
Although he found the track difficult, and after enduring a heavy crash yesterday, Marquez was still able to finish in fifth place. This means he still leads the championship with a big lead with 181 points.
Lorenzo is still in second with 138 points, 43 points behind the championship leader. A further 57 points behind is Rossi in third with 124, but the battle is not over yet. The GP continues in just a week's time as we head over to Brno.
Moto GP Race Results

| | | | | | |
| --- | --- | --- | --- | --- | --- |
| Position | Rider | Nationality | Team | Bike | Points |
| 1 | 29 Andrea Iannone | ITA | Ducati Team | Ducati | 25 |
| 2 | 4 Andrea Dovizioso | ITA | Ducati Team | Ducati | 20 |
| 3 | 99 Jorge Lorenzo | SPA | Movistar Yamaha Moto GP | Yamaha | 16 |
| 4 | 46 Valentino Rossi | ITA | Movistar Yamaha Moto GP | Yamaha | 13 |
| 5 | 93 Marc Marquez | SPA | Repsol Honda Team | Honda | 11 |
| 6 | 25 Maverick Vinales | SPA | Suzuki Ecstar | Suzuki | 10 |
| 7 | 26 Dani Pedrosa | SPA | Repsol Honda Team | Honda | 9 |
| 8 | 45 Scott Redding | GBR | OCTO Pramac Yakhnich | Ducati | 8 |
| 9 | 38 Bradley Smith | GBR | Monster Yamaha Tech 3 | Yamaha | 7 |
| 10 | 44 Pol Espargaro | SPA | Monster Yamaha Tech 3 | Yamaha | 6 |
| 11 | 9 Danillo Petrucci | ITA | OCTO Pramac Yakhnich | Ducati | 5 |
| 12 | 51 Michele Pirro | ITA | Ducati Team | Ducati | 4 |
| 13 | 76 Loris Baz | FRA | Avinta Racing | Ducati | 3 |
| 14 | 53 Tito Rabat | SPA | Estrella Galicia 0,0 Marc VDS | Honda | 2 |
| 15 | 35 Cal Crutchlow | GBR | LCR Honda | Honda | 1 |
| 16 | 19 Alvaro Bautista | SPA | Aprilia Racing Team Gresini | Aprilia | |
| 17 | 68 Yonny Hernandez | COL | Pull & Bear Aspar Team | Ducati | |
| 18 | 50 Eugene Laverty | IRL | Pull & Bear Aspar Team | Ducati | |
| 19 | 6 Stefan Bradl | GER | Aprilia Racing Team Gresini | Aprilia | |
| DNF | | | | | |
| | 41 Aleix Espargaro | SPA | Suzuki Ecstar | Suzuki | |
| | 8 Hector Barbera | SPA | Avinta Racing | Ducati | |