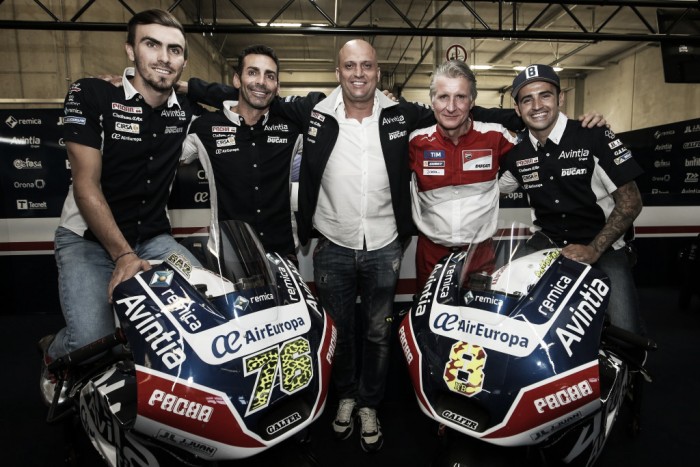 It turned out to be such a mixed bag of emotions for the Avintia Ducati boys; Loris Baz finished the Austrian GP in the points, whereas his teammate Hector Barbera was black-flagged, however both will leave the tenth round with a new contract deal.
First Austrian GP since 1997
The Red Bull Ring in Austria was host to the first MotoGP in 19 years. To be as familiar as possible with the track, two days before the summer break (straight after the German GP) Baz and Barbera were among the riders who participated in two days testing.
Then they had four weeks to rest, recuperate, train and maybe holiday; something that was much needed for Baz who had to undergo several bouts of surgery on his foot after an incident at the start of the Mugello GP.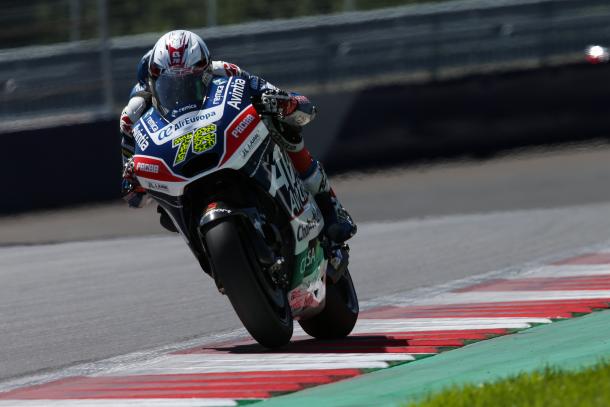 Tough weekend for Baz
Baz was at the bottom of many of the timesheets over the weekend as he struggled to lap under 1:25 minutes; whereas the leaders where within the 1:23 minute territory. Still harnessed by his injury, the Frenchman shared on social media images of him with ice packs strapped to his foot.
The Ducati rider seemed to be much more comfortable during the race and he went on to finish thirteenth and claimed three championship points. This puts him in twenty-first with 11 points. But he also came away from a renewed contract with his team; his confidence will have definitely be boosted.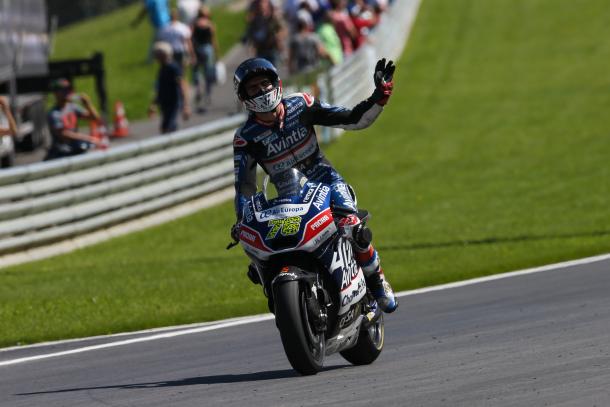 Made a change for race day
Discussing the race weekend Baz spoke of how during Qualifying he had "started to get some feeling back" and also regained his "confidence with the bike". During the morning warm-up on race day they "tried something and it worked quite well".
During the race he "was focussed to push hard" which he felt "worked quite well", however he found in the first ten laps that "the front was blocking in every straight braking point", he said this meant he had to slow his pace.
When the "front tyre was working" he focused on catching Estrella Galicia 0,0 Marc VDS rider Tito Rabat. He felt they "had a similar pace" and after completing "less mistakes in the final laps" he found that he was "able to pass him".
He said his "Physical condition is not 100%" but was reassuring saying, "Soon I'll be fine!" He said, "The main thing is that we found our way, now we have to keep this momentum in the next races and try to fight with Hector to be in the top 10."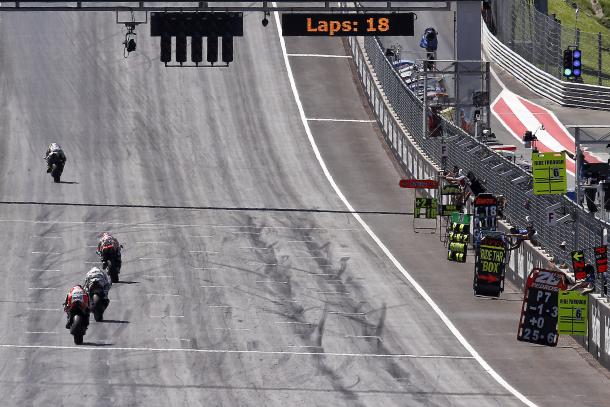 Disappointment for Barbera
It was a totally different story for Baz's teammate Barbera who found his pace much sooner during the weekend and managed to qualify in tenth on the grid. Starting from the fourth row he was one of several riders who was penalised for a jump-start; he had to complete a ride-through penalty down pit lane.
Barbera had moved up to sixth at the first corner of the race and was doing well to stick with the front runners during the opening laps; he was currently positioned as the top independent rider. The rider failed to see the pit board and the signal on his dashboard and so after several laps of failing to complete his penalty he was given a black flag and was disqualified from the race.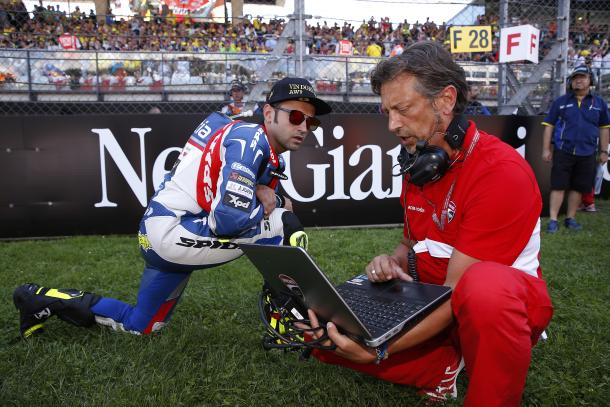 Problems with the signals on his bike
Barbera said, "It was a shame because I didn't see the ride-through." Justifying his mistake he said, "It seems that my bike display had a problem and the white light was not working." The Spaniard said, "I was trying to see that information but it never came."
There were also the physical signals from the pit lane which Barbera said he did not see it until the lap before he stopped, "but it was too late".
Barbera was "disappointed" as he felt he was "doing the best race of the season", but said, "Now we can't change it and we must think in the next race."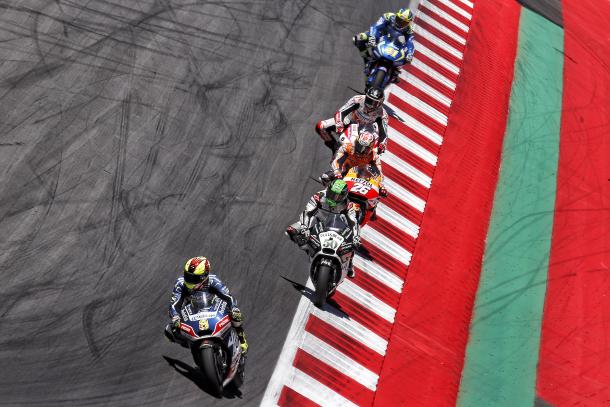 Speaking about the start he said it was "on the limit" and he thinks he "didn't start before the red lights turned off", however reflecting he said, "Maybe I released the clutch a little bit". He trusted the decision made saying, "If Race Direction watched it, for sure I moved."
Barbera was apologetic to his team as he felt they "did a great job during the weekend" and that he felt at the Austrian GP that they "were set to get a good result".
Contract renewals for the Avintia riders
Now before the race it was announced that both riders will remain with the Avintia Ducati for the 2017 season. The Ducati team are delighted with the results from Barbera on a two year old bike (Desmosedici 14.2), and feel that Baz has shown a great potential so far. The riders will compete on the Desmosedici GP next season, the same bike the factory team riders are currently racing on.
This is something that Barbera has called for earlier in the season as he felt that they had done all they could; after all they had improved on the times that the factory Ducati riders had set when the bike was the latest model in the MotoGP.
Who was Bradl going to replace?
It was recently revealed that talks had broken down with Aprilia Racing Team Gresini rider Stefan Bradl; Avintia and Bradl were apparently unable to come to an agreement and so now the factory rider has revealed he will be joining World Superbike where he will ride for Honda with Nicky Hayden.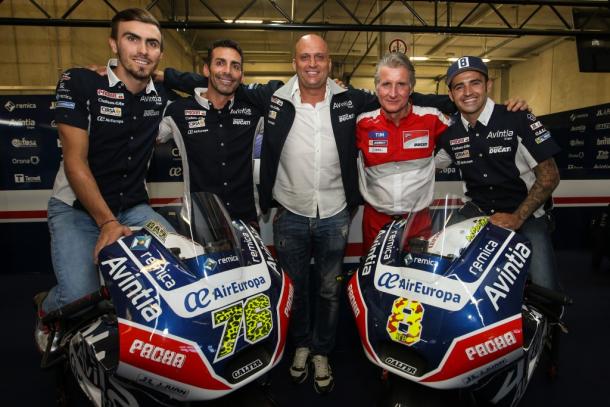 Bradl optimistic about the future
Barbera is "very happy" as he feels they have "shown a big progression over the last few year". He identified that in "just three seasons" they have managed to "move from twentieth place to seventh in the standings" and noted that they "achieved this with an old bike".
He feels that "over this period of time" he and the team have "grown together" and he is "extremely happy to sign a contract for new season", especially because he said they will "finally have a competitive bike" and the will "be able to fight for something big".
Barbera said his team are really competitive, "like a big family" and that "everybody is always looking for perfection". He said they are "always helpful" and that Raul "always has big dreams, is ahead of the future and without his passion the experience of Bocha and the support from Antonio, all this wouldn't be possible."
Baz thankful for the opportunity despite injury
Baz was thankful to his team for offering him another opportunity, admitting they have had "poor races" so far, he thought that "90% of the teams would have decided to send me back home". He feels that "Avintia Racing showed that they trust me and gave me another chance."
During the winter tests and the first few races he thinks he showed them that's he "not so slow", and is now hoping to "get back to that point and try to be as competitive as Hector".
He feels that the fact the his future "is now decided" that it "takes a lot of pressure" from him as he felt after his injury "it was not so easy". He too thanked Raul, Bocha and Antonio and said, "I feel really good with the team and I think we can show more than what we have seen so far."
He thought that he "got injured in the worst moment of the season" but that "they always supported and reassured" him which relieved pressure. He is now hoping to "return the favour with better results" in the future.