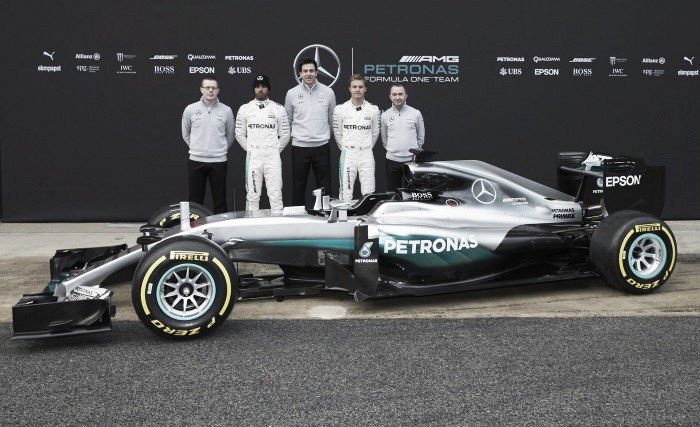 After double back-to-back championship victories in 2014 and 2015, and winning all but three races in each season, the team to beat coming into 2016 was Mercedes AMG F1. Years of planning and careful development had put the team into the position it currently is, with the toils of 2010-2012 all part of the process.
But coming into 2016, Mercedes was facing its biggest threat yet. The steps Scuderia Ferrari had made on them in 2015, were sure to become even closer in 2016 and an inter-team battle for the championship was almost certain.
Fast forward 12 races, Mercedes has actually a higher win percentage, at the same stage than in 2014 and 2015, as they had failed to win two races by the same stage in those seasons, and have failed just once in 2016.
Their haul of 415 points thus far suggests they have dominated the season, but incredibly have finished 1-2 on just three occasions, Australia, Russia and Hungary, but for the first time, reliability has become an issue. Coupled with the sparring drivers, Mercedes, in many ways have contributed to what thus far has been a classic season of Formula One.
The Car
Both the W05 and W06 achieved 16 victories during the seasons which they were raced, with almost bullet proof reliability, with only a handful of terminal car failures. Therefore, the W07 had big shoes (or should that be tyres?) to fil.
Breaking cover in pre-season, the W07 was immediately fast and reliable. Indeed, it was so reliable that mid-way through the first test the team actually had to split driving duties between Lewis Hamilton and Nico Rosberg from morning to afternoon as the drivers physically couldn't handle the number of laps the car was capable of.
Aggressive development saw a radical concept to the nose and bargeboards of the chassis. Heading to Melbourne the team was confident that the steps it was taking would keep it ahead of Ferrari. Indeed, during Q2, the team was a staggering 0.8 clear of the Italian squad. Mercedes were ahead, right up until the time the lights went out.
Sebastian Vettel and Kimi Raikkonen were 1-2 and pulling away from Rosberg, until the red-flag. Duff strategy ensured it would be a Mercedes 1-2 come the chequer, but it was a close shave. An apparent vulnerability was found the car, its struggles when in traffic and not being able to easily pass the car ahead, as Hamilton showed in Melbourne and on his recovery drive in China. Rosberg also proved this point when struggling to come through the Canadian field.
The car set the fastest ever lap in Bahrain during qualifying, to underline the raw pace of the package, although duff starts were costing the team. The fact Hamilton was able to nurse a heavily damaged chassis home to third in Bahrain epitomised that.
The reliability, or lack thereof, was becoming a problem, with Hamilton munching through two turbos and MGU-H's in just four races. Drivers are allowed five penalty free throughout the season. Heading into Spain, a new turbo design gave the team confidence the issues had been resolved.
That issue had been resolved but a new one was just around Turn 3 in Barcelona. De-rating is where a car slows down as it is harvesting energy. Which was what happened to Rosberg on the first lap in Spain. That and an over-zealous Hamilton led to THAT collision, which team boss Toto Wolff wasn't actually too angry about describing it as "a pressure release", but made it clear he didn't want it to happen again.
The car has been faultless ever since, with Mercedes claiming every pole, bar Monaco, and every win, although Hamilton and Rosberg tried their best to stop that run with their Austrian exploits.
RATING OUT OF 10: 8.5
Lewis Hamilton
Coming into 2016 as a reigning back-to-back champion, Hamilton was favourite to become just the fifth man to win four or more titles. 43 wins, 49 poles and three championship made him the most successful British driver of them all. Despite this, some fans still resented Hamilton for his success, but the 31-year-old ignored this, to focus on the positive support of 'Team LH'.
After a last-ditch championship in 2008, nail-biter in 2014 and convincing win in 2015, after the first five races, 2016 would have to be Hamilton's best season yet. A recovery title win, the likes of which the sport has hardly ever seen.
Chronic unreliability hampered his early season, but Hamilton plugged away and still put solid points on the board, three podiums from the first four races wasn't exactly bad, but as Rosberg won all four, it was.
Belgium 2014 and its aftermath saw Hamilton come out on top, winning six out of seven to clinch the title. Spain 2016 has had a similar effect, winning six out of seven since the crash, to turn a 43 point deficit into a 19 point lead come half-way.
Momentum is crucial in F1, and currently the Brit has it in abundance. The unreliability he had at the seasons start means a grid penalty for a double-engine change is likely, as the team want to introduce two new Power Units to his pool to see out the season at a track it's easy to overtake on, as opposed to Singapore for example. Things are looking good for Hamilton, although a 10 place grid penalty is just a reprimand away.
RATING OUT OF 10: 8.5
Nico Rosberg
Ayrton Senna 1991, Nigel Mansell – 1992, Michael Schumacher - 1994, 2004 are the only other drivers to have won the opening four races of a season, and they all went onto win the title in those seasons.
Therefore, the evening of Sunday May 1st must've been one of the most enjoyable of the Nico Rosberg's F1 career due to smash 200 races in Singapore. Sitting on 100 points, 43 clear, after his fourth win of the season, and seventh in a row. No unreliability issues were apparent, and he was cruising toward a maiden crown. 91 days later, he was trailing by 19 points, hauling just 98 points in eight races, and a single win in Azerbaijan.
Colliding with teammate Hamilton on two occasions, Spain and Austria, where he was equally at fault and fully at fault respectively didn't do him any favours with the team or himself.
Rosberg has struggled in 2016 in wet conditions, Monaco and Britain, where he just couldn't get temperature in his tyres and brakes, and the slower you go, the worse it gets and so on.
Despite putting a brave face on, especially after losing the championship lead in Hungary and his German GP horror show, Rosberg inside was hurting. Never has a 43 point lead been wiped out in such a short timespan. How he bounces back in Spa is crucial. Hamilton's expected penalty puts him probably on Pole and set for the win. Anything less than that, and the wait could go on for Rosberg to emulate his father, Keke, and become Formula One World Champion.
RATING OUT OF 10: 7.5
Goals for the rest of the season
To keep a lid on their drivers. The growing tension is almost sure to boil over again in another on-track collision. Wolff has threatened to bench the driver deemed responsible for any future collision. Despite the team, rightly, not wanting to impose team orders as "we owe it to the fans to let them race", Hamilton or Rosberg could leave them no choice.
Mercedes are almost certainly guaranteed a third Constructors World Championship, and fifth Drivers Title (two for Hamilton, two for Juan Manuel Fangio in 1954 and 1955) and so they should enjoy the rest of the season, showing off to the world the results of their hard-work and planning prior to 2014. Some resent their success, saying the sport has become boring. That other teams haven't been able to catch them thus far, isn't Mercedes AMG F1's problem. Their problem is to improve and become better still…