 After the Austrian GP last weekend, the riders have only had a couple of days to re-focus on round 11, the Automotodrom Brno which takes place this weekend. Rain is scheduled to hit on Friday and Sunday, so we could be seeing a repeat of the last couple of rounds.
The rider's battle for the championship continues as the Yamahas know they have to make up for lost time, since allowing Marc Marquez (Repsol Honda Team) to open a big gap in the championship lead. But the Repsol Honda rider almost looks unstoppable as he has continued his point earning streak.
Brno is a beautiful circuit, with a lot of history
Built in a natural bowl, it is an exhilarating circuit giving spectators many viewing opportunities. Due to the shape, it changes in elevation giving it fast corners with six left hand turns, and eight right. It stands at 5.4 km long, after being modified in 1996 as it was originally 5.394km, 15m in width, and the longest straight is 636m.
It is one of the longest serving circuits, with Assen being the only circuit to have served longer, hosting for 68 years during the motorcycling world championship. For Brno, it all began back in 1930 in the streets throughout the villages, but all came to an end in 1982 due to safety. At this point they decided to build a new circuit, and then we went on to see them host the Grand Prix in the year 1987. This has continued ever since, minus the year 1992, making this the 29th time for them to host the event.
The Moto GP race consists of 22 laps covering 118.9 km of ground. The Moto2 race has 20 laps covering a smaller distance of 108.1 km, whilst Moto3 is the shortest with 19 laps and 102.7km distance.
Rossi needs to make a break through
Today is a special day for Valentino Rossi (Movistar Yamaha Moto GP), as he celebrates 20 years since his first GP win in the 125cc class, at this very circuit. With this in mind, he will want to celebrate with a win this weekend.
He currently sits in third place in the championship with 124 points, 57 behind the leader Marquez. With still another eight rounds to go, anything could happen, and Rossi will be wanting to make up the points. Although he looks like he's in the form of his life, bad weather and difficult decisions have played a part in letting Marquez storm away with the lead.
In 2002 we saw the introduction of four-stroke Moto GP class, and since then Yamaha have had six victories with Rossi contributing to three of them. He also took a win here in 2001 and 2003, both on a Honda. He has never taken a position out of the top 10, apart from the years 1998 and 2002 when he took a DNF.
When looking back over the past two years after getting to grips with his Yamaha again, he has taken third place. But he holds a good record here carrying the most wins with 5, and the most poles with 3, joint with Max Biaggi. The Italian is known for struggling with qualifying, but always pulling it out of the bag on race day with a fantastic race pace. His qualifying at this circuit has been a rollercoaster, but it seems almost every time he manages to get himself on the front row here, he wins.
Overall he has had an impressive 13 podiums here and seven wins. He took one win in the 125cc class, one in the 250cc class, one in the 500cc and then four in the Moto GP. It is certain that Rossi has had the most success here, and with him looking stronger than ever this year, and with the rain coming which he enjoys, it is looking good for a win.
Marquez will want to continue his consistency
It's been a good season for Marquez, after finishing on the podium eight times out of 10. Even when he hasn't claimed a first, second or third he has collected points, and since the Austrian GP, is now the only rider on the grid who has collected points every race so far.
This has caused him to run away with the championship sitting on 181 points, and with still another eight rounds he has nothing to lose. Although the Yamaha's have had a difficult start to the season, we could see them begin to step up even more and put pressure on the Honda rider.
Since joining the Moto GP class three years ago back in 2013, this is a circuit he has done very well at. In fact, he has not finished out of the top four since 2010 when in the 125cc class, he came in seventh place.
He took the win in 2013 during his rookie year, but then in 2014 he took fourth place which ended his winning streak after coming first 10 times in a row. His win in 2013 contributed to the six wins that Honda have achieved here since 2002, and Honda actually won four years in a row between 2011 and 2014. In his most difficult season last year, he put on an entertaining race when he battled it out with Jorge Lorenzo (Movistar Yamaha Moto GP) to eventually take second.
Although he does not hold any records in this class, he holds a record of his own finishing on the podium both times he performed in the Moto2 class. In 2011 he came in second place, whilst in 2012, when he won the Moto2 championship, he took the win. He has also taken two pole positions here, one in 2014 and one in 2011.
With all this in mind, this makes the Spaniard a good contender for the weekend, especially with his confidence boost after his consistency this season. He has also outdone everyone with his decision making when it comes to the rain so far this season, can he pull it off again?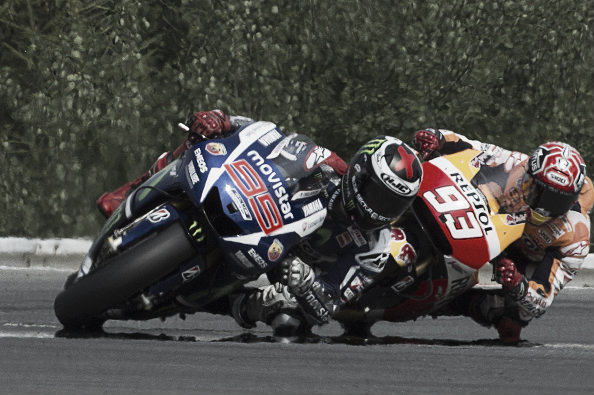 Lorenzo will be reminiscing on his win from last year
It was a difficult end to the first half of the season this year for Lorenzo, and has taken two DNF's since Qatar during the race at Argentina, and then Catalunya. Bad weather has taken its toll on the current world champion, seeing him create a point's gap between himself, and the championship leader. With more bad weather looking set to arrive over the duration of the weekend, this is certainly not what he would have wanted.
After announcing he would be heading to Ducati in the 2017 season, fans have since hoped he can win the championship one last time on the Yamaha. Although it has been difficult so far, he still is a rider you can never bet against. With his superb speed, and angelic riding style, he can just pop up at any moment and once he's gone, he's hard to catch. He is second in the championship with 138 points, 43 behind leader Marquez.
He sits in joint second place with Dani Pedrosa (Repsol Honda Team) with two wins each, behind Rossi who has the most wins with five at this circuit. He also is in second place in the most poles list, sitting behind Rossi and Biaggi with a total of two poles. Not only this, but he took the fastest lap and best pole record here last year with 1:54.989.
He was the first Yamaha to take a win here since 2010 last year, totalling the Yamaha wins on six. In fact, he was the last Yamaha to win here. The last time he did not finish on the podium in Brno was in 2011, but it was very close as he finished in fourth. Since joining the world championship in 2002, he has taken five wins, nine podiums and eight front row starts.
With his strong record here, and a championship leader to catch, you could say he is looking the most likely to win this weekend. But with the rain coming, it could change everything.
After a difficult last round, this is where we could see Pedrosa pick up again
It's been a difficult season so far with Pedrosa struggling to get to grips with the new Honda engine. He isn't the only one, as the rest of the Honda riders, including Cal Crutchlow (LCR Honda), have also been complaining about how difficult it is to handle the bike. With the only rider seeming to come to terms with the change being his team mate, Marquez, Pedrosa will be wanting to step up and improve.
Although it was a difficult last round for the Spaniard throughout the weekend, he did manage to finish the race in seventh and feels he made a step. He will now want to continue working to improve again, and what a place to do so at none other than the Czech GP.
Pedrosa likes it here, especially after taking the win back in 2014. He scored two of the six wins for Honda since 2002, but has appeared on the podium quite a few times. Since joining the Moto GP class back in 2006, he has stepped onto the podium six times, including his two wins in 2014 and 2012. During his win in 2014, he also went on to take the circuit record with a time of 1:56.027 which has yet to be beaten.
Approaching this circuit will be good for Pedrosa, as we can hopefully see performances like he has done in the past. He sits fourth in the championship with 105 points.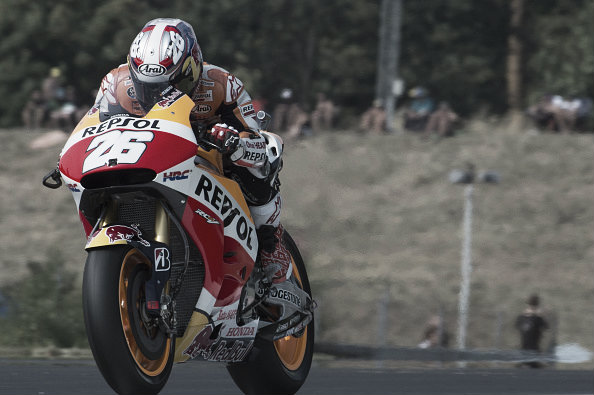 What other riders could challenge the Yamahas and Hondas?
Maverick Vinales (Ecstar Suzuki) has been impeccable this season, so much so that he is the rider to replace Lorenzo when he heads off to Ducati. With the thought of joining the factory Yamaha team, and to pair up with Rossi next year, in his mind it has caused him to push even harder. He is just 12 points behind Pedrosa, and can easily catch him.
Vinales has only raced at this circuit six times, but has already taken a second place during his Moto3 career in 2013. Since joining the Moto GP class last year, he has sadly only taken a DNF here, but with his much improved bike this year he seems like he is working well, and he could achieve a better place this time. Can we see him reach the second podium of his Moto GP career this weekend?
Another rider that will be looking to continue his success is Andrea Iannone (Ducati Team), after taking the first Ducati win since Casey Stoner in Austria last weekend. The top speed record is held by himself, which he set last year, so it's clear he could continue his fast pace here. But if his team mate, Andrea Dovizioso (Ducati Team), has anything to do with it, he will be wanting to come in front of him. He admitted last round that he 'wanted to win', so what is to stop him trying to do that here?
The only other rider that has a record here is Pol Espargaro (Monster Yamaha Tech 3), as he still holds the top speed which he set in 2012 in Moto2, which was 262.2km/h.