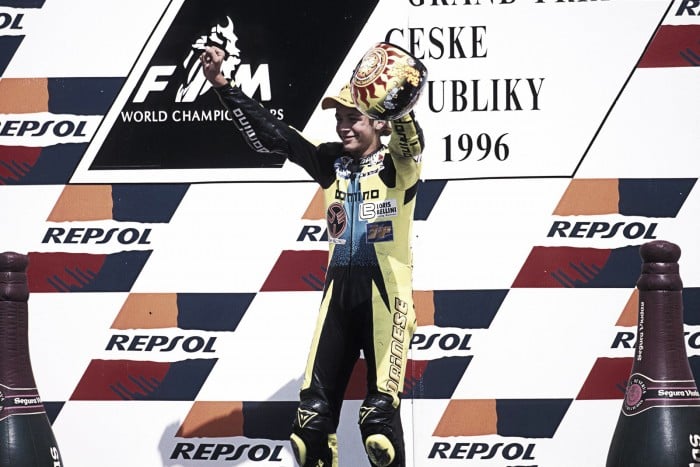 Back in 1996 a young Italian boy from Tavullia claimed his first ever race in the MotoGP 125cc championships. As the then rookie stood on that top step of the podium, after winning aboard his Aprilia, who knew that 20 years down the line he would be nine times World Champion and still competing in his beloved sport.
Rossi's first ever 125cc win was at Brno
That boy was Valentino Rossi, now riding for Movistar Yamaha; he is hoping to repeat his success from 20 years previous by winning the eleventh round of the MotoGP season at the Automotodrom Brno in the Czech Republic.
The circuit is clearly very sentimental to the champion who heading into the eleventh round, after finishing fourth in the first Austrian GP in 19 years, remains focused on the 2016 championship.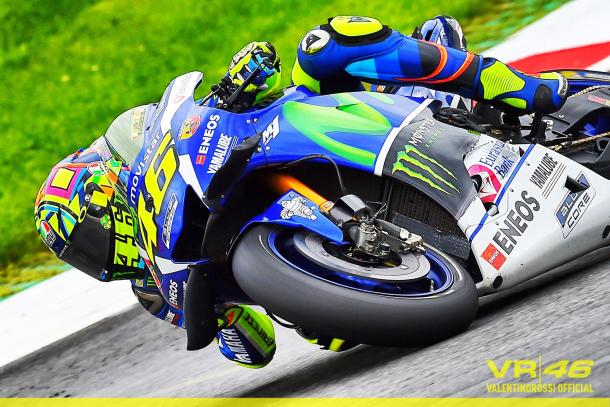 A win will help Rossi's championship race
Rossi is currently third in the championship behind Repso Honda rider Marc Marquez, and his Movistar Yamaha teammate Jorge Lorenzo. He is looking to close the gap and hopefully go on to claim his tenth world championship title.
He was present at the pre-race press conference ahead of the eleventh round of the MotoGP season, reminiscing about a circuit that brings back good memories for him.
Rossi aware of his fellow competitors strengths
Speaking about the season so far he feels that so far this year it "seems like the opposite of last year" where we have witnessed, "A lot of good Qualifying, a lot of front rows, but then more problems in the race."
Comparing his opposition heading into Brno he feels the need to "understand the level of others" as he thinks the "Ducatis can be very strong here, and the Hondas". He is aware of Marquez, and also the Repsol Honda rider's teammate Dani Pedrosa, "because he always goes very well in Brno".
Brno sentimental to Rossi
Rossi described the Automotodrom Brno is "a great track" which he confirmed was "also the scene of my first victory", and for that reason he said it's "unforgettable".
Despite his success back then though, Rossi said, "In the past few years I haven't been able to be as fast as Marquez and Lorenzo."
Rossi hoping to fight against the two
In 2015, current MotoGP champion, and teammate to Rossi, Lorenzo, claimed pole position in Brno and went on the win the race; Marquez started from second on the grid and finished in second whereas Rossi was third in qualifying and the race.
Rossi confirmed that his "target for this weekend" is to "be a bit faster" and "to fight" with both Lorenzo and Marquez. Maybe we will see on his twentieth anniversary of his first success in the elite class, a repeat in history.