 Brad Binder (Red Bull KTM Ajo) is the fastest man of the weekend so far, as he tops the Free Practice Two session in Moto3 this afternoon at the Czech GP.
It was Enea Bastianini (Gresini Racing Moto3) who set the marker in Free Practice One this morning as he went fastest, but the championship leader Binder improved his speed later on in the day, to end Friday as the man to beat.
The times were constantly changing right from the start of FP1
The rain held off as the Moto3 riders headed out on track for the FP1 this morning. Although it was forecast to rain, the track was hit with a light fog instead. It wasn't enough to cancel the session, but it was enough to darken the circuit. It was 16 degrees in the air, and the track was a slightly warmer temperature of 20 degrees.
With rain still showing on race day, but clear tomorrow, riders shot out as soon as the light went green to get in some quick laps. It was the championship leader, Binder, who kicked off the session putting in a time of 2:11.173, knocking home GP man Jakub Kornfeil (Drive M7 SIC Racing Team) down to second.
This didn't last too long as Nicolo Bulega (SKY Racing Team VR46) was next to hit the top taking us into the 2:10's with 2:10.432. After his team mate left the team this week, it looks like he will be the next VR46 rider to watch. Although he took us into a much quicker time, it was clear the riders were yet to push with last year's margin being in the 2:08's.
Bulega continued to improve again with 2:10.096, almost reaching the 2:09's. The Czechoslovakian, Kornfeil, also seemed keen to impress his home crowd as he got himself into the top five right at the start of the session with 2:10.227, and looked like he was continuing to improve.
It wasn't long before the riders were in the 2:09 margin
Gabriel Rodrigo (RBA Racing Team) was the first rider to take us into the 2:09's as he went fastest with 26 minutes to go putting in a time of 2:09.859. It wasn't long before Binder, Andrea Migno (SKY Racing Team VR46), and Philipp Oettl (Schedl GP Racing) joined him as they made up the top four.
It was then a towing match as Migno and Binder went around the track together, and without even realising, battled it out for first and second. It was Migno who took the top spot from Binder with 2:09.504, as he was the one that gained that advantageous slipstream.
At this point, with around 20 minutes to go, the majority of the field disappeared off into the pits to collect data, and try different tyre options. Whilst the riders were sitting in their boxes, it was then announced that Niccolo Antonelli (Ongetta-Rivacold) had a lap time removed due to exceeding track limits at turn two.
Turn seven was the hot spot for crashes
We saw our first crash of the morning at turn seven, with Hiroki Ono (Honda Team Asia) going down into the gravel with around 18 minutes left of the session. It was later on that we saw the second, and only other, crash of the session by Jules Danilo (Ongetta-Rivacold) who also went down at turn seven.
A lot of the riders picked up towards the end of the session
It was a quiet session for Bastianini as he sat in 17th and 18th place, but after making his stop in the pits, he seemed to go faster. With around 10 minutes to go of the session we saw him pop up into third place with a time of 2:09.604. This was a major improvement after sitting towards the bottom of the 2:10's.
As the Italian continued to get quicker, it took to the chequered flag before he put in the fastest time of the session with 2:08.515, being one of the only four riders that reached into the 2:08's.
It was also a slow start to the session for the championship chaser, Jorge Navarro (Estrella Galicia 0,0), who admits his leg slightly held him back last round at the Red Bull Ring. But he was looking to be at the top this weekend, as he hovered around fourth and fifth place mostly all of FP1. He came fifth with a time of 2:09.012, just missing out on the 2:08's, but with his progress he is looking good going into the Czech GP so far.
It was a good session for home rider Kornfeil
After appearing in the top five at the start of FP1, it was clear that Kornfeil was wanting to put on a good show at his home GP. Although we watched him fall down to around 16th place after disappearing for a while, he wasn't ready to give up.
As the chequered flag started to approach, he went out with Binder as they paired up to do a lap of the track, and very briefly took first place with 2:08.972. But this was very quickly taken away from him as Binder went even faster with 2:08.712. He finished FP1 in fourth place as the last rider to get into the 2:08's.
Binder looked set to go fastest, but then riders pushed on their final laps
When the chequered flag comes into the rider's sights, it is always a final showdown as they race against the clock to put in the best time they can. This ended badly for Albert Arenas (Peugeot MC Saxoprint) as he had a lap time cancelled due to exceeding track limits at turn four.
This did not affect the rest of the field, as the times changed up at the top of the timesheets. First it was Jorge Martin (Pull & Bear ASPAR Mahindra Team) who overtook Binder after getting himself a marker up the hill and across the line. But it was short lived as Bastianini's final lap time was what put him into the top spot.
Bulega also managed to get himself back up into third place, after dropping down the sheet after his quick time earlier. But he was pushed right down to sixth after seeing Kornfeil and Navarro improve again, going faster.
Last week's winner, Joan Mir (Leopard Racing), was shown entering the pits shaking his head after finishing in only 20th place.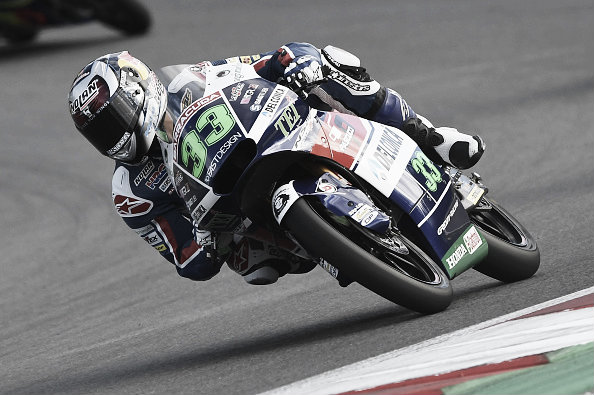 It was a damp track as they took to FP2
After the few spits of rain that hit Moto2 earlier on, the track was slightly damp as the Moto3 boys entered the final practice of the day. After the first couple of laps it was Binder who went straight to the top with 2:09.393, yet to improve from this morning.
Just as this was happening, and only a few minutes in, we saw our first crash of the session involving VR46 man Bulega who went down at turn five. This could have been down to a change in conditions, but he had plenty of time to go back and hopefully get his bike fixed to get back out there again.
Bastianini was still fired up from FP1 this morning
It took a while for Bastianini to get into gear this morning, after taking the top spot of the session only towards the end. But this time he took an early lead putting in a time of 2:08.842 taking over from Binder, who was now in second with 2:09.220.
We then saw red helmets as he was going to improve on his time yet again, but ended his quick run by entering into the pits.
Aaron Canet (Estrella Galicia 0,0) also held the top time very briefly, before being taken over by Binder and Bastianini, with a time of 2:09.319.
Turn 14 caught a lot of riders out for exceeding track limits
After enduring such a difficult first practice session this morning, it was good to see Mir improve significantly taking himself up to fifth place with a time of 2:09.342. Unfortunately he was caught exceeding track limits at turn 14 and had his lap time cancelled.
The cancellations did not stop here as with around eight minutes to go, they were coming in by the second. Mir had another lap cancelled on the same corner along with Martin, Ono and Stefano Valtulini (3570 Team Italia).
Other lap cancellations included John Mcphee (Peugeot MC Saxoprint) who exceeded track limits at turn two, and Fabio Quartararo (Leopard Racing) who went off the track at turn two and turn four.
Whilst this was all occurring, Livio Loi (RW Racing GP BV) was able to sneak up into second place with a time of 2:09.154, and Oettl took over at the top from Bastianini with 2:08.772.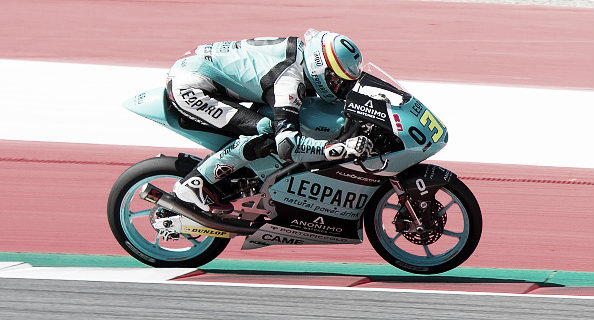 The chequered flag prompts last flying laps, and more lap cancellations and crashes
As the end of the session came into the rider's sights, Binder continued to go faster showing he still is a big threat going into this weekend. With just five minutes to go he went top with 2:08.406. He then improved again with 2:08.257, still clinging onto that fastest time so far today.
Khairul Idham Pawi (Honda Team Asia) had a fall in the final minutes at turn one, whilst Danilo had his second crash of the day at turn eight at the same time as they got a spurt on for the final few minutes.
It looked like Binder was going to be pipped as he was shown to be slowing down on one of his fastest laps, looking like he went too wide. Whilst he was getting himself back together the rest of the field were speeding up, especially Bulega who recovered from him crash earlier on to get into second with a time of 2:08.613.
But he was soon overtaken as Migno, Bastianini and Binder were all on fast laps and we saw Bastainini cross the line on the chequered flag first to take the top spot. But then Migno was next to finish and took over at the top from him, but then Binder pushed one final time to finish again as the fastest man of the day with 2:08.047.
Quartararo had another lap cancelled, again at turn 14, whilst Fabio Spiranelli (CIP-Unicorn Starker) had two laps cancelled, but at turn two and turn nine.
Moto3 free practice results

| | | | | |
| --- | --- | --- | --- | --- |
| Position | Rider | Free Practice One | Free Practice Two | Bike/Nationality |
| 1 | 41 Brad Binder | 2:08.712 | 2:08.047 | KTM / RSA |
| 2 | 16 Andrea Migno | 2:09.369 | 2:08.143 | KTM / ITA |
| 3 | 33 Enea Bastianini | 2:08.515 | 2:08.219 | Honda / ITA |
| 4 | 21 Francesco Bagnaia | 2:09.360 | 2:08.465 | Mahindra / ITA |
| 5 | 8 Nicolo Bulega | 2:09.052 | 2:08.613 | Honda / ITA |
| 6 | 4 Fabio Di Giannantonio | 2:09.435 | 2:08.631 | Honda / ITA |
| 7 | 88 Jorge Martin | 2:08.691 | 2:08.681 | Mahindra / SPA |
| 8 | 65 Philipp Oettl | 2:09.830 | 2:08.772 | KTM / GER |
| 9 | 44 Aaron Canet | 2:09.968 | 2:08.852 | Honda / SPA |
| 10 | 84 Jakub Kornfeil | 2:08.950 | 2:09.149 | Honda / CZE |
| 11 | 9 Jorge Navarro | 2:09.012 | 2:09.064 | Honda / SPA |
| 12 | 11 Livio Loi | 2:10.141 | 2:09.051 | Honda / BEL |
| 13 | 98 Karel Hanika | 2:10.266 | 2:09.212 | KTM / CZE |
| 14 | 58 Juanfran Guevara | 2:10.136 | 2:09.244 | KTM / SPA |
| 15 | 89 Khairul Idham Pawi | 2:09.953 | 2:09.281 | Honda / MAL |
| 16 | 6 Maria Herrera | 2:11.176 | 2:09.300 | KTM / SPA |
| 17 | 23 Niccolo Antonelli | 2:09.617 | 2:09.306 | Honda / ITA |
| 18 | 20 Fabio Quartararo | 2:10.003 | 2:09.443 | KTM / FRA |
| 19 | 64 Bo Bendsneyder | 2:10.189 | 2:09.508 | KTM / NED |
| 20 | 95 Jules Danilo | 2:11.060 | 2:09.637 | Honda / FRA |
| 21 | 55 Andrea Locatelli | 2:10.864 | 2:09.736 | KTM / ITA |
| 22 | 19 Gabriel Rodrigo | 2:09.859 | 2:09.738 | KTM / ARG |
| 23 | 17 John Mcphee | 2:10.799 | 2:09.757 | Peugeot / GBR |
| 24 | 36 Joan Mir | 2:10.789 | 2:09.827 | KTM / SPA |
| 25 | 12 Alberty Arenas | 2:10.577 | 2:09.841 | Peugeot / SPA |
| 26 | 40 Darryn Binder | 2:10.851 | 2:09.999 | Mahindra / RSA |
| 27 | 42 Marcos Ramirez | 2:11.042 | 2:10.071 | Mahindra / SPA |
| 28 | 76 Hiroki Ono | 2:11.759 | 2:10.089 | Honda / JPN |
| 29 | 24 Tatsuki Suzuki | 2:11.215 | 2:10.159 | Mahindra / JPN |
| 30 | 7 Adam Norrodin | 2:11.904 | 2:10.220 | Honda / MAL |
| 31 | 43 Stefano Valtulini | 2:11.440 | 2:11.556 | Mahindra / ITA |
| 32 | 3 Fabio Spiranelli | 2:12.488 | 2:11.676 | Mahindra / ITA |
| 33 | 77 Lorenzo Petrarca | 2:12.515 | 2:11.896 | Mahindra / ITA |