 Johann Zarco (Ajo Motorsport) continues his assertive season as he picks up the pace coming into Free Practice Two to take the quickest time, making him the fastest man of the day in Moto2 at the Czech GP.
Alex Marquez (Estrella Galicia 0,0 Marc VDS) took advantage of damp conditions in the Free Practice One to put in a quick time, but he was not able to keep up this pace to stay at the top when coming to the end of the day in FP2.
Nakagami was dominant right from the start of FP1
The temperature had gone up even more since the Moto3 practice and the air was 17 degrees, whilst the track was 22. Although it was warmer, the sky was still grey with spits of rain looking likely.
Jonas Folger (Dynavolt Intact GP) took us into the 2:03's as the session kicked off with 2:03.680. Takaaki Nakagami (IDEMITSU Honda Team Asia) didn't take long to push the German back into second as he took over at the top with 2:03.277. But he then went on to improve yet again as we saw the first 2:02 of the session as Nakagami hit 2:02.785. But this was just the beginning for the Japanese rider, as he continued to go faster with yet another personal best just minutes apart as he put in a time of 2:02.780, and then another time of 2:02.777.
It didn't look a promising start for the championship leader, Zarco, as he started his morning sitting 0.702 seconds off the quickest time in third with 2:03.979. But after giving his tyres some time to warm up, he was in touching distance of Nakagami as he went second with 2:03.274 now only 0.489 seconds off the pace.
Marquez was clearly reminiscent of his best result of his season last year, as he took a fourth place at the Czech GP in 2015. He also took his best result so far this season last round coming in sixth place, and has clearly built up a wall of confidence. He went second at the start of the session only 0.020 seconds behind dominant Nakagami with a time of 2:02.797.
The Marc VDS riders look strong here
After seeing how Nakagami came out in full power at the start of the session this morning, it was looking like no one could catch him. But Marquez managed to improve again with 28 minutes left of the session to overtake him, with a time of 2:02.611 going 0.166 seconds quicker.
Just as Marquez was putting in a lap, so did his team mate, Franco Morbidelli (Estrella Galicia 0,0 Marc VDS), who put in a quick time to take a provisional third place with a time of 2:03.246.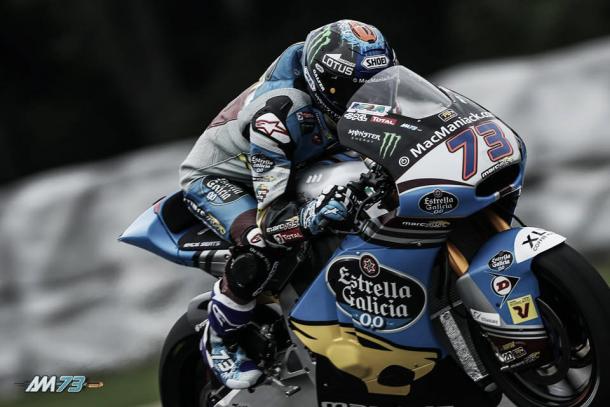 Rain started to shower the circuit, as riders went in to hide
With around 23 minutes left to go of the session the rain flag appeared, as we saw a few spots of water drop onto the track. As the majority of the field headed into the pits to avoid this, the three championship rivals stayed out on track to try and improve.
Sam Lowes (Federal Oil Gresini Moto2) had managed to put himself into fifth place, but after riders improved and overtook him, this pushed him down to seventh. He wasn't able to move positions at this point, but did get a personal best with 2:03.531 staying in seventh.
Zarco looked in a worrying position in fifth place, and although the position may sound good, he was 0.663 seconds off the fastest time. He stayed out on track to try and improve his time, but he was unable to match the Marc VDS riders and Nakagami.
Kent makes a step during the FP1
After winning the world championship in the Moto3 class last year, Danny Kent (Leopard Racing) has been introduced to a new Moto2 bike this season. As he learns how to handle the new bike, we have seen him make slow progression as he is trying different things.
This track looks like a circuit where he can make a big step as he jumped right up to ninth place at the beginning with 2:03.851. He did improve on this a bit later on taking him up to 6th, pushing fellow Brit Lowes down one place, with a time of 2:03.284. He was still 0.673 seconds off the fastest time that Marquez set earlier on.
This wasn't the end for Kent as he improved yet again with only two minutes left to go, and went fourth with 2:03.105
Riders were continuously in and out of their pit boxes
It was a fairly quiet session after the light rain hit as the championship leaders, and the riders setting the fastest times, kept popping in and out of pit lane. This included Marquez who seemed to come out do one lap, and then go back inside again. The same followed for the next fastest rider, Nakagami, who went fairly quiet with four minutes left to go.
Alex Rins (Paginas Amarillas HP 40), Lowes and Zarco were also seemingly non-existent as they had not improved on their times for quite a while.
The final sprint saw limited attempts, and a crash
Just as the riders were heading towards the start/finish line to take on their final lap, we saw a crash from Xavi Vierge (Tech 3 Racing) just as he was turning into the final bend, turn 14, ending his hopes of putting in a last lap.
Folger kept his best till the end as he went back to the top, this time in second place behind Marquez, to finish the session with 2:02.771, pushing Nakagami back into third who wasn't able to improve on his time that he set earlier on.
We expected to see a final push from the Frenchman, Zarco, as he would want to continue his dominance over the Moto2 class. However, he was only able to finish in seventh place with 2:03.274. The same followed for Rins who had a tricky FP1 as he was towards the bottom of the timesheets throughout most of the session, and stayed there, only managing to take 17th place. This time seems unlikely for the Spaniard, who has been very strong all season.
Lowes was able to improve on his personal best on his final lap before going past the chequered flag. He managed to move up two positions and finish in eighth place with 2:03.290.
The sun came out over the track for FP2
The temperature had risen considerably as the air was now 23 degrees, whilst the track was 35. With better conditions to contend with, the riders were quick out of their pit boxes to try and catch Marquez and Nakagami.
It was Lorenzo Baldassari (Forward Team) who went in the top spot first off, but it didn't take long for the likes of Nakagami and Marquez to make their presence felt as they went back into first and second place. They still had to beat their times from this morning at this point, but it was clear they were set out to improve even further after their good start.
Turn 14 continued to catch riders out
Folger has also had a positive morning here in Brno, and continued to put in quick laps this afternoon. But after putting in a really good lap, he did have it cancelled due to exceeding track limits at turn 14 towards the start of the session.
Another rider that also got caught out at turn 14, on a couple of occasions, was the man who is second in the championship, Rins. His bad luck continued after this morning as he was sat between 12th and 15th place for the majority of the afternoon. As he tried to improve on his lap times they were cancelled, after exceeding the track limits.
Marquez and Nakagami couldn't hold onto their strong pace
Baldassari joined the fun this afternoon as after starting the FP2 in first, he went on to retake that spot. He improved on his time, twice, to take first place scoring 2:02.636 but then improved significantly with 2:02.336 beating the lap record.
Whilst Baldassari reigned over the top spot for the majority of FP2, the Leopard riders continued to work hard and reach back into the top of the timesheets. Miguel Oliveira (Leopard Racing) took himself into the top five with times in the mid 2:02's and ended his day in seventh place with 2:02.694. It was his team mate Kent who finished as the best Leopard rider in fifth with 2:02.496, improving a lot from this morning.
Marquez could not improve on his time from this morning, but finished the day in sixth which he should be proud of, showing great improvement. Nakagami continued to put in quick laps, but it wasn't good enough to beat Zarco. Especially as the Japanese had a lap time cancelled towards the end after exceeding track limits.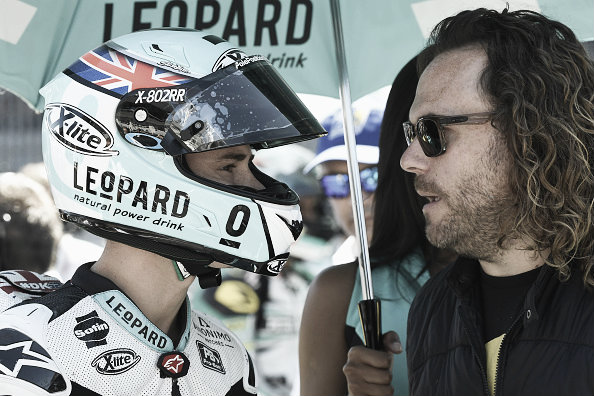 It took to the last final lap for Zarco to go fastest
Zarco will go to bed tonight with a smile on his face after topping the session on his last final lap, with 2:02.277. With his championship rivals, Lowes and Rins, struggling to keep up with his speed, it looks like he could be extending his lead yet again this weekend. Lowes finished in eighth 00.481 seconds off Zarco's pace, whilst Rins was in 17th 1.290 seconds off the fastest time.
Moto2 free practice results

| | | | | |
| --- | --- | --- | --- | --- |
| Position | Rider | Free Practice One | Free Practice Two | Bike/Nationality |
| 1 | 5 Johann Zarco | 2:03.274 | 2:02.277 | Kalex / FRA |
| 2 | 12 Thomas Luthi | 2:03.428 | 2:02.279 | Kalex / SWT |
| 3 | 7 Lorenzo Baldassarri | 2:03.156 | 2:02.336 | Kalex / ITA |
| 4 | 30 Takaaki Nakagami | 2:02.777 | 2:02.762 | Kalex / JPN |
| 5 | 52 Danny Kent | 2:03.105 | 2:02.469 | Kalex / GBR |
| 6 | 73 Alex Marquez | 2:02.611 | 2:02.762 | Kalex / SPA |
| 7 | 44 Miguel Oliveira | 2:03.945 | 2:02.694 | Kalex / POR |
| 8 | 22 Sam Lowes | 2:03.290 | 2:02.758 | Kalex / GBR |
| 9 | 94 Jonas Folger | 2:02.771 | 2:02.843 | Kalex / GER |
| 10 | 55 Hafizh Syahrin | 2:04.159 | 2:02.809 | Kalex / MAL |
| 11 | 21 Franco Morbidelli | 2:03.246 | 2:02.875 | Kalex / ITA |
| 12 | 54 Mattia Pasini | 2:04.112 | 2:03.101 | Kalex / MAL |
| 13 | 23 Marcel Schrotter | 2:04.369 | 2:03.133 | Kalex / GER |
| 14 | 49 Axel Pons | 2:04.525 | 2:03.283 | Kalex / SPA |
| 15 | 24 Simone Corsi | 2:03.330 | 2:03.432 | Speed Up / ITA |
| 16 | 77 Dominique Aegerter | 2:04.542 | 2:03.520 | Kalex / SWI |
| 17 | 40 Alex Rins | 2:04.360 | 2:03.567 | Kalex / SPA |
| 18 | 11 Sandro Cortese | 2:03.856 | 2:03.577 | Kalex / GER |
| 19 | 14 Ratthapark Wilairot | 2:07.234 | 2:03.882 | Kalex / THA |
| 20 | 60 Julian Simon | 2:05.040 | 2:03.825 | Speed Up / SPA |
| 21 | 19 Xavier Simeon | 2:04.783 | 2:03.847 | Speed Up / BEL |
| 22 | 97 Xavi Vierge | 2:05.001 | 2:03.858 | Tech 3 / SPA |
| 23 | 87 Remy Gardner | 2:04.038 | 2:03.858 | Kalex / AUS |
| 24 | 32 Isaac Vinales | 2:04.963 | 2:03.921 | Tech 3 / SPA |
| 25 | 2 Jesko Raffin | 2:05.212 | 2:03.983 | Kalex / SWI |
| 26 | 10 Luca Marini | 2:04.299 | 2:03.992 | Kalex / ITA |
| 27 | 57 Edgar Pons | 2:06.067 | 2:04.044 | Kalex / SPA |
| 28 | 70 Robin Mulhauser | 2:05.687 | 2:04.842 | Kalex / SWI |
| 29 | 95 Anthony West | 2:06.399 | 2:06.081 | Suter / AUS |