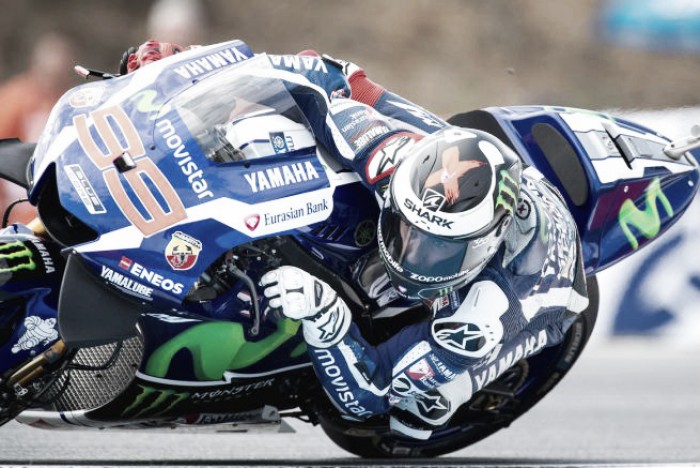 As Free Practice 3 got underway for the MotoGP class at the Automotodrom Brno, ahead of the eleventh round of the season, Repsol Honda rider Marc Marquez was the man to beat. His fastest time from day one of 1:55.840 was the target for the day as the riders took to the track in quite cooler conditions than expected.
Track modified following Safety Commission Meeting
Following the Safety Commission Meeting that takes places after Free Practice 2 the track had been modified slightly; paint had been laid near extra corners were riders found themselves exceeding the boundaries.
Crashes at the start of the session
Within ten minutes Ducati Team rider Andrea Iannone crashed out at turn 13. The front end tucked after he rode over the notorious bump on the turn and he fell off on the inside of the bike.
Even his helmet filled with gravel when both he and the bike slid into the pit. He could not get his bike started and he was assisted by track Marshals to the pit lane.
Loriz Baz (Avintia Ducati) crashed moments later at turn five, a very fast corner. Luckily he was OK and did not appear to hurt his previously injured right foot when he and his bike hit the barrier.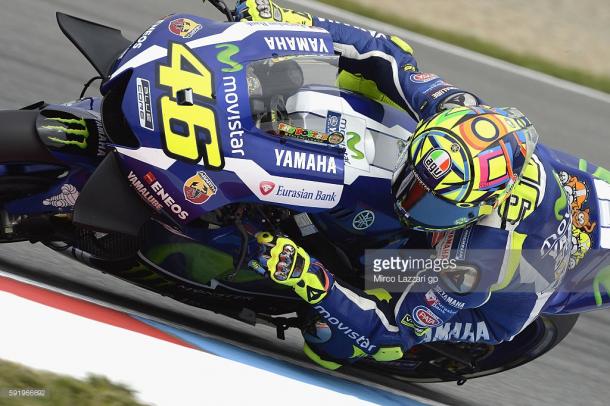 Rossi the first to improve
Movistar Yamaha rider Valentino Rossi was the first to improve with a personal best time. It allowed him to move up a place on the overall leaderboard, knocking independent team rider Hector Barbera (Avintia Ducati) down to fifth.
What is going on with Pedrosa?
Dani Pedrosa (Repsol Honda) who has a reputation of being a good competitor in Brno appeared to be struggling with the Honda on day one of the Czech GP.
The factory Honda rider finished tenth fastest after Free Practice 2, just before LCR Honda rider Cal Crutchlow in eleventh. His time was 0.822 seconds slower than his teammate.
He seems to have struggled with the Honda so far this season, rarely being within contention of fighting for a podium. He appeared unhappy with the set up again during Free Practice 3 as he gestured that something was wrong with the front end.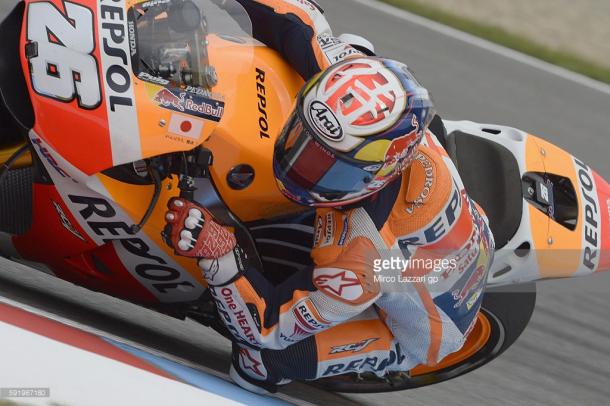 Vinales on the move
Team Suzuki Ecstar rider Maverick Vinales was the first to make a move in FP3 as he set the fastest lap of the session, and weekend so far with just under 15 minutes remaining.
His time of 1:55.739 took him to the top of the leaderboard despite him only completing a personal best in the second sector of the lap. He secured his space at the top by setting a second consecutive fastest lap improving his time by 0.135 seconds.
Things were only just getting started
Seven minutes of the session remained and things were only really just about to get started. Pol Espargaro (Monster Tech 3 Yamaha) did an impressive lap which brought him up to ninth and pushing Pedrosa out of the top ten.
But then Pedrosa, who narrowly avoided crashing, managed to move back up to ninth. Then Crutchlow's personal best time so far pushed him back down to tenth when he snuck in in seventh.
Riders continued to complete personal bests, Marquez and Rossi improved on their own times in second in third and then Andrea Dovizioso (Ducati Team) set his fastest time so far slotting into sixth.
The fast laps started to come in
Iannone, despite crashing then made a significant improvement which brought him up to second on the leaderboard. After a personal best first sector Marquez briefly took the top spot before along came Jorge Lorenzo (Movistar Yamaha) who smashed through the 1:55 minutes barrier setting a fastest time of 1:54.79 which was 0.813seconds quicker than the lap Marquez had just set.
Lorenzo continued to fly but then came across traffic which prevented him from setting a consecutive fast lap. Team Suzuki Ecstar rider Aleix Espargaro threw himself into the top ten setting a fast lap which gained him sixth. This just pushed Scott Redding (Octo Pramac Yakhnich Ducati rider) out of the ten who broke down at the end of the session and had to return to the pits via the perimeter road… again.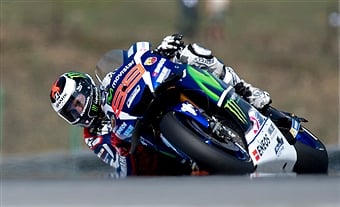 Lorenzo sets new lap record
Lorenzo finished the session on top, his lap time of 1:54.79 was the fastest lap ever completed at the Automotodrom Brno. Iannone finished second, and Marquez third pushing Vinales down to fourth. Rossi was fifth fastest ahead of Aleix Espargaro in sixth.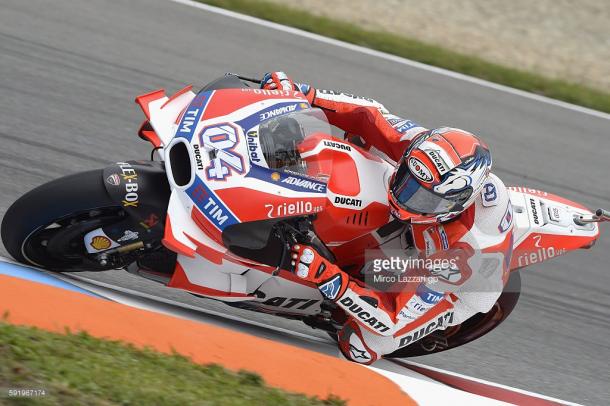 Dovizioso was seventh ahead of Hector Barbera (Avintia Ducati) in eight who was unable to improve on his fastest time from FP2, but it was enough to secure him a spot straight into Q2. Pol Espargaro ninth and Crutchlow secured the last place in the top ten.
Redding and Pedrosa outside the top ten
Redding was the tenth quickest during FP3, but Barbera's fastest time from FP2 prevented him from claiming a spot in the top ten overall meaning that it was down to Qualifying 1, where Redding and Pedrosa in twelfth, will have to work to finish in the top ten in order to progress to Qualifying 2 where they can compete for a position on the first four jorows of the grid.
Altercation between Pedrosa and Barbera?
There appeared to be a disagreement of some sort between Barbera and Pedrosa on track who seemed to be acting quite aggressively towards each other, especially at the final corner. They both made late attempts to get past the other one over the course of a several laps, until Barbera decided to cut across in front of Pedrosa as he entered the pits.
Just as the session came to an end spots of rain began to fall but it did not kick in before the next session. The riders have one more Free Practice session before two qualifying sessions remaining today ahead of the Czech GP tomorrow when it is forecast rain.