Following recent events that unfolded within the Sky Racing Team VR46 camp, where Romano Fenati was sacked from the Moto3 team, Francesco Bagnaia has announced today that he will be progressing through to the Moto2 with the Italian based team.
Fenati penalised and then sacked by his team
After qualifying at the tenth round of the season at the Austrian GP, it was announced by the team that Fenati would not be allowed to race, a sanction employed by themselves for 'repeated offences' with the Italian veteran's behaviour towards his team.
It did not look good, he was third in the championship and his team were willing for him to miss a race that would have possibly led to significant championship points. After the tenth round, the team announced that Fenati had in fact been let go.
Sky Racing Team VR46 to join Moto2 next year
Fenati had thrown away a very good future with the team as he was set to progress into the Moto2 with the Italian team. Like the current Moto3 Championship winning Leopard Team, they expanded and are now competing in the Moto2 with Danny Kent and Miguel Oliveira, as well as the Moto3.
Bagnaia signs for the Italian team
This has all played to the advantage of Francesco Bagnaia who currently rides for the Pull & Bear Aspar Mahindra Team. The Italian will be returning to his former team, he rode for them in 2014 alongside Fenati before moving to the Mapfre Mahindra Aspar factory team in 2015. He remained with Mahindra and will do until the end of the season.
When the world championship series returns next season, (we are all so excited about 2017 already and 2016 isn't finished), Bagnaia will be dawning his old colours. Bagnaia made this announcement before the qualifying session at the Brno GP via Social Media, saying that he was "happy" to take an "important step" in his career with the Sky Racing Team. He finished the post by saying he was "coming home".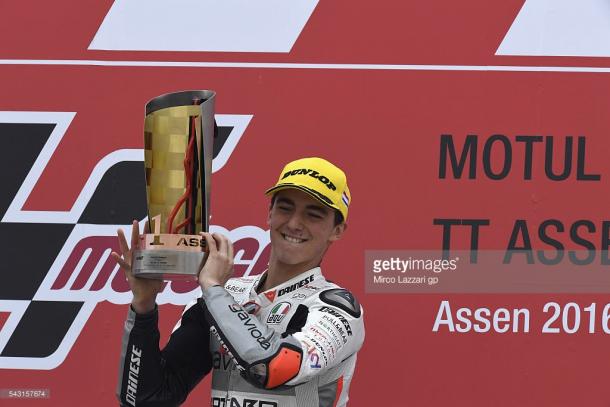 Bagnaia gets historical first win
Bagnaia made history recently with his Mahindra team after securing his first ever win, and the first ever win at world championship level for Mahindra; after qualifying tenth he battled his way to the front where he claimed the victory at the Assen GP at the Motul TT Assen.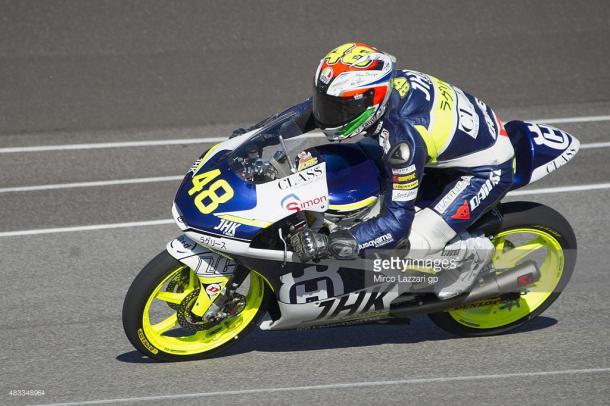 Dalla Porta to replace Fenati for now
Lorenzo Dalla Porta, who will be replacing Fenati from the twelfth round in Silverstone, will remain with the team up until the end of the season. The Italian has signed for Aspar Mahindra Team next year and will remain in the Moto3.