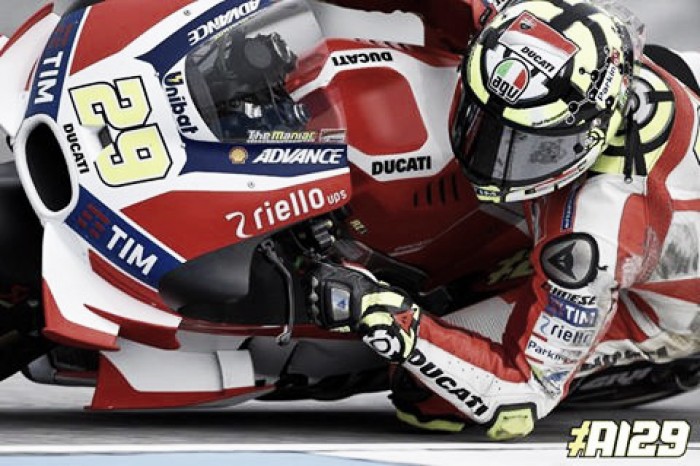 Fresh after winning his first MotoGP in Austria, and soon after returning from Ibiza where he celebrated his first win - and Ducati's first win in six years since Casey Stoner in Philip Island - Andrea Iannone arrived in the Czech Republic hoping to repeat is success at the Automotodrom Brno.
Iannone the man to beat after FP1
Iannnone looked like he was going to do just that as he was quickest during Free Practice 1 on day one of the eleventh meeting of the season. He dropped to second during FP2 which is where he remained for FP3 (despite crashing out early on in the session and later breaking down) and FP4.
Qualifying was the time for him to pull things out of the bag and return to his initial form if he was to secure pole position ahead of the Czech GP.
In the final stages Iannone made his best attempt with a time of 1:55.227, his fastest time so far during the weekend, which placed him in second behind Movistar Yamaha rider Jorge Lorenzo.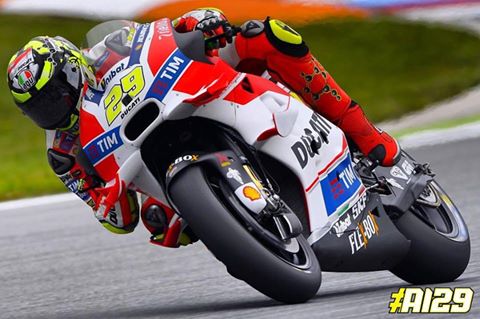 Iannone to start the Czech GP from third on the grid
But in the final stages along came Repsol Honda rider Marc Marquez with a record breaking lap that was enough to steal the pole position from Lorenzo which in turn forced Iannone down to second.
Iannone was present at the press conference after Qualifying after achieving his front row start for the race. He admitted that day two "was a little bit difficult especially in qualifying". Throughout FP3 and FP4 he felt he had "a good pace" which in turn he thought would "work well for the race".
Iannone claims pace dropped when using new tyres
However when he switched to "new tyres" and then "tried to push to 100%" he found it "very difficult" to improve his lap time. He claims they already "ride very close from the limit" and so he found it was "not so very easy to improve" when it came to Qualifying.
Despite his struggle he tried his "best on the last lap" and was able to improve his last time. He thinks third position is "very good" for Ducati as he thinks it is "important to start from the front row in the MotoGP class".
He feels he will benefit from this especially during the race as he thought "Vale, Jorge and Marc have a very good pace". Iannone is hoping that "a good start" will mean he will "have a very good chance" in the eleventh round of the MotoGP.