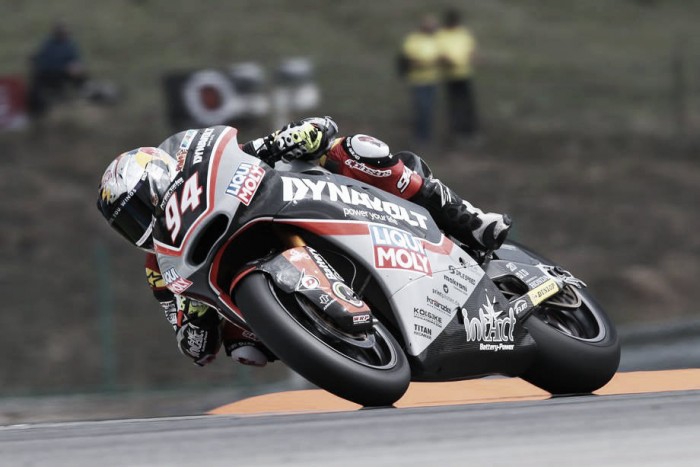 Jonas Folger (Dynavolt Intact GP) took a spectacular win the rain this afternoon during the Moto2 race in Brno, Czech Republic. After appearing one of the strongest from Friday, he took the bull by the horns to lead every lap and cross the line with a five second lead.
Championship rivals Alex Rins (Paginas Amarillas HP 40) and Sam Lowes (Federal Oil Gresini Moto2) took a sensible second and third place closing their gap to championship leader, Johann Zarco (Ajo Motorsport), who finished in 11th.
Warm up introduced treacherous conditions
The heavens opened as pit lane's lights went green for the warm up and all the riders, minus Thomas Luthi (Garage Plus Interwetten), took to a sodden track. After his crash yesterday, Luthi did not take part in the race today due to concussion and spending a night in the hospital. It's been reported that he is making progress and will hopefully make a return in Silverstone.
It was interesting to see the different riders topping the timesheets throughout the session, as riders got their settings in place ready for the wet race. Wildcard, Anthony West, topped the timesheets momentarily proving he is still very good in the rain. He did finish the session in the top 10.
Riders that came across very strong in these conditions included Danny Kent (Leopard Racing), Sandro Cortese (Dynavolt Intact GP), Alex Marquez (Estrella Galicia 0,0 Marc VDS), Franco Morbidelli (Estrella Galicia 0,0 Marc VDS), Miguel Oliveira (Leopard Racing) and Folger. They all topped the top four at some point during the session, showing they were enjoying the water under their tyres. The championship leaders appeared to be struggling, with Lowes coming across as the most confident out of the three as he came in eighth place. Zarco finished right down in 22nd place whilst Rins came in 13th.
Kent was penalised from eighth on the grid back to 15th after his bike tyres were deemed to be not at the correct level in qualifying yesterday.
Zarco went backwards after strong start to the race
Standing water lay around on the track as riders prepared for a long 20 laps as they stood on the grid. As the lights went out it was Zarco who made the better start leading into the first corner. But then as they approached the second corner Folger pushed the Frenchman back to take over as the leader.
Zarco continued to go backwards as Rins broke through from seventh on the grid to squeeze up into second place. Takaaki Nakagami (IDEMITSU Honda Team Asia), Hafizh Syharin (Petronas Raceline Malaysia), Marquez and Lowes joined Rins to continue to push the championship leader Zarco right back to sixth place. Zarco continued to go even further back as then the likes of Luca Marini (Forward Team), Mattia Pasini (Italtrans Racing Team), Cortese and Morbidelli snuck forward, as we now saw Zarco in 11th.
A front group formed as Folger led the pack
We then saw the front group break away with Folger leading it, and Marquez ending it, but the second group back were still in sight. As the rain seemed to get heavier it was thought that race direction would be reviewing the conditions, and a red flag could be on the cards.
After showing to be having a difficult weekend so far, Rins decided he had nothing to lose, as he put in the fastest lap with 18 laps to go. He sat on the German, Folger's, tail putting on the pressure waiting to make his move. At this point Nakagami, Lowes, Syahrin and Marquez followed behind as they tried to find a rhythm.
Lowes put in a few of the quickest laps
After Lowes had a dodgy start to the race and got shoved backwards, he built up a stronger pace with around 17 laps to go. He put pressure on third place man Nakagami before finally making his move and overtook him to take a provisional third position.
Folger continued to dominate the front of the field with Rins slowly dropping further back in second. At this point Zarco had fallen even further back into 14th place, putting Rins who was in second, and Lowes who was in third, in a good championship position.
Lowes continued his breakthrough as he put in the fastest lap with 16 laps to go and he was starting to catch championship rival Rins. It seemed that Folger may have been losing his momentum as Rins was closing the gap on the leader, with Lowes in tow.
It was then Pasini who put in the fastest lap who was back in seventh place, and with the rain getting heavier, it looked like anything could happen. It seemed Pasini was closing in on the group including Nakagami, Syharin and Marquez who was sitting in fourth, fifth and sixth.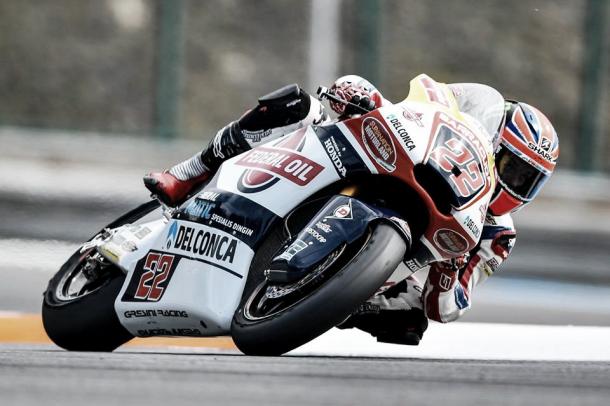 The podium looked set from the middle of the race
Back at the front and with 14 laps to go, Folger still continued to lead but Rins was continuing to close the gap and raise the tension. Lowes was still trying to follow, but it seemed the Brit was comfortable staying in a safe podium position. He would be pleased to take this as Zarco was now running in 16th place, putting him out of the championship points.
It was now a confident top three, with a small gap between each of them, but with the pace constantly changing it was questioned what Rins and Lowes could do. Eyes were then focused back to the second group as Marquez went back to his comfortable self and overtook Nakagami and Syahrin to sit in fourth, just as Pasini caught them up to join the party.
Whilst the podium soared off, it was a battle out back
The battle commenced for fourth, fifth and sixth as Nakagami left to drop back into seventh. It was then between Marquez, Pasini and Syharin as Marquez had the front three in his sights. Folger, Rins and Lowes had already disappeared off into the distance, giving Marquez a big task if he had any hope of catching them up from fourth.
Folger, Rins and Lowes continued to spread out as Rins behaved like a yo-yo getting closer, but then dropping back from the race leader. Lowes also acted the same as when it looked like he could catch Rins in second, he dropped back again giving Marquez that very small advantage.
Nakagami had now joined the next group back and we saw him fight it out with Marini and Cortese in seventh, eighth and nineth with Corsi catching up in 10th. As there was a lot of swapping around, this slowed down their pace, allowing the next group ahead to move on out of sight. Then with just 10 laps to go Nakagami crashed at turn seven after making contact with Corsi, whilst Marini crashed at turn eight, leaving Cortese in a lonely eighth position.
After having to start from 15th on the grid, it looked set to be a disappointing weekend for Kent. But he did manage to work his way up the field overtaking Zarco, and his team mate Oliveira, putting him in 10th place with nine laps to go.
Podium was in sight for Folger, Rins and Lowes
As expected it turned into a very lonely race for first, second and third place as Folger broke away to open up a three second lead from Rins. Further back it was Lowes who was a second behind Rins, but it looked like this was possibly set to stay. With Zarco back in 14th place, it was important to them to take points rather than take risk.
If we looked further back it was Pasini in fourth who had overtaken Marquez four seconds behind third place man. Kent continued to work his way up as he was now in eighth with seven laps to go.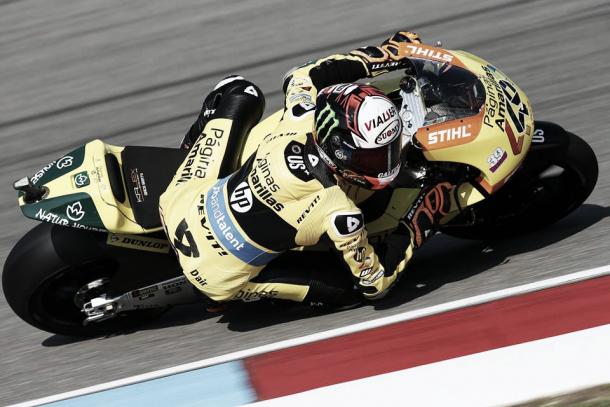 Corsi was penalised for irresponsible riding
After the crash that occurred earlier with Nakagami, Corsi was penalised and had to undergo a ride-through taking him out of 11th place. As he headed off down pit lane Nakagami's team mate, Ratthapark Wilairot (IDEMITSU Honda Team Asia), crashed out ending the team's hopes of either of their riders finishing the race.
With six laps to go, the rain slowed down very slightly, making it very unlikely for a red flag to appear. With this in mind, Lowes now decided it was time to push harder as it seemed he was closing down on second place man, Rins.
However, Rins responded very quickly to Lowes' antics, and moved off again ending Lowes' hopes of taking that second place. The front three now looked very settled as they crossed the line to finish the last four laps. The Brit was seen to be suffering with a lot of wheel spin, so he calmed down in order to try and claim those all-important championship points.
The last lap caused more controversy, and a worthy winner
As it came to the last lap, it was now a case of staying on the bike, rather than fighting it out. After leading the warm up this morning, and every lap, Folger crossed the line to take his third GP win since joining the Moto2 class. Rins and Lowes settled for second and third after using their heads, edging them closing to the championship leader Zarco.
It wasn't all plain sailing for the rest of the field as it was a last lap battle between Cortese and Pasini for fourth and fifth after pushing Marquez back to sixth. But a similar crash to earlier occurred, as Pasini came up Cortese's inside sending the German flying. This allowed Marquez to finish in fifth place, taking his best result so far this season.
Rins has now closed the point's gap to Zarco as he now sits with 162, only 19 points behind. Lowes has also made up points as he now has 137, a further 44 behind.
Moto2 race results

| | | | | | |
| --- | --- | --- | --- | --- | --- |
| Position | Rider | Nationality | Team | Bike | Points |
| 1 | 94 Jonas Folgar | GER | Dynavolt Intact GP | Kalex | 25 |
| 2 | 40 Alex Rins | SPA | Paginas Amarillas HP 40 | Kalex | 20 |
| 3 | 22 Sam Lowes | GBR | Federal Oil Gresini Moto2 | Kalex | 16 |
| 4 | 54 Mattia Pasini | ITA | Italtrans Racing Team | Kalex | 13 |
| 5 | 73 Alex Marquez | SPA | Estrella Galicia 0,0 Marc VDS | Kalex | 11 |
| 6 | 55 Hafizh Syahrin | MAL | Petronas Raceline Malaysia | Kalex | 10 |
| 7 | 52 Danny Kent | GBR | Leopard Racing | Kalex | 9 |
| 8 | 21 Franco Morbidelli | ITA | Estrella Galicia 0,0 Marc VDS | Kalex | 8 |
| 9 | 44 Miguel Oliveira | ITA | Leopard Racing | Kalex | 7 |
| 10 | 95 Anthony West | AUS | Montaze Broz Racing Team | Suter | 6 |
| 11 | 5 Johann Zarco | FRA | Ajo Motorsport | Kalex | 5 |
| 12 | 97 Xavi Vierge | SPA | Tech 3 Racing | Tech 3 | 4 |
| 13 | 60 Julian Simon | SPA | QMMF Racing Team | Speed Up | 3 |
| 14 | 32 Isaac Vinales | SPA | Tech 3 Racing | Tech 3 | 2 |
| 15 | 19 Xavier Simeon | BEL | QMMF Racing Team | Speed Up | 1 |
| 16 | 7 Lorenzo Baldassarri | ITA | Forward Team | Kalex | |
| 17 | 77 Dominique Aegerter | SWI | CarXpert Interwetten | Kalex | |
| 18 | 23 Marcel Schrotter | GER | AGR Team | Kalex | |
| 19 | 24 Simone Corsi | ITA | Speed Up Racing | Speed Up | |
| 20 | 57 Edgar Pons | SPA | Paginas Amarillas HP 40 | Kalex | |
| 21 | 87 Remy Gardner | AUS | Tasca Racing Scuderia Moto2 | Kalex | |
| 22 | 70 Robin Mulhauser | SWI | CarXpert Interwetten | Kalex | |
| 23 | 11 Sandro Cortese | GER | Dynavolt Intact GP | Kalex | |
| 24 | 2 Jesko Raffin | SWI | Sports-Millions-EMWE-SAG | Kalex | |
| 25 | 14 Ratthapark Wilairot | THA | IDEMITSU Honda Team Asia | Kalex | |
| DNF | | | | | |
| | 30 Takaaki Nakagami | JPN | IDEMITSU Honda Team Asia | Kalex | |
| | 10 Luca Marini | ITA | Forward Team | Kalex | |
| | 49 Axel Pons | SPA | AGR Team | Kalex | |