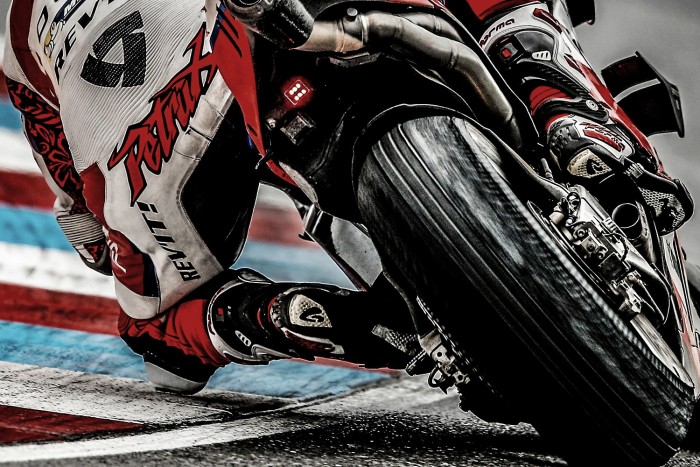 Octo Pramac Yakhnich Racing team rider Scott Redding was looking incredibly strong going into a very wet 11th round of the MotoGP season at the Automotodrom Brno in the Czech Republic.
Quickest in the extremely wet warm-up, he just needed a good start and to find his rhythm as soon as possible and he was well in with a chance of winning the race.
It stopped raining towards of the Moto2 race though and the rain held off for the start of the race. However, the track still remained wet and riders prepared their bikes with full wet tyres ahead of the flag-to-flag race.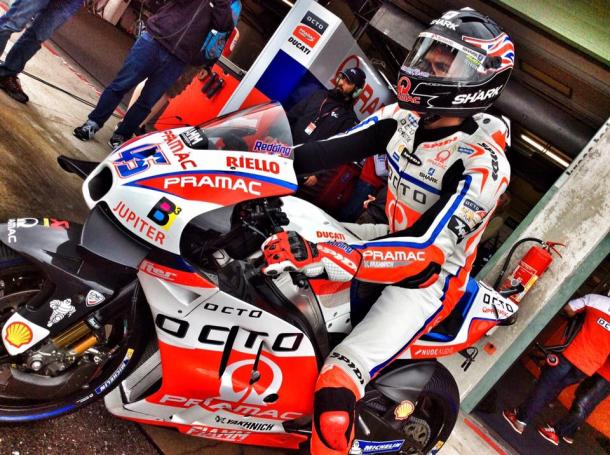 Redding benefited from Petrucci's penalty
Redding was due to start from thirteenth on the grid. Bar Free Practice 1 this is the average position Redding found himself in during the remainder of the practice session.
Despite finishing tenth during Free Practice 3, Redding failed to automatically progress to Q2 as Avintia Ducati rider Hector Barbera's fast time in FP2 was enough to secure him a place overall even though his fastest time did not come in FP3.
During Q1 Redding only finished fourth behind his teammate Danilo Petrucci (Octo Pramac Yakhnich Ducati). They missed out on the top two spots that promote them through to Qualifying 2 which were filled by Repsol Honda rider Dani Pedrosa and Monster Tech 3 Yamaha rider Bradley Smith.
Redding would have been starting from 14th on the grid, however during the end of the Austrian GP, Petrucci crashed into Pull & Bear Aspar Team rider Eugene Laverty who was set for finishing in 11th.
Petrucci made a public apology immediately, however he was penalised by Race Direction; the Italian received one penalty point on his licence and had to start the race one row behind where he qualified. So as a result Redding started from 13th and Petrucci started the race from 16th.
Both riders opted for soft wets
Both riders opted for the soft compound front and rear full wet tyres expecting to pit during the race when the track dried. The duo got a great start, Redding was soon at the front of the pack behind Ducati Team riders Andrea Iannone and Andrea Dovizioso making it a Ducati one, two, three.
Great start in Brno from Redding
After only a couple of laps Redding was the fastest man on track and was in a position to overtake Dovizioso, he spent the duration of the race chasing Iannone, but then as the track eventually started to dry up, he, like many other riders suffered from an 'abnormal consumption of the front tyre' which sent him backwards down the pack. Redding finished the race in 15th place collecting the last championship point available.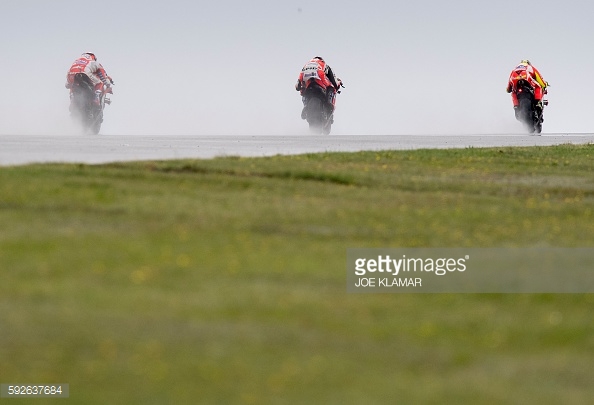 Redding happy with performance overall
Redding was "very happy" with his race despite the result. Having a positive outlook he knew he "made a good start" and felt like he was "going well" as he had a "great feeling". He thought that he was "in control" and that the "set up of the bike was perfect".
However, he noticed that the "front tyre was starting not to be performing" but assumed it was "a normal thing" and he prepared himself to "settle for top 6". He found himself being able to "recover some tenths" from the front group when the tyre got worse.
Redding said, "Suddenly the uncommon degradation of the front tyre cost me the race." He thought that the result in the end was "a shame" however the British rider will now be heading to his home round hopefully with a comfortable enough setting which will enable to find his rhythm much quicker.
Petrucci made last minute attack
Petrucci also benefited from a good start and soon found himself in front of Movistar Yamaha riders Jorge Lorenzo and Valentino Rossi who struggled immediately. He ended up battling for seventh, however both Avintia Ducati rider Loriz Baz and Laverty were running well and they both overtook the Italian.
However Petrucci was able to take advantage of the fact that Iannone and Vinales were both struggling with tyre issues and overtook them in the final stages and was able to secure seventh claiming nine championship points.
Not satisfied with seventh
Petrucci was not "particularly satisfied even if P7 is a good result" in what he described as "a strange race". He confirmed they "had a good pace in the warm-up" and that they were able to "make many changes" and confirmed that the "tyre choice was decisive".
He thought they maybe "could have had a chance with the hard front" but they had targets for the race that he wanted to complete which was to finish within the top ten. The Italian said, "In the end I managed to reach seventh" which he concluded "is not so bad". He said, "I would like to thank the team and all the people who are close to me."