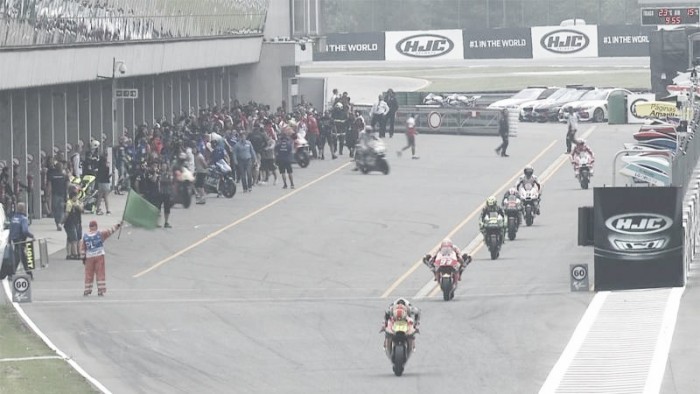 The eleventh round of the MotoGP season at the Automotodrom Brno in the Czech Republic was a very busy one. We had everything from blistering hot heat to heavy rainfall, several lap records, British riders making history after claiming their first wins, bikes with Olympic fever jumping over fences and on a more serious note, new legislations as a result of the Grand Prix Commission meeting that took place that weekend.
Present at the meeting was Carmelo Ezpeleta (Charmain of Dorna), Ignacio Verneda (FIM CEO), Herve Poncharal (IRTA), Takano Tsubouchi (MSMA), who make up 'Messrs' and they were joined by Javier Alonso (Dorna), and Mike Trimby (IRTA) who was the Secretary of the meeting on August 20th.
The information below is taken from the www.motogp.com website.
Certain regulations are to be introduced with immediate effect
Post-Qualifying/Race Technical Control
Allowances will be made by the Technical Director when non-compliance with minimum weight or maximum noise has been caused by incidents in the qualifying session or race. This would include situations like fluid loss or missing bodywork parts affecting the weight and damage to or loss of exhaust components affecting noise levels.
Penalties
The level of penalties for minor infringements that can be imposed by the FIM Stewards Panel without an automatic hearing has been increased. This avoids the current requirement for teams or riders to pay a significant fee to have any appeal heard by the Court of Appeal. As is the current practice, the Stewards will always grant a hearing to any team or rider requesting one.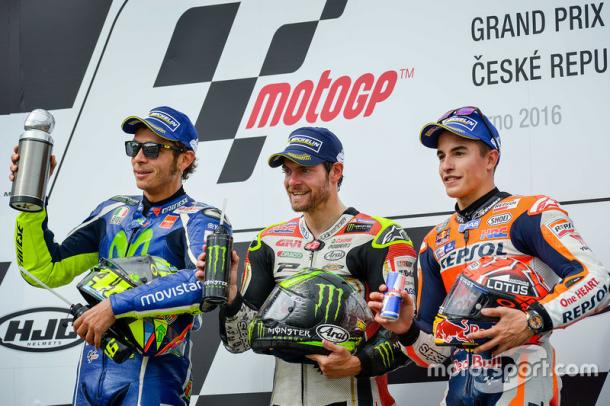 Regulations to be introduced for the 2017 season
Technical Regulations
Moto3 Engine and Gearbox Supply
Engines and gearboxes will no longer be sold to the participating teams but will be provided under a rental agreement with ownership retained by the manufacturer.
Moto3 Supply Requirements
Manufacturers participating in the Moto3 class must supply, if requested, machines and spare parts for 14 riders who have been selected for participation by the Selection Committee. However, every manufacturer is required to supply engines and spare parts to a minimum of six riders as a condition of being an approved manufacturer for this class.
Sporting Regulations
Moto3 and Moto2 Testing Restrictions
Due to reduction in the number of days in the programme of official winter tests, testing in the period between the last Grand Prix and the end of November will no longer count towards the permitted maximum number of days available to each rider.

Change of Machines in MotoGP Class "Flag to Flag" Races
For safety reasons and to reduce the number of people in pit lane during machine changes, each rider may only be assisted by a maximum of four mechanics. Such mechanics must all wear an approved crash helmet which will also help to identify the authorised staff.
To avoid the possibility of accidental engagement of a gear during the machine change the mechanic holding the replacement machine may hold in the clutch lever. However, actual selection of the gear can only be made by the rider. Breach of this regulation, which can be determined from ECU data, will result in automatic disqualification.
Other Matters Fuel Handling Safety
Teams will be required to use anti-static mats and grounding wrist strap when decanting fuel. Proprietary fuel dump/fuel tank fillers must be used when filling fuel tanks.
All such equipment used must be approved by the Technical Director.