After Mercedes topped FP1, Red Bull FP2, it was Ferrari's turn to top a Belgian GP practice session, with Kimi Raikkonen doing the honours for the Scuderia.
As ever, the fastest laps came at the end of final practice, when cars are on low-fuel, high revs and the drivers can really push for the first time in the weekend. Raikkonen, who has won at Spa four times lapped the 4.352 miles in 1:47.974.
Behind him, Daniel Ricciardo was just 0.215 down, ahead of Sebastian Vettel making it two Ferrari's in the top three.
Valtteri Bottas was fourth, more representative of the Wiliams' pace after a troubled Friday. Lewis Hamilton was fifth, but hit with another 20 grid place penalties, taking his total to 55.
After a strong Friday, Force India slipped back, in terms of single-lap pace, with Nico Hulkenberg and Sergio Perez split by Nico Rosberg's Mercedes and Felipe Massa in the other Williams. Romain Grosjean rounded out the top 10, by slotting his Haas into 10th.
Verstappen hits trouble
The impact 18 year-old Max Verstappen has had on Formula One already has been incredible. The fans love him and it was reported that almost 5,000 extra fans had brought tickets to see him in action on Saturday morning, after he topped FP2 yesterday.
See him they did, albeit briefly. The Dutchman, born in Belgium, just 50km away from Spa, emerged from his garage and as he was starting a stint, suffered an apparent gearbox failure, just as he passed the pits. If Red Bull are forced to change it, he will receive a five-place grid penalty.
There was also some fruity language used over team radio, with Pascal Wehrlein exclaiming that Esteban Gutierrez was a "f*****g idiot", as the Haas ran him out of road at the start of the Kemmel straight.
Toward the end of the session, at Blanchimont, Kevin Magnussen was preparing for a fast lap, and blocked a fast-approaching Vettel. The angry German, not entirely amused called Magnussen "an idiot", before adding "its free practice, who gives a s**t?"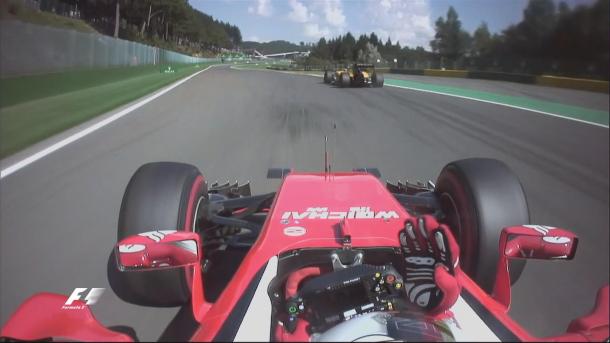 Below par Rosberg
It was Rosberg who topped the early running, with his benchmark being a 1:48.880, before Raikkonen bettered that with a 1:48.406.
Vettel joined him at the top of the timing screens, before Daniel Ricciardo showed that Red Bull's perceived power deficit wasn't as strong as epected, by lapping 0.217 than Rosberg's best time, albeit the Aussie was on SuperSofts.
Hamilton, focusing on long-runs, spent most of his session on the Soft tyre, before a final lap on the SuperSofts, to show what ultimate pace he would've been able to show in Qualifying. He is expected to take part in Qualfying, but consigned to a P22 and last start, that is more out of respect for the fans and the need to calibrate the car.
As the Mercedes, surprisingly lost time in the third sector, essentially a curved straight and chicane, it was Raikkonen who became the first man to break the 1:47 barrier, en-route to posting the fastest time, in the closing minutes.
Belgian Grand Prix - Third Practice times
1. Kimi Raikkonen – Ferrari – 1:47.974
2. Daniel Ricciardo – Red Bull +0.215
3. Sebastian Vettel – Ferrari +0.323
4. Valtteri Bottas – Williams +0.530
5. Lewis Hamilton – Mercedes +0.661
6. Nico Hulkenberg – Force India +0.765
7. Nico Rosberg – Mercedes +0.768
8. Felipe Massa – Williams +0.809
9. Sergio Perez – Force India +0.941
10. Romain Grosjean – Haas +1.298
11. Fernando Alonso – McLaren +1.479
12. Esteban Gutierrez – Haas +1.657
13. Jenson Button – McLaren +1.691
14. Kevin Magnussen – Renault +1.742
15. Pascal Wehrlein – Manor +1.787
16. Danill Kvyat – Toro Rosso +2.049
17. Carlos Sainz – Toro Rosso +2.104
18. Jolyon Palmer – Renault +2.267
19. Felipe Nasr – Sauber +2.446
20. Esteban Ocon – Manor +2.719
21. Marcus Ericsson – Sauber +3.345
22. Max Verstappen – Red Bull – No time