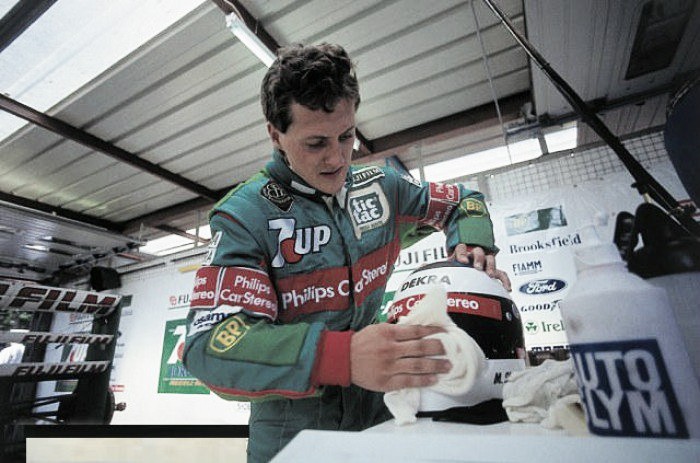 What happened at Hyde Park Corner, Central London in December 1990, forever changed the face and history of Formula One – although of course not a single soul could have imagined what.
Bertrand Gachot, a promising young driver, and black cabbie Eric Court got involved in an altercation that ended with the French driver spraying the taxi driver in the eyes with CS gas – illegal in the UK.
Fast forward to August 1991. Gachot is sentenced to six months imprisonment, although the sentence is reduced to just two months on appeal. However, the Jordan team was left without a driver, but they soon found one, a German sportscar driver who had never been around Spa – the next race on the calendar.
Not many had heard of the man who would end qualifying in seventh place, beaten only by Ayrton Senna, Alain Prost, Nigel Mansell, Gerhard Berger, Jean Alesi and Nelson Piquet. At the end of the day, everyone knew his name. Michael Schumacher.
Having only first driven an F1 car, at a shakedown at Silverstone on the Tuesday. His immediate being on the pace within three laps, led to team personal being shocked and telling team principal, Eddie Jordan "we've got a star here".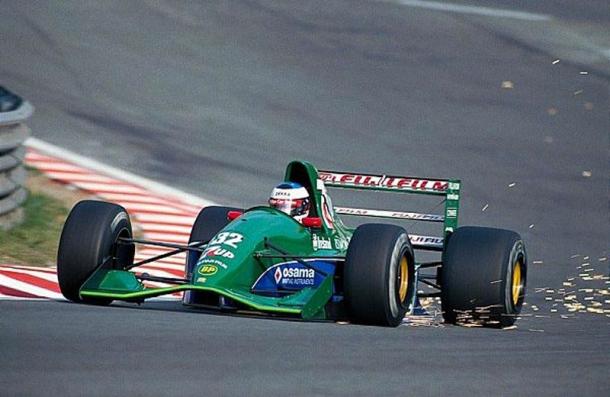 The first race at Spa was over as soon as it started, a burnt out clutch the legacy of Schumacher's inexperience with an F1 clutch, but the seeds had been sown. Especially so, when you take Eau Rogue, a proper corner back then that only the bravest would think about taking flat, flat within two laps.
Over the next 21 years, split into two parts, we know that Schumacher rewrote so many F1 records, including some (91 race wins) that will surely never be surpassed, but as it is the 25th anniversary of that fateful weekend, Vavel take a look back at some of Schumi's' most legendary moments at Spa, a circuit he described as his favourite.
1992 – the first win:
12 months on from his debut, Schumacher out-strategized the rest of the field, which included some of the sport's greatest wet-weather specialists. But a new one was about to join them. In typical wet conditions in the Belgian countryside, starting P3, Schumacher was running comfortably, whilst Senna, Mansell and Ricardo Patrese diced for the lead.
The changeable conditions meant that the early race was spiced up by a magnitude of pit-stops, with the leaders switching from slicks to wets and then back to slicks. Lap 30 was when a strategy call, for which he became so renowned, tipped the race in Schumacher's favour.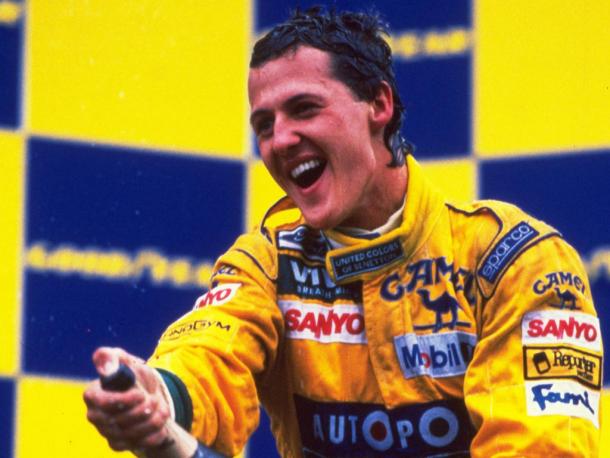 Running wide at Pouhon, Schumacher noticed the rear tyres on teammate Martin Brundle's car had nistarted to blister, meaning it was time to change to slicks. This is he did immediately, which in effect won him the race, as the chasing Mansell had to wait an extra three laps before making his switch, although a broken Williams exhaust settled matters.
1994 – disqualification
The 1994 season will forever go down as one of the most controversial and tragic years there'll ever be in Formula One. Roland Ratzenberger and Ayrton Senna had been killed, and Karl Wedlinger seriously injured.
A raft of safety changes, post Imola, included the introduction of 'the plank'. A wooden block on the underside of the car, intended to raise the ride-height, thus reduce downforce and slow the cars. The rules permitted a set amount of wear to the block. Exceed that, and disqualification was your present from the stewards.
The race itself, was a typical Schumacher win, a routine two-stop strategy in warm conditions. A lap 19 spin at Pouhon seemed innocuous, but eight hours after his eighth win the season, came the bombshell news. Schumacher had been disqualified for excessive plank wear.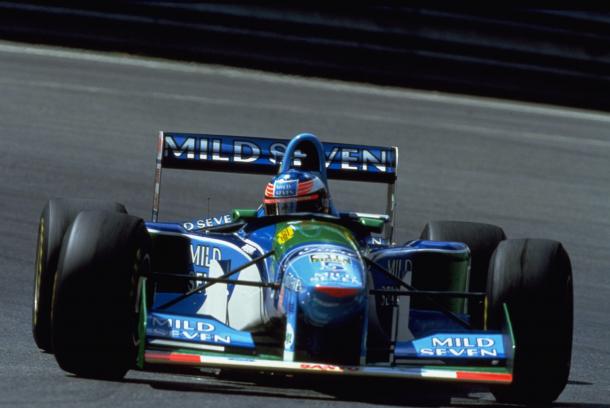 Despite Benetton's protests, car 5 was excluded from the results, with Schumachers' title rival, Damon Hill inheriting the win. It was the latest of a series of cheating allegations against team and driver in '94. It didn't help his reputation in the British media especially, nor the manner in which he won the title later that year in Australia. But Schumacher didn't care, just three-and-a-half years after entering Formula One. He was World Champion.
1995 – the greatest drive?
As have seen, and shall see next, Schumacher in the rain at Spa was an (almost) unbeatable combination. Starting P16, the result of a rain affected qualifying session, by lap 21 he was fighting for the lead, alongside old adversary Hill.
The brave, the sensible call was to pit for wet tyres to cope, as Hill did. But not Schumacher. Somehow keeping control, he used his somewhat dubious 'Schumacher chop', including a blatant shove to keep the Flying Englishman behind. He got a suspended one race ban for that.
But as it happened, he had judged it perfectly. As the track dried, Hill was forced in for slicks, allowing the world champion to escape up the road. Another stop for wets was necessary, but Schumacher had it all under control, as he so often did.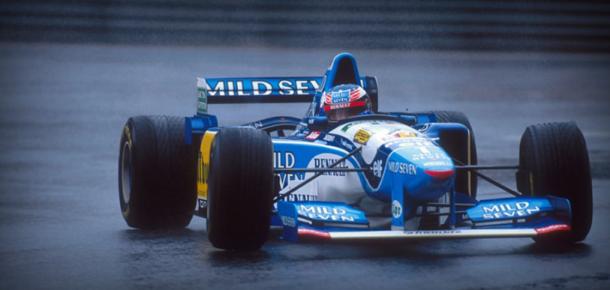 This race started a three-race winning streak at Spa, with the '96 and '97 editions making it four wins in just seven starts, five if you count '94.
The 1995 Belgian Grand Prix had everything which Michael Schumacher became known for. Ruthless driving, wet-weather mastery, clever strategy, and the never give up attitude. It might not get the attention of Spain 1996, or Japan 2000, but it just might be the greatest of all 306 drives.
1998 – walking on water
Once again it was rain that Schumacher had to thank for handing him a 37s lead on lap 25 as he approached Pouhon.
This is the race famous the 13 car pile-up at the start occurred at, and at the second restart, Schumacher just wasn't seen. Whilst others were struggling to keep it pointing the right way, he was nearly 3s a lap faster. Win number five at Spa was just 19 laps away.
Had Schumacher won this race, it would go down as one of his finest. But the masterful conditions with which he drove are often overshadowed by what happened with David Coulthard.
Slowing down to be lapped by the Ferrari, the McLaren driver slowed to be passed. On the racing line. Blinded by spray, Schumacher was unsighted and rammed the rear of the ​McLaren, taking his right front off in the process.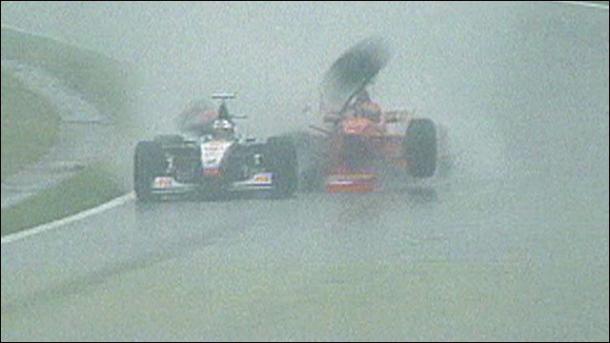 Apoplectic with rage, back in the pits, Schumacher accused Coulthard of "trying to fu****g kill me", losing 10 crucial points in the title race with Mika Hakkinen of McLaren – more on that rivalry next.
Nonetheless it was another performance that had to be seen to be believed, as Schumacher's stock as 'reinmeister' was well and truly cemented.
2000 – The Hunter is the hunted.
The Michael Schumacher/ Mika Hakkinen rivalry lit up F1 in the late 1990's early 2000's. If one race, one moment encapsulated their battle for supremacy, lap 41 at Les Coombes was it. Both double world champions, going for the triple.
Hakkinen had led, but a spin had dropped him behind the Ferrari. As we know, catching a car and passing it are two completely different things.
The McLaren soon caught Ferrari and what followed was something that Bruce and Enzo would've respected.
After not being seen for a while, Schumacher brought the 'Schumacher chop' out of his box of tricks to defend, with the run from Eau Rogue/Raidillion down Kemmel and into Les Coombes the place something was going to happen.
Hakkinen knew that his only chance was to take Eau Rogue flat, no mean feat in a V10. He did. What followed was the greatest overtake in Formula One history.
Starring Michael Schumacher (Ferrari), Ricardo Zonta (BAR) and Mika Hakkinen (McLaren). Coming up to lap Zonta, Schumacher hesitated and went to the left of the BAR, Hakkinen the right. Whatever Zonta thought is anybody's guess.
It was a titanic battle for supremacy, and although the McLaren won the battle, the Ferrari would win the war, Schumacher claiming the elusive third title he so craved in Suzuka later that year. It was a golden era of F1, that showed the mutual respect between the fiercest rivals.
2004 – Seven Up
13 years previously, he made his debut in a car sponsored, predominately by Seven Up, in 2004, Schumacher broke his own incredible record and became World Drivers Champion for a seventh time.
Having won 12 of 13 races prior to Belgium, it was somewhat ironic that championship number seven was sealed with a P2 finish, but sealed it was. They said that Juan Manuel Fangio's record of five titles would never be beaten. Schumacher winning five on the trot had dispelled that.
It was the culmination of years of hard-graft. It was the high-point of career with so many, his last podium at a track that had given us so many amazing memories of him.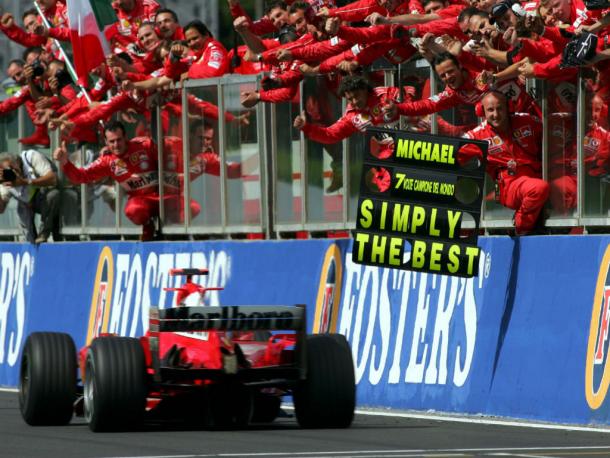 A DNF in 2005 and points in his three comeback years was the end for driver, who, by the end everyone knew his name, and had earned the respect of a media who had lambasted him.
At his favourite circuit, 25 years on since the weekend that changed Formula One forever, #KeepFightingMichael.
Michael Schumacher's result's at Spa-Francorchamps

| | | | |
| --- | --- | --- | --- |
| Year | Team | Qualifying result | Race result |
| 1991 | Jordan | P7 | DNF |
| 1992 | Benetton | P3 | 1st |
| 1993 | Benetton | P3 | 2nd |
| 1994 | Benetton | P2 | DSQ (1st) |
| 1995 | Benetton | P16 | 1st |
| 1996 | Ferrari | P3 | 1st |
| 1997 | Ferrari | P3 | 1st |
| 1998 | Ferrari | P4 | DNF |
| 1999 | Ferrari | Injured for race | N/A |
| 2000 | Ferrari | P4 | P2 |
| 2001 | Ferrari | P1 | P1 |
| 2002 | Ferrari | P2 | P1 |
| 2003 | Ferrari | No Race | N/A |
| 2004 | Ferrari | P2 | P2 |
| 2005 | Ferrari | P7 | DNF |
| 2006 | Ferrari | No Race | N/A |
| 2010 | Mercedes | P21 - 10 place penalty | P7 |
| 2011 | Mercedes | P24 | P5 |
| 2012 | Mercedes | P13 | P7 |