A dominant Saturday for Lewis Hamilton was completed in qualifying as he beat his team mate, Nico Rosberg to pole position for the Italian Grand Prix at Monza.
The current World Champion equalled Ayrton Senna's pole record for the Italian GP with a third consecutive pole. The Brit lapped with a 1:21.135, a massive 0.478 seconds ahead of his Rosberg's fastest lap, a 1:21.613. It was a huge statement of intent from Hamilton, who lost ground to the German following his engine penalties at Belgium as he ended Rosberg's hopes of securing four pole positions in a row.
Low power costs Red Bull
Throughout the season Red Bull had become accustomed to being the best of the rest and the only team that could really give the Mercedes team a headache. The power heavy Monza circuit cost them dearly, however, their lower power engine not only allowed Ferrari to jump them but even allowed Valtteri Bottas to secure a 5th place start.
The struggle of Renault engines was a consistent theme throughout the grid as both Jolyon Palmer and Kevin Magnussen couldn't get their cars out of Q1, with only Esteban Ocon finishing below them as his electrical fault prevented him from setting a time.
Mercedes opt to start on soft tyres
The Bracknell-based team were confident enough in their pace that they ran soft tyres through Q2. Even on the slower tyres, they were still a long way ahead of Ferrari, who instead chose to run the faster supersoft tyres, ensuring they will start on the red-walled tyres.
Q2 featured a highly impressive performance from Esteban Gutierrez who ensured his Haas car made it into Q3, beating the 12th place start achieved by his team-mate, Romain Grosjean.
Pascal Wehrlein continued his impressive first full season in the Manor team as he put the car on to 14th on the grid. He will start behind Fernando Alonso whose time of 1:23.273 was good enough for 13th, the Manor will start ahead of Alonso's team mate, Jenson Button who got the car to 15th.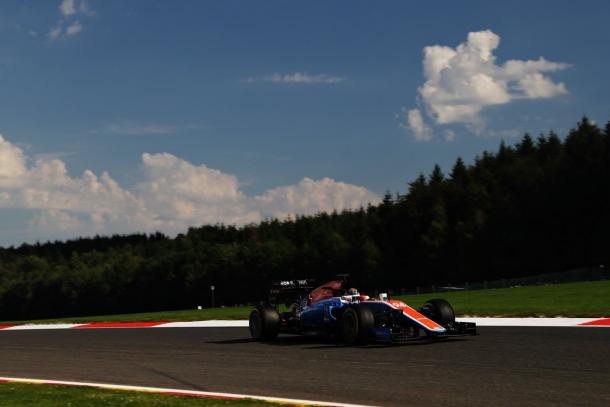 This second qualifying session was a disappointment for Felipe Massa, however. The retiring Brazilian could not match the feats of his Williams team-mate as Massa could only achieve an 11th place grid start.
Hamilton throws down the gauntlet for Rosberg
Nico Rosberg had cut Hamilton's lead at the top of Driver's Championship to just nine points. There was a worry that Rosberg's win could have turned the momentum towards the Germans although that now seems unlikely after such a dominant drive from the three-time world champion.
The Ferrari's of Sebastien Vettel and Kimi Raikkonen locked out the second row on the grid, although the Italian team were still a long way from the Mercedes with Raikkonen's time almost a whole second slower than pole sitter Lewis Hamilton.
Daniel Ricciardo won his inter-team battle, his time of 1:22.389 just 0.22 seconds faster than Max Verstappen's time of 1:22.411. The drama off the track possibly weighing on the young Dutchman's mind.
Force India went 8th and 9th, Sergio Perez will start ahead of his team-mate Nico Hulkenberg. The Haas of Esteban Gutierrez rounding out the top 10.
Italian Grand Prix- The Grid
Position
Driver
Team
1.
Lewis Hamilton
Mercedes
2.
Nico Rosberg
Mercedes
3.
Sebastian Vettel
Ferrari
4.
Kimi Raikkonen
Ferrari
5.
Vallteri Bottas
Williams
6.
Daniel Ricciardo
Red Bull
7.
Max Verstappen
Red Bull
8.
Sergio Perez
Force India
9.
Nico Hulkenburg
Force India
10.
Esteban Gutierrez
Haas
11.
Felipe Massa
Williams
12.
Fernando Alonso
McLaren
13.
Pascal Wehrlein
Manor
14.
Jenson Button
McLaren
15.
Carlos Sainz
Toro Rosso
16.
Danil Kvyat
Toro Rosso
17.

Romain Grosjean

Five place grid penalty for gearbox change.

Haas
18.
Felipe Nasr
Sauber
19.
Marcus Ericsson
Sauber
20.
Jolyon Palmer
Renault
21.
Kevin Magnussen
Renault
22.
Esteban Ocon
Manor