Once again it was the British weather that dominated at Silverstone as riders took to the track for the final Free Practice sessions and Qualifying ahead of the British Grand Prix.
A British rider will be starting from pole position in the MotoGP and the Moto2 classes as LCR Honda rider Cal Crutchlow and Federal Oil Gresini Moto2 rider Sam Lowes were the quickest during a wet qualifying.
Iannone the man to beat
Although it was very misty on the morning of day two, when the MotoGP class took to the track for Free Practice 3 it was dry but cool. Ducati Team rider Andrea Iannone's time from day one was the one to beat as things got underway but it was not long before he made a mistake.
Iannone crashed out 10 minutes into the session at Village. The Italian was the first out of the pits during the session He appeared unhurt and was soon able to get back to the pits and then back out on track with only scuffed leathers in no time.
Several riders spotted running off track
On several occasions different riders were seen running off the track, whether it was done intentionally to avoid being followed by their fellow competitors, or they decided to make use of it to avoid making a mistake, they certainly made good use of the old Silverstone track.
Marquez quickest in FP3 at Silverstone
Crutchlow became the fastest man on track with just four minutes of the session remaining but then two minutes later Marc Marquez (Repsol Honda) took the top spot. Maverick Vinales (Team Suzuki Ecstar) slotted in in second behind him. Iannone was able to complete a fast lap which left him third at the end of FP3 and so Crutchlow was pushed down to fourth.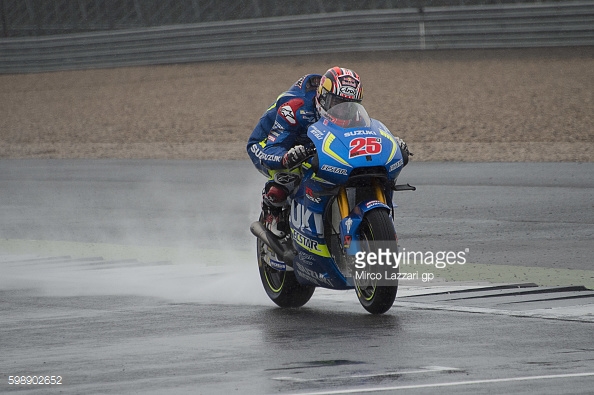 Jorge Lorenzo (Movistar Yamaha), was fifth quickest during FP3 and British rider Scott Redding (Octo Pramac Yakhnich Ducati) was the second highest placed Ducati ahead of his home GP in sixth ahead of factory Ducati rider Andrea Dovizioso. Dani Pedrosa (Repsol Honda) finished eighth, Danilo Petrucci (Octo Pramac Yakhnich Ducati) was ninth and Valentino Rossi (Movistar Yamaha) just made it into the top ten to automatically progress through to Qualifying 2.
Rain hit before final MotoGP Practice session
Free Practice 4 was the final chance for riders to confirm the setup before qualifying got underway. It had begun to rain by the time they made it out on track for their second session of the day and so it was the first opportunity for them to try a wet setting at Silverstone, as it rained enough for the track to have enough surface water that led to spray being kicked up.
Initially Iannone was the strongest in the wet; in past rounds he has been incredibly strong in similar conditions. The rain as usual threw everything wide open and meant that it was more of a level playing field between the factory and independent teams.
Redding crashes out
Unfortunately for Redding he crashed out with just 15 minutes to go. It meant that he was unable to return to track until the second round of Qualifying, and it was likely that only one bike would be available. Redding appeared unhurt.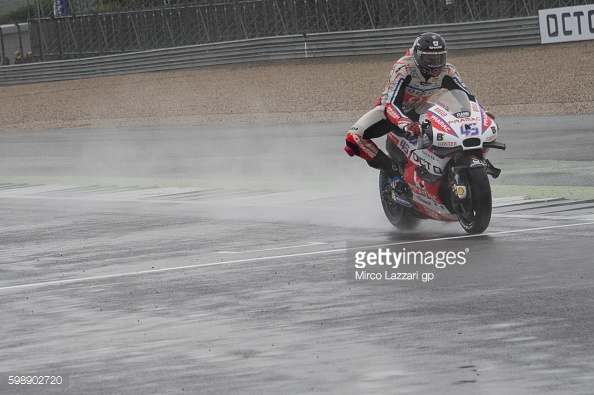 Pedrosa, Marquez, Dovizioso and Crutchlow all looked strong with the British rider setting the fastest time with just one minute of the session remaining. In the closing stages Jack Miller (Estrella Galicia 0,0 Marc VDS) crashed out at and marshals struggled to help him get the Honda restarted.
Magnificent save from Petrucci
Petrucci had a massive wobble as he entered the last corner and accelerated towards the finish line; his rear wheel just touched the wet white line and it sent him up and out of the seat.
The Italian made an amazing save and was able to stay on and make it back to the pits unharmed. Iannone also went hot into the final corner and was forced to use the run-off area. Marquez set the fastest time during FP4 with his last flying lap.
Wildcard Alex Lowes looking extremely settled at home
Monster Tech 3 Yamaha rider Bradley Smith will not be competing this round due to the injuries sustained during an endurance event after the eleventh round in Brno. Instead he is being replaced at Silverstone by Alex Lowes, twin brother to Moto2 rider Sam Lowes.
He won a ride on the Tech 3 Yamaha after winning the Suzuka 8 hour and was chosen to compete in Britain. He looked great in the wet and was at one point eighth quickest during the session; he finished 12th.
Wet Qualifying One meant great news for the locals
More rain had fell in time for Qualifying 1, and Irishman Eugene Laverty (Pull & Bear Aspar Team) and Alex Lowes both let their experience in weather they are used to (being local lads) as they at one point found themselves taking the top two spots at the leaderboard and looking to progress through to Qualifying 2.
They were soon knocked down the rankings though and after several riders made an attack and were able to visit the top of the leaderboard at different stages. It was Laverty and Miller who claimed the top two spots though and they were able to challenge for a front four row start.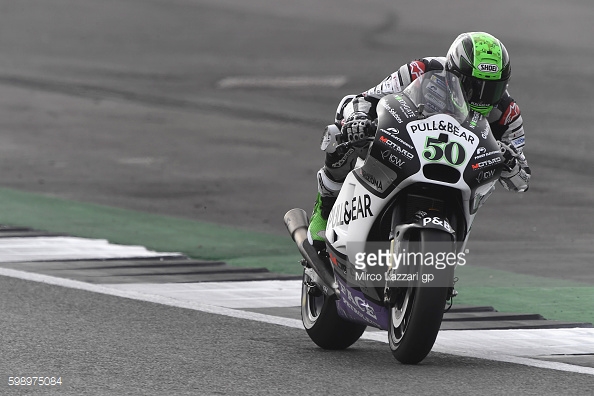 Tactful Qualifying Two was underway
A tactful approach to a very wet Qualifying 2 from Lorenzo saw him take to the track immediately in an attempt to set as fast a lap as possible before the weather worsened. It paid off initially as he was set for pole, and the rain hit making it difficult for riders to lap as quickly as him.
Towards the start of the session, Rossi, who was part of a gang, paused to remove a tear off visor before continuing. This made several other riders including Vinales and Marquez hesitate as maybe they were looking to receive a tow or learn a thing or two in the wet from the nine times world champion.
Miller crashes out
At the start of the session it all went wrong for Miller as he crashed at Luffield on his first flying lap. It being his second crash of the day meant it was session over for the Australian who had not yet completed a flying lap and will now start from 12th on the grid as a result.
Crutchlow goes fastest at home round
Crutchlow's form continued in the wet as he managed to take set the fastest time with seven minutes remaining. He wasn't the only one improving in the wetter conditions so he continued to chip away at his own time in an attempt to score pole position for the race.
Marquez crashed out at vital stage
Marquez was pushing and at first experienced a moment in the wet. It was like it was a warning for the Spanish former MotoGP champion as despite losing momentum, he still managed to set the second quickest time.
Straight after this though he came off at turn one. He ended up in the gravel and was unable to get back to the pits in time to complete an out lap and a flying lap and so he had to stand by and watch his front row start for the British GP slip away in front of him.
Rossi was the first to upset the Spaniard as his fastest lap helped him to jump up to second. Dovizioso, who also was looking competitive, crashed at Aintree when the rear of his Ducati skidded. He appeared hurt as he was assisted off by the track side officials.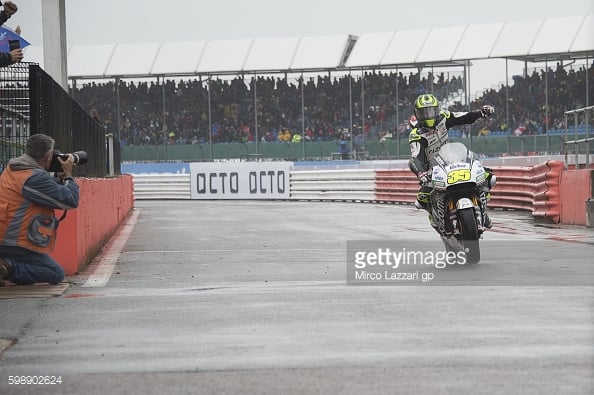 Laverty almost steals pole
One last final attempt from Irishman Laverty looked extremely promising as he was the quickest man through the second sector so far but then he crashed out throwing away his chance of his first ever MotoGP pole and at Silverstone.
Crutchlow continues to break more British records
In the end it was British rider Crutchlow who took pole position ahead of the 2016 British GP at Silverstone. He was the top Honda, top independent team rider, top Brit, and on pole as his time was over a second quicker than anyone else. He has also become the first British rider since Barry Sheene to claim pole in the premier class at the British Grand Prix since 1977 at Silverstone.
Crutchlow will be joined on the front row by Rossi in second and Vinales in third. Laverty had to settle for sixth at the back of the second row behind Dani Pedrosa (Repsol Honda) and Marquez. Redding will start from seventh, Iannone eighth and Lorenzo ninth. Dovizioso, Aleix Espargaro and Miller make up the fourth row. Avintia Ducati rider Loris Baz will start from thirteenth ahead of Petrucci and Pol Espargaro (Monster Tech 3 Yamaha).
Lowes to start from sixteenth
On his wildcard appearance Alex Lowes will start the British GP in sixteenth ahead of Aprilia Racing Team Gresini rider Stefan Bradl, Hector Barbera (Avintia Ducati), Alvaro Bautista (Aprilia Racing Team Gresini), Yonny Hernandez (Pull & Bear Aspar MotoGP) and rookie Tito Rabat (Estrella Galicia 0,0 Marc VDS) will complete the grid in 21st.
Crash filled day for the Moto2 class
In the Moto2, they were finally able to get an almost fully dry session in as they almost completed FP3 before the showers hit. It was very wet for them during qualifying and many riders were caught out on several occasions as they were seen falling off on several areas of the tack in all directions. No-one appeared to be hurt luckily.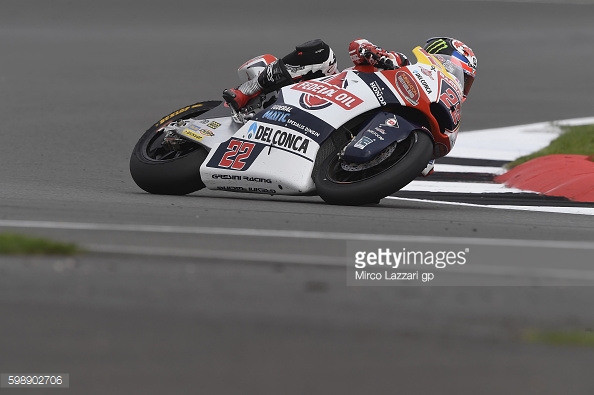 Sam Lowes makes it double British pole position at British GP
It was Sam Lowes who claimed pole position among the Moto2 class, he leads the grid ahead of Johann Zarco (Ajo Motorsport) and Jonas Folger (Dynavolt Intact GP). Estrella Galicia 0,0 Marc VDS riders Alex Marquez and Franco Morbidelli complete the second row with Petronas Raceline Malaysia rider Hafizh Syahrin splitting the teammates.
Isaac Vinales (Tech 3 Racing) is the fastest Tech 3 rider in seventh ahead of Lorenzo Baldassarri (Forward Team), the fastest Speed Up rider Simone Corsi (Speed Up Racing) and Thomas Luthi (Garage Plue Interwetten) who is returning from injury to start the race in tenth. Takaaki Nakagami (IDEMITSU Honda Team Asia) will start from 11th and British rider Danny Kent (Leopard Racing) will start his home round from the back of the fourth row in 12th.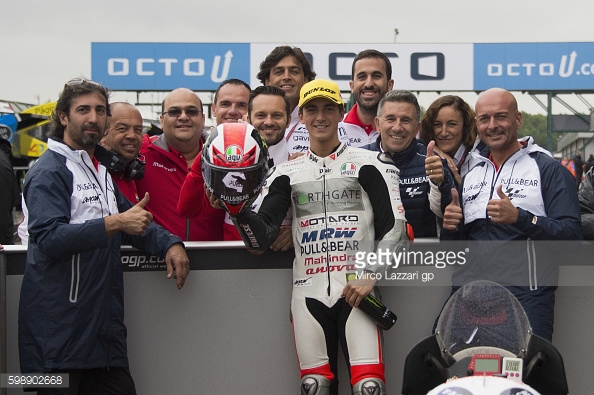 Bagnaia claims first ever Moto3 pole in Silverstone
Francesco Bagnaia (Pull & Bear ASPAR Mahindra Team) is on pole ahead of the Moto3 race. The Italian Mahindra rider collected his first hever pole position ahead of the 12th round of the season at Silverstone ahead of Enea Bastianini (Gresini Racing Moto3) in second.
Bo Bendsneyder (Red Bull KTM Ajo) was set to start from third on the grid but has received a three row penalty which means that Niccolo Antonelli (Ongetta-Rivacold) completes the front row instead.
Championship leader Brad Binder (Red Bull KTM Ajo) will start the race from fourth and will be joined by Joan Mir (Leopard Racing) and Jules Danilo (Ongetta-Rivacold).