All eyes were on pole position man LCR Honda rider Cal Crutchlow ahead of the British GP at Silverstone as they hoped that he would become the first British rider to win since the MotoGP came to England in 1977.
But Team Suzuki Ecstar rider Maverick Vinales stole the show and went on to lead from start to finish and winning after an amazing performance.
Great start from Irishman Laverty
After the first wet qualifying of the season, and a cool and damp warm-up session on race day conditions had improved for the race. It was declared a dry race although it was overcast but it looked to stay that way throughout.
Movistar Yamaha rider Valentino Rossi, who qualified second on the grid, led into the first corner but Vinales made his way past him taking the lead on the first lap. There was a collision at Becketts and two riders were down.
Rossi was in second behind Vinales and Irishman Eugene Laverty had just stuffed his Pull & Bear Aspar Ducati up the inside of Rossi at Vale when the red flag came out.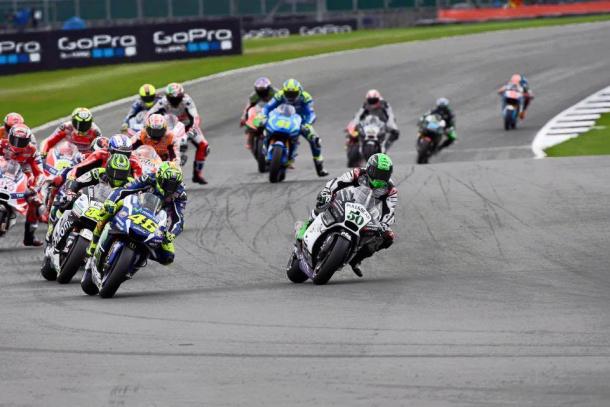 Incident with Pol Espargaro and Baz causes race to be red flagged
The incident at Becketts involved Monster Tech 3 Yamaha rider Pol Espargaro and Avintia Ducati rider Loris Baz. The two had collided as they made their way through the chicane, the bikes had destroyed themselves and both were left lying in the road and they were narrowly avoided by the rest of the pack.
Both Pol Espargaro and Baz required medical assistance unfortunately and both riders had to be carried off on a stretcher. If both riders were declared fit to ride they would be able to restart along with the others; however neither rider returned for the race.
Race restart underway
The riders lined up on the grid for the second time following the race restart procedure; the riders had 60 seconds to leave the pit lane once it was opened, they would complete a sighting lap and would join one crew member on the grid before completing a warm up lap and then assembling on the grid to wait for the lights.
The lights went out for the now 19 lap race and it was Crutchlow who led into the first corner this time. He cleanly made his way around the outside of Rossi heading into turn one leaving the Italian in second and Vinales followed in third.
Vinales was on a mission
But Vinales was determined and at the end of the main straight heading into Stowe, the Spanish rider out-braked the Italian and claimed second from him heading into the corner. Heading into Vale Vinales passed Crutchlow to take the lead and by the end of the lap he managed to extend a lead on everyone else.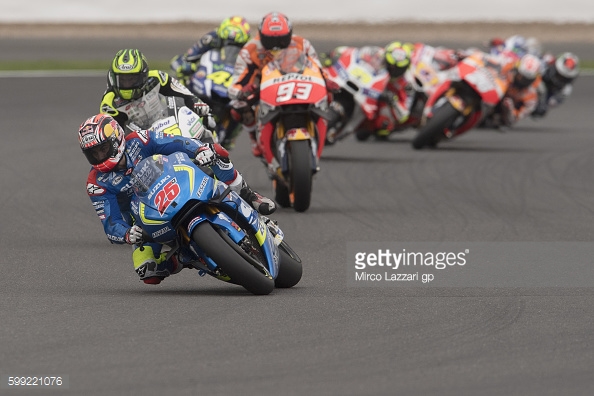 Crutchlow also got past Rossi, as did Ducati Team rider Andrea Iannone, when Iannone made a move on Rossi it spoiled his momentum and Repsol Honda rider Marc Marquez was able to sneak through and steal third.
Heading to Becketts on lap two, Marquez made an attempt to overtake Crutchlow for second but failed. The Spaniard had to wait until Stowe at the end of the straight where he was able to outbrake and overtake the Brit. Rossi also looked to make an attempt but backed off.
Redding crashes out of his home GP
Octo Pramac Yakhnich Ducati rider Scott Redding crashed on lap three of the race as he made his way through the chicane at Vale.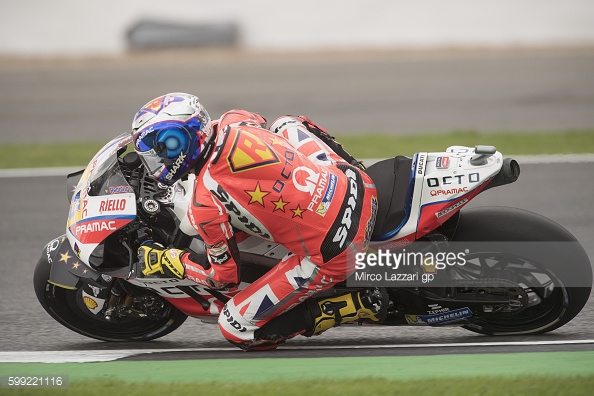 He lost grip on the back and spun around, picking the bike up and turning it round on the artificial grass he was able to get his bike started by himself; although he was unhurt he was way off the rest of the pack now, after falling from ninth, but he continued on in front of his home crowd.
Rossi and Crutchlow nearly come into contact
Vinales continued to lead at the front, he worked hard and was able to continue increasing the gap he had at the front between him and second place Marquez. Rossi was working to try and regain third from Crutchlow, at one point he nearly came into contact with him. Eventually Rossi was able to make it stick when he passed him heading into Luffield.
Rossi was now on the back of Marquez and the Honda rider looked to be holding him up. On lap six, Rossi overtook him at the overtaking hotspot Stowe and Marquez was unable to fight back. Rossi's teammate Jorge Lorenzo (Movistar Yamaha) was down in eighth and was under pressure from Aleix Espargaro (Team Suzuki Ecstar).
Keen to be on the podium at his home GP, Crutchlow made an attempt on Marquez two laps later. After several challenges he got past. Iannone who had previously botched an attempt past Rossi and lost several places in the meantime, was able to regain a place from Dani Pedrosa (Repsol Honda) and was now in fifth.
Iannone surged through the pack
Iannone's surge continued and on lap 11, with nine remaining, Iannone had caught and past Marquez. Ahead of him, Cruthclow was on Rossi's tail but the distraction meant that Iannone was able to catch the duo and at the end of the International Pit Straight he was able to take third from him.
The Ducati rider was clearly on a mission and at the start of lap 12 Iannone had already caught and was able to overtake Rossi heading into turn one (Copse). Desperate for the championships points Rossi was able to retake second position from Iannone heading into Stowe.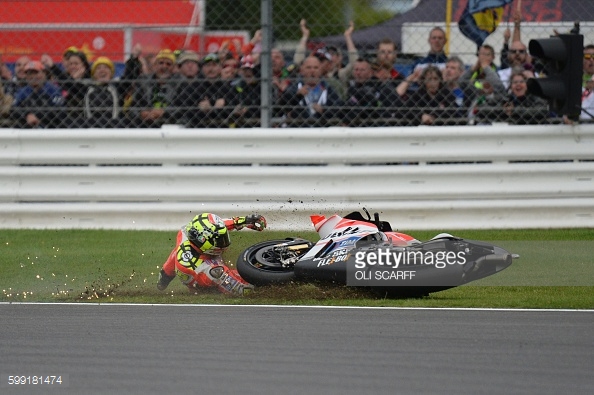 Running a different line to Marquez, Crutchlow was able to get away and made an attempt on Iannone, but the Italian was able to hold him off and he was able to again overtake Rossi on turn one of lap 13. Immediately Rossi tried to fight back but he had to settle temporarily for third.
Crutchlow lost fourth to Marquez, but the ever-determined used the start-finish straight to get past Marquez. Continuing on he was also able to make his way past Rossi at Becketts. Marquez also made a very aggressive move on the inside of Rossi.
Iannone crashes out
Heading into turn one with just five laps remaining, Iannone crashed out of the race. He had crashed at this corner twice previously during the weekend and it caught him out again. Iannone was unhurt but it was race over for 'The Maniac'.
Desperate Marquez riding aggressively
Marquez was still looking for any way past Rossi and an intense battle continued on track until the Spaniard ran on missing a corner and going over the run-off areas, he had to give the place back to Rossi so he was not penalised but he continued in his pursuit of the nine times world champion. The duo continued to battle for the rest of the lap and it was Marquez who crossed the line in third with four laps to go.
Marquez's attention was again back on Crutchlow as he looked to take second position. He was able to get him by the end of lap 17, but not without a fight from Crutchlow. The Brit overtook him heading into turn one.
As Vinales continued to dominate at the front, Marquez made another attempt on the penultimate to take second from Crutchlow. He messed it up though as he tried to get him heading into Stowe and went wide. Using the run-off to prevent a crash he re-joined in fifth behind his teammate Pedrosa.
Marquez hit Crutchlow's right knee as he stuck it out to crank over into the right-handed corner; luckily this affected Marquez more than Crutchlow who was fortunately not knocked off after Marquez's antics.
Pedrosa holds Marquez off towards the end of the race
Reluctant to give in to his teammate, and in an attempt to get as good as a result as possible after a recent stint of bad form, Pedrosa was able to hold Marquez off. But on the last lap Marquez was able to overtake Pedrosa at Becketts and he was unable to fight back.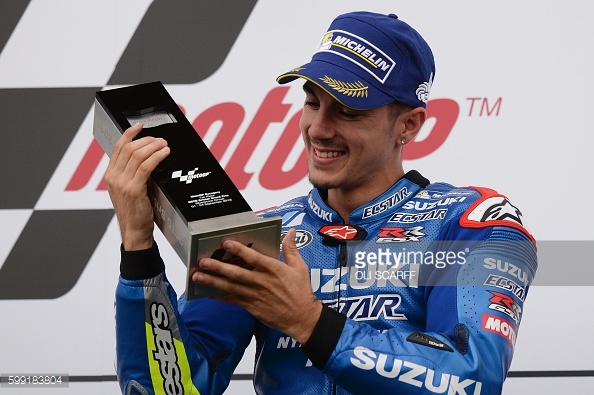 Vinales claims his first every victory at Silverstone
After a solid and faultless performance, Vinales won the British GP aboard his Suzuki GSX-RR; a bike that is only within its second season since it returned to the MotoGP in 2015. His amazing run meant he finished with a 3.480 second lead, well ahead of anybody to claim his first ever MotoGP win.
Third consecutive podium for Crutchlow
Crutchlow finished second claiming his third consecutive podium in front of his home crowd. The Brit celebrated as if it was a win. It was a great end to a fantastic weekend which saw him get his name in the history books becoming the first Brit on pole in years. He finished as the top Honda and the highest palced independent rider.
Rossi crossed the line in third position claiming the last point on the podium reducing the gap in the championship between him and Marquez who finished fourth, by three points. Rossi and Crutchlow lapped the track together celebrating together and completed a wheelie in unison down the International Pit Straight.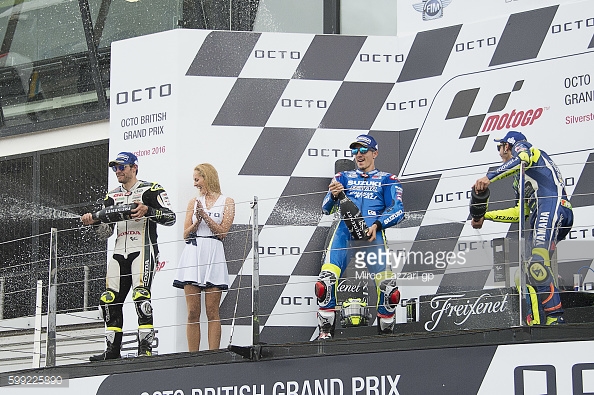 Pedrosa finished the British GP in fifth ahead of Ducati team rider Andrea Dovizioso. Aleix Espargaro managed to overtake Lorenzo and finished seventh; Lorenzo remained eighth as a result of Iannone falling off.
Octo Pramac Yakhnich Ducati rider Danilo Petrucci finished ninth as the second highest placed independent and Ducati rider, ahead of Aprilia Racing Team Gresini Racing rider Alvaro Bautista who completed the top ten.
After being quickest in the warm-up, Yonny Hernandez (Pull & Bear Aspar MotoGP) finished 11th ahead of his teammate Laverty in 12th. Laverty was disappointed with his result after having such a strong start to the original race that was red-flagged.
Amazing result for wildcard Alex Lowes
On his MotoGP debut, as he was standing in for injured Bradley Smith, Alex Lowes finished an amazing 13th aboard the Monster Tech 3 Yamaha. After Smith was ruled out after a racing incident at an Endurance event, Lowes who won the Suzuka 8 hour race and was awarded a chance to ride the Tech 3 Yamaha was chosen to compete.
He put in a fantastic performance throughout the weekend. He crashed it unfortunately, but at one point placed himself in eighth on the leaderboard. The British rider, twin brother to Moto2 rider Sam Lowes (Federal Oil Gresini Moto2), collected three championship points and made everyone extremely proud.
Hector Barbera (Avintia Racing) completed the race in 14th position after battling throughout with Tito Rabat (Estrella Galicia 0,0 Marc VDS) who collected the last of the championship points available in 15th. His teammate Jack Miller was 16th and Redding was the last across the line in 17th.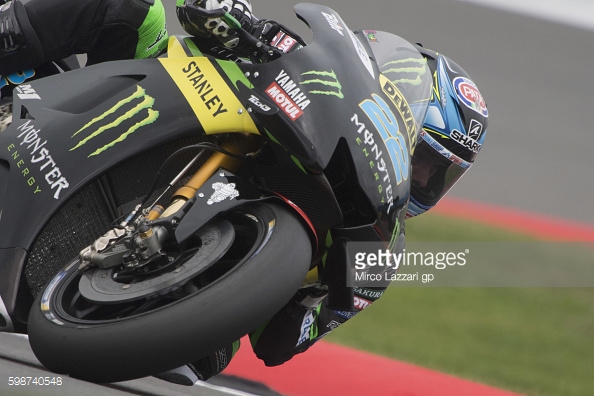 Marquez remains the championship leader
Marquez still remains the championship leader on 210 points; he has a 50 point lead over Rossi (160) in second, who was able to extend his lead to 14 points over Lorenzo with 146 points. Vinales' win means he is fourth with 125 points; he is five points ahead of Pedrosa in fifth.
Ducati Team riders Iannone and Dovizioso are sixth and seventh, and Crutchlow's form and his second place in the race made him the top independent placed rider in eighth on 86 points now above Pol Espargaro (81) who dropped to ninth after not participating in the restart.