Despite it threatening to rain prior to the race at Silverstone, it held off meaning that the Moto2 riders were finally able to take to track for a complete session in the dry.
It rained during Free Practice, and Qualifying took place in the wet (and caught many riders out) and all eyes were on British Moto2 rider Sam Lowes in the hope he would win from pole position aboard his Federal Oil Gresini Moto2 Kalex.
Folger leads the British Moto2 race
The 18 lap race got underway and it was Dynavolt Intact GP rider Jonas Folger that led the 600cc class into the first corner. He led ahead of Lowes, championship leader Johann Zarco (Ajo Motorsport), and Hafitzh Syahrin (Petronas Raceline Malaysia).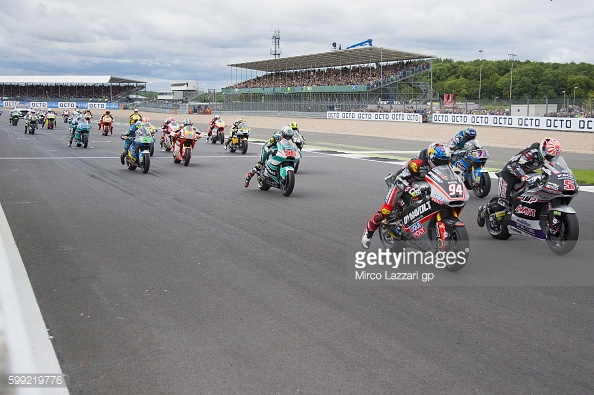 Vinales crashes out
The first incident of the race occurred when the riders made their way through Vale. Isaac Vinales, who qualified seventh, fell off his Tech 3 Racing bike and was unable to re-join the race as a result, although he did appear unhurt. Soon after, Luca Marini (Forward Team) crashed out of the race and was unable to re-join.
Lowes makes his way to the front much to the home crowds' delight
Much to the delight of his home crowd, Lowes managed to grab the lead by the end of the first lap. As he made his way around Silverstone he appeared to be extending his lead ever so slightly. Simone Corsi (Speed Up Racing) went wide at the end of the second lap but was able to recover.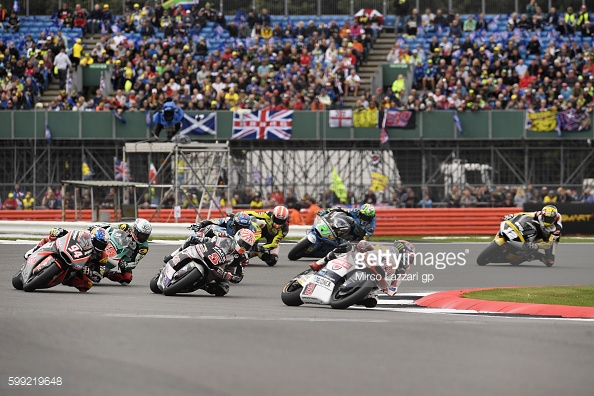 Syahrin also lost three places as he made his way through Stowe. The corner comes at the end of a long and fast straight, ideal for slipstreaming, and is a great area to outbrake an opponent. One of the riders that made his way past Syahrin was Alex Marquez (Estrella Galicia 0,0 Marc VDS) who shot to third with his move. His teammate Morbidelli had also made his way past as did Folger.
By lap five Zarco was able to close in on leader Lowes slightly. Zarco was looking to extend his championship lead ahead of injured Alex Rins (Paginas Amarillas HP 40) who broke his collarbone during training and had to undergo surgery, and leader Lowes.
Disappointment for Marquez as he crashes
As he entered Luffield, Marquez crashed out of the race. The front end folded from underneath him and he was snatched off the bike. The Spaniard was able to get his bike and re-join the race however he lost a lot of time and was now at the back of the field.
Also at his home GP, the British Fans were hoping for Leopard Racing Team rider Danny Kent to succeed at Silverstone. At one point he had made his way up to 12th but dropped down to 16th on lap six. Meanwhile Thomas Luthi (Garage Plus Interwetten) had made his way up to fourth.
Luthi a man on the move
A group of nine had appeared to break away at the front of the pack. Folger had to lift his bike up as he cranked over to go through Club meanwhile Luthi was able to overtake Morbidelli which meant he was now in third.
Luthi's surge continued and it was not long until the German rider had slotted it cleanly past Zarco on the outside through Becketts on lap eight. As they continued on during the same lap, Luthi took advantage of the slip heading into Stowe again and was able to pass Lowes, but brought Zarco with him in the meantime meaning that the Brit dropped to third in one corner.
Lowes immediately attempted to retaliate and take second place back from Zarco but in doing so he lost third position to Morbidelli who was able to overtake him.
Lowes makes a move on Morbidelli
A couple of laps past and Lowes was able to build up his pace and was able to catch Morbidelli. He was on the Italian's tail through Beckets on lap ten and was able to pass him heading into Stowe. As they approached Vale, Morbidelli attempted to overtake Lowes on the outside, but Lowes already had the inside corner ready for the first left hand corner heading into the chicane.
Behind the leaders, Takaaki Nakagami (Idemitsu Honda Team Asia) was closing in on Syahrin as he worked to take fifth position from the Malaysian. He attempted to overtake him at Stowe but his move did not stick. Meanwhile ahead of them Lowes had caught Zarco and look set to make a move soon. Further down the field, Rins had moved up to tenth position on the track after qualifying 19th on the grid.
The pressure eases for Lowes briefly
Lowes' previous chase of Zarco seemed to spur the Frenchman on; he was able to shake off Lowes and was gaining on Luthi. Lowes however pushed hard and was again able to catch Zarco through the chicane at Vale. With just five laps remaining at the same spot, Lowes went to act on Zarco but hesitated which meant he lost time when he went wide and now was under pressure from Morbidelli.
In Lowes' favour though, Nakagami applied the pressure to Morbidelli and was able to pass him at Stowe on the next lap. Morbidelli retaliated at Vale reclaiming fourth position. This allowed Lowes to regain on Zarco and he passed him at the end of lap 15.
Zarco forces Lowes out of the race
Zarco attacked back though and was on the inside of the left handed corner as the two came together. Zarco remained upright, but Lowes who was cranked over ready to turn into the corner was forced off the track as if the two were caught together. Zarco was able to get free and continued on with the race re-joining in seventh, but Lowes came off and had to pick his bike up and joined the race much further down the field. It was a disappointing end to what was a successful weekend so far.
Luthi remained the leader unaffected by what went on behind him, Morbidelli moved up to third ahead of Nakagami, Syahrin and Folger. With three laps to go Nakagami and Morbidelli continued to battle. Nakagami managed to pass Morbidelli on the left hand turn on the entry to Luffield; the battle meant Luthi was able to extend his lead.
Zarco tries to make up lost ground
On the penultimate lap, Zarco was able to pass Lorenzo Baldassarri who had moved up to sixth as a result of the incident involving Zarco and Lowes. He overtook him at Stowe again meanwhile ahead of them Nakagami appeared to be catching Luthi and was bringing Morbidelli and Syahrin with him.
Luthi wins the 2016 British Moto2
During the last lap, Morbidelli fought off Syahrin. He then went on to make his final move on Nakagami who he overtook in the final stages. Luthi won the race ahead of Morbidelli, Nakagami and Syahrin.
Folger was fifth, and although Zarco crossed the line in sixth position, he was later penalised by race control who found him to be at fault in the incident involving Lowes. He was given a 30 second penalty at the end of the race which meant that when the time was added on he finished the race in 22nd behind Lowes who was 21st. Neither rider were within the points.
Baldassarri benefited from this most finishing in sixth ahead of Rins who had managed to make his way up to seventh despite his injuries. Simone Corsi (Speed Up Racing) was eighth ahead of Mattia Pasini (Italtrans Racing Team) and Axel Pons (AGR Team) who completed the top ten.
Kent finishes in the points at home round
Teammate to Pons, Marcel Schrotter finished 1th ahead of Sandro Cortese (Dynavolt Intact GP), Xavi Vierge (Tech 3 Racing), Julian Simon (QMMF Racing Team) and British rider Kent who claimed the last of the championship points available.
Xavier Simeon (QMMF Racing Team) just missed out in 16th ahead of Jesko Raffin (Sports-Millions-EWME-SAG), Ratthapark Wilairot (Idemitsu Honda Team Asia), wildcard Iker Lecuona (CarXpert Interwetten) and Remy Gardner (Tasca Racing Scuderia Moto2) who completed the top 20. Lowes and Zarco placed after him ahead of Edgar Pons (Paginas Amarillas HP 40, Robin Mulhauser (CarXpert Interwetten) and Marquez who completed the list of finishers in 25th.
Zarco retains championship lead despite penalty
Zarco (181) remains the championship leader just 10 points ahead of Rins (171) and Lowes is in third position with 137 points. Luthi's win means he is in fourth now only six points behind Lowes (131); he is ahead of Folger in fifth. Morbidelli, Nakagami, Syahrin, Dominique Aegerter and Simone Corsi (Speed Up Racing) complete the top ten.