Something seems to have clicked with British LCR Honda rider Cal Crutchlow. Whether it is the birth of his baby, wanting to prove all of the critics wrong, the typical British weather at the last several rounds, or sheer hard work and determination… it has definitely paid off as he finished the 2016 Octo British GP in second place after qualifying on pole.
All of the elements have probably played a part in Crutchlow's recent success. He seems content and relaxed, happy and comfortable as he has become a serious contender for a podium at the last recent rounds that have been set in mixed weather conditions.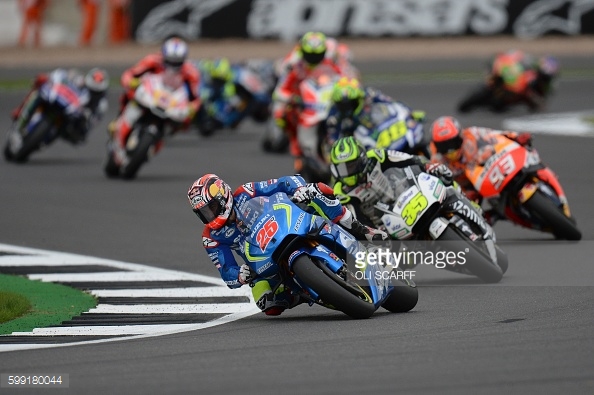 A lot riding on Crutchlow at his home GP
There was a lot of attention surrounding the British rider who seemed to have been ear-marked the favourite out of all the Brit's in the MotoGP, to do well in the British round. Fans were hoping that he would have become the first British rider to win the British MotoGP since it came to England in 1977.
When he finished a very wet qualifying in pole position, a second quicker than anyone else on track, peoples' hopes were raised. Not only had he secured his first ever pole position, he made history becoming the first Brit on pole since Barry Sheene. Although he never actually won, it felt like he had as he celebrated with his home fans at Silverstone at the end of the race.
Several achievements in one for the Brit
Crutchlow's success didn't just fall into his lap. He worked extremely hard to remain competitive amongst the factory team riders. He finished as the highest placed Honda, the top independent team rider and the highest placed Brit.
He battled long and hard to remain at the front when the race restarted. It was red-flagged before the first lap was completed as a racing incident involving Pol Espargaro (Monster Tech 3 Yamaha) and Loris Baz (Avintia Racing) left them needing medical attention. He had a better start during the second race and overcome a lot to finish second..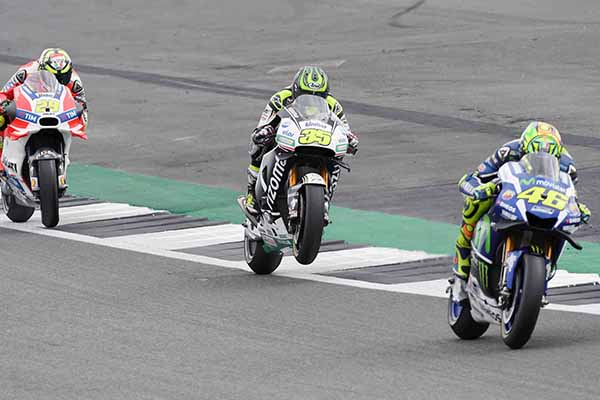 Crutchlow battled with Rossi and Marquez throughout
Both Movistar Yamaha rider Valentino Rossi and Repsol Honda rider Marc Marquez battled with Crutchlow on track. There were overtaking hotspots at Silverstone which included Stowe (at the end of the main straight), the chicane at Vale and turn one heading into Copse (a corner whose run-off area Crutchlow used several times over the weekend as a safety net when completing flying laps).
Narrowly avoided collision with Marquez
Marquez appeared to be ruthless towards Crutchlow as he tried to get past him whichever way he could. At one point the two came into contact. Crutchlow had his knee out ready to turn into the right-handed corner, and Marquez who was attempting to overtake him on the inside line missed his braking point and hit the Brit's right knee before continuing on into the run-off area.
Luckily for Crutchlow, only his knee was hit, and he was possibly left with a bruise on the point of contact rather than several more had he been brought off his bike. After the incident Crutchlow was able to focus on overtaking Rossi which he did in the closing stages, finishing second and claiming 20 points. He is now eighth in the championship with 86 points as the highest placed independent team rider; he is five points ahead of Espargaro as the second independent.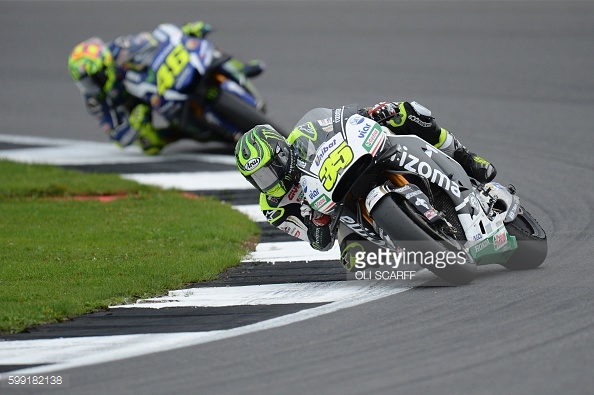 Crutchlow enjoyed experience in front of home crowd
Discussing the weekend of his home GP Cruchlow spoke of how it was "great to be part of that battle today and really entertain the British crowd". He was grateful to the LCR Honda team and thanked them "for all the hard work they have put in in these recent weeks". He admitted they "started the year with a few crashes" and they have experienced "problems with the bike" but he felt the result "shows that all the work has paid off".
Crutchlow felt he "gave as good as he got" during the race saying it was "a great battle with Marc and Valentino". He praised Team Suzuki Ecstar rider Maverick Vinales who won his first ever MotoGP race at Silverstone after leading from the start to finish, saying "he controlled the race and did a superb job".
Four new winners in as many recent races
Crutchlow noted that there has been "four new winners in the last four MotoGP races" which he described as "something unique". Talking about his success at his home round of the MotoGP he said, "To stand on the podium in front of my home fans is pretty special and I'm really proud to do so."
Speaking about his recent form he said he "feels in great shape at the moment and in good form". He is hoping that the next round at Misano, Italy "can be a good race" although he is expecting it to be "difficult" saying, "It hasn't been the best place for me or Honda in recent years". However he claimed it "won't stop me trying" and that is what he plans to do next weekend.