Valentino Rossi took to Silverstone for the British GP aboard his Movistar Yamaha for his 250th MotoGP start and it was clear that the nine times world champion was keen to secure a podium. He battled hard throughout the race fending off attacks from Honda riders Cal Crutchlow (LCR Honda) and Marc Marquez (Repsol Honda) before crossing the line in third position.
Rossi under pressure from the start
The Italian got a great start from second place on the grid, he was just forced to third as they entered Vale, when Eugene Laverty (Pull & Bear Aspar MotoGP) stuffed it up the inside of him, but then a red flag meant the race had to be restarted. When things got underway again he again got a great start, but then the battled commenced.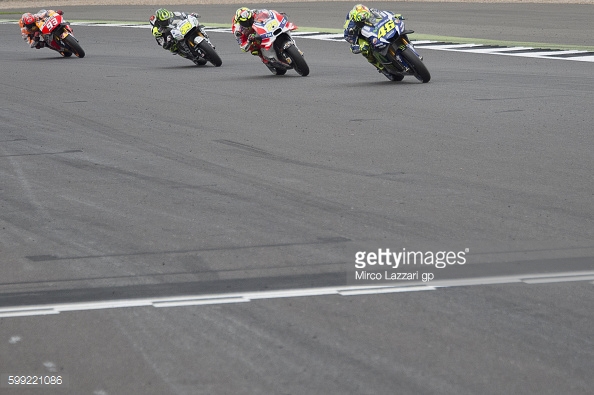 No catching Vinales as they battled behind him
Maverick Vinales (Team Suzuki Ecstar) was able to pull away and extend his lead as behind him Rossi, Crutchlow and Marquez took it in turns to slot in behind the lead Spaniard. At one point, Rossi even had to defend himself against Ducati Team rider Andrea Iannone who challenged his friend but did not succeed.
Duals took place throughout the race at different stages between different riders. But no matter how much the riders' were distracted, no one was able to break away in pursuit of Vinales. As Marquez made a mistake, narrowly avoiding taking Crutchlow out of the race with him at Vale, it was left to the Brit and the Italian to battle it out to the end.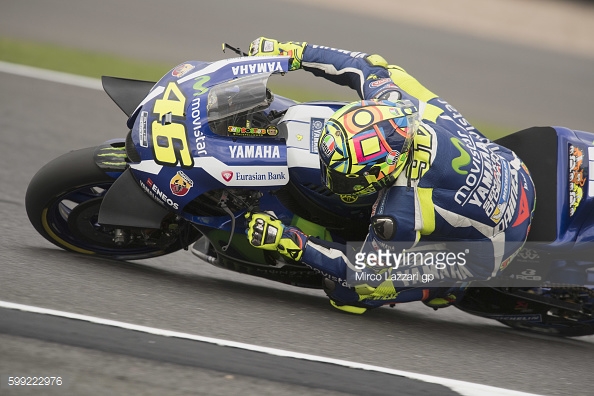 Rossi finishes the British GP in third
A drag race to the end saw Crutchlow pip Rossi to the flag as he finished less than half a second behind the Honda rider in front of his home crowd. It was a fantastic race, extremely entertaining and both Rossi and Crutchlow continued to entertain the British crowds as they celebrated around the track together, complete with synchronised wheelie down the International Pit Straight.
Rossi collected 16 championship points at Silverstone, whereas current championship leader Marquez, who finished in fourth behind him after a last minute attack on his teammate, collcted 13. It means that Rossi was only able to close the gap in the championship by three points. However, there is no way in determining yet how significant this may prove to be towards the end of the season.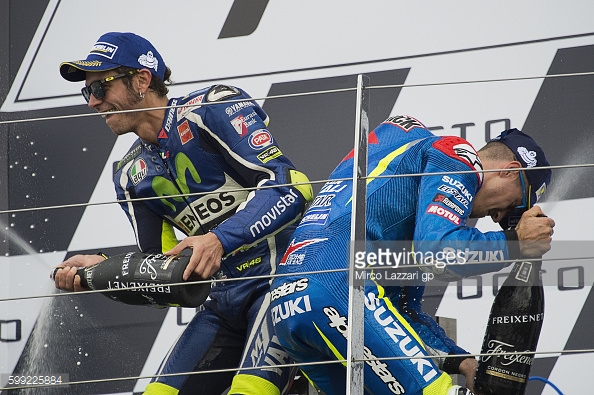 Rossi discusses the great battle of Britain
Although he knows he only salvaged three points, Rossi was still "very happy" as he described the race as "a very hard battle". He spoke of how he "fought for the entire race and never gave up". He felt that after "eight or nine laps" he noticed that he "started to slide a lot on the rear" which meant he found it "very difficult to control the bike".
Rossi said how he found the end of the race "very funny with Marc and Crutchlow" and that he was "very happy with this podium". He described the Octo British GP as "a great race and a great battle" and stated that it was like a "double battle" as it commenced at the beginning and the end of the race which he thought "was great".
Yamaha were not strong in dry conditions
Rossi said, "I enjoyed it a lot and I'm so happy with this podium." Analysing the race he said, "I knew I had to fight from the first corner to the last to arrive in front." It was very wet when Qualifying took place and he claimed second on the grid, and he admitted that "on the dry we weren't so strong". He was anxious that they "would struggle with the tyres in the second half of the race" which is what he said happened.
Happy with his performance, he enjoyed the race saying, "It was a great battle with Marquez and also with Crutchlow and Iannone." In order to succeed he said, "I tried to the maximum and arrived on the podium."
Discussing the championship standings after the 12th round of the MotoGP season he said, "It's not very important for the points in the championship but very important for me and for the team."