I don't know about you but I certainly haven't recovered from the weekend. All anyone needs to do is vaguely mention the weekend of the British MotoGP and this huge grin appears across my face. I have such amazing memories and the knowledge that I do not have the ability to speak to Movistar Yamaha rider Valentino Rossi in person because I turned into a nervous mess.
No break between rounds for the MotoGP
Immediately after the Octo British MotoGP at Silverstone, the MotoGP field made their way towards Misano ready for the next (13th) round of the MotoGP season in Italy. Home to many of the riders from the MotoGP, Moto2 and Moto3 we are sure to have another exciting weekend in store.
Prior to the race some announcements have been made
The number '58', previously held by the late Italian rider Marco Simoncelli, who died following a racing incident during the Sepang GP in 2011 aged 24, will be retired from the MotoGP. As a mark of respect no other rider will be able to ride under the number whilst competing in the competition.
Simoncelli's number retired from racing
A ceremony took place at the start of the pre-race press conference led by Dorna CEO Carmelo Ezpeleta. The number was presented to Marco's father Paulo with the news that his father's team will be competing within the Moto3 World Championship following promotion from the FIM Junior World Championship.
Simoncelli is always remembered at the Misano World Circuit Marco Simoncelli; he was a great personality that and an extraordinary talent that is still missed in the MotoGP paddock.
Anniversary of the death of Tomizawa
It is also the anniversary (September 5th) of Shoya Tomizawa; it has been six years since he tragically passed away. When competing in the 11th round of the Moto2 World Championship at Misano he lost his life when he fell at Curvone and was then struck by other riders who could not avoid him. He died at the young age of 19 from the injuries he sustained.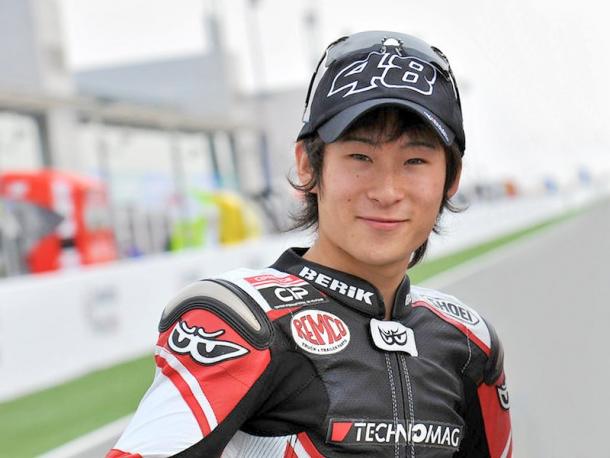 Bastianini to move to Estrella Galicia 0,0 Moto3 team with Aron Canet in 2017
On a lighter note, and speaking of promotions, Enea Bastianini (Gresini Racing Moto3) will be joining the Estrella Galica 0,0 Moto3 team from next season in 2017. He will partner up with Aron Canet who is within his rookie year in the class wih the hope that the team can win the title in the near future.
Bastianini has been with Gresini for three years now and knows that changing will be a challenge but he is looking forward to working with a team he is already familiar with. He is very grateful towards Fausto Gresini and his team for his opportunity as is Aron Canet who is happy to remain with his current team for another season. Replacing Bastianini, Fabio Di Giannantonio will stay and be joined by Jorge Martin.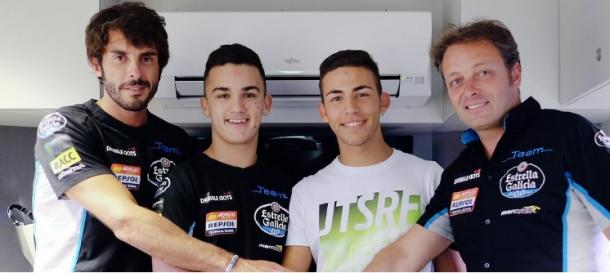 Injuries preventing riders from participating at the GP in Misano
Now the Octo British GP was red-flagged before the first lap was completed as two riders became involved in an incident at the fast corner Becketts and needed medical treatment. Whilst trying to avoid Danilo Petrucci (Octo Pramac Yakhnich Ducati), Avintia Ducati rider Loris Baz collided with Pol Espargaro (Monster Tech 3 Yamaha).
Both looked to be in pain as neither were able to get up off the floor and both were carried off on a stretcher and taken to the medical centre where they were assessed further. Baz has just returned from injury recently after breaking his right foot and having to undergo several bouts of surgery to fix it.
Unfortunately for the French rider as a result of the crash, he has broken more bones in his foot and although he will not need any more surgery, he will have to miss the 13th round of the MotoGP at Misano. He went to Switzerland where he had an x-ray where fractures were found in his talus bone and at the bottom of his tibia. He considered himself lucky to have not suffered anything worse.
Baz will be replaced by World Superbike rider Xavi Fores (Barni Racing) for the Italian round, the Ducati rider is familiar with the manufacturer as he currently competes aboard the Panigale R in the championship.
Lowes to replace Smith again at Misano
Pol Espargaro luckily was not seriously hurt from the crash but was feeling very battered and bruised afterwards. The Spaniard will be competing at Misano however his teammate Bradley Smith will still not be able to as he works to recover from the ligament damage sustained during an endurance event in between rounds which forced him to miss his home GP in England.
Again, Smith will be replaced by Alex Lowes, twin brother to Moto2 rider Sam Lowes (Federal Oil Gresini Moto2) who made his MotoGP debut at Silverstone in place of the injured rider. A fantastic performance from Lowes, seen him finish 16th in his first race. A fantastic result considering he had not gone full race distance previous, and with fresh tyres and a full tank. At one point over the weekend he was eighth quickest despite crashing during the Free Practice on day one.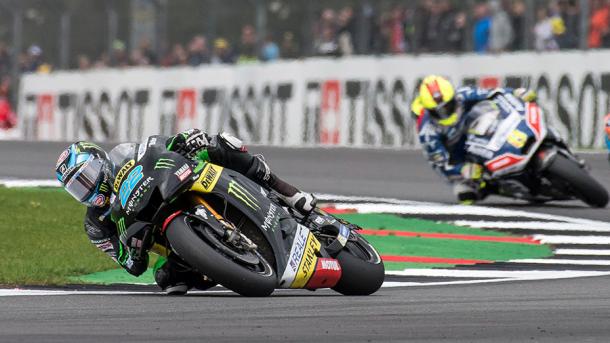 Misano World Circuit Marco Simoncelli to remain on the calendar until 2020
Prior to the race, Dorna Sports and the promoters of the Gran Premino di San Marino e della Riviera de Rimini announced that the MotoGP will continue to be held at the circuit until at least 2020. It is a round that usually sells out with fans from all over the world flocking to it; the majority of those being fans of local legend Valentino Rossi.
This year will mark the 20th anniversary that the circuit has hosted a MotoGP event. The first race took place here in 1980, but did not return after 1993 following Wayne Rainey's incident that ended his career. When it did return in 2007 the track layout had been revised and the race is now ran in the opposite direction.
The circuit statistics – what you need to know
The Misano World Circuit Marco Simoncelli is 4.226km long which is well suited to smooth and consistent riding. A new version of the fron Michelin Pilot Power Slick will be available to use at the circuit which is designed to allow more stability when braking into corners.
The track is quite equal in the sense it is made up of 10 right-handed corners and six left, and so the rear tyres available will have an asymmetric design with a harder right-hand shoulder. The longest straight is only 530metres.
Significant track for many reasons… one being Rossi's home
Now Misano is a very significant fixture on the calendar for many reasons. It is a fantastic event in its own right but also because it is the home circuit of nine times world champion Rossi; it is a track that is very special to the Italian rider from Tauvilla.
This circuit is closest to his home town and he was extremely close to Simoncelli who the circuit was named after. Rossi has won the MotoGP here three times previously and is looking to repeat his success as he hunts down Marc Marquez (Repsol Honda) in the championship.
Lorenzo also successful here
Jorge Lorenzo (Movistar Yamaha) has also claimed the top step on the podium three times. The current MotoGP champion also hold the fastest lap, circuit lap record and best pole position time here; his fastest time was set last year of 1:32.146. The Spaniard appears to have been on bad form as of late; maybe all that will change in Italy.
Yamaha have been the most successful manufacturer in the MotoGP at Misano, Honda have only experienced two victories here, one of them being Marquez who won the last round here in 2015. The Italian manufacturer Ducati, have only had one and Suzuki have finished on the podium twice.
Home track for Italian manufacturer Ducati
The circuit is the home track for Italian manufacturer Ducati. The Desmosedici has been thriving at recent circuits, claiming their first win of the season two rounds previous at the Red Bull Ring in Brno, and so several supporters of the local manufacturer will be bound to be joining Rossi's fan army in force.
Many riders claim that this is one of their favourite tracks on the MotoGP calendar. A lot of riders are comfortable here; it is not a circuit that requires top speed and so may give several more of the riders a great opportunity which will lead to a fantastic meeting.
Marquez leads the championship
Marquez heads into the 13th round of the MotoGP season as the championship leader, and with his comfortable lead still intact as Rossi was only able to reduce it by three points at Silverstone. Marquez and Rossi battled hard on track with LCR Honda rider Cal Crutchlow before he made a mistake that cost him and nearly Crutchlow dearly.
Crutchlow finished his home round of the season in second after winning his first ever MotoGP in Brno the meeting previous. He finished as the top independent tea rider and the top Honda, a title Marquez is surely wanted to claim back at Misano.
Rossi was third on the podium, a much needed result for the Italian who has to ensure he finishes in front of Marquez for the foreseeable future if he is to have any chance of catching him or winning the championship.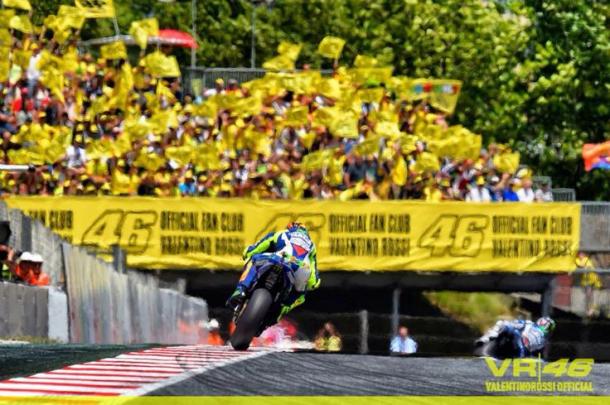 Four new MotoGP winners so far this season
Jack Miller, Andrea Iannone, Cal Crutchlow and now Maverick Vinales all have a certain significance to them. Miller (Estrella Galicia 0,0 Marc VDS) in Assen, Iannone (Ducati Team) in Austria, Crutchlow in Brno and now Maverick Vinales (Team Suzuki Ecstar) in Great Britain; all of the riders have won their first ever MotoGP of late in the season.
It has partly been down to the weather, it has a lot to do with tyres and most likely the ECU that all the riders have to run with. The MotoGP season appears to have been thrown open and the same riders and manufacturers have had to in a way start from scratch and work harder to achieve less recently.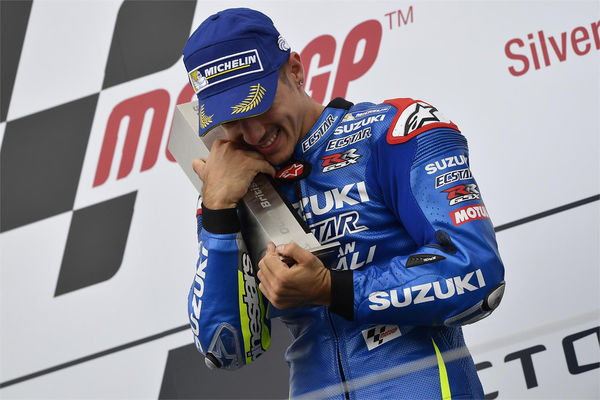 Vinales returning from his first win at the British GP
Vinales should feel extra confident going into the Misano GP as the last inner after he spectacularly dominated from start to finish (twice) on his 'evolving' Suzuki at a track that was suited to the Yamaha. It was a well-deserved win and the Spaniard who completed his rookie last year will be hoping to impress Rossi's fans before he joins the Italian's team next year.
Unfinished business in the Moto2?
In the Moto2 class Johann Zarco (Ajo Motorsport) and Sam Lowes (Federal Oil Gresini Moto2) may have unfinished business. A racing incident led to the two becoming tangled when Zarco made a mistake and forced Lowes off track. Zarco returned immediately having only lost several places whereas Lowes was out of the points and out of contention of winning at home.
As a result, Zarco was punished for the incident and received a 30 second penalty that meant he finished in 22nd right behind Lowes despite crossing the line in seventh. They both missed out on championship points, and the fact that Paginas Amarillas HP 40 rider Alex Rins finished seventh meant he was able to close the gap in the championship between him and Zarco to just 10 points.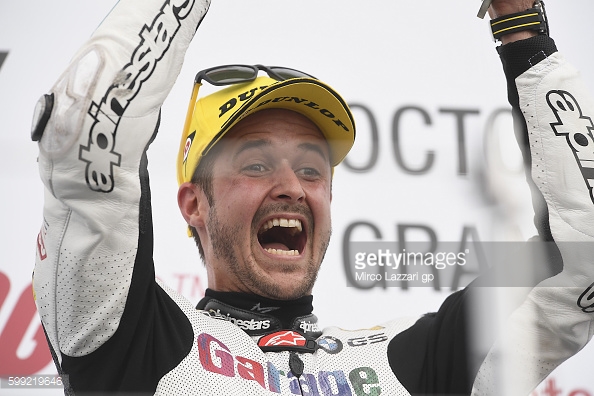 Many reasons to celebrate for Luthi
Garage Plus Interwetten rider Thomas Luthi celebrated his 30th birthday with a win at Silverstone, after having to miss the previous round at Brno because of concussion from an incident during qualifying. As riders concentrate on the championship they must not forget the number of hungry Italians keen for a win in their home country.
Majority of riders in the Moto2 are Italian
This is the same in the Moto3 class. Brad Binder extended his championship lead with his win in Silverstone, and Navarro is second but way off catching him. But the class is made up of many riders who are part of or who have been part of the VR46 Riders Academy, and who will all be familiar with the track and looking to succeed. Many are rookies, and like in the MotoGP class many have proved already that they have what it takes to claim the top step of the podium.
There are four Italians in the MotoGP class, (10 out of the 21 riders will be competing on Italian machinery), five Italians in the Moto2 and 13 in the Moto3 class… it is definitely going to be a weekend to remember. No wonder the Italian round is such a popular event.
The schedule of events
Practice is set to take place on Friday 9th September from 8:00am (GMT), it is the same for Qualifying on Saturday and racing will get underway at the Misano World Circuit Marco Simoncelli from 10:00am GMT.