We caught a glimpse of the 'old' Marc Marquez at Silverstone at the Weekend where the MotoGP were competing in the 2016 Octo British GP. He salvaged fourth after a long and intense battle led to him making a mistake and running off track, he re-joined the race and when he regained his momentum was able to overtake his teammate Dani Pedrosa in the final stages.
As Team Suzuki Ecstar rider Maverick Vinales pulled away at the front (and went on to win his first ever MotoGP), behind him Marquez battled with Cal Crutchlow (LCR Honda) and Valentino Rossi (Movistar Yamaha). The three constantly switched places when the race that was red-flagged was restarted.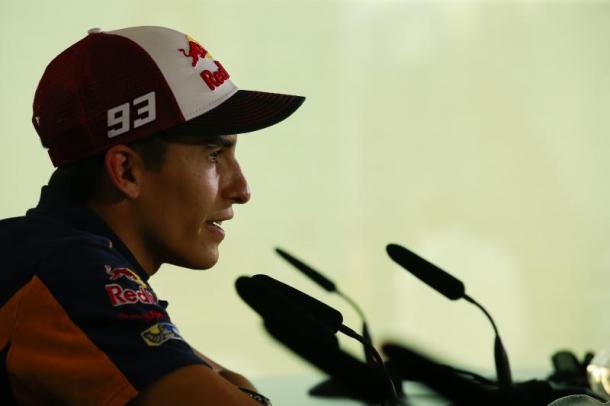 Marquez battled on track at Silverstone
Doing whatever he could in attempt to salvage a podium place and more championship points to protect his current 50 point lead over Rossi, he came close to several riders in some choice manoeuvres. At one point, he attempted to overtake Cruchlow on the inside, missed his braking point, hit Crutchlow's knee and went on to the run-off area. Luckily he never took the unsuspecting British rider out with him in front of his home fans.
Marquez admitted that "Silverstone was not the best final result" but he was reassured by the fact he "lost only three points" and that he has "still got 50 points of advantage".
The conditions at Silverstone were mixed; it was pouring with rain during Qualifying, and was cool but dry for the race and Marquez noted this saying, "Here in Misano it looks like the weather will be more stable so we'll work throughout the weekend as always."
New Michelin front tyre for Misano
Marquez's focus turned to tyres as Michelin will be introducing a new tyre for the Italian round saying, "Michelin also have brought a new front tyre so that will be new to find the limit with that again."
Comparing Misano to Silverstone he said the two are "completely different" and that he finds that "everything is tighter and smaller". He noted that there are "hard braking points" and also there are "three hard points of acceleration" however he feels that he and his team "can manage that better now". When Free Practice gets underway he plans to say what "level" they are at and will work on trying "to understand the new front tyre".
Marquez won the last round of the MotoGP season at the Misano World Circuit Marco Simoncelli in 2015, the first time he has won in this class here. His Movistar Yamaha rivals Rossi and Lorenzo have both been successful here three times though and Lorenzo currently holds the lap records.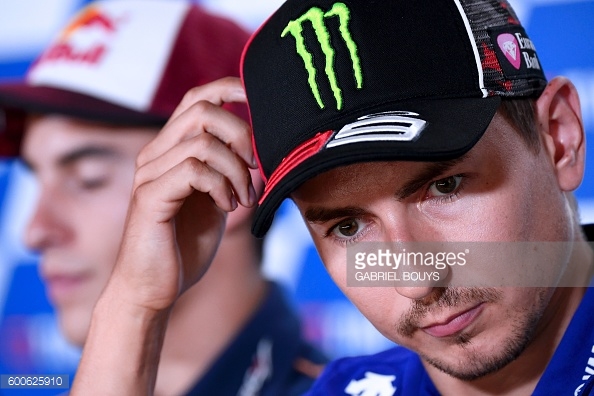 Lorenzo hoping to return to past form from recent successful years
Lorenzo was also at the pre-race press conference alongside Marquez where he spoke about how he is hoping to return to his previous successful form from other years as he has struggled over the last several rounds.
It has been unusual watching the current MotoGP champion from 2015 underperforming as much as he had. The last four rounds have been wet or mixed conditions, and Lorenzo lacks confidence in the wet. He knows that "historically" the track has been "great" for him. He highlighted that this was the case in 2008 when he "had great difficulties to gain back (his) confidence with the Michelin" in his first year, when he achieved a podium.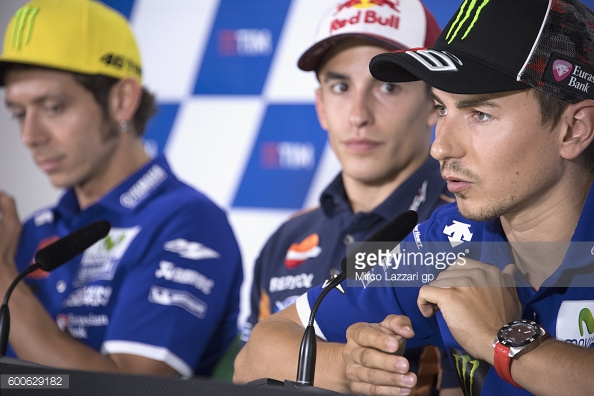 This was before the MotoGP class switched to Bridgestone, while they remained the tyre manufacturer he was able to "finish all the races on the podium". He was able to claim "two first places, winning two victories in a row".
He mentioned that last year was the only year he "finished out of the podium" and also "out of the race" after he crashed. The Spaniard said, "For some radon at this track we have always been fast."
Remaining hopeful and optimistic about the weekend ahead in Italy he said, "Let's see!" He said following a bad period of results "apart from the Austrian race" he is hopeful to "be at the same level" that he was at during "the last seven years that we were here".
Dovizioso looking forward to an important round for him and Ducati
Another rider present at the press conference who is hopeful to do well at home, and at his manufacturer's home track, is Ducati Team rider Andrea Dovizioso. The Italian finished sixth at the previous round in Silverstone as the top Ducati over 12 seconds behind winner Vinales.
Looking forward to his home round at a track that is sentimental to him Dovizioso talked about it is "really important" for both Ducati and "especially" for him. He spoke of how he first raced in Misano in 2000 and he has "good memories" as that year he "won that race".
Dovizioso spoke about how he "did a test two weeks ago" and said that the "feeling was good", however he said "There wasn't any competition so we don't know about the lap time."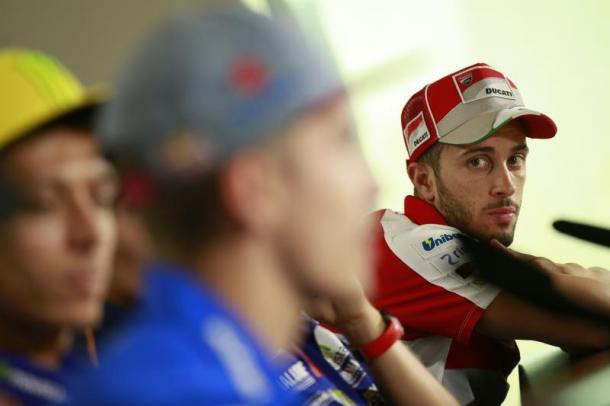 Speaking about the tyres he said "It will be interesting to understand the feeling with the tyre" as he feels that "Misano is quite a strange track" and that the "front is important". However he said "overall" he is "confident about this weekend".
Seeming confident he said, "The speed I think is there" and now he knows the main thing is for him to "work in the best way" and to try and be "ready for the race".
Dovizioso was injured during testing recently however was positive saying, "I don't think my knee will affect my riding style." The Italian said, "We'll see over the weekend but I don't think it will be a problem."