Continuing his flying form, and looking for more reasons to celebrate this weekend (after he won the British Moto2 race and celebrated his 30th birthday within a few days), Garage Plus Interwetten rider Thomas Luthi set out on a mission becoming the man to beat at the Misano World Circuit Marco Simoncelli.
Next round of the Moto2 at Misano
The Moto2 class where at the popular circuit in San Marino, Italy, for the 13th round of the MotoGP season. The sun was shining and the temperatures were perfect as the 600cc class took to the track for day one of Free Practice.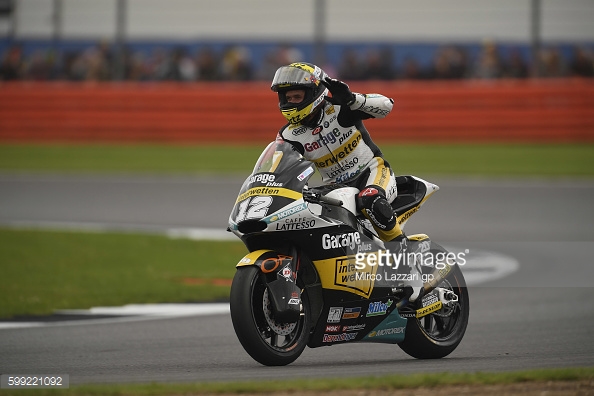 Luthi dominated at the start of Free Practice
Immediately Luthi set off where he left off and took the top spot of the timesheets at the start of Free Practice 1. His determination shone through as he wrestled his Kalex around the narrow track; it was peculiar to watch as the German rider usually is so neat and smooth like MotoGP champion Jorge Lorenzo (Movistar Yamaha).
He was able to chip away at his own time for several laps before unfortunately he found the limit and crashed at turn 10 of the circuit. He lost the front end on the tight right-hander and both he and the bike finished up in the gravel. He was unhurt and there did not appear to be much damage as the Marshals helped him to restart it so he could return to the pits.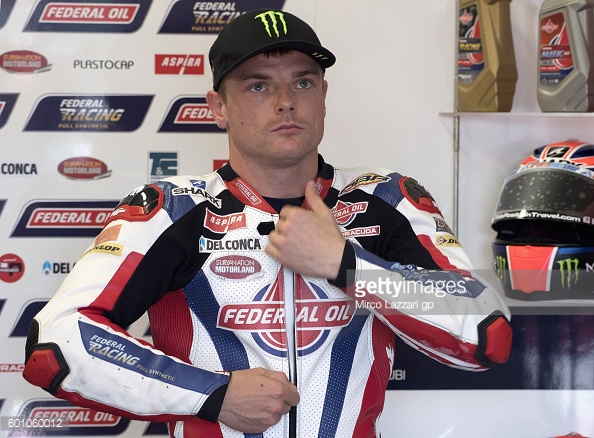 Misano is full of bumps
Several riders appeared to be caught out by the Italian track, no matter how experienced they are. Both Sam Lowes (Federal Oil Gresini Moto2) and Moto2 champion Johann Zarco (Ajo Motorsport) hit bumps and were lifted up and out of their seats but fortunately both were able to rescue it.
Nakagami made his presence felt
Along came Idemitsu Honda Team Asia rider Takaaki Nakagami to spoil Luthi's day though. During the final stages of the first session he set the fastest lap time. Luthi retaliated and pushed Zarco down to third but then again Nakagami lapped quicker and became the fastest man during FP1 with a time of 1:38.116.
Lorenzo Baldassarri (Forward Team) was fourth quickest and the highest placed Italian, he finished ahead of Jonas Folger (Dynavolt Intact GP), Italian Simone Corsi (Speed Up Racing), Lowes, recovering Alex Rins (Paginas Amarillas HP 40), Marcel Schrotter (AGR Team) and Sandro Cortese (Dynavolt Intact GP) who made up the top ten.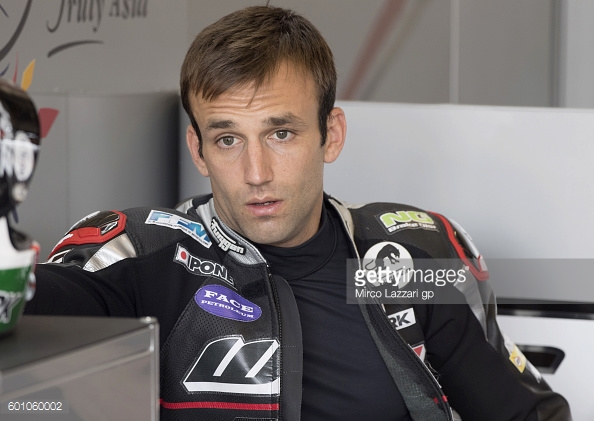 Zarco has rectifications to make
Desperate to make up for his mistakes at the British GP at Silverstone, where he received a 30 second penalty at the end of the race following an incident with Lowes that left him out of the points, Zarco set out in Free Practice 2 with one thing in mind. He was now top of the leaderboard midway through the session however he was about to come under attack.
Nakagami, Corsi and Folger were all pushing and looked oto be strong at the start of their laps. This may not prove significant during practice as it is a time trial of sort, but come race day, this advantage may be exaggerated.
Misano will be a close one
With less than 20 minutes remaining Nakagami reclaimed his place at the top of the timesheets with a low 1:38 minute lap that. When trying to retaliate, Zarco experienced an even bigger moment than previous on the final corner of the track; but he continued to push.
It is going to be close at Misano; this is indicated by the fact that less than one second covers the top 16 riders. Although, they are still a second off the lap records set here by Zarco and Folger in qualifying last year and during the race.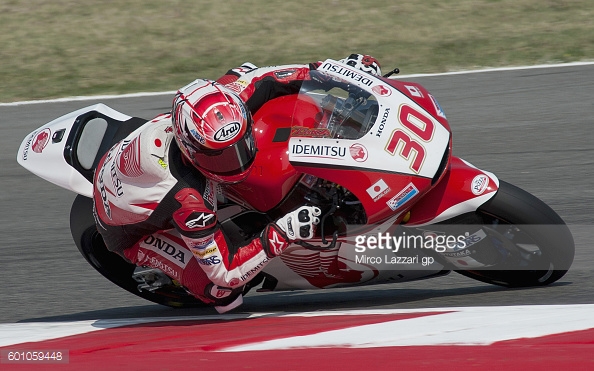 Nakagami the quickest at the end of day one
Nakagami has made it difficult for the riders to match him; his time of 1:37.737 was not only the only time under 1:38 minutes, but it was 0.350 seconds faster than second on the timesheet Zarco. Baldassarri was third quickest ahead of Rins and Luthi who ended up fifth.
Folger was sixth quickest at the end of the day ahead of Corsi (the fastest Speed Up), Pasini, Cortese and Estrella Galicia 0,0 Marc VDS rider Franco Morbidelli who completed the top ten. Schrotter was pushed just outside in 11th as was Lowes in 12th. Alex Marquez (Estrella Galicia 0,0 Marc VDS) was 3th quickest ahead of Hafitzh Syahrin (Petronas Raceline Malaysia) and Julian Simon (QMMF Racing) in fifteenth.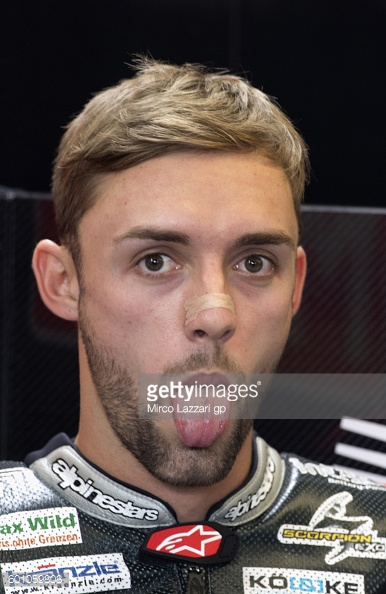 Axel Pons (AGR Team), Ratthapark Wilairot (Idemitsu Honda Team Asia), Edgar Pons (Paginas Amarillas HP 40), Miguel Oliveira (Leopard Racing) and Xavier Simeon (QMMF Racing) take us to the top 20.
Half-brother to nine times world champion Valentino Rossi, Luca Marini (Forward Team) was 21st ahead of Remy Gardner (Tasca Racing Scuderia Moto2), the top Tech 3 rider Xavi Vierge (Tech 3 Racing), Jesko Raffin (Sports-Millions-EMWE-SAG) and Iker Lecuona who is replacing injured Dominique Aegerter on the CarXpert Interwetten Kalex.
British rider Danny Kent (Leopard Racing) finished in 26th ahead of Isaac Vinales (Tech 3 Racing), wildcard Federico Fuligni (Team Clattl) and Robin Mulhauser (CarXpert Interwetten) who completes the timesheet in 29th.