The day for the Moto3 class began with the news that two riders will be penalised for 'irresponsible riding' ahead of the 13th round of the season at the Misano World Circuit Marco Simoncelli ahead of the San Marino Moto3 in Italy.
Riders to lose grid positions due to irresponsible riding
Tatsuki Suzuki (CIP-Unicorn Starker) will be demoted 3 grid positions ahead of the race and his teammate Fabio Spiranelli will be demoted four positions on the grid. This will be determined after Qualifying, and prior to the races the changes will be made.
Contract renewals for Di Giannantonio
On a lighter note, Fabio Di Giannantonio (Gresini Racing Moto3) confirmed that he will be staying with his team for the next season. He will be joined by Jorge Martin (Gaviota Mahindra Aspar). Mahindra are celebrating their 100th Grand Prix start and completed a celebratory parade lap at the end of the first day of Free Practice.
Several riders caught out on track
The Italian track has caught out several riders starting with the Moto3 class who were first to take the track on day two of the meeting. Estrella Galicia 0,0 rider Jorge Navarro went wide at the start and benefited from the run-off areas put in place for when the Formula series races here.
Albert Arenas the first to crash
Returning from injury, Peugeot MC Saxoprint rider Albert Arenas crashed out. The Spaniard has recently undergone surgery on his collarbone from after crashing two rounds ago during the race weekend at Brno.
Arenas was pushed out of the way by Stefano Manzi, who his making a wildcard performance for Mahindra Racing after a fantastic fourth place finish at Silverstone, at turn 2. Arenas did not expect him to be there and was unaware of his fate as he ended up sliding into the gravel. He wandered around the gravel pit wondering what the hell had just happened to him!
As a result of the incident, Manzi was called in by Race Direction and given a warning. Manzi is quite an aggressive rider and this is the second occasion during his two wildcard appearances that he has come quite close to another rider on track. (I think Race Control just gently reminded him that it is only Free Practice.)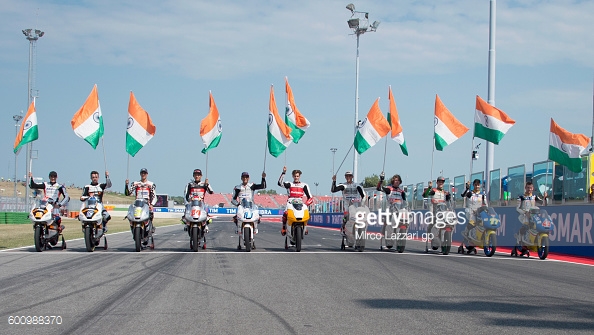 Brad Binder lapping consistently well
Red Bull KTM Ajo rider Brad Binder set the first lap time under 1:43 minutes with just over 15 minutes remaining. The South African championship leader completed a set of fast and consistent lap times on his own out on track during the last Free Practice Session. It was as if he was completing a dry run of the race ahead of him.
It looked like Brad's time of 1:42.624 was going to be the quickest of the day until Leopard Racing Team rider Joan Mir began his time attack. He lapped a 1:42 minute lap with less than four minutes to go of the session. It was his next lap that took him to the top of the timesheet; he completed it in a time of 1:42.371 and then ran off into turn one. It was clearly what he had set out to do.
Mir was right on the limit as he lifted up at several occasions and ran off the track as he continued to push. At the end he ran into gravel and the bike tipped ruining his last lap that would have been cancelled either way.
Qualifying got underway
The temperatures and increased in time for Qualifying for the Moto3 class. The focus became the tyres as the increase in temperature would make them perform more like race tyres.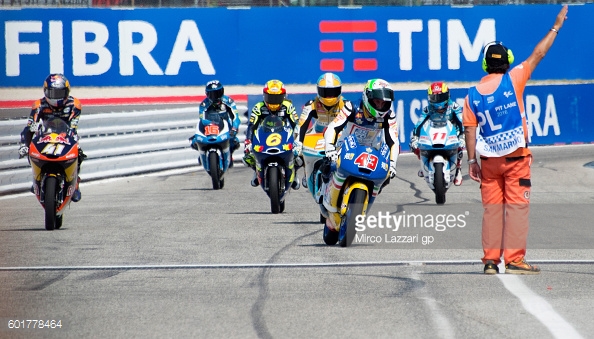 Spiranelli crashes out
Spiranelli's weekend went from bad to worse as he crashed at the start of qualifying at turn 15. He appeared injured as he suffered a highside on the exit of the corner. Luckily Darryn Binder (Platiunum Bay Real Estate) was able to take to the grass to avoid making contact with the injured rider.
As riders pushed a lot of lap times were cancelled by Race Direction as riders exceeded the track limits. With 30 minutes remaining it was Enea Bastianini (Gresini Racing Moto3) cwas the man to beat as he lapped just over the 1:43 minute barrier.
Binder first to lap under 1:43 minutes
It was Brad who was the first one who overcome it with his time of 1:42.699. Aron Canet ((Estrella Galicia 0,0) and his teammate Jorge Navarro soon shot to the top spots behind him. On his next lap, Brad went winde and in turn had the next lap time cancelled.
It was close on track, almost as if there was a race underway, as Navarro and Bastianini led a group that steamed around the San Marino track. N\varro was chasing Bastianini as they overcome traffic trying to fight for higher grid positions.
Rookie Bulega takes the lead
Running at the back of the group it was rookie Sky Racing VR46 rider Nicolo Bulega who went top with less than 16 minutes to go. Benefiting from the slipof the group in front, and working bloody hard gained the Italian pole despite him running off track earlier on.
Migno crashes out in final stages
His teammate Andrea Migno (Sky Racing Team VR46) was not having such luck when he crashed at turn four moments later. He was able to pick his bike up and return to the pits but did not apply the limiter in pit lane and his team received a cash fine for speeding in pit lane.
Mir, who was quickest in FP1 had issues with his bike and the Spaniard was sat waiting as patiently as possible in his garage as he waited for his mechanics to finish making changes on his KTM. He returned to the track with less than 5 minutes to go.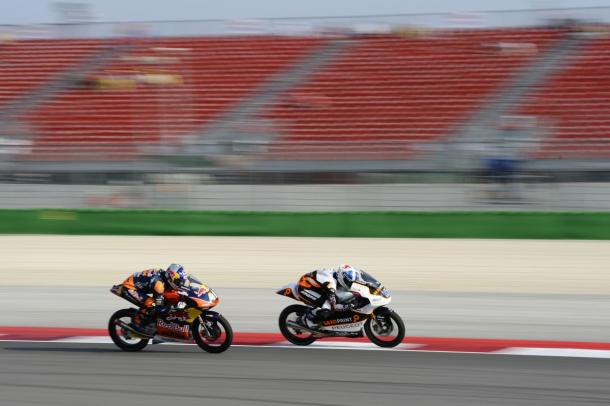 Just six minutes of the session remained and the riders queued up in pit lane waiting to go out in a group, and not wanting to be first puling everybody else along as having the clear track does not necessarily benefit them. They were even seeing queueing in the run off areas at the side of the track.
Second in the championship Navarro crashes
Navarro crashed out when he was in third on the grid at turn four when the front folded. It was session over for him as he walked away with his head down. He had to just sit in hope for a decent grid position. Sky Racing Team VR46 rider Lorenzo Dalla Porta crashed out at turn 16 moments later as did another Mahindra rider Jorge Martin at turn six.
Binder claims his fourth pole of the season
Binder pinched pole despite coming across traffic at the end of his lap. Bastianini will start the Sam Marino Moto3 race from second and rookie Bulega completes the fist row.
Kornfeil leads the second row ahead of teammates Navarro and Canet. Philipp Oetll (Schedl GP Racing) is seventh ahead of Hiroki Ono (Honda Team Asia, Juanfran Guevara (RBA Racing Team). Di Giannantonio, Gabriel Rodrigo (RBA Racing Team) and Jorge Martin complete the front four rows.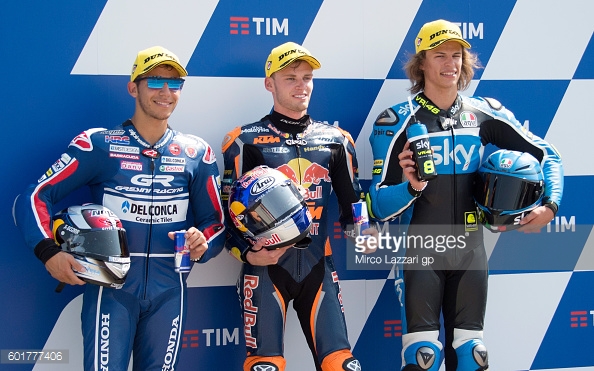 Andrea Locatelli (Leopard Racing) will start from 3th and is joined by Ongetta-Rivacold teammates Niccolo Antonelli and Jules Danilo on the fifth row. Mir could only qualify in 16th ahead of Dalla Porta and Livio Loi (RW Racing GP BV).
Fabio Quartararo (Leopard Racing) who has had laps cancelled all weekend again will start from 19th ahead of Manzi, Bo Bensneyder (Red Bull KTM Ajo) and Migno. The only female in the class, Maria Herrera (MH6 Team) will start from 23rd ahead of Adam Norrodin (Drive M7 SIC Racing Team).
Francesco Baganaia (Gaviota Mahindra Aspar) will onsly start from 25th despite his recent form, ahead of injured Arenas and Suzuki in 30th. British rider John McPhee (Peugeot MC Saxoprint) will start from 29th ahead of penalised Suzuki, 3570 Team Italia teammates Stefano Valtulini and Lorenzo Petrarca, Darryn Binder (Platinum Bay Real Estate), Fabio Spiranelli (CIP-Unicorn Starker) and wildcard Alex Fabbri (Minimoto Portomaggiore).