 Dani Pedrosa (Repsol Honda Team) was the eighth different winner in a row, after claiming first place during the Moto GP race in Misano.
After leading for the majority of the race, Valentino Rossi (Movistar Yamaha MotoGP) was knocked back to second in front of his home crowd, whilst Jorge Lorenzo (Movistar Yamaha MotoGP) clung onto third. Marc Marquez (Repsol Honda Team) was only able to come fourth after seeming to pick the wrong tyre.
Riders experienced different conditions during warm up
There were a lot more clouds hovering over the track when the riders headed out for the start of warm up. The track temperature sat at 26 degrees, but it still made it difficult for the riders to decide what tyres to choose.
Rossi kicked off the warm up with a 1:35.521 under the yellow smoke at his home GP. It wasn't long before the Spanish riders came along with Lorenzo taking over at the top with 1:34.385. Marquez and Andrea Dovizioso (Ducati Team) also had a shot at the top, but it was short lived with the two Yamahas re-taking the top two positions.
Timings were similar to yesterday's FP4
It was back into the 1:33 time zone, very similar to yesterday's Free Practice Four, showing that this was going to be the race pace. It was a battle of the Yamaha's as both Rossi and Lorenzo pushed to put in quick times, often taking either first or second place.
Yonny Hernandez (Pull & Bear Aspar Team) was sent off the track as it looked like he was having a mechanical problem, that he was unaware of. Once returning into his pit box his mechanics reviewed his bike, to which they confirmed there was no issue and he was sent back out.
Marquez suffered a crash at turn one
Meanwhile, the championship leader Marquez was back on it again and put in a fast time to take him to first with 1:33.185. He then thought this wasn't enough as he went round again, and put in another quick time of 1:33.068. However, he did crash at turn one just after completing this lap, and got back on his bike taking a shortcut through the paddock, and back to his box.
A foot peg was replaced, and Marquez headed straight back on track to get used to the harder option tyres. It appeared the Yamaha's were trying out the medium option for the front tyre, and it looked like it was working well for them. Rossi was constantly improving on his personal best, just as the chequered flag appeared. But at this point, Lorenzo had a lap time removed due to exceeding track limits at turn 11. Pol Espargaro (Monster Yamaha Tech 3) also had a lap time cancelled, for the same reasons at the same turn.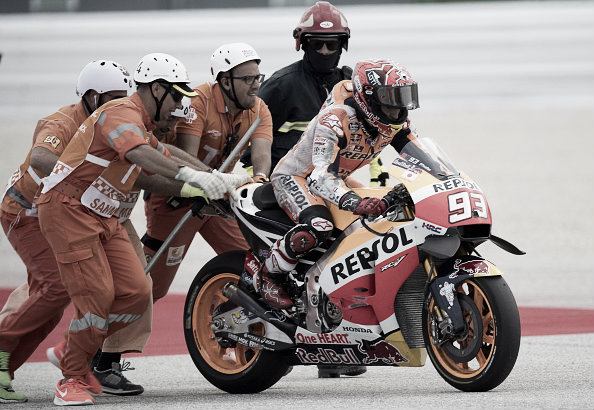 Race looking unpredictable with close timings
Marquez ended up topping the session, but he should feel concerned, especially with Rossi sitting in second place and hot on his tracks. Pole man Lorenzo should also not be forgotten about, he finished in fifth but only because of his mistake and having a lap taken away. The Ducati's are also looking strong finishing in third and fourth place, meaning they could also be a contender.
Jack Miller (Estrella Galicia 0,0 Marc VDS) decided on the morning of the race to no longer take part in the weekend. This is due to pain in his right hand after a previous fracture he gained at Austria, which is situated in the palm.
Lorenzo tried to break away at the start of the race
The track was a warm 43 degrees for the start of the Moto GP race, and as expected it was Lorenzo who pushed his way into the lead on the first corner. Rossi wasn't prepared to let him go that easy, as he followed closely in second. Marquez had a slow start after being pushed back into fifth.
Dovizioso came into play as he slotted himself into fourth place, but it wasn't long before Marquez' fighting spirit came back as he overtook him from fifth. But the drama was beginning out the front as with 26 laps to go, Rossi overtook Lorenzo to take the lead. It was at this point that Tito Rabat (Estrella Galicia 0,0 Marc VDS) had a fall at turn four, but was able to re-join the race.
After choosing the harder option front tyre, Maverick Vinales (Team Suzuki Ecstar) was losing the Yamahas as he sat in third place. Marquez was giving Vinales a hard time as he tried to overtake, but they ended up touching leaving Marquez in fourth. Rossi had now set the fastest lap, and was opening up a gap from second place man Lorenzo.
With 25 laps to go, Marquez had finally managed to move past Vinales, along with Dovizioso, leaving Vinales in fifth. Pedrosa was now seeming to be sniffing around in sixth place, and soon after managed to overtake Vinales to take fifth.
Rossi led the majority of the race
Rossi was determined to impress at his home GP, and had managed to open a gap of almost a second to Lorenzo. A further second back was Marquez, but after managing to shake off the Ducati and Suzuki, he had Lorenzo in his sights. With 23 laps to go, Rossi set another fastest lap, but it was uncertain whether he had opened up enough of a gap in order for Lorenzo not to catch him.
Pedrosa was now seeming to be enjoying himself, as he had now worked his way up to fourth ahead of Dovizioso. With Marquez now in his sights, it looked like he wanted to catch his team mate. He would be a good marker, as Marquez had now closed the gap to Lorenzo as it was now 0.357 seconds. Further back Alex Lowes (Monster Yamaha Tech 3) followed in his brother's footsteps, and crashed at turn two.
With 20 laps to go, Marquez was looking increasingly closer to Lorenzo. Although it looked like he was managing to catch up, Rossi was now in a lead with a 1.197 second gap. At this point, Dovizioso and Vinales were riding a lonely fifth and sixth place, as Pedrosa had soared off into the distance in fourth. Even further back was Cal Crutchlow (LCR Honda) in seventh place, who was struggling to keep up with the pace.
Pedrosa suddenly became the man to watch
It was now 17 laps to go, and Pedrosa had just set the fastest lap on the soft front tyre. With him catching up with team mate Marquez, Lorenzo was still clinging onto second place. The gap to Rossi had now decreased to 0.924, and his biggest threat was looking more like Pedrosa, rather than the second and third place men.
Now we had a group out front, with Rossi leading it, and a gap between each rider. Pedrosa got a good drive at turn 14 with 15 laps to go, and overtook Marquez to move into third place behind Lorenzo. He then did a lap time in the 1:32 time zone, well above the average race pace timings. He was now on Lorenzo's case, and was looking to overtake and put himself into second.
Lorenzo didn't have the pace to battle for first
Lorenzo was followed around for a few laps by Pedrosa, but then with 11 laps to go he finally took the plunge and moved into that number two spot. Looking back to fifth place, Vinales was penalised one place position penalty and had to move back behind Dovizioso. We then witnessed a crash from Aleix Espargaro (Team Suzuki Ecstar), and he was able to re-join the race.
Pedrosa now had Rossi in his sights and he was closing down the space between them considerably. The gap was only 0.314 seconds as it went down to just nine laps remaining, and Rossi could only feel the pressure. Eventually it ended up with Pedrosa clinging onto the back of Rossi's tyre, and it was only a matter of time before he overtook into first place.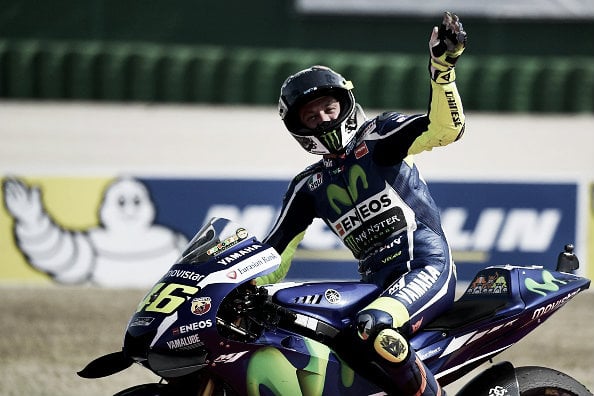 Marquez sunk to the back, whilst Pedrosa battled out front
Pedrosa was now leading with seven laps to go, but Rossi wasn't going to let him disappear. After their small battle, this allowed Lorenzo to slightly come into sight in the background. Pedrosa tried to break away, but with five laps to go it was considered that his soft tyre may start to let go.
Marquez had completely broken off the group and was now in a lonely fourth place, as was Lorenzo riding in third. Pedrosa had now been able to open up a half a second gap from Rossi, but with four laps to go anything could happen.
Suddenly we approached the last lap, and the Repsol Honda rider was uncatchable and he crossed the line to take the win. Rossi followed in second, whilst Lorenzo finished in third. After making the wrong tyre choice, Marquez was only able to finish in fourth, but he shouldn't be worried after his team mate pushed his biggest rival back to second.
Marquez still leads the world championship with 223 points. Rossi has closed in and is now 43 points behind with 180, whilst Lorenzo is third with 162.
| | | | | | |
| --- | --- | --- | --- | --- | --- |
| Position | Rider | Nationality | Team | Bike | Points |
| 1 | 26 Dani Pedrosa | SPA | Repsol Honda Team | Honda | 25 |
| 2 | 46 Valentino Rossi | ITA | Movistar Yamaha MotoGP | Yamaha | 20 |
| 3 | 99 Jorge Lorenzo | SPA | Movistar Yamaha MotoGP | Yamaha | 16 |
| 4 | 93 Marc Marquez | SPA | Repsol Honda Team | Honda | 13 |
| 5 | 25 Maverick Vinales | SPA | Team Suzuki Ecstar | Suzuki | 11 |
| 6 | 4 Andrea Dovizioso | ITA | Ducati Team | Ducati | 10 |
| 7 | 51 Michele Pirro | ITA | Ducati Team | Ducati | 9 |
| 8 | 44 Pol Espargaro | SPA | Monster Yamaha Tech 3 | Yamaha | 8 |
| 9 | 35 Cal Crutchlow | GBR | LCR Honda | Honda | 7 |
| 10 | 19 Alvaro Bautista | SPA | Aprilia Racing Team Gresini | Aprilia | 6 |
| 11 | 9 Danilo Petrucci | ITA | OCTO Pramac Yakhnich | Ducati | 5 |
| 12 | 6 Stefan Bradl | GER | Aprilia Racing Team Gresini | Aprilia | 4 |
| 13 | 8 Hector Barbera | SPA | Avintia Racing | Ducati | 3 |
| 14 | 50 Eugene Laverty | IRL | Pull & Bear Aspar Team | Ducati | 2 |
| 15 | 45 Scott Redding | GBR | OCTO Pramac Yakhnich | Ducati | 1 |
| 16 | 68 Yonny Hernandez | COL | Pull & Bear Aspar Team | Ducati | |
| 17 | 53 Tito Rabat | SPA | Estrella Galicia 0,0 Marc VDS | Honda | |
| DNF | | | | | |
| | 41 Aleix Espargaro | SPA | Team Suzuki Ecstar | Suzuki | |
| | 12 Javier Fores | SPA | Avintia Racing | Ducati | |
| | 22 Alex Lowes | GBR | Monster Yamaha Tech 3 | Yamaha | |