Sporting an American theme on his bike and leathers in recognition of the anniversary of the 9-11 disaster in New York, USA where terrorists crashed into the Twin Towers killing many innocent victims, Lorenzo Baldassarri won the San Marino Moto2 in front of his home crowd.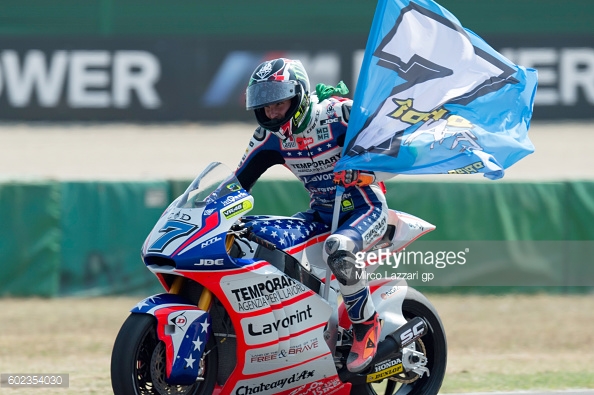 First ever Moto2 victory for Baldassarri in front of his home fans
The Italian Forward Team rider won his first ever Moto2 race at home ahead of injured Alex Rins (Paginas Amarillas HP 40) and Takaaki Nakagami (Idemitsu Honda Team Asia) who joined him on the podium.
The Misano World Circuit Marco Simoncelli was the scene of Baldassarri's victory. Carnage on the first lap saw two riders crash out, one completely miss a corner and have to use a slip road, and one get a disastorous start. Ajo Motorsport rider Johann Zarco led at the end of the first lap with Baldassarri behind him. Both Rins and Nakagami got bad starts making their achievements that bit greater.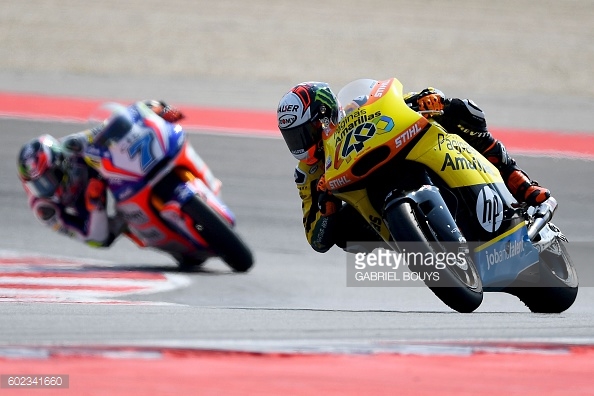 Rins takes the lead
However, it was not long before Zarco was mugged by four riders. Estrella Galicia 0,0 Marc VDS rider Franco Morbidelli led three more riders past the French man who is currently leading the championship. Rins had recovered several positions, and Nakagami was in the process of doing so as he passed Zarco to gain sixth, and it was not long until the Spaniard led the race ahead of Baldassarri.
Attention turned to Morbidelli and Federal Oil Gresini Moto2 rider Sam Lowes who battled on track before the Brit crashed out. Nakagami was able to take advantage of the two being distracting and was able to overtake them both before the crash.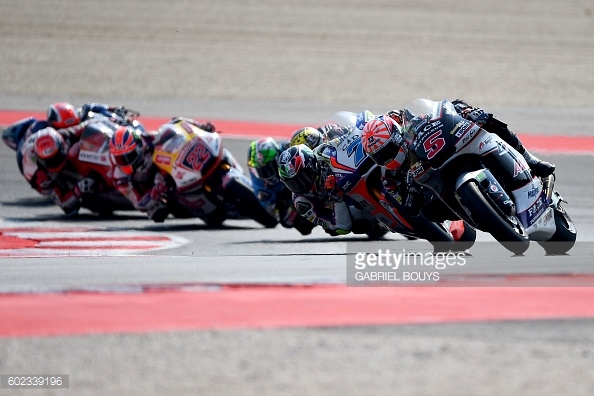 Rins led but Baldassarri was gaining on him; however Nakagami who was now in third was lapping almost half a second than the two of him. Rins has undergone surgery recently on his collarbone after an accident in training and it may have been part of the reason as to why Baldassarri was able to gain on him.
Baldassarri made his move on the Spaniard to lead in San Marino
In the final laps Baldassarri was able to overtake Rins to take the lead. Rins didn't seem to have it in him as he did not retaliate immediately, however he gradually built up a manoeuvre on him taking a different line and was soon ready to pounce. His attempt failed when he tried to overtake the Italian on the outside and missed his breaking point.
Rins ended up running off onto the spare tarmac and although he lost some time and momentum he did not lose third to Nakagami. The pressure was off Baldassarri who won his first ever Moto2 in front of his home crowd, Rins crossed the line two and a half seconds behind him and a few more seconds back Nakagami did to claim third at San Marino.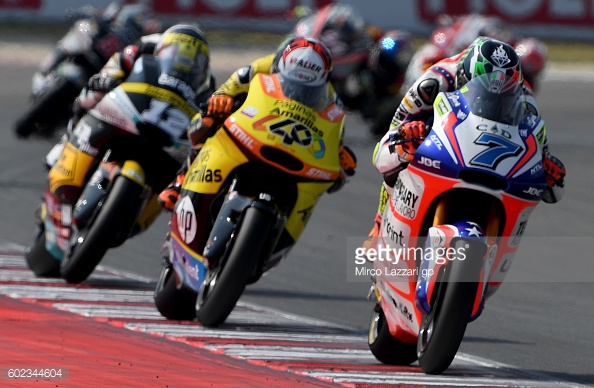 Special win for Baldassarri
Describing his first win the Italian said it was "really and amazing thing to have won here the first time", he was extra happy to achieve his victory at "the circuit dedicated to Marco Simoncelli". He said that it was a "really special day with my fan club coming here on a special date that we commemorated with our livery".
The Italian defined it as "a fantastic race" and he "still cannot believe" that he claimed the victory. He only "realised that Rins had gone off" the track, and that the pressure had eased before the end of the race, "when he crossed the line".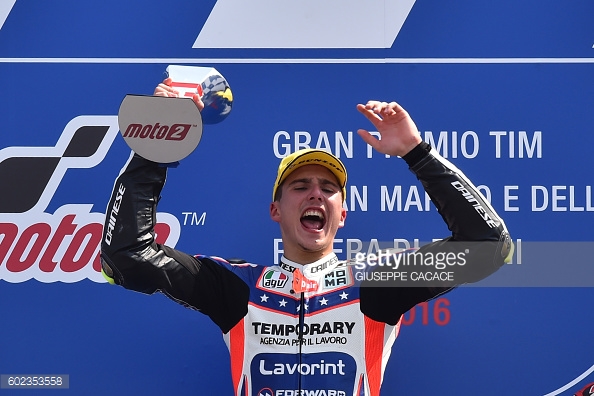 He was extremely grateful to all of those who helped him with his achievement saying, "Thanks to everyone; my team, to Giovanni, the VR46 Riders Academy, to my family and to those who came to cheer for us this weekend."
Rins out of options as he was forced to settle for second at Misano
Reflecting on his performance during the race, Spanish rider Rins spoke of how, immediately after the flag he, "decided to pull out from the beginning". When he realised a battle was commencing he "thought it was best to try to escape". He described how he when he took the lead he focused on his pace to "distance gradually".
Towards the end he found there were several places that he could have "returned the overtaking" on Baldassarri however he was too far back and had "run out of options". Happy to have "recovered points" in the championship on leader Zarco he came away from the San Marino Moto2 race "satisfied".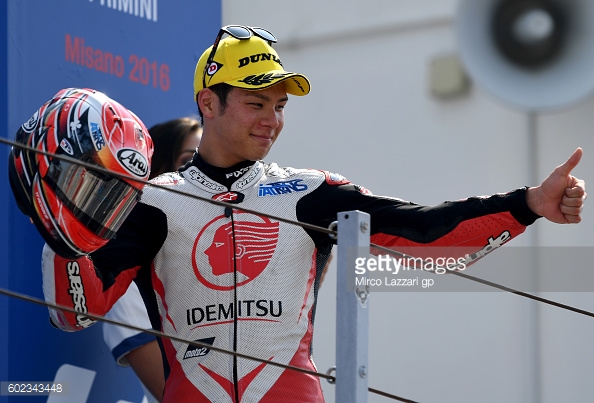 Nakagami strong throughout 13th round of the season and is hoping for a win soon
Third on the podium, Malaysian rider Nakagami who was fastest during several sessions over the weekend mentioned how he felt that throughout the weekend he was "able to demonstrate a consistently high combat power". His only thought was "to win" and in not doing so he found it "disappointing". Despite his disappointment he was "happy with the podium" especially as he was on it now for "two races in a row".
At the beginning of the race Nakagami he spoke of how he lacked "a good feeling" and was not able to obtain a position near the front and foundered he "had lowered to 9-10 fastest". However he "emerged to third place" after he was able to "catch up from there"; by that stage the distance between him and front runners Baldassarri and Rins was too much (especially as they front tyres was in "quite a severe state").
Knowing the win was unobtainable and that Zarco, Morbidelli and Luthi were now a fair distance behind him he decided to focus on a third place finish. The Malaysian is hungry for a win though and said, "On the next race I want to aim to win!"