Red Bull, KTM and Ajo Motorsport have recently announced that their collaboration is expanded and that the team will be expanding to compete in the Moto2 championship from next season. This means that the team collaboration will become the first to compete across all three championships including the MotoGP, Moto2 and Moto3.
Binder promoted to Moto2 in 2017
Moto3 current championship leader Brad Binder (Red Bull KTM Ajo) will be moving up to the Moto2. It is highly likely he will become champion and will be taking on a new project in the 600cc as the Honda engine will be raced within the KTM chassis.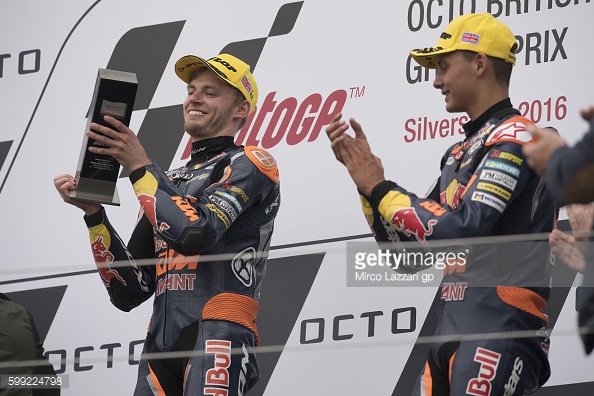 Brad Binder is to be joined by Leopard Racing team rider Miguel Oliveira. Finishing second in the 2015 Moto3 championship, he was promoted to Moto 2 with rival team Leopard Racing and rival rider Danny Kent (Leopard Racing) who won the championship.
Oliveira will have completed his rookie year in the class when he makes the move to the new KTM team; this will prove beneficial to Binder who can learn from his new teammate's past experiences. The two have already worked together as they both ran for Red Bull KTM Ajo in 2015 where Oliveira finished runner up in the championship.
Antonelli to replace Brad Binder in the Moto3 Red Bull KTM Ajo Team
The Ajo Motorsport team are a highly competitive team, and the KTM is a great little bike. Earning a place within this team is proof that the rider is talented, and the experts see something that has so much potential.
Bo Bendsneyder is within his rookie year this year for the year and is aiming for a top 15 finish in the championship. He will remain with Red Bull KTM Ajo and joining him, and replacing Brad Binder will be Niccolo Antonelli (Ongetta-Rivacold).
Binder grateful for the opportunity and excited for project ahead
South African Brad Binder is very "grateful for this new opportunity" and thanked the likes of Aki Ajo and all the people/partners who have allowed him to "take this step up". He said, "There is nothing that could excite me more than staying at Red Bull KTM Ajo and competing in Moto2".
Binder spoke of how he "really likes this team", in particular he likes "the respect between all the members". He trusts their decisions which he feels are made to "keep the team and riders on top". Aware of how "difficult" it will be to transition he remains "motivated for this" and is "already looking forward to it".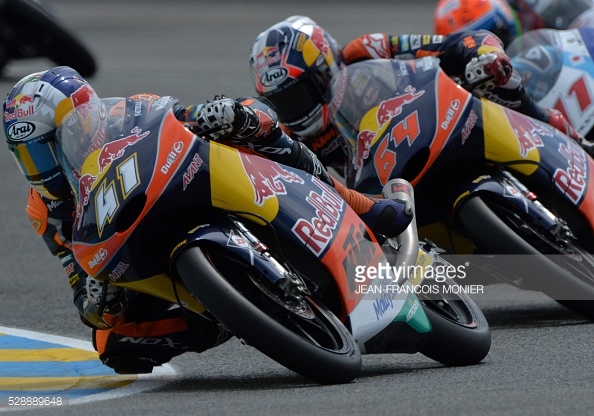 Binder on his class promotion
The current Moto3 championship leader feels it will be "nice to start in a new class" and is especially looking forward to having a "lot to learn" as he knows everything will be "new". He has already set himself goals to "go out each day and give 110% to learn as quickly as possible".
Binder is also "happy to be back sharing a garage with Miguel" as he felt he "learned a lot from him in 2015" and he is "sure" that they will "push each other" whilst having fun. He said, "Everyone knows that id Red Bull KTM Ajo make a motorcycle it will be good!"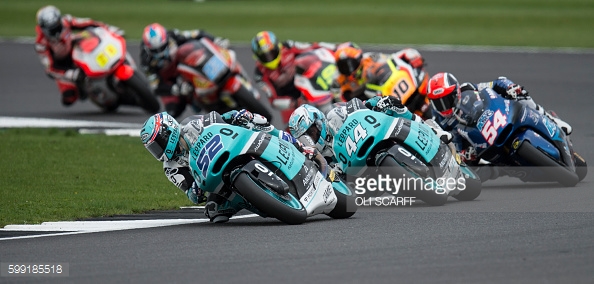 Oliveira happy to return to his KTM family
Oliveira said he was "happy to be returning to the Red Bull KTM Ajo family" a team who he considers to me "very professional" and that brought him "a lot of success". He experienced his "most successful season to date" with them and he is "very happy and grateful to Aki and KTM" for choosing him and "trusting" him to "start this ambitious project with the KTM Moto2".
The Portuguese rider who is currently 17th in the Moto2 championship spoke of how he "believes a lot in this new project" and that he will have a "very strong team beside him" allowing for the best possible results. Claiming he will "give my all in this new venture" he too complimented Brad Binder saying he was "a very good person and rider". Oliveira is "sure" that the two "will work very well together to gather the best data possible and take the KTM to the top".
KTM have the perfect structure to move into Moto2
Celebrating "five years of successful collaboration with Aki Ajo in Moto3", KTM Motorsport Director Pit Beirer said he was "very happy" that Ajo and Red Bull are "offering [us] the perfect structure to move into Moto2".
He said they view the intermediate class "mainly as a platform for keeping riders in the KTM family". What will be known as the "WP" team in the Moto2, he said the "motorsports departed has been fully integrated into KTM" and like in the other classes it is being "developed and built completely in-house".
Antonelli's dreams have come true
After five seasons in the Moto3, Antonelli will be competing in his sixth season with Red Bull KTM Ajo who he has not raced for almost two seasons now. The Italian is "very happy" to join his new team saying it is "a dream come true" as they are "a team that has produced several World Champions and that has always fought to be at the top".
Antonelli's aim is to "fight for victory in every race" as his successor Brad Binder does, or to "at least be on the podium when that is not possible". He is wanting to "improve" on what he has achieved in the last two years in the Moto 3 and he said he will "fight as much as I can to do this". He said it is "exciting to ride a KTM again" however he is "sure the bike is very different" compared to his machine in 2014. He thinks it will be "even better" and he "can't wait to try it out".
Bendsneyder grateful for another year with his team
Bendsneyder said that "to be on the team one more year is a great opportunity". Also grateful to Ajo, Red Bull and the other partners he said they have to "concentrate on finishing this year well" before they "start to think about next season".
He is "convinced" the team will do "a good job" and he thinks it will be "nice to work with a new teammate". Having "felt very comfortable with Brad" he is sure he will also feel comfortable with Antonelli and is "looking forward to working with him".
Complementing the team he said they are "like a family" which he likes and that "everyone is very sincere", he said they "always say things directly and work to improve as a team", something he feels is the "most important thing". The Dutch rider said, "Next year I will do my best and see if I can be at the front, but first I want to concentrate on finishing this year well."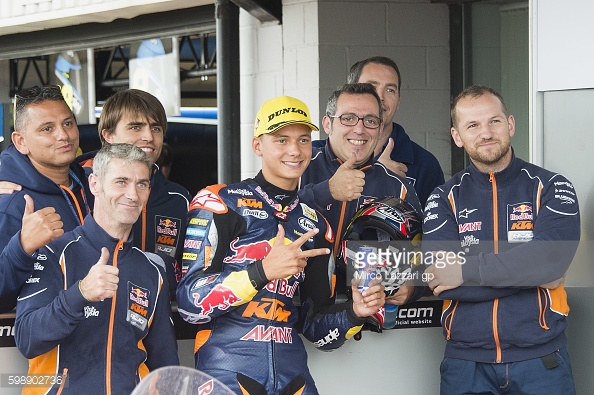 KTM Project leader feels the team will be successful
KTM Moto3 Project Leader Christian Korntner is hoping that Bendsneyder will continue his "upward trend next season" as he will have completed his rookie year, and that Antonelli "already knows the feeling of winning and the structure of the team" and so with the support in place he "should advance to being an absolute winning rider next year".
Ajo happy to continue in collaboration with partners and progress to Moto2
Team Manager Aki Ajo spoke of how he is not only "very happy to continue with Red Bull and KTM" he is happy to "make this move together into Moto2". He feels they will "all be much closer to each other" as they will be working together in two classes and "with the whole Red Bull KTM family in all three classes"; something he described as "historic".
Expressing his gratitude Ajo is "grateful to be part of this great project with KTM and Red Bull", and he is also comforted by the fact they will "start out with a pair of riders who [they] already know well". Speaking about Binder and Oliveira he is hoping they can win, he described them as "young, eager" and both have a "positive attitude for this project".
Ajo happy with the future Moto3 team
Discussing the future of the Moto3 team he said, although it will be their sixth season in collaboration that it is "always exciting to begin another year again together". Praising Bendsneyder for his continuous improvement throughout his rookie year he said, "Because of his work and perfect attitude at all times I am very happy to continue having Bo in the team."
Ajo also believes that "Niccolo is the right person for the job", when he will "occupy the place Brad has left behind". He described Antonelli as a rider who "has a method and a way of working that are very similar to Brad's" and other riders they have "had on the team in the past". The Team Manager said, "I do not want to miss this opportunity to thank Red Bull, KTM and our other partners for their confidence in Ajo Motorsport."