Fight for Pole Position later on Saturday in Qualifying should be extremely close, that is after Nico Rosberg topped Third and final practice for the Singapore Grand Prix, by just 0.059 ahead of Max Verstappen's Red Bull by lapping Marina Bay in 1:44.352.
However, that wasn't the headline from the session, as during an early red-flag period, a giant lizard was seen to 'Stop, Look, and Listen' on the exit of Turn 3, crossing the track after Verstappen, but before Felipe Massa's Williams.
Behind the two fastest drivers, Kimi Raikkonen showed Ferrari could be a real threat with third, with Daniel Ricciardo splitting the Ferrari's in fourth and Sebastian Vettel fifth.
Nico Hulkenberg was a strong sixth for Force India, ahead of a much needed and confidence brewing seventh for Danill Kvyat. In a disastrous session, Lewis Hamilton was just eighth and still hasn't got in a representative time on the UltraSoft tyre.
Carlos Sainz Jr and Valtteri Bottas rounded out the top 10, in a busy session that saw many drivers slide early on due to a lack of grip and of course, the latest member to the Formula One track invaders club.
Wehrlein saves the Lizard
Setting the early pace was Pascal Wehrlein in his Manor, however with just a few minutes on the clock, he spun and damaged his rear wing, eventually limping home to the pits. As he did, a piece of it fell off and race control felt it necessary to red-flag the session to retrieve the piece of MRT05.
After the red-flags had gone in, there was only a couple of cars on track, and exiting Turn 3, they got a surprise. Verstappen was first to come across it and told his Red Bull team, "There's a giant lizard on track!", the response was "You've come face to face with Godzilla". Here's hoping the lizard brought his FOM pass.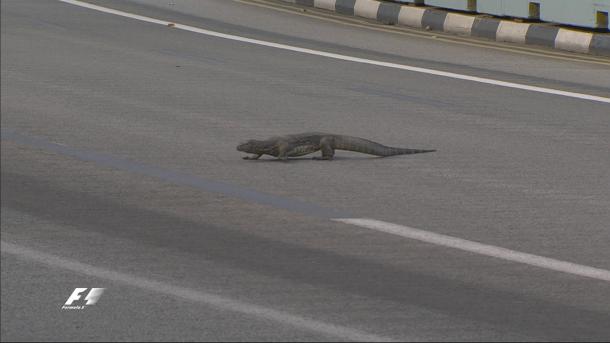 After the bizarre incident, it was Raikkonen who led the field, with a 1:46.813, with the times still far off what was done yesterday, as the session was run in twilight conditions and not the night as was FP2.
So far this weekend, Mercedes have had their advantage on the harder compound as was shown when they blasted themselves to the top of the timing sheets on the Soft tyre, Rosberg leading Hamilton.
After a period of final data collection for the race on long runs, with about 20 minutes remaining it was time to take all the fuel out and put on the UltraSoft tyre.
Hamilton's disaster
Throughout FP2, Lewis Hamilton struggled on the fastest UltraSoft tyre, continuously making mistakes on his flying laps. Thought that Saturday morning would be any different were soon dashed.
Turn 7, at the end of Raffles Boulevard, was the trouble hotspot for the World Champion, with two big lock-ups on his two sets of tyres left him heading into Qualifying on the back-foot, in the Brit's most out of sorts weekend since Baku, nearly three months ago.
It was then left to Red Bull to chase down Rosberg's 1:44.352 benchmark, and although Daniel Ricciardo fell short by 0.508, it was Verstappen who could be the biggest thorn in the German's side, ending up just 0.059 down, with both Red Bull's now running the upgraded Tag-Heuer (Renault) power unit.
Singapore Grand Prix - Third Practice times

| | | | |
| --- | --- | --- | --- |
| Position | Driver | Team | Time/Gap |
| 1. | Nico Rosberg | Mercedes | 1:44.352 |
| 2. | Max Verstappen | Red Bull | +0.059 |
| 3. | Kimi Raikkonen | Ferrari | +0.508 |
| 4. | Daniel Ricciardo | Red Bull | +0.551 |
| 5. | Sebastian Vettel | Ferrari | +0.752 |
| 6. | Nico Hulkenberg | Force India | +0.964 |
| 7. | Danill Kvyat | Toro Rosso | +1.151 |
| 8. | Lewis Hamilton | Mercedes | +1.454 |
| 9. | Carlos Sainz Je | Toro Rosso | +1.527 |
| 10. | Valtteri Bottas | Williams | +1.595 |
| 11. | Sergio Perez | Force India | +1.760 |
| 12. | Fernando Alonso | McLaren | +1.812 |
| 13. | Esteban Gutierrez | Haas | +1.964 |
| 14. | Felipe Massa | Williams | +2.177 |
| 15. | Kevin Magnussen | Renault | +2.764 |
| 16. | Jenson Button | McLaren | +2.925 |
| 17. | Felipe Nasr | Sauber | +2.941 |
| 18. | Romain Grosjean | Haas | +3.059 |
| 19. | Marcus Ericsson | Sauber | +3.604 |
| 20. | Jolyon Palmer | Renault | +4.337 |
| 21. | Pascal Wehrlein | Manor | +4.849 |
| 22. | Esteban Ocon | Manor | +5.213 |