Over the previous 14 qualifying sessions, we've grown accustomed to Mercedes letting it really go in Q2 and blowing their opposition away. Qualifying for the Singapore Grand Prix was different. Mercedes still blew their opposition away, but left it to Q3 before the beast was unleashed.
A stunning 1:42.584, the all-time lap record around Marina Bay, saw Nico Rosberg claim pole ahead of his 200th race start tomorrow. No-one else could get within 0.500, with Daniel Ricciardo's last ditch effort enough to demote Lewis Hamilton off the front row, with the two of them starting second and third respectively.
Max Verstappen was fourth, ahead of Kimi Raikkonen, in the sole healthy Ferrari, after Sebastian Vettel dropped out in Q1, the legacy of an anti-roll bar failure.
Toro Rosso backed up their strong pace this weekend, with Carlos Sainz sixth ahead of Daniil Kvyat in seventh. Fernando Alonso is the meat in a Force India sandwich, with Nico Hulkenberg eighth, Alonso ninth and Sergio Perez rounding out the top 10, although hours after the session Perez was handed a five place penalty for not slowing for a late Q2 incident, and a further three places for overtaking under yellow flags.
In what was already promising to be a classic race, the fact that the Red Bull duo will be starting on more durable SuperSoft tyres, compared to the more brittle UltraSoft of those around.
From Pole to last – in 363 days
Ferrari were aiming to do just one lap in Q1, thus saving tyres for the race. A good strategy, except with just seven minutes remaining on the clock, Sebastian Vettel reported, "the anti-roll bar broke".
Through the corners, his SF16-H had a wheel lifting on the ground and when he boxed in, still complaining that "it's just stupid", there wasn't enough time to fix it and get him back out. He will start P22. And last.
Elsewhere it was a rather uneventful session, with the usual suspects of the Manor's, Renault's and Sauber's battling out. However, as Vettel was already out, it meant one of the six drivers would make Q2. That went to Marcus Ericsson, getting his Sauber through.
Up front, Ricciardo showed his hand by lapping in 1:44.255, with Raikkonen and Verstappen slotting in behind. The Mercedes duo comfortably made it through, albeit not with impressive times.
Late drama in Q2
Q2 was progressing as expected, with the big three teams comfortably at the head of the timing sheets, and an almighty battle for the rest of the top 10 spots due to unfold, except for Ericsson, who didn't emerge for a second Q2 run. It was Rosberg who topped the session with a 1:43.020.
However, it was here Red Bull decided to run the SuperSoft, giving them an advantage in the race tomorrow, but not off the start-line.
In the dying embers, a yellow flag was flown, as Haas's Romain Grosjean had crashed at T10/11, hitting the wall broadside. Thankfully he was ok, but any driver behind him had to back-off their hot-lap.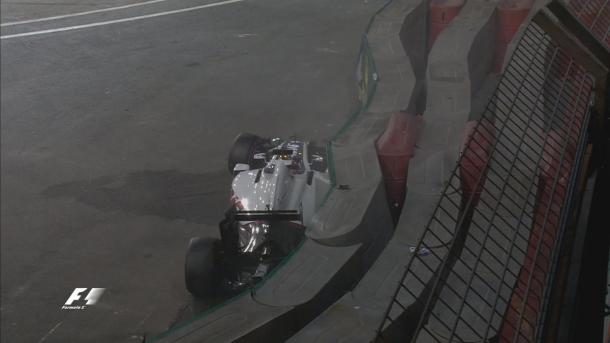 Seconds later, another yellow was flying in Sector 3, as Jenson Button had stopped his McLaren. Replays showed he brushed the wall on the exit of Turn 14, puncturing his left-rear. Fernando Alonso was ahead of anyone and was able to complete his lap, which got him through to Q3.
However, there was controversy as Sergio Perez overtook a slowing Esteban Gutierrez whilst passing the Button incident, then promptly went on to get into Q3. He was later demoted to 18th on the grid.
Rosberg blitzes the field
Then there were 10. two Mercedes, one Ferrari, two Red Bull's, two Force India's, two Toro Rosso's and one McLaren. It was expected to be tight between them for pole, but in reality, no-one could even get remotely close to Nico Rosberg.
The business was done on the first runs in the final 12 minutes, delayed by 10 minutes, whilst the barriers were fixed after Grosjean's accident.
Smashing Vettel's lap-record, Rosberg became the only man to break the 102-second mark, doing so in 1:42.584, which was 0.709 clear of Hamilton, 0.956 clear of Raikkonen and 1s+ clear of both Red Bulls. Pole was won there and then, despite Verstappen's traffic and warm-up issues.
On final Q3 runs, it was only Ricciardo who improved significantly and moved himself to P2, splitting the Mercedes. Hamilton had a scruffy lap, and didn't improve, like Raikkonen, to leave Rosberg with 0.531 in hand.
The Toro Rosso's slotted in behind, in a race where a strong result could do wonders for what is left of Daniil Kvyat's confidence. Force India will be pleased to out-qualify both Williams, in their on-going battle for fourth in the constructors and yet another Q3 appearance shows McLaren-Honda are getting there.
The 61 laps of the 2016 Formula One Singapore Grand Prix get underway at 13:00pm UK time on Sunday afternoon.
Singapore Grand Prix- The Grid

| | | |
| --- | --- | --- |
| Position | Driver | Team |
| 1. | Nico Rosberg | Mercedes |
| 2. | Daniel Ricciardo | Red Bull |
| 3. | Lewis Hamilton | Mercedes |
| 4. | Max Verstappen | Red Bull |
| 5. | Kimi Raikkonen | Ferrari |
| 6. | Carlos Sainz Jr | Toro Rosso |
| 7. | Danill Kvyat | Toro Rosso |
| 8. | Nico Hulkenberg | Force India |
| 9. | Fernando Alonso | McLaren |
| 10. | Valtteri Bottas | Williams |
| 11. | Felipe Massa | Williams |
| 12. | Jenson Button | McLaren |
| 13. | Esteban Gutierrez | Haas |
| 14. | Romain Grosjean | Haas |
| 15. | Marcus Ericsson | Sauber |
| 16. | Kevin Magnussen | Renault |
| 17. | Felipe Nasr | Sauber |
| 18. | Sergio Perez | Force India |
| 19. | Jolyon Palmer | Renault |
| 20. | Pascal Wehrlein | Manor |
| 21. | Esteban Ocon | Manor |
| 22. | Sebastian Vettel | Ferrari |