The MotoGP class are making their way to Motorland Aragon, just 250km outside of Barcelona, for what will be their third visit to Spain so far this season as they will compete in the Gran Premio Movistar de Aragon; the 14th round of the 2016 season.
Pedrosa on form after winning in Misano
Repsol Honda rider Dani Pedrosa dominated at the last round in Misano, Italy; his surge through the field began midway through the race and he bypassed several riders to take the lead and become the eighth different MotoGP winner so far this season; something that is usually unheard of.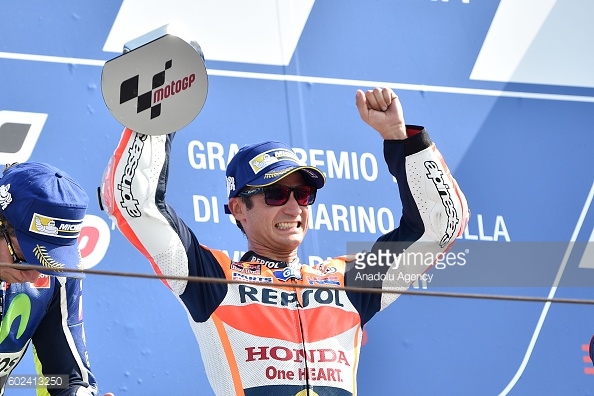 Eight different MotoGP winners this season
As the riders adapt to new tyres, new electronics and different weather conditions than expected, it has made for more of an equal playing field. Four wet rounds out of the previous 13th have allowed Jack Miller (Estrella Galicia 0,0 Marc VDS) and Cal Crutchlow (LCR Honda) to claim the top step on the podium, while Maverick Vinales won his very first ever GP at Silverstone which was also the first time in years that Suzuki had won a MotoGP.
Marc Marquez (Repsol Honda), Movistar Yamaha teammates Valentino Rossi and Jorge Lorenzo, and Ducati Team riders Andrea Dovizioso and Andrea Iannone complete the list of riders who have each won a race and with what can be mixed weather conditions possible at Aragon, we could see another new name on the list.
Marquez remains on top of the MotoGP 2016 championship
Marquez remains the championship leader heading into the 14th round of the season at Aragon; he is 43 points ahead of Rossi and looking to extend his lead on home turf. Since the MotoGP field began competing here in 2010, Casey Stoner was successful in both 2010 and 2011, Pedrosa won in 2012, Marquez in 2013, and then Lorenzo has dominated the last two years here. It is home turf for the three Spanish riders; will it be a Spanish winner for the fifth successive year?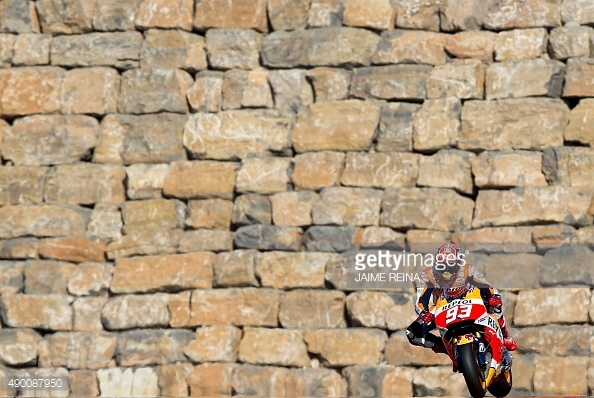 MotorLand Aragon's vital statistics
MotorLand Aragon Is a 5.1 km (3.16 miles in 'old-school' measurements) track made up of 17 corners; ten left-handed turns and seven right-handers. The longest straight is just less than a kilometre and the track is 15metres wide.
So at Aragon, the MotoGP class will be running a 23-lap race, Moto2 will be racing 21 and 20 laps for the Moto3. It is made up of several straights, a mixture of sweeping and tight corners and tough chicanes. They run anti-clockwise here meaning it is a lot of stress on the left-hand side of the tyre.
New track for new French manufacturer Michelin
To overcome this, French tyre manufacturer Michelin who have never raced here before, but did complete a test here, are bringing a wide variety of tyre allocations. The Michelin Power Slick will come as an asymmetric tyre with a harder left-hand shoulder. The front tyre will be available in soft, medium and hard compounds, and the rear will be available in medium and rear compounds of the same asymmetric design.
In the wet options, the Power Rain tyres will be available in the soft and medium compound and also available the same compounds of Power Inters should conditions be mixed. However it is Spain and it should be sunny, which according to forecasts is telling us that it will be cool, cloudy but dry… but then the weather people are known for making mistakes, especially this far out from the event.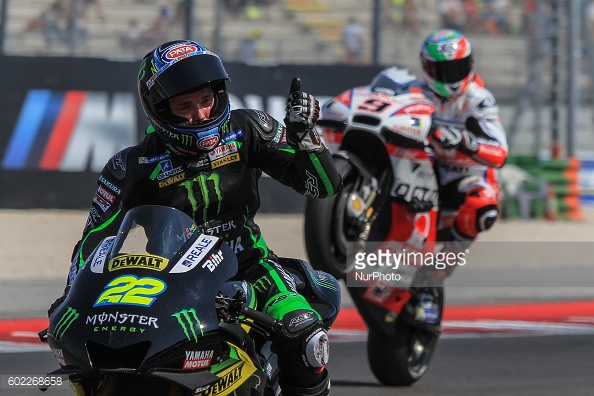 Wildcard appearances again due to injured riders
Monster Tech 3 Yamaha rider Bradley Smith is still unable to ride and again Alex Lowes will be taking his place. The British twin of Moto2 rider Sam Lowes (Federal Oil Gresini Moto2) crashed out at the last round in Misano and will be hoping to make up for that result.
Also last round there were wildcard appearances from Michele Pirro, who switched from the Avintia Ducati team where he was initially replacing Loris Baz whose foot was hurt again in a crash. Iannone crashed out during practice though and was ruled out of the race after a debate as to whether he should ride or not after he broke vertebrae during his incident.
Pirro switched garages and ran on Iannone's bike which would have been much more beneficial financially for the Italian team. Ahead of Aragon, both Iannone and Baz will be returning and so Pirro's services will not be needed this round. Javier Fores made his MotoGP debut during the 13th round at Misano on the Avintia Ducati instead. He, like Lowes, crashed out midway through the race and will also not be needed this weekend at Aragon.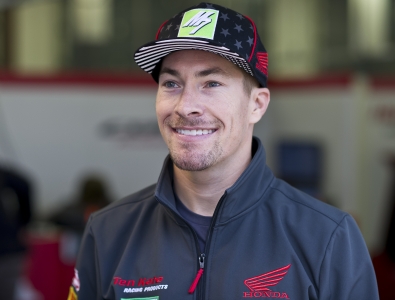 Nicky Hayden returns to the MotoGP
Jack Miller is still injured. Racing on the fractures on his right hand is preventing them from healing and so he will be ruled out for a second consecutive round. Replacing him aboard the Estrella Galicia 0,0 Marc VDS Honda will be former MotoGP star Nicky Hayden. The former American champion was approached and agreed to take on what he has described as a challenge as he will have new electronics and tyres amongst the changes he has to deal with.
He is hoping his past experience in the MotoGP and from currently competing in the World Superbike championship will pay off and he will be able to enjoy the MotoGP race as much as possible. It will certainly make for some interesting viewing!
Changes in the MotoGP camp
There have been new contract announcements ahead of the Aragon GP. KTM confirmed they will be joining the Moto2 class making them the only manufacturer to compete in all three classes. The KTM chassis will be used with the 600cc Honda engine and will come under the heading 'WP'.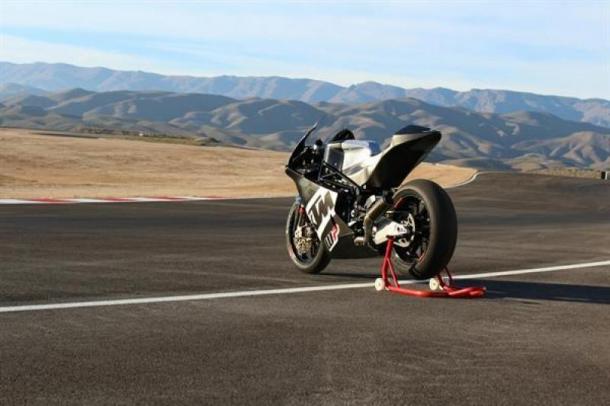 Moving up to the Moto2 will be current Moto3 championship leader Brad Binder (Red Bull KTM Ajo), and Leopard Racing Team rider Miguel Oliveira will be joining him. Bo Bendsneyder will remain in the Moto3 team and he will be joined by Ongetta-Rivacold rider Niccolo Antonelli.
Marquez laid down previous best at Aragon
The current best ever lap time completed at Aragon was set by Marquez last year when he qualified to start the race from pole due to his time of 1:46.635. Lorenzo was second quickest and Iannone completed the front row of the grid. It was Lorenzo who won ahead of Pedrosa as his teammate Marquez crashed out on the first lap.
Rossi completed the podium however the nine point advantage Lorenzo gained over the Italian proved vital at the end of last season as he went on to controversially win the championship. (Let's not re-open that can of worms!) The official circuit lap record at MotorLand Aragon is held by Lorenzo; the fastest he could manage in a race situation was 1:48.120.
Crutchlow the top independent team rider
Crutchlow was the fastest independent team rider on the day finishing seventh after starting from the third row when he qualified eighth. He finished ahead of the Tech 3 teammates Smith and Pol Espargaro, who is currently looking to close the gap between him and the British rider in the Championship this year after he was controversially awarded eighth place above the Spaniard in the last round due to a sweaty forehead! (Nice!)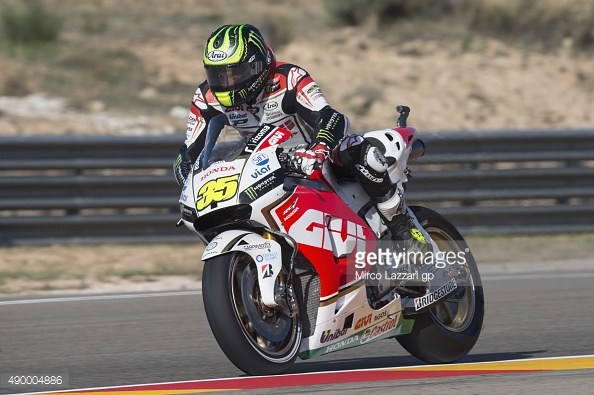 Who will take over Rabat's domination of Aragon in the Moto2 class?
In the Moto2 class it was 2016 MotoGP rookie Tito Rabat who dominated in Aragon on home turf. He qualified on pole setting the fast Moto2 time of 1:52.232, and went onto win the race. He finished third in the 2015 Moto2 championship but it was enough to be promoted to the MotoGP class. With him out of the picture it looks like it may be Alex Rins (Paginas Amarillas HP 40) who is in with a chance of success here should his injured collarbone not torment him.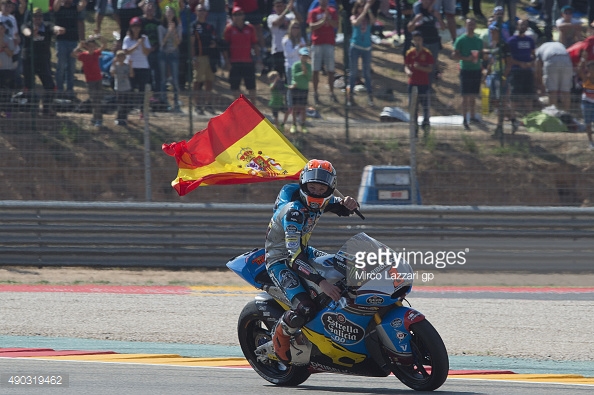 Rins was second in qualifying ahead of Johann Zarco (Ajo Motorsport), and despite lapping quickest (1:52.767) he finished the race in second ahead of Sam Lowes (who qualified fourth). Zarco finished sixth last year in Aragon. A similar result this year will see Rins (currently on 191 points) take the current Championship lead from the Frenchman (currently on 194) as he is just four points behind him and it will be enough to take him to the top.
Several Moto3 riders, successful at Aragon, out of contention this year
There seems to be no catching Moto3 rider Brad Binder even though there have been eight different winners in the 250cc class so far this year. The South African has won five of the 13 rounds which has allowed him to dominate the championship. He heads to Aragon with a 106 point lead over Enea Bastianini (Gresini Racing Moto3) who recently overtook Jorge Navarro (Estrella Galicia 0,0) who has had a recent dose of bad results.
Navarro would essentially be the favourite to win the Moto3 in Aragon this year if last year's results are anything to go by. Bastianini set the best Moto3 lap time when he claimed pole after lapping at 1:57.755. He was joined on the front row by Oliveira and British rider Danny Kent (Leopard Racing) who have both since been promoted to the Moto2.
Oliveira won in Aragon in 2015, Navarro was second and it was former Sky Racing Team VR46 rider Romano Fenati who claimed the last step of the podium; however now he is out of the picture too as he was sacked from his team earlier on in the season for continued behaviour issues.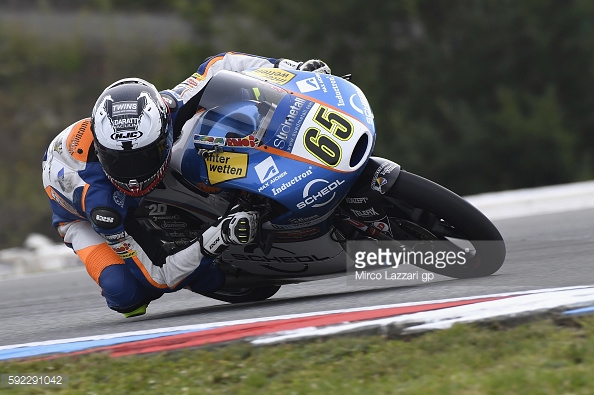 Will Oettl claim his first win?
Philipp Oettl (Schedl GP Racing) was fifth last year and may be a good contender this time round along with Antonelli who finished behind him. We are bound to see Oettl in his pit garage at some point with his eyes shut and acting out a lap as if he is going through the motions as if on track.
Don't forget there are a lot of hungry rookie's in that class, several Spanish ones included all wanted to claim their first win, and the likes of Francesco Baganaia (Gaviota Mahindra Aspar) who wants their second win this season. We may even see a great result from Maria Herrera (KH6 Team) who is still searching for sponsorship, and who won in Aragon in the FIM CEV Repsol in 2013.
The schedule for Aragon
Practice starts on Friday 23rd September at 8 am (GMT) and then qualifying begins at 8am (GMT) on Saturday. The morning warm- up will start on Sunday from 7:40 am (GMT) and the races will take place from 10am (GMT) starting with the Moto3, the Moto2 at 11:20am (GMT) and the MotoGP will kick of at 1pm (GMT).
The Rookies Cup will also be competing at Aragon with Race 1 taking place on Friday at 10:55am (GMT) and Race 2 after the main event on Sunday at 2:30pm.