Marc Marquez remains the championship leader heading into the 14th round of the MotoGP season at MotorLand Aragon. Settling for fourth on his Repsol Honda, he lost seven championship points to Valentino Rossi (Movistar Yamaha) who finished his home round in second. Jorge Lorenzo (Movistar Yamaha) claimed the last spot of his podium. All were present at the pre-race press conference ahead of the Aragon GP.
Championship not yet decided
Five rounds remain including Aragon, two more wins will secure the championship for the young Spaniard. Two DNFs on the other hand could hand it to Rossi who if he remained consistent and gained a podium each time could seriously close the gap. It is not necessarily over yet.
Marquez hoping for a podium at one of his favourite tracks
Both riders of aware of this and discussed this at the press conference. Marquez said they "haven't lost too many points" and noted that they "arrive in Aragon leading". He is aiming to "try to push from the beginning" as the Spanish track is one of his "favourite tracks". He is aware that both Yamaha riders, Rossi and Lorenzo "are strong", with Lorenzo having won the last two races here since the MotoGP began racing here in 2010.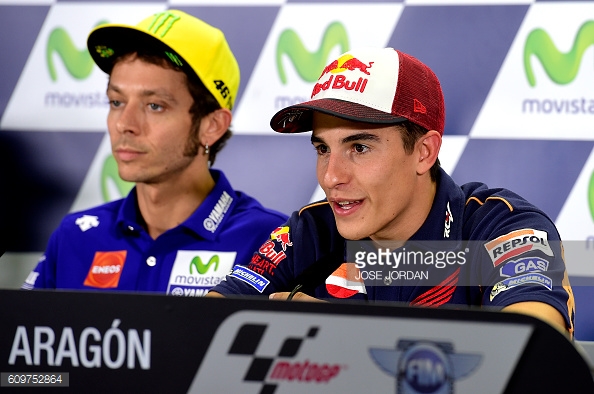 Marquez said, "You always want to push and win" however he knows that "sometimes it's not possible" and he highlighted Misano as one of them scenarios. He spoke about his targets at the Aragon GP saying they want to "be on the podium as a minimum".
Honda hoping to be strong again at Philip Island and Valencia
Marquez is happy to "win the title without winning more races". Hoping to "manage the distance" in the championship between him and Rossi, and is planning "to work hard" in order to achieve that. He spoke of how Aragon "is a good circuit" for the Honda, as is Philip Island and Valencia that make up two of the five remaining rounds. However he said, "This year you never know!" as there have been eight different winners so far this season in the MotoGP class.
Many factors making such a difference this year
He spoke of how you may "arrive at a circuit and expect to struggle". The first thing you notice is the "difference in the tyres"; it is the first race at Aragon for French manufacturers Michelin who took over as suppliers to the MotoGP class from Bridgestone this year. Discussing the challenges a rider may face with the front tyre, rear tyre, the feeling with the bike and the pace of the electronics side, he said you can "win the race by 10 seconds" or that you could "finish 10 seconds behind the leader".
He feels that this year, everything is "really open" which has been proven by the fact there has been eight different winners. He hopes to be "constant" and "be fighting" during every session to be within "the top three riders".
Rossi focused on closing the championship gap between him and Marquez
Also with the championship at the forefront of his mind, Rossi's main point of discussion was closing the gap between him and Marquez. Rossi closing the gap and taking the title would mean he would become the first rider to win 10 world championships. Even if he doesn't, he has two more chances at least as he renewed his contract this year for two more years with Movistar Yamaha; the Aragon GP is sponsored by Movistar.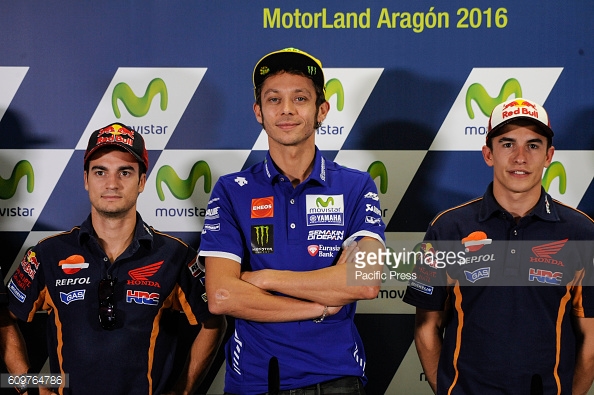 Rossi spoke of how he has "taken good points" during the 13th round at Misano in front of his home crowd, and that he has "tried to recover from some early mistakes". However, he still knows that the "distance to Marc remains very big". Optimistic he said they "need to continue like this" as they have been "working well" and he feels they have "always been competitive". He admitted how the track is "one of the best" for him and that last year he "struggled a lot in practice" but then "in the end the race was quite good".
Italian's target to be on the podium or win
Rossi spoke of how it is "difficult" to understand or determine before a race whether "you can win" or whether you "will struggle more" at a particular circuit "especially with the tyres". He mentioned that with "five races to go" that he feels the "most important" thing is to "take points in all the races" and to "try and arrive in the podium in all the races from here to the end". The Italian's "second target" that he has set is "to try to win"; he was unable to say where he feels he should win but said "you have to try the maximum everywhere".
Questioned about who the ninth winner of the MotoGP season may be, Rossi said that "eight winners is something that nobody expected" and that is because "recently in the last few years it's been more or less the same names at the top"; he highlighted that this was the case "in all conditions" too.
He felt it was "interesting for the championship" and claimed that it is "more difficult this year" because he finds the "balance is bigger between the riders and bikes". He reckons that if the "conditions change" that they seem to have "different names who are always very strong". To overcome this he said they "Need to always be there and arrive on the podium."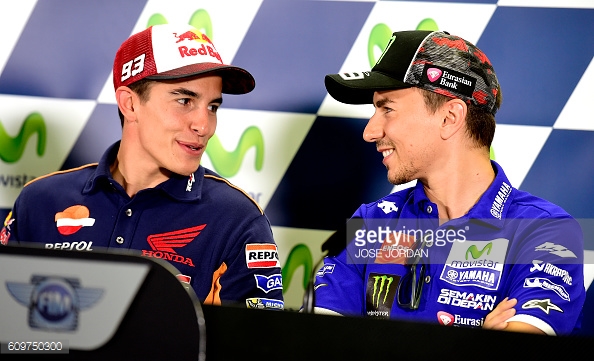 Lorenzo hoping for third consecutive win in Aragon
Having won here the last two years Lorenzo is hoping to continue his domination in front of his home fans in Spain. He has won here in wet conditions as well as dry and so that may help the current MotoGP champion's confidence as he has lacked it in mixed conditions on four occasions this season.
Talking about the last round in Misano he said he "expected to fight a bit more for the win". The Spaniard "knew" that he lacked his "best pace ever there" and would have benefitted from "one or two tenths more".
Lorenzo said, "Let's see what happens here!" as he said that "in the last two years I won"; he noted that the last race here he won "in the dry". He mentioned that "normally" MotorLand, although it is sponsored by the factory team's main sponsor Movistar, is not "a Yamaha track" however he said "recently, someway, somehow" he has found that they have "been very competitive". He said that the Spanish circuit is "a very flowing track and that will suit our chassis a lot".
Will Dovizioso become the ninth rider to win a race this season?
When all riders were questioned about whom they felt may become the ninth rider to win a MotoGP this season, all riders were in agreement that they thought that Ducati Team rider Andrea Dovizioso may be the next rider as he is constantly coming very close. It would be well deserved but there are a lot of contenders out there… time will tell!