The Moto3 class got things underway as usual as they were first to take to a dry but overcast track at MotorLand Aragon for day one of Free Practice ahead of the Aragon GP. At a place where many of last years' leaders are out of contention for many different reasons, it was Jorge Navarro (Estrella Galicia 0,0) who initially set the pace.
Navarro favourite to win at Aragon?
Miguel Oliveira was promoted to the Moto2 and Romano Fenati was recently sacked from the Sky Racing Team VR46 for persistent unacceptable behaviour which meant that Navarro was the only rider from last year's podium who was still in contention to win this season in Aragon. He started as he probably means to go on, on top of the leaderboard setting the fastest time to beat when the session got underway.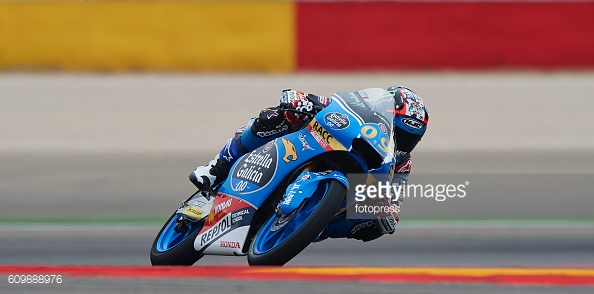 Battle on track between Binder and Ono
After 10 minutes of the session current Moto3 championship leader Brad Brinder (Red Bull KTM Ajo) was prohibited from taking the top spot as he found himself battling with Hiroki Ono (Honda Team Asia) as they lapped. As riders familiarised themselves with the track, the usual activity of track cancellations from Race Direction was occurring while Navarro chipped away at his own time.
Locatelli goes top
Mid way through the session, Leopard Racing Team rider Andrea Locatelli was able to knock Navarro off the top spot despite a poor third sector on his fast lap, however his lap time was later cancelled. Niccolo Antonelli (Ongetta-Rivacold), who has recently been signed up to replace Brad Binder at Red Bull KTM Ajo next season, soon graced the top of the timesheet with his presence instead.
McPhee crashes out at the corkscrew
With just a quarter of the first session remaining it was bad news for Scottish rider John McPhee who crashed his Peugeot MC Saxoprint Mahindra at turn eight of the track, known as the corkscrew. The front tucked under him as he entered the turn and he slid off and both he and his bike ended up in the gravel trap; McPhee was unhurt.
Moments later Navarro was back on form and completed quick laps. He was the first to lap under 2:01 minutes with a time of 2:00.598, he was soon joined by Brad Binder who slotted in behind him with a time of 2:00.649. But Antonelli retaliated and with eight minutes to go reclaimed the lead taking two hundredths of a second from the Spaniard.
Binder has problems with the rear
Brad Binder then had to retire to the pits as he appeared to have a problem with the rear of his KTM. He stayed off the racing line and had his hand raced to signal he was not on the pace and made his way to his garage, however he did not remain there for long as he was back out within minutes to complete the last five minutes of the session.
Navarro quickest at the end of Free Practice 1
A fantastic lap from Navarro in the closing minutes meant he became the first and only rider to lap under 2:00 minutes. His time of 1:59.676, although it was just under a second over the circuit lap record held by Antonelli in last years' race, it was enough to secure the Spaniard the top spot as he finished quickest at the end of Free Practice 1.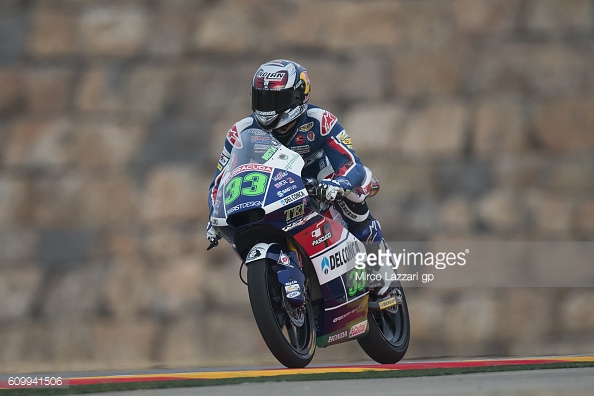 Gabriel Rodrigo (RBA Racing Team) had been following in Navarro's tyre tracks when he was also able to complete a solid lap band he temporarily took third. However it was his teammate Juanfran Guevara who was second quickest at his home track at the end of FP1, he was followed by Enea Bastianini (Gresini Racing Moto3) in third.
Martin returns from injury
Rookie Aron Canet (Estrella Galicia 0,0) also snuck into fourth pushing Rodrigo down to fifth on the timesheet. Spanish rider Jorge Martin (Gaviota Mahindra Aspar), who is returning from missing the last round in Misano due to a foot injury, was the fastest Mahindra at the end of the session in sixth.
He finished ahead of Antonelli, and Fabio Quartararo (Leopard Racing) who announced he will be joining the Paginas Amarillas HP 40 Moto2 team next year in place of Alex Rins who is promoted to the MotoGP class at the end of the season.
Bo Bendsneyder (Red Bull KTM Ajo) was ninth quickest ahead of Locatelli who completed the top ten. Brad Binder, who crashed after one lap of the 2015 race and collected a DNF, was just outside the top ten in 11th ahead of Francesco Bagnaia (Gaviota Mahindra Aspar) and Spanish female rider Maria Herrera (MH6 Team) in 13th, who announced she has finally found a sponsor to help in her endeavours. Jakub Kornfeil (Drive M7 SIC Racing Team) and Marcos Ramirez (Platinum Bay Real Estate) completed the top 15 at the end of Moto3 FP1.
Conditions worsened for Moto3 Free Practice 2
A mist had appeared in time for the second Free Practice session for the 250cc class which meant it was more difficult for riders to meet the times set not only the previous year, but the previous session. Leopard Racing Team rider Joan Mir was unable to compete in the second session due to a fever, however the Spaniard hopes to return in time for Qualifying on day two.
Locatelli was the first rider to be able to lap under 2:01 minutes after ten minutes of the session had passed. A few moments later Brad Binder joined him lapping just 0.055 seconds faster. But it was Ono who was first to lap under two minutes before Brad Binder again improved making his time of 1:59.743 the time to beat.
Brad Binder fastest at the end of day one at Aragon
Things continued this way throughout the session until eventually it was Brad Binder who was the fastest man at the end of day one in Aragon for the Moto3 class, His time of 1:58.998 meant he was the only rider to lap under 1:59 minutes. If he continues this way then chances are the South African could his secure his title and become the first rider to do that by the end of the Aragon round.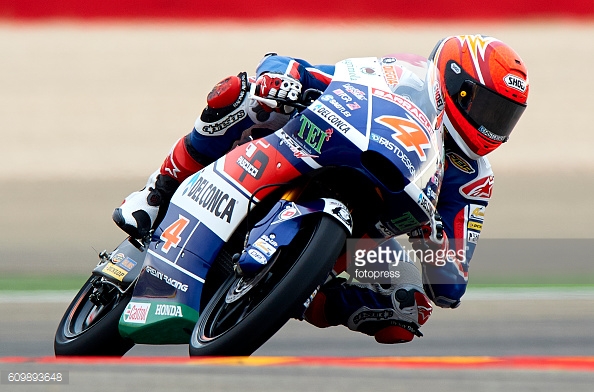 Andrea Migno (Sky Racing Team VR46) was second fastest on the day ahead of Quartararo making it a KTM one, two, three. Rookie Fabio Di Giannantonio (Gresini Racing Moto3) was fourth as his time was quicker than FP1 leader Navarro. Martin secured sixth ahead of the fastest Mahindra rider Albert Arenas (Peugeot MC Saxoprint) who is still overcoming his broken collarbone he recently was operated on.
Dalla Porta settled on his new machinery
Locatelli was eighth quickest during FP2 ahead of Lorenzo Dalla Porta (Sky Racing Team VR46) who appears to be coping well with his recent switch to the team as he was brought in to replace Fenati. Kornfeil completed the top ten, Bastianini was pushed down to 11th ahead of Philipp Oettl (Schedl GP Racing) who was the nxt highest placed finisher that remains behind Navarro from last year.
Jules Danillo (Ongetta-Rivacold) was 13th quickest in FP2 ahead of Ono and Guevara. Tatsuki Suzuki (CIP-Unicorn Starker) who celebrates his birthday over the weekend of the Aragon GP was 16th ahead of Antonelli and Rodrigo. A huge difference in the results between the two practice sessions shows that it really could be anybody's chance.
Khairul Idham Pawi (Honda Team Asia) was 19th ahead of Livio Loi (RW Racing GP BV) and Nicolo Bulega (Sky Racing Team VR46), a rookie who it is unusual to see so far down the rankings these days. Behind him was Aron Canet (Estrella Galicia 0,0), Bendsneyder, Adam Norrodin (Drive M7 SIC Racing Team) and McPhee completed the top 25.
Darryn Binder (Platinum Bay Real Estate) was 26th ahead of Francesco Bagnaia (Gavfiota Mahindra Apsar) who again appeared to be struggling to adapt to the Spanish circuit. Herrera, Lorenzo Petrarca (3570 Team Italia), Marcos Ramirez Platinum Bay Real Estate), Fabio Spiranelli (CIP-Unicorn Starker),Stefano Valtulini (2570 Team Italia), and wildcard Gabriel Martinez-Abrego (Motomex Team Worldwide Race) completed the field as Mir did not complete a lap.