It was an extremely eventful start to the third Free Practice session for the MotoGP class; in the opening moments there were three crashes, a new fastest lap time so far this weekend and an extremely close overtake on track.
Rossi crashes out at start of session
Within moments of the session starting ahead of the Gran Premio Movistar de Aragon, Movistar Yamaha rider Valentino Rossi crashed out at turn nine of the corkscrew. It was the Italian's first lap out as he fell after the back end came round as he entered the left-handed corner. His foot appeared to have slipped off the footrest as the rear tyre regained grip and slammed the M1 down on the right; Rossi went over the top and was slammed on the track on the same side.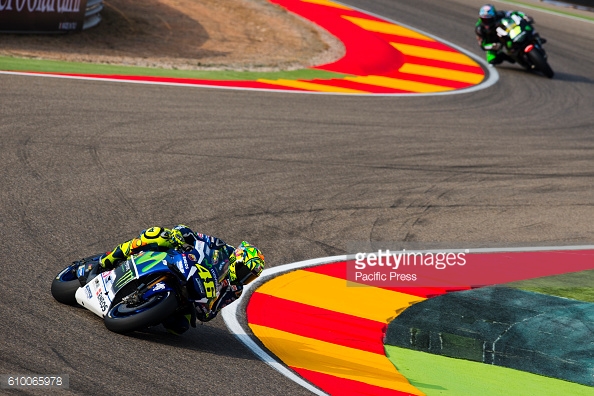 He appeared unhurt and was able to get straight back up to his feet. He returned to the pits, went straight to his mobile home to check everything and then eventually completed a lap with 22 minutes of the session remaining. Although it was sunny, the track was still cool which caught many riders out.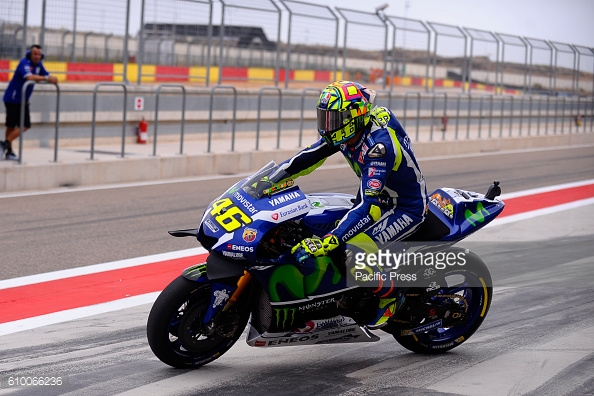 Lowes forced to visit medical centre after fast crash
A few minutes later Alex Lowes, who is replacing injured rider Bradley Smith on the Monster Tech 3 Yamaha for the third round now, crashes at turn 16; a fast corner at the end of the lap. He had to be assisted as two marshals supported him as he walked to the safety area. Lowes later went to the medical centre for a check-up.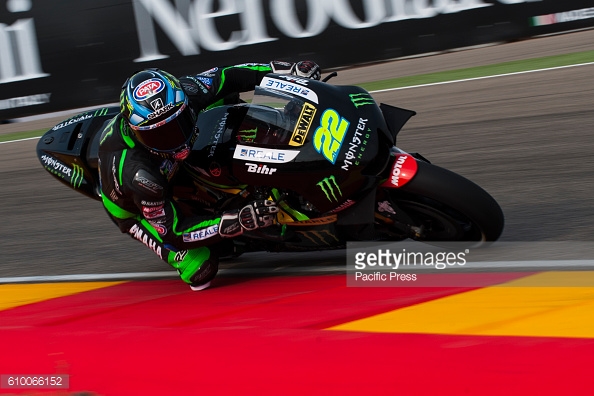 Marquez sets the fastest time so far
While this was going on Repsol Honda rider Marc Marquez was on a mission. Just 10 minutes into the session, Marquez became the first rider to improve on their times from yesterday. He lapped at 1:48.85 before he stuffed it up the inside of Danilo Petrucci (Octo Pramac Yakhnich Ducati) in an attempt to avoid traffic before he completed his next lap. He went even quicker this time round and made it into the 1:47 minutes with his time of 1:47.80.
Bautista crashes at the bus stop
A big cloud of dust appeared on track at turn 4 as this corner did its best to become as notorious as turn two had been on day one. Alvaro Bautista crashed his Aprilia Racing Team Gresini as he braked on the approach to turn 15. The front end tucked under and he was thrown over the bike which slammed down in the dirt kicking up loads of dut. Bautista was unhurt.
Carnage at turn 14 as Pol takes out Petrucci
Moments later, as an innocent Petrucci exited the pits, he was completely unaware that Pol Espargaro had crashed his Monster Tech 3 Yamaha at turn two when the front end of his bike tucked under. He slid out and his bike hit Petrucci who was thrown over the top of his bike and into the gravel. His Ducati was destroyed as bits flew everywhere. Pol ran straight to Petrucci to apologise and check that he was OK. Both were able to get up to their feet and seemed OK.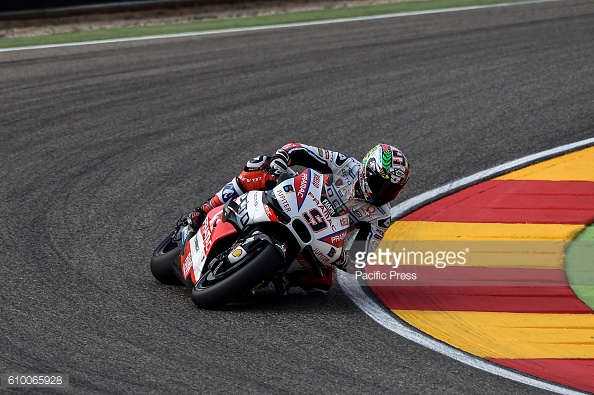 Turn 14 notorious during Free Practice 3
The Marshals at turn 14 were not getting a rest anytime soon. Just after they had cleared that incident up, a similar but worse incident happened moments later. First of all, Nicky Hayden, who is standing in for injured Jack Miller on the Estrella Galicia 0,0 Marc VDS Honda, crashed when the front end tucked on the turn like others had done previously. His bike slid down the slip road and Hayden was back up to his feet and was assisting the Marshals with his bike when the whistles were blown in warning.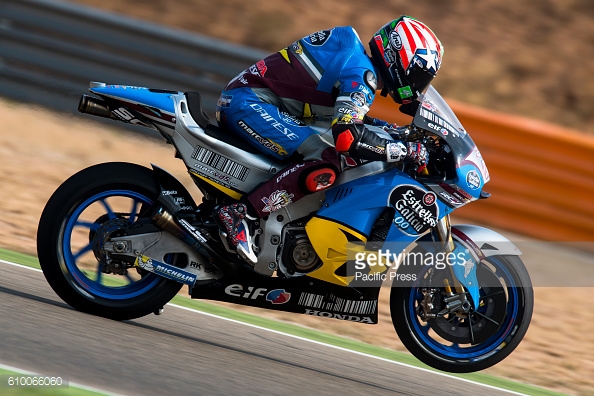 Karma decides to strike as Marquez replicates previous crash with pol Espargaro
Pol Espargaro was turning to the track as Petrucci had been doing in their previous incident, Marquez this time crashed his Honda at turn 14, tucking the front end as the others did, and as his bike slid out it hit Pol Espargaro as if karma wanted to get revenge on him. Pol's bike slid down the slip road towards the gang around Hayden's Honda, they had to leap out of the way as it slid towards them. Luckily they got out of the way in time as Pol's Yamaha hit Hayden's Honda.
Marquez looked to have hurt his right shoulder as he was seen rotating it as he returned to the pits and made his way back out on to the track. Hayden looked unharmed as did all the Marshals, but Pol Espargaro seemed to be in pain. Loris Capirossi, former MotoGP rider and now Safety Officer liased with the Spaniard back in his pit garage about the incident.
Time for some improvements on track
Fortunately that was the end of the carnage during the third Free Practice session and in the last 10 minutes riders were able to focus on improving their times. Aleix Espargaro (Team Suzuki Ecstar) was first to make his way into the top ten; the second rider to have improved so far all day in the MotoGP class.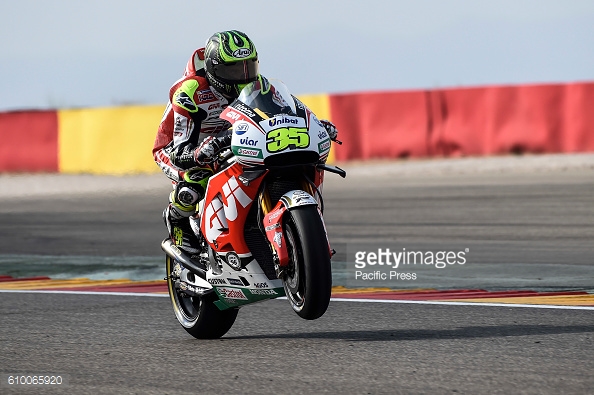 Along came LCR Honda rider Cal Crutchlow, his form has been brilliant of late since the birth of his little girl Willow during the summer break.Crutchlow was again flying and his lap of 1:48.1 was enough to bring him up to second (from third). He was soon joined by Maverick Vinales (Team Suzuki Ecstar) who moved up to third and then his teammate Aleix came up to fourth knocking poor Petrucci out of the top ten; something he did not need.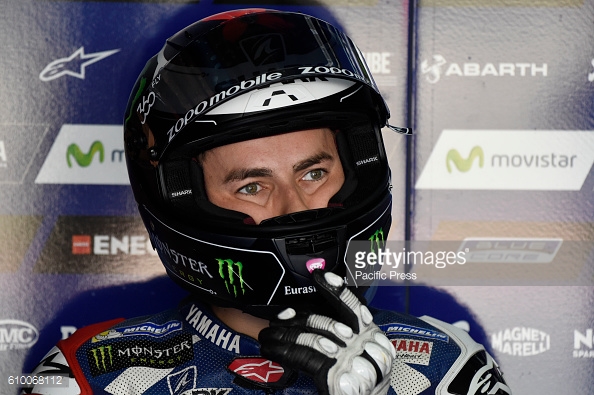 Marquez fastest during FP3
Marquez was the quickest ahead of Crutchlow, Vinales and Jorge Lorenzo (Movistar Yamaha) snuck into fourth ahead of Aleix Espargaro. Dani Pedrosa (Repsol Honda) who won in Misano and was quickest at the end of day one, was sixth ahead of british rider Scott Redding who managed to turn things around on his Octo Pramac Yakhnich Ducati in the final stages and complete a fast lap which left him seventh. Ducati Team rider Andrea Dovizioso was eighth ahead of Rossi, and Pol Espargaro who completed the top ten despite his troubled session.
Avintia Ducati rider Hector Barbera finished 11th quickest ahead of poor Petrucci who visited the medical centre at the end of the session, and Yonny Hernandz (Pull & Bear Aspar Ducati), Michele Pirro standing in for injured Andrea Iannone for the Ducati Team. Aprilia Racing Team Gresini rider Stefan Bradl was 15th ahead of Eugene Laverty (Pull & Bear Apsar MotoGP), rookie Tito Rabat (Estrella Galicia 0,0 Marc VDS), Hayden, injured Loris Baz (Avintia Ducati) and Alex Lowes who was unable to complete a lap during the session.