It was much sunnier when the Moto3 class took to MotorLand Aragon for the final Free Practice session ahead of Qualifying for the 250cc riders. Enea Bastianini (Gresini Racing Moto3) claimed his third pole position of the season as championship leader Brad Binder's chances were spoiled on the last lap.
Much needed rest for Mir
A good nights' sleep must have been just what Leopard Racing Team rider Joan Mir needed, as the Spaniard who had a fever which forced him to miss Free Practice 2 on day one, was back and was straight on form.
Grid penalties for dawdling during Free Practice
Unfortunately for some of the riders, they woke to the news that they would be receiving grid penalties for 'dawdling' on the track. It gets so busy when many riders are on track, and in true Moto3 fashion they wait for a fast rider to follow so they benefit from their slipstream. As a result of some riders doing this excessively are to receive grid penalties ahead of the race. If a rider is 110% outside of their sector time, for three sectors, they receive the penalty.
Both Jakub Kornfeil (Drive M7 SIC Racing Team) and Livio Lo (RW Racing GP BV) are both to receive three grid penalties; they will start a full row back from where they qualify. Niccolo Antonelli (Ongetta-Rivacold) has a four grid position penalty as does Gabriel Rodrigo (RBA Racing Team), but it is Fabio Spiranelli who has to overcome five grid positions on the race on his CIP-Unicorn Starker Mahindra.
Navarro leads the way
Estrella Galicia 0,0 rider Jorge Navarro made his way straight to the top of the timesheets where he finished FP1, but the warmer conditions meant that he soon came under attack by other riders hungry for the top spot. The Spaniard was the highest placed rider in Aragon last year as he finished second, the other podium finishers are out of contention, and his min rivals in the championship both crashed out on the last lap of the race in 2015.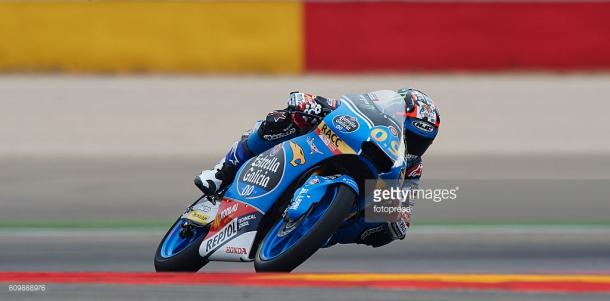 Philipp Oettl (Schedl GP Racing), Enea Bastianini (Gresini Racing Moto3), John McPhee (Peugeot MC Saxoprint) and Francesco Bagnaia (Gaviota Mahindra Aspar) all took their turn at the top midway through the session, before Fabio Quartararo came along, right after Oettl did, and stole it with his lap time that was the first under 2:00 minutes (1:59.72). The Frenchman pitted as Oettl remained on track continuing to lap consistently.
Along came Brad Binder
With just under 17 minutes remaining along came championship leader Brad Binder who made his presence felt and set the fastest time so far of 1:59.554. Brad Binder has the potential to seal the deal when it comes to the championship at this round, he is so far ahead that it will be impossible for anyone to catch him by the end of the season should he win.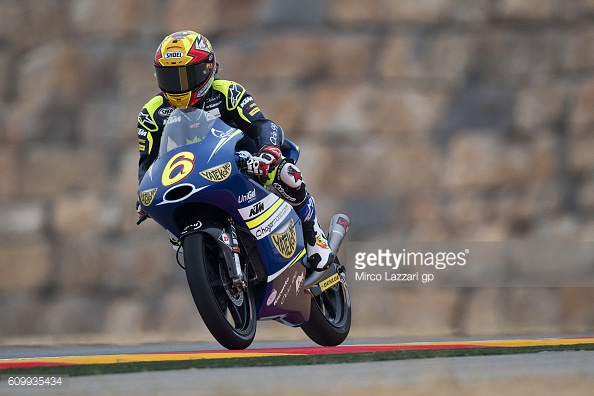 A fantastic performance from Maria Herrera (MH6 Team), who must have a new boost of confidence as she finally has a sponsor that her and her father have searched for for months as funds were getting extremely tight, saw her make her way up to fourth on the timesheet a few minutes later as she lapped just outside the 2:00 minute barrier.
Bulega goes top of the timesheet
Rookie Nicolo Bulega then took the lead with just over 12 minutes of the final practice session remaining. The Sky Racing VR46 rider was the first to lap within 1:58 minutes as he stormed to the top of the timesheet after lapping at 1:58.952. It wasn't a one off as his next lap he was ahead of his own pace for the majority.
After messing up on a flying lap, where he exceeded the limit which resulted in his time being cancelled, Binder was able to repeat his pace and looked set to take the lead only he got stuck behind Lorenzo Dalla Porta at the end; who seems to have settled really well on the Sky Racing VR46 KTM where he is replacing Romano Fenati who was sacked and who had finished third in Aragon last year. Binder had to settle for second but continued on his surge.
He did it this time round, shaving 0.120 seconds off Bulega's time. Dalla Porta tactfully stayed on his tail and followed the South African around the track which brought him up to third with just under five minutes to go. But Binder's reign did not last for long a Quartararo had returned to track and his time of 1:58.831 was the new time to beat. At the end of the lap, Quartararo 's momentum was spoiled and he ran off track so he would have to set up another fast lap afterwards.
Mir ran on straight at turn 14, he missed the braking point at the right-handed corner and knew the best thing to do was try and remain upright as he took to the gravel and made his way to the slip road.
Quartararo the fastest man after Moto 3 Free Practice 3
The track was very busy in the final few minutes as mini battles took place on various sectors. After completing his spoilt lap, Quartararo was soon back on the pace and his final lap he was able to improve as the flag went out and set a time of 1:58.770. He had done enough, as the riders completed their final lap, the Frenchman remained the quickest man on track.
It was well deserved as on so many occasions we witness him having lap times cancelled for exceeding the limits; he appears to be comfortable and confident in Aragon… either that or he has had a telling off! Maybe the new contract with Paginas Amarillas HP 40 Moto2 team has done the trick.
Brad Binder had to settle for second ahead of Navarro and Juanfran Guevara (RBA Racing Team) in fourth. Rookie Bulega was fifth ahead of Bastianini, Andrea Migno (Sky Racing Team VR46), Dalla Porta and Rodrigo who completed the top ten at the end of Free Practice.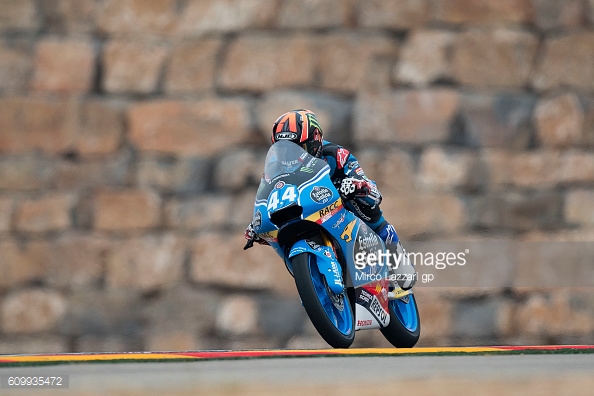 Qualifying got underway
It was a rookie who led procedures as Qualifying got underway as Aron Canet (Estrella Galicia 0,0) took the lead with a time of 1:58.872 despite only finishing 15th fastest in FP3. It was ust over one hundredth of a second slower than the Circuit Lap record and the previous time set by Quartararo in the morning.
Riders continued to have laps cancelled for exceeding the track limits as they pushed for the best possible grid position. Oettl spent a lot of time out on track on his own which although he would not benefit from the slipof others, he was able to complete clear laps without traffic and it gave the team a chance to see how well the rider and bike were doing as they rode solo. He was playing with seventh position on the grid.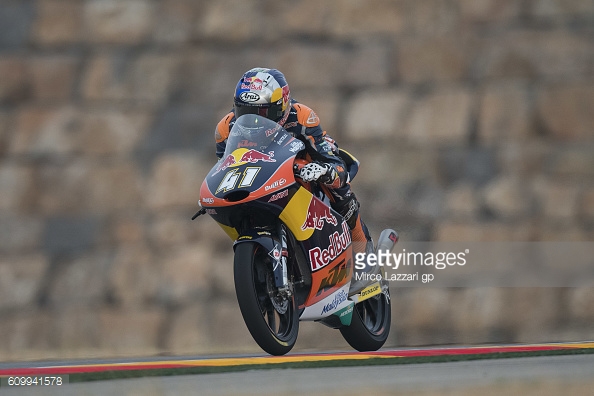 Mr Binder leaves the pits
The riders were all sat waiting in the pits, with just over 20 minutes to go, as they awaited Brad Binder to leave on his KTM for the chance to again receive a lesson in how to ride the track; this was the 14th lesson of the season… MotorLand Aragon! OFSTED would be made up with Mr Binder's work! Motivation for learning, outstanding teaching and progress all ticked off in an interactive lesson…
Meanwhile, Oettl was back in the pits on his own again sat with his eyes closes re-enacting the laps… it's great to see!
Binder takes pole provisionally
Brad Binder was straight on the pace as he took pole provisionally with a time of 1:58.481. Gabriel Rodrigo had got the 'seat at the front of the class' as he followed the championship leader closely but he was unable to stick too close.
Meanwhile, Bastianini was on task, and benefited from a perfect slipin the final sector which enable him to take half a second off Binder's time and he went top with his lap time of 1:58.293…. then he ran off onto the extra tarmac before the gravel at turn one. It was an area of the track that had caught Mir out previously and he was back in the pits hoping his team could make a significant change. A strong lap from Canet brought him up to second and pushed Binder down to third.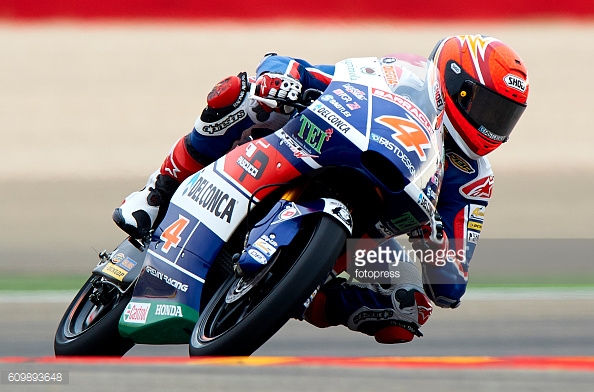 Di Giannantonio crashes out
Di Giannantonio crashed out at turn five in the final quarter of the session. The Gresini Racing Moto3 rider had slid off at the turn and was OK, however the Marshals had his bike tipped up on its back wheel to try and remove the gravel from the belly pan.
It was like the race was already as Kornfeil and Locatelli approached turns 13 and 14 before Bagnaia shoved his Mahindra between the two of them. He took advantage of the smallest gap to get ahead.
One last pit stop
Again riders waited for Binder before they took to the track for the last time. Darryn Binder (Platinum Bay Real Estate) led the way, but he was surely going to tuck in behind his brother Brad who was joined by his teammate Bo Bendsneyder (Red Bull KTM Ajo) in a last stitch attempt to do their best in qualifying.
Di Giannantonio was in prime position behind Brad Binder who had a group of traffic ahead of him. As they began their last lap , as the flag was going to be out before they finished it, Binder was taken out of contention as he and two other riders missed the braking point at turn one and ran on onto the excess tarmac. Binder had to hope that his earlier time was good enough to secure him a good lap.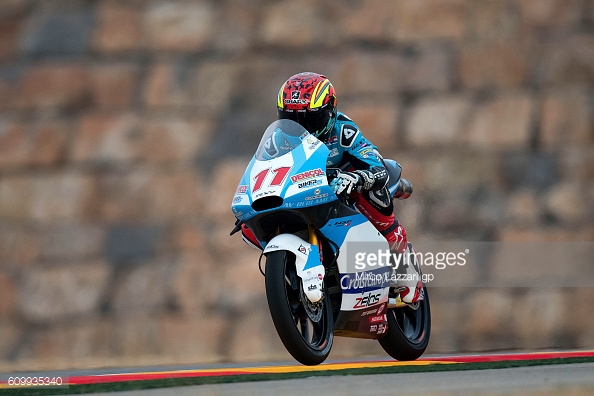 He was forced off the first row moments later as Oettl went up to third with his lap. Rodrigo then came along and claimed third before Navarro slotted in in second and Livio Loi (RW Racing GP BV) in third pushing the two down to the second row. Bastianini looked set to improve his time before he had a wobble; however he rescued the bike and prevented a crash.
Bastianini on his third pole of the 2016 Moto3 season
It finished up as Bastianini on pole with Navarro and Loi joining him on the front row. Rodrigo leads the second row ahead of rookie Canet and Iettl who achieved his lap out on his own. Brad Binder will start from seventh ahead of Quartarao and Ono in ninth. Bendsneyder gained tenth ahead of Jorge Martin (Gaviota Mahindra Aspar), Dalla Porta and rookie Di Giannantonio in 13th. He is ahead of Andrea Migno (Sky Racing Team VR46), Guevara, Locatelli and British rider John McPhee who will start from 17th.
Bulega, Antonelli and Jules Danilo (Ongetta-Rivacold) will start ahead of Francesco Bagnaia (Gaviota Mahindra Aspar) who will start down in 2st ahead of Arenas, Khairul Idham Pawi (Honda Team Asia), Herrera and birthday boy Tatsuki Suzuki (CIP-Unicorn Starker).
Kornfeil, Mir, Darryn Binder, Marcos Ramirez (Platinum Bay Real Estate), Adam Norrodin (Drive M7 SIC Racing Team), Spiranelli, 3570 Team Italia teammates Stefano Valtulini and Lorenzo Petrarca make up the gird ahead of Mexican wildcard Gabriel Martinez-Abrego (Motomex Team Worldwide Race) in 34th.
The penalties will be applied to the grid positions after qualifying.